A father gives his son the gift of time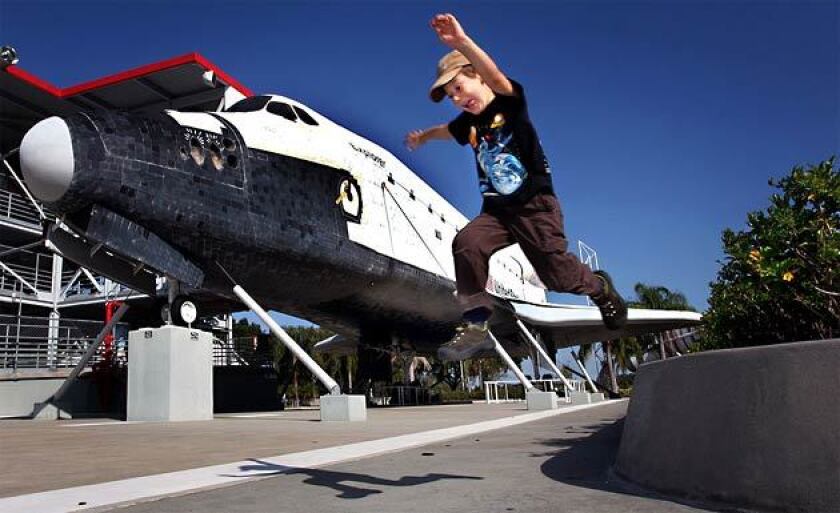 Special to the Los Angeles Times
Reporting from Cocoa Beach, Fla. —
"Papa," Aurelio told me, "I want to touch the moon!"
This was more than the fanciful thinking of a 5-year-old. On a father-son trip last month to watch the launch of the space shuttle, Aurelio did touch the moon — a small piece displayed at the Kennedy Space Center.
On our seven-day trip to Florida, the goal was to watch the second-to-the-last shuttle launch. Aurelio is crazy about airplanes. In August, when I took him to the air show in Point Mugu, he watched the jet-powered stunts with pure amazement. As the planes made another roaring pass, he asked, "Papa, is this 3-D?" I vowed then that I would show him that the real world can beat even Hollywood's best efforts.
Less than three months later, we flew to Orlando and spent the night before driving the 70 miles to Cocoa Beach, where even the area code is 3-2-1.
We were here to witness the beauty of human achievement, not through a TV or a computer screen but to watch, in real time, the bone-rumbling, spine-tingling launch of the space shuttle Discovery. This was no ordinary launch, either. It was to be Discovery's final journey. With the launch of the shuttle Endeavour next year the program is to be retired.
I felt a sense of urgency. I wanted us to be part of one of the defining accomplishments of an era. Aurelio, on the other hand, was thrilled just to think about being close to the blastoff.
To infinity and beyond!
What I didn't know was that only a quarter of all shuttle launches happen on the day and at the time NASA targets. After the first postponement, I started thinking my reach had exceeded my grasp. Then came a second delay. Then a third. Then a fourth and, for us, a final one. We were out of time. No bone rumbling, no spine tingling, no shuttle pictures — nothing.
But we didn't return home empty-handed, either.
What started as a trip into space and astronomy became a journey into fatherhood. Time was not our enemy after all. For Aurelio and me, it was our greatest gift.
Most guys I know (and I include myself in this) worry about a whole week alone with their kids. What would Aurelio do without his mom to wash his clothes, fix him snacks or coax him into brushing his teeth? And furthermore, what in the world was I going to do with Aurelio after our launch plans fizzled? In the end I decided to make the best of it. And to my surprise the week of waiting for a countdown that never came was fantastic.
We used a couple of days to explore the space-related attractions at Kennedy Space Center. As soon as we walked in from the parking lot, we realized that this was not the usual Florida amusement park with an oversized mouse and a princess. My son sprinted toward something that looked from a distance like a futuristic version of the Watts Towers. We were soon standing in the NASA Rocket Garden with the same Redstone, Atlas and Titan rockets that first put American astronauts in space. There were also Mercury, Gemini and Apollo capsules that you can climb into to get a fairly accurate sensation of the cramped quarters the space pioneers endured.
We also participated in the "Lunch With an Astronaut" (an additional charge on top of the admission tickets). After the lunch, veteran space shuttle astronaut J.R. Reilly answered questions, including the inevitable "How do you go to the bathroom in space?" query. (Not pleasant, apparently, and not easy.) Aurelio, to the amusement of the audience, piped up with a question too: "Is the Space Shuttle faster than a Ferrari?" he asked. Answer: A Ferrari's top speed is slower than the space shuttle by more than 17,000 mph.
The ultimate ride is the Shuttle Launch Experience, a simulator that cost $60 million to build (funded not by taxpayer dollars but by revenue generated by admission prices, food and retail sales). With the help of 13 channels of surround sound, the ride took us through a simulated shuttle launch as the seats tilted back 90 degrees and we watched an 84-inch HD screen. We got a taste of what 3Gs feels like. Aurelio was saucer-eyed as we were taking off.
Because we needed to stay close to the Space Coast in case of a launch, we limited our excursions to a 100-mile radius. (That and the fact that long car trips are the bane of a child's existence.) Caught without a plan one day after yet another postponement, we headed for central Florida's Everglades and soon were cruising St. John's River in an airboat at 45 mph. We saw alligators, bald eagles and a host of other birds. At the end of the ride Aurelio got to hold a 21/2-foot alligator named Hollywood whose jaws were secured by a small elastic band. "It's so soft," he said.
Though nothing was flying during the day, Aurelio's nights were full of dreams of rockets and space shuttle launches. On one of these mornings after his flights so fancy, after learning that the space shuttle was not going anywhere, we headed to Cocoa Beach to watch the sunrise. We took a cheap towel and an even cheaper continental breakfast from our hotel and ran to the beach. As Southern Californians, we get to see lots of sunsets over the ocean. But sunrises? That was a gift — one of many.
Mostly what I realized in this journey was that missing the launch gave me something of even greater value: precious uninterrupted time with my son.
One night as I read Aurelio a bedtime story, he hugged his new plush space shuttle toy and snuggled on my shoulder. "Papa," he said, "you are the best papa in the whole world." He paused for a second, then added: "And in the whole space."
---
Get inspired to get away.
Explore California, the West and beyond with the weekly Escapes newsletter.
You may occasionally receive promotional content from the Los Angeles Times.