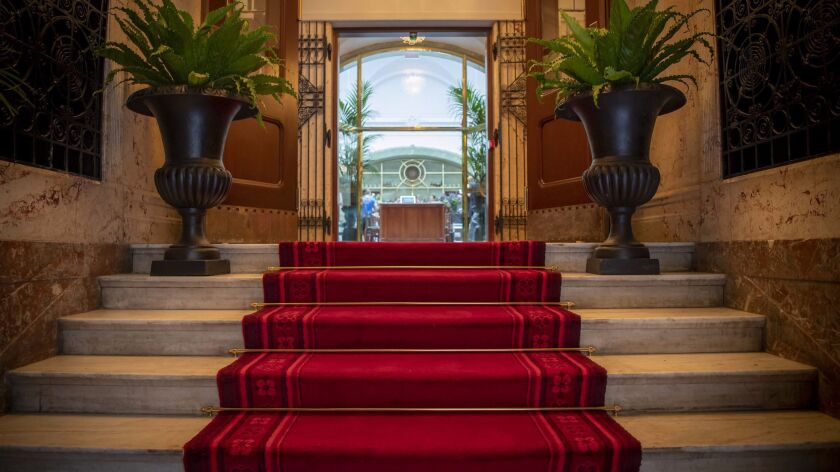 Big banks once were housed in classically stylish buildings that befit their influence in the community. Now, many of those grand buildings have been turned into luxury hotels that retain some of their original style.
Stockholm
The appropriately named Bank Hotel at 6 Arsenalsgatan is among the most recent hotels to open in historic bank buildings. The hotel, built in 1910, was home to different banks and companies during its more than century on the waterfront in Stockholm. The hotel opened in late August.
You can still see the bank's original bronze double doors and the atrium's glass ceiling in the 115-room hotel. The luxury hotel has six food and drink hangouts where you can enjoy the views. Rooms from $225 a night.
Chicago
The Windy City has two prominent bank buildings that have made the leap to lodgings in the last decade. The JW Marriott Chicago at 151 W. Adams St. (once the Continental & Commercial National Bank Building) was designed by architect Daniel Burnham in 1912.
The 610 guest rooms on the building's first 12 floors have 10-foot ceilings and marble bathrooms. The jaw-dropper is the grand ballroom, where you can celebrate beneath the bank's original domed ceiling. Rates on select weekends in September start at $372.
The Virgin Hotel Chicago is a 1928 Art Deco building that used to be the Dearborn Bank Building. Look for the cigar bar that's now the lobby, and an original grand staircase on the first floor. To see how grandly the old blends with the new, check out the very modern Commons Club on the second floor. Best available rates on selected weekends in September start at $329.
Berlin
The Hotel de Rome occupies a building that started out in the late 19th century as the Dresdner Bank headquarters and, after World War II, East Germany's state bank.
Have tea in the lounge of this Rocco Forte hotel and you'll be sitting in the bank's former lobby. Enter the vault and you can have a spa treatment or two. Look for the original mosaic floor with names of the original bank's four offices in Dresden, Bremen, London and Berlin.
Flexible room rates from $811 in September.
Boston
The Langham Boston in 1922 started life as the Federal Reserve Bank of Boston. The elaborate former president's office feature two murals by illustrator N.C. Wyeth, father of Andrew and grandfather of Jamie.
Check out the Bond bar, which sits underneath 25-foot vaulted ceilings. Look for the original Federal Reserve Bank seal etched onto the floor.
Best available weekend room rates in late September start at $385.
---