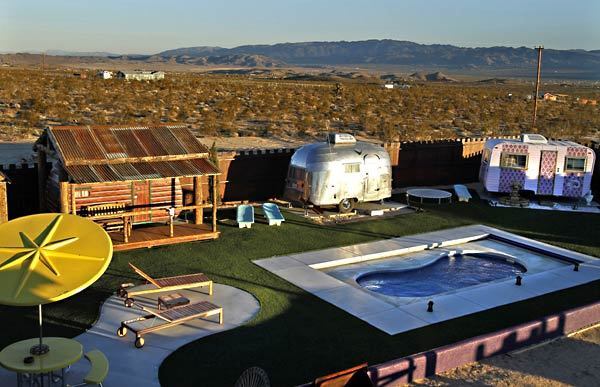 5 Images
Photos: Hicksville Trailer Palace in Joshua Tree, Calif.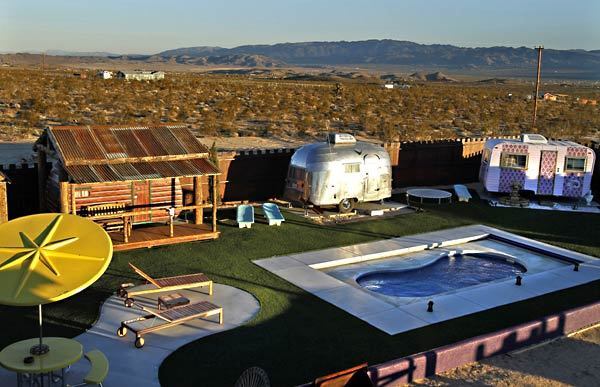 Check in to Hicksville Trailer Palace and you may find yourself in an Old West log cabin or a punk-rock tiki hut. The encampment in Joshua Tree, Calif., is part desert getaway, part artist's retreat. The seven themed trailers include those pictured here, from left: the Pioneer, the Integratrailor and the Fifi. The saltwater pool is heated by solar power, as is the property at large.
(Glenn Koenig / Los Angeles Times)
Owner Morgan Higby Night enters the Integratrailor trailer, themed in honor of the mystical Integratron about 15 miles away in Landers. Built in the 1950s, the wood-domed Integratron was said by its creator to be a combination rejuvenation device and time machine, the design of which was telepathically transmitted to him by extraterrestrials. So Hicksville's trailer is equipped with an "alien communication device."
(Glenn Koenig / Los Angeles Times)
Lydia Night, 4-month-old Gage Night and Claudia Night kick back in the trailer known as the Sweet, a happening pad outfitted with shag carpeting.
(Glenn Koenig / Los Angeles Times)
The Fifi pays homage to Fifi Mahony's wig shop in New Orleans.
(Glenn Koenig / Los Angeles Times)
This macabre scene greets occupants of the punk-rock tiki hut known as the Lux, which is otherwise dedicated to the late Lux Interior of the Cramps. One guess as to which band's songs are lined up on the jukebox. For more information about Hicksville, visit
www.hicksville.com
.
(Glenn Koenig / Los Angeles Times)