Learning Hawaii's history may be key to avoiding cultural insensitivity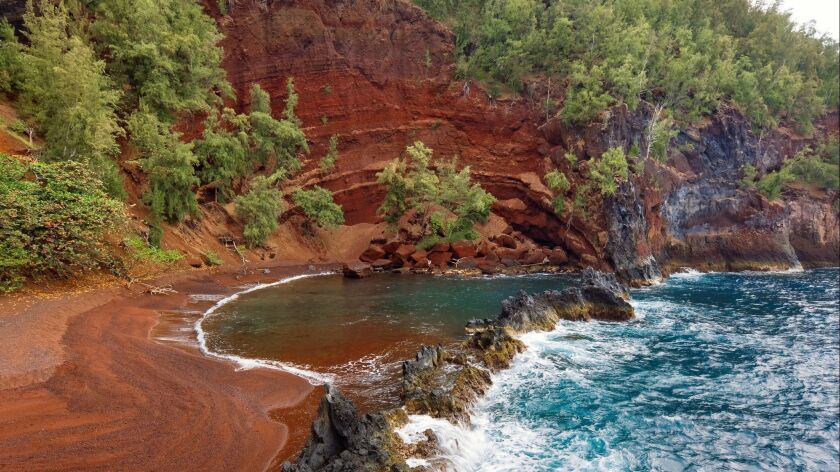 Red Bull athletes skiing down a mountain doesn't sound like a big deal. That is, until you learn they skied down Mauna Kea, one of Hawaii's most sacred mountains, without permission — and there was no snow.
The video documenting their session was posted in February to social media. It went viral and caused an immediate backlash from Hawaii residents, state senators, the University of Hawaii and the Office of Hawaiian Affairs.
I was angered too. As a Native Hawaiian, I know the cultural significance of Mauna Kea, the historical artifacts on its surface and the burials found on its upper slopes.
"Puu Poliahu is a volcanic cone that is not only the second-highest point on the mountain, but is also considered sacred to Native Hawaiians," the Office of Maunakea Management, a branch of the University of Hawaii that manages the lands, wrote in a statement after the incident. "The individuals also defaced and scarred a geological formation and may have damaged Wekiu bug habitat."
The athletes apologized and deleted the video, but instances of visitors disrespecting Native Hawaiian culture, whether intentional or not, are common.
During the partial government shutdown in December and January, visitors at Puuhonua o Honaunau National Historical Park on Hawaii Island were seen climbing historic stone walls and entering the sacred heiau (temple) Hale o Keawe, which also is a former burial ground.
In 2016 actress Jennifer Lawrence told a joke on BBC's "The Graham Norton Show" about "butt scratching" against a sacred Native Hawaiian stone and laughed at how it ended up rolling down the mountain. Lawrence later apologized.
Cultural ignorance
Hawaiian culture is a lithic culture, which means it used stone for tools, house foundations, walls and temples — even representations of gods were made out of stone.
I've seen these pieces of history scattered across the islands. Because there are no markings on the rocks to denote they're historic, people may assume they're unimportant so they are often moved, stacked into cairns or taken home instead of being left in place.
"Some people come and say, 'It's a pile of rocks,'" said park ranger George Enuton of Puukohola Heiau National Historic Site, a large and significant heiau on Hawaii Island dedicated to the war god Kukailimoku by King Kamehameha.
"It's very spiritually important for the Hawaiians. I always tell people to try to get the spiritual aspect of what the Hawaiians were building these for, try to understand the spiritual meaning behind the different temples, the different sites, the different areas they go to," Enuton said. "When you learn about them and you get an understanding of how they were used and why they were used, it gives you an appreciation for these places."
For some Native Hawaiians, the biggest complaints concern visitors who park illegally, trespass on private land and the desecration that follows.
"It's almost out of control … so we're really trying to work on the solutions to alleviate resident frustration because we are somewhat at a tipping point," said Napua Hueu, a Native Hawaiian whose family has lived for seven generations in Keanae, a halfway point on Maui's road to Hana.
Hueu chairs Hana Highway Regulation, an initiative started by East Maui residents to curb illegal parking and other problems along the road and trespassing on private property.
She said if there's no signage, people should consider the land private, but people also ignore that are there.
"At Kaihalulu (a.k.a. Red Sand) Beach in Hana, there's a no-trespassing sign at the trail head put there by Hana Ranch Partners, but people disregard it," she said.
The area around Red Sand Beach has a storied place in Hawaiian history. It was home to the demigod Maui, the birthplace of Queen Kaahumanu and a fortress during a battle between Maui and Hawaii Island invaders. Instead of heeding the sign, she said trespassers mark the beach with graffiti, stack rocks and use the trail as a restroom.
No-go zones
Trespassing also is a problem in Waipio Valley, once home to Hawaiian chiefs and a popular destination on Hawaii Island. Visitors are allowed to hike the steep road that leads into the valley and walk to the black sand beach.
The Bishop Museum in Honolulu, Kamehameha Schools and other private entities land own the land. Much of it is leased to taro farmers, so hiking through the valley to reach the Hiilawe Waterfall is not allowed.
Kulia Tolentino, a teacher and taro farmer with deep roots in the valley, said they had to stop 70 to 80 people in one day from trespassing through the property. She founded the nonprofit Pohaha I Ka Lani, a cultural education program for youth, and teaches land stewardship in the valley.
"They trespass through six properties just to get to the river area," she said. "Everyone has signs, each family. We had to put up a huge sign along the road telling people about graveyards and such," said Tolentino. "They think it's OK to just start filming us as if we're monkeys on display. We have no privacy; it just feels weird."
As I visited with Tolentino, two hikers appeared, walking waist deep in water toward her property. They had crossed earlier and were on their way back from the falls. I watched as she calmly told them they were trespassing.
Trespassers trampling through the taro farms disrupt the farmers, who must clean up and redo the work that they did or replace torn down fencing.
There's no cell service, so if there's an emergency, it falls on the people in the valley to help, which puts everyone in danger.
The lack of respect has even led some farmers to want to leave or give up. "When you come as a visitor, you must tread lightly because you're going to be impacting this place," said Felicita Garrido of Na Mea Kupono taro farm on the north shore of Oahu. "Now, is your impact going to be negative or is it going to be positive here in Hawaii?"
Learning about Hawaiian history is a good start, because something as simple as celebrating Statehood Day (Aug. 16) in Hawaii could be deemed insensitive.
In 1893 a provisional government, made up of U.S. businessmen, overthrew the Hawaiian kingdom. The monarchy, its people and President Grover Cleveland's administration tried to restore control of the throne but were unsuccessful. Hawaii was annexed in 1898, then became a state in 1959.
"The day that Hawaii became a part of the United States, Hawaiians were sad because what that meant was their Kingdom is not being recognized," Garrido said. One hundred years after the overthrow, President Clinton acknowledged the wrongdoing in the Apology Resolution.
"I want people to have a great time. I want people to leave Hawaii with a lot of aloha in their hearts, but understand, Hawaii is not mai tais and sunsets," said Garrido. "That's not all it is. There's a lot more to the culture, and they have to be willing to dive a little bit deeper so that they can perhaps walk more humbly when they come here."
Do's and don'ts when visiting Hawaii:
• Don't go off trail at historical sites.
• Respect heiau as you would any other temple or church.
• Don't refer to Kalaupapa, on Molokai, as the "leper colony." The word "leper" is considered derogatory. Hansen's disease is the proper term.
•. Do learn Hawaiian history, ask questions and try to pronounce Hawaiian words correctly. Tip: Every letter has only one sound.
• Don't refer to everything as Hawaiian unless it relates to the indigenous people of the islands. Kamaaina, or local, is the proper terminology for non-Hawaiian residents.
---
Get inspired to get away.
Explore California, the West and beyond with the weekly Escapes newsletter.
You may occasionally receive promotional content from the Los Angeles Times.