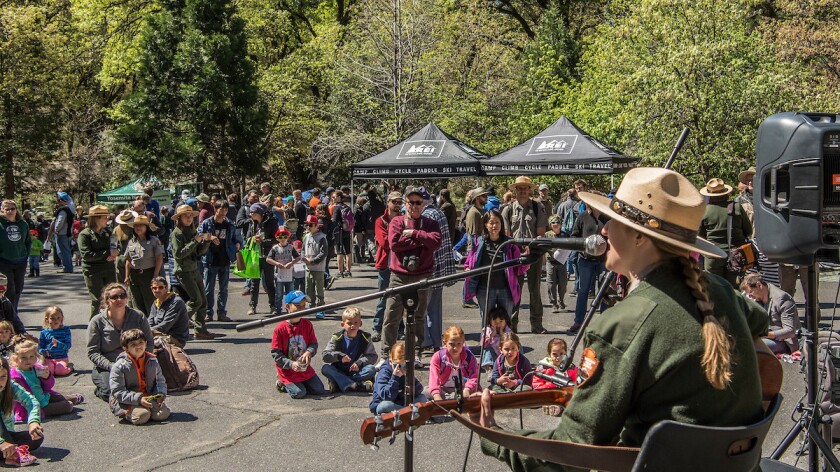 You can celebrate the country's parks units on Saturday — for free — as they kick off National Park Week with a range of special activities.
National Park Week, a nine-day "week," runs through April 28, at a time of year when the parks are shedding their winter wear for the flowers and greenery of spring.
"National parks give us more than 400 reasons to celebrate together," National Park Foundation President Will Shafroth said in a statement. The foundation is the nonprofit partner of the park service.
The 419 units include the well-known parts, such as Joshua Tree and Yosemite, as well as national seashores, historic sites, battlefields and more.
All entrance fees are free, but camping and other fees still apply.
Looking for options?
To find a nearby park, use the Find Your Park / Encuentra Tu Parque for the park that fits your adventure. You can search by activity — biking, kayaking, children's programs — or by proximity to where you live.
California is full of national parks—the "beauty spots," as we call them—as well as historic sites, one seashore and other designations.
The 800,000-acre Joshua Tree National Park is sure to be a popular place Saturday, as Americans celebrate Earth Day. Visitors can start the day with a 30-minute ranger chat at 10 a.m. Later, a 90-minute geology hike begins at 2:30 p.m.
Check the calendar of events for other options in the amazing park, where two desert eco-systems merge: the Mojave and the Colorado.
Yosemite will also be a popular choice in California.
On Saturday, it will also be celebrating Earth Day, National Junior Ranger Day and John Muir's birthday.
Among the activities:
Junior Ranger guided walks at 10:30 a.m. and 1 p.m.
Music, games and booths at the Yosemite Valley Visitor Center from 10 a.m. to 2 p.m.
A walk and ecology talk around Ahwahnee Meadow at 10:45 a.m.
A photo walk at 11 a.m. that will explore Yosemite Valley with photographers from the Ansel Adams Gallery
Face-painting and art activities.
Visitors are encouraged to arrive before 9 a.m. Parking will be available at the Yosemite Village Parking Area and Yosemite Falls Parking Area, located across from Camp 4 Campground. Visitors are encouraged to jump aboard the free park shuttle to get to the Yosemite Valley Visitor Center.
For more info on public transit, visit Yarts Public Transit.
Travelers headed to Yosemite should know that Mariposa Grove Road has reopened to traffic. The free visitor shuttle to the Giant Sequoias has also resumed service for the spring and summer. The park service asks visitors to park at the South Entrance and ride the free shuttle to the Lower Grove, two miles away.
Every year, Mariposa Grove Road closes for winter and reopens as conditions allow.
---