How the new Cuba regulations could affect your trip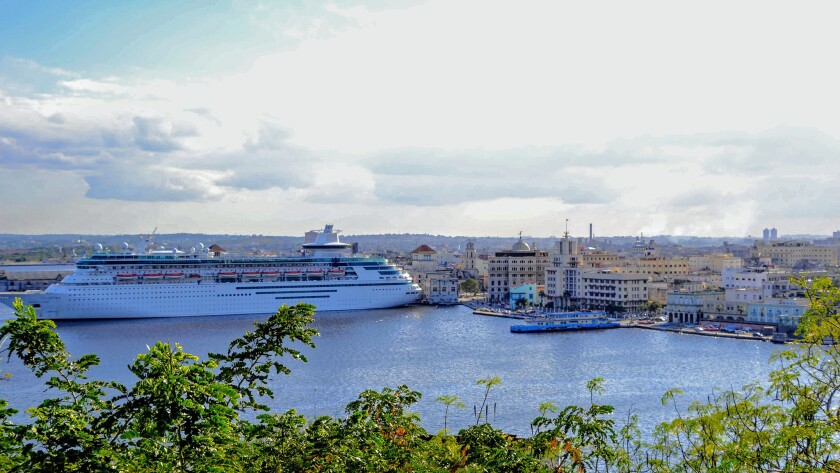 The Trump administration's ban Tuesday on people-to-people group tours and cruise visits to Cuba left travel operators and travelers trying to understand the new policy.
The end of what was the most common way for Americans to visit the island will go into effect Wednesday, except for travelers who already paid for their trips.
Travelers who completed "at least one travel-related transaction (such as purchasing a flight or reserving accommodation) prior to June 5" will be allowed to go, according to a U.S. Treasury Department statement.
Royal Caribbean's Wednesday and Thursday sailings will no longer stop in Cuba. "… [W]e are analyzing the details to understand the impact on our itineraries," corporate communications manager Owen Torres wrote in an email Tuesday afternoon.
Janet Moore of Distant Horizons in Long Beach has scheduled custom tours to Cuba during Christmas for university alumni groups. "Anybody who hasn't signed up today [Tuesday] will not be able to go," she said.
But she was less sure about a UCLA visit she was organizing for February. "We're trying to come to grips with it and get a legal summary of what this really means," Moore said.
Christopher P. Baker, an author and veteran leader of photography and motorcycle tours in Cuba, said he would proceed with several trips already in the works for the next 18 months. In fact, Baker said, because his trips already rely heavily on lodging in private hotels and homes, he hopes to be able to keep taking groups, operating under a "support for the Cuban people" license rather than the previously popular "people to people" license.
He said, however, his "big fear, and this will probably come to fruition, is the public perception that the door has slammed shut."
Among many questions raised by the policy shift is which Cuban lodgings will be off-limits for Americans and which won't. In recent years, Baker said, many Cuban entrepreneurs have opened boutique hotels that are privately owned. (He cited Havana's upscale El Candil Boutique Hotel as an example.) If American travelers use those lodgings and avoid state-owned properties, Baker said, they may remain in compliance with U.S. Treasury Department rules.
Luxury tour operator Abercrombie & Kent said it would await more clarification on the rules from Treasury but was planning to operate its three fall trips to Cuba.
Under the new rules, individual Americans may still travel under the people-to-people category, and commercial flights will continue to fly between the U.S. and Cuba, media reports say. United Airlines, however, sent an email to customers Tuesday saying it could no longer accept bookings for group people-to-people travel for educational purposes beginning on June 5 because of the new rules.
All tourism to Cuba is illegal because of longtime U.S. sanctions against the island. But certain categories of travel, such as education or cultural people-to-people trips, have allowed Americans to travel to the nation — until now.
Three years ago, President Obama loosened rules to improve relations between the two countries and oversaw the opening of a U.S. Embassy in Havana.
The Trump administration announced the tighter restrictions because it views Cuba as playing "a destabilizing role in the Western Hemisphere," the statement said.
Treasury Secretary Steven Mnuchin said in the statement: "This Administration has made a strategic decision to reverse the loosening of sanctions and other restrictions on the Cuban regime. These actions will help to keep U.S. dollars out of the hands of Cuban military, intelligence, and security services."
---
Get inspired to get away.
Explore California, the West and beyond with the weekly Escapes newsletter.
You may occasionally receive promotional content from the Los Angeles Times.