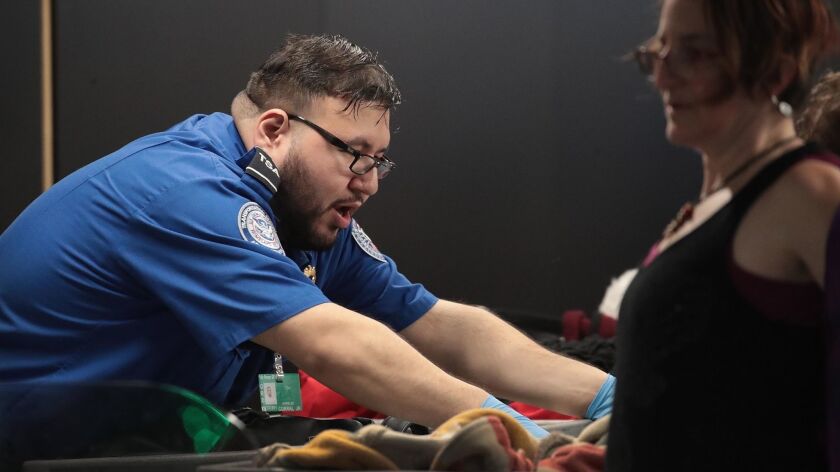 Are absences of Transportation Security Administration officers slowing down airport screening lines? Depends on whom you ask.
The TSA says no there's little or no difference in staffing levels. But other air-travel organizations are citing delays and at least one travel expert is warning fliers to give themselves an extra half an hour.
In an announcement on voicemail accessed on Tuesday, a TSA spokesman, who did not identify himself, acknowledged that absences are up slightly among its 51,000 officers. On Monday, he said, the agency counted 4.6% of officers out with unscheduled absences. That compares with 3.8% on the same day a year ago.
But how much delay does that add up to?
The impact is minimal, the TSA said. Of 2 million passengers it processed on Monday, the TSA said, 99.9% went through the line in less than 30 minutes and 92.9% went through in less than 15 minutes.
The average processing time for TSA PreCheck, the expedited security program for Trusted Travelers, was less than five minutes, the agency said. Figures for the day before were similar, though some airports, including New York's LaGuardia, had noticeably slow lines.
The TSA did not say how those numbers compare with the previous year, and spokespersons did not immediately return calls.
On Tuesday, CNN said it had obtained documents showing TSA managers at Palm Springs International Airport were warning underlings about excessive unscheduled absences.
Meanwhile, Tom Spagnola, global senior vice president of supplier relations for online travel agency CheapOair, said passengers in coming days should expect extra TSA delays of up to 30 minutes or more. In a statement on Tuesday, Spagnola suggested travelers start arriving at airport 2½ hours ahead of domestic departures, 3½ hours for international.
In a letter to President Trump and congressional leaders on Tuesday, the Airports Council International said that the shutdown "is already causing numerous problems at our nation's airports, such as longer wait times at TSA checkpoints and CBP [Customs and Border Protection] air ports-of-entry, suspended reviews of airport infrastructure improvement projects that could delay them beyond the spring/summer construction season, and canceled Global Entry interviews for hundreds of prospective enrollees."
In an interview with Politico, Hydrick Thomas, president of American Federation of Government Employees' TSA Council, said some TSA workers had resigned "and many are considering quitting the federal workforce because of this shutdown."
TSA employees are at risk of not receiving their next paychecks, scheduled for Friday, because of the partial government shutdown that began Dec. 22.
John DiScala, a veteran traveler who runs the website JohnnyJet.com, said he flew from Honolulu to Maui last week "and it was business as usual."
I flew LAX-Austin on Jan. 2 and Austin-LAX on Saturday, was processed in less than 30 minutes each time and noticed no unusual conditions in the TSA line.
christopher.reynolds@latimes.com
Follow Reynolds on Twitter: @MrCSReynolds
---