34 Images
Summer 2011: Our favorite reader photos
Why it was chosen:
After a night of rain, the photographer ventured out about 5 a.m. as the downpour subsided. He also was carrying a tripod. For his efforts, he was rewarded with a shot that is pure poetry. The tiny splash of red on the boat and on the boatman contrasts nicely with the cool tones. The photo was taken in Hunan province.
(Peter Leung, Monterey Park)
The arc of the water whipping from the hair of Glendale photographer Alan Steel's 9-year-old granddaughter catches and guides the eye through this picture.
(Alan Steel)
Why it was chosen: The photographer estimates he was 30 feet from this salmon-seeking grizzly in Lake Clark National Park & Preserve -- so close, he says, that he had to back off a bit with his zoom lens. This crisp, nicely composed photo puts you right in the moment.
(Chuck Spence, Camarillo)
Why it was chosen:
A sprinkling of bird seed and then a small child who just finished sprinting through the pigeons created the motion in this photo, which adds interesting layers to the picture. The blurring plus the shadows add dimension.
(Brendan Flood, Los Angeles)
Why it was chosen:
Sometimes the best photographs just make you smile. This laugh-out-loud moment at Olympic Game Farm has a joy to it that evokes the kind of feeling we strive to find on vacation.
(Leslie Smith, Costa Mesa)
The contrast -- the dark fish against its colorful brethren -- plays well in this tightly framed photo by Andrea Ashley of Hidden Hills. The fish eyes create a sort of dot-to-dot visual game as well.
(Andrea Ashley)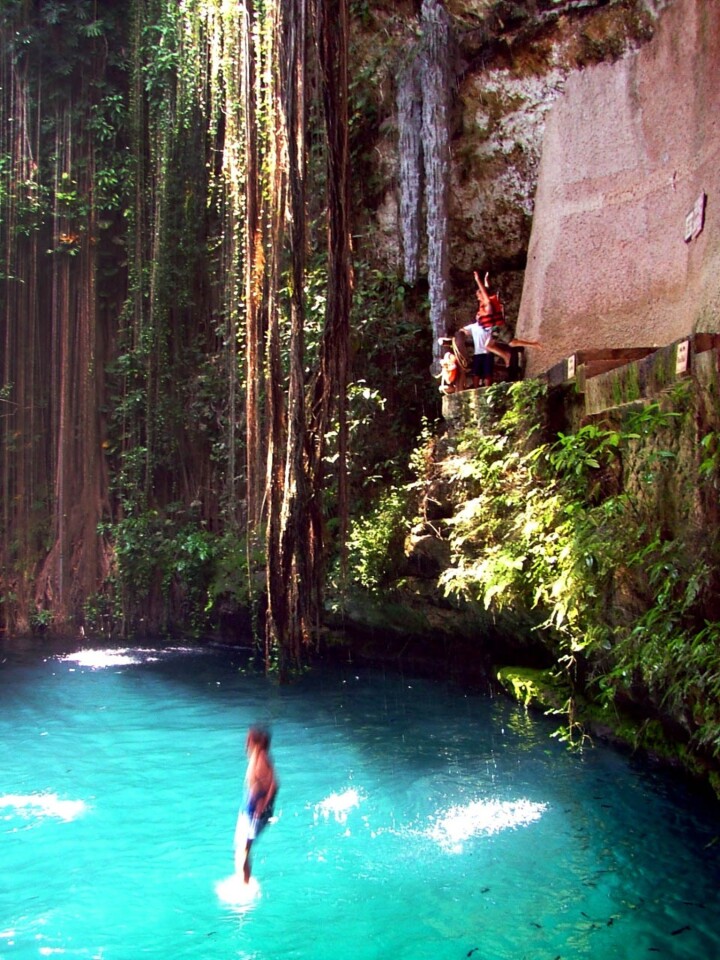 Why it was chosen: When the photographer noticed that his 8-year-old son was about to jump into this cenote, he grabbed his camera and captured just the right moment. The slight blur conveys a great deal of energy.
(Benjamin Hernandez, Downey)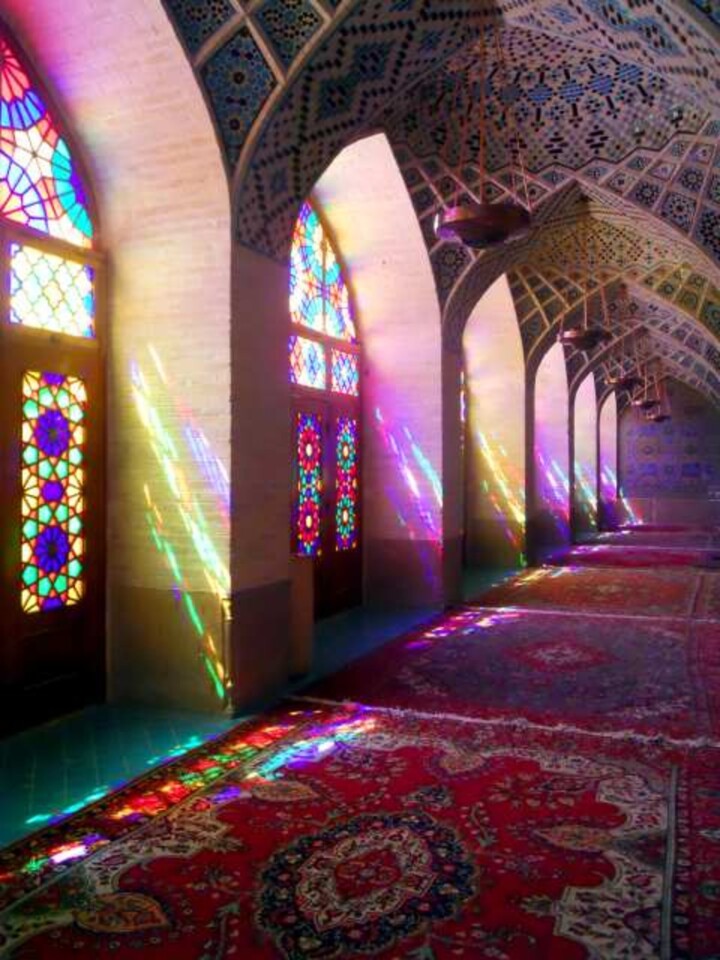 Why it was chosen: The colors, the patterns, the light in the Nasir al-Mulk Mosque in Shiraz are stunning. The photo evokes an all-encompassing silence, and that is its beauty.
(Nancy McClelland, Los Angeles)
Why it was chosen: This photo, shot at the Motswari Private Game Reserve, is beautifully balanced. And it looks as though the subject is staring right at you.
(David Aftergood, Los Angeles)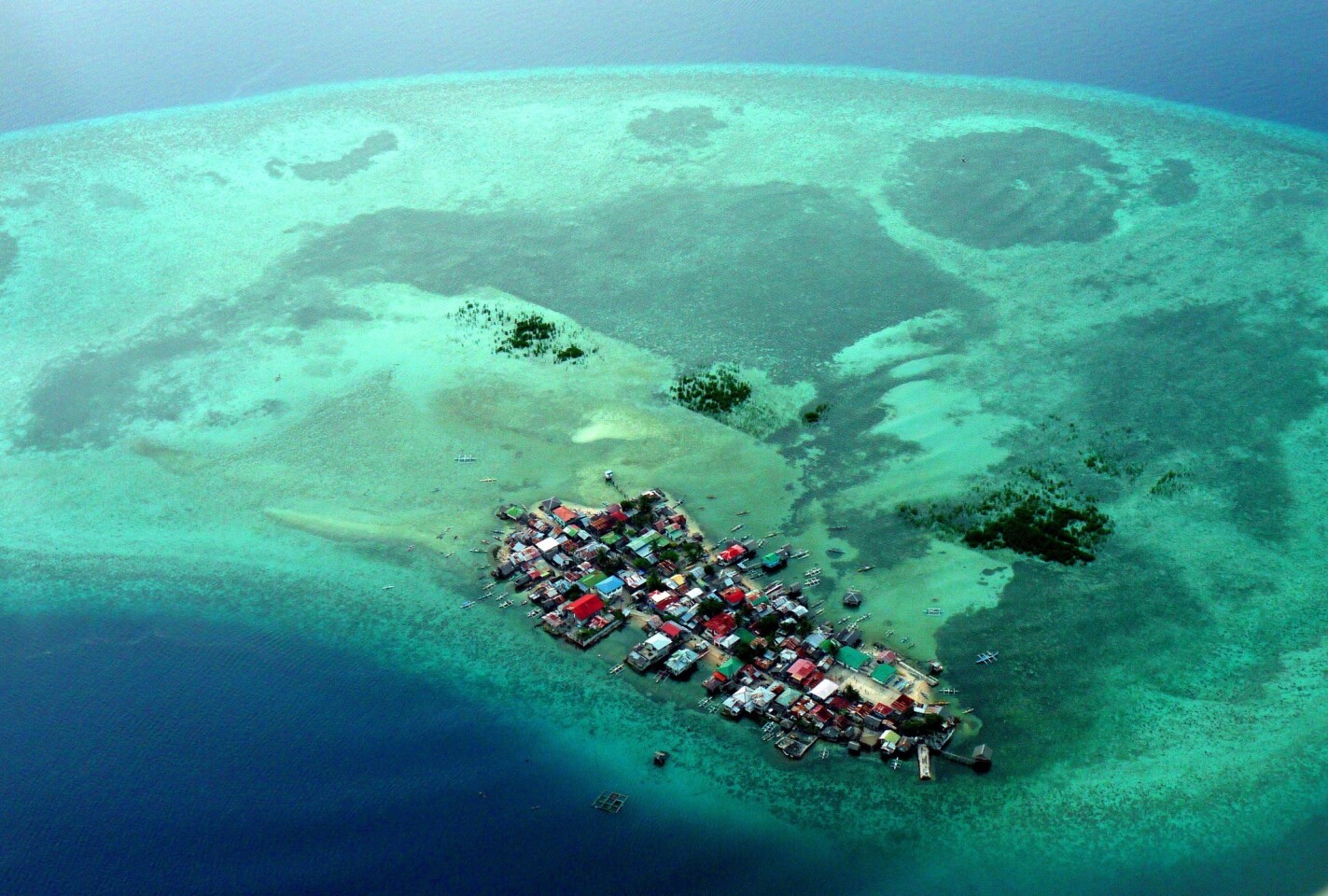 Why it was chosen: This aerial photograph invites you to study it and contemplate its shapes and colors. The shot, taken from a small plane, has a painterly quality along with brilliant colors.
(Keith Kelley, Moorpark)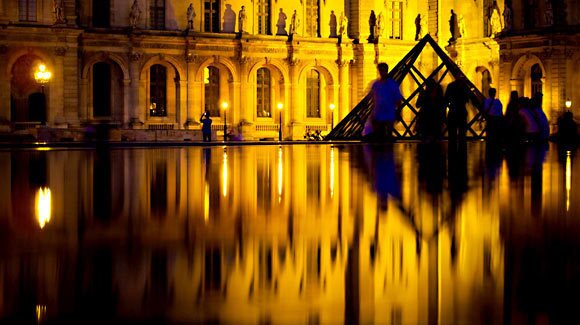 "On the 4th of July, I was walking around Paris and landed at the Louvre at sunset. It was striking," said photographer Danielle Klebanow of Marina del Rey.
(Danielle Klebanow)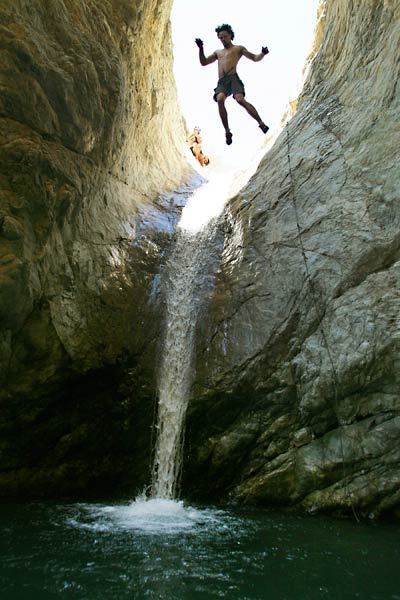 "I'm part of a swim crew called Los Angeles Swimmin, and we go cliff jumping and swimming all summer around California and Nevada. I'm sort of the resident photographer, and I shoot sequences of most of the jumps we do, and this one really stood out to me."
(Kevin J. McDade)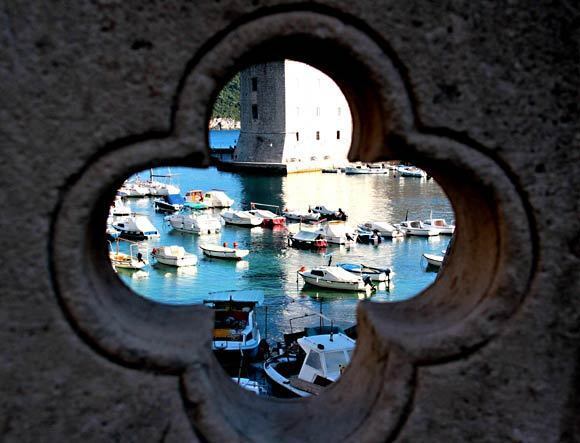 "While walking on the ramp leading to the walled city of Dubrovnik, the shape of the opening in the wall caught my eye. It makes a unique frame for the harbor scene. The inviting, shimmery water contrasted with the sweltering heat."
(Sandra E. Lauterbach, Los Angeles)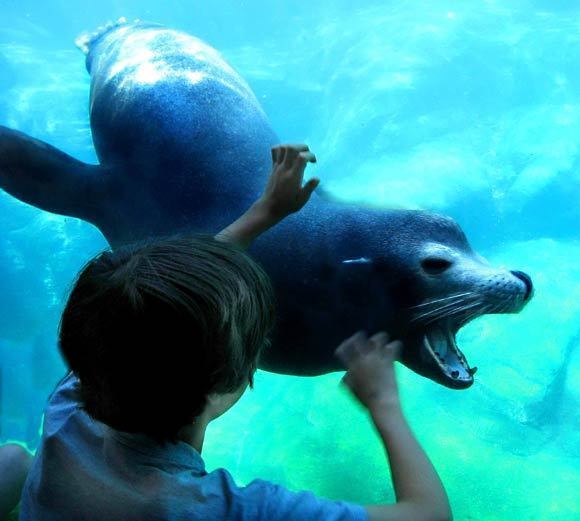 "My mother had never been to the Long Beach Aquarium, and even though she's 91, she still can get around on her own. So I took her there and, as usual, I took a million photos of everything we saw, and this young boy was so fascinated by the seal coming to the glass. It was as if they were long-lost buddies, greeting each other once again."
(Andrea Ashley, Hidden Hills)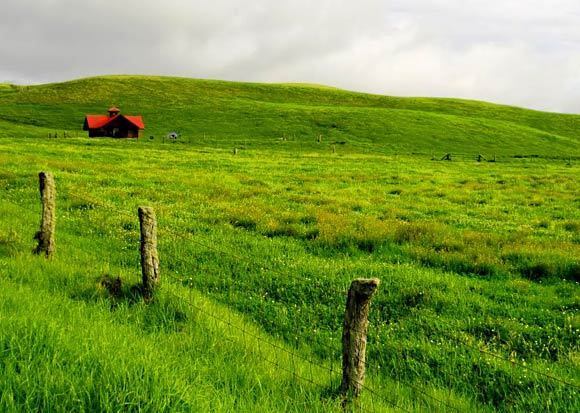 "Driving up Highway 200 to the Mauna Kea Observatory on the Big Island of Hawaii for sunset, we came across this random farmhouse that stood completely on its own in a sea of green."
(Richard A. Conn)
"I spotted this sea iguana and thought the scene before me was a perfect example of why I had come. I'm so glad I had a chance to share the experience with my son."
(Jim McIntire, Thousand Oaks)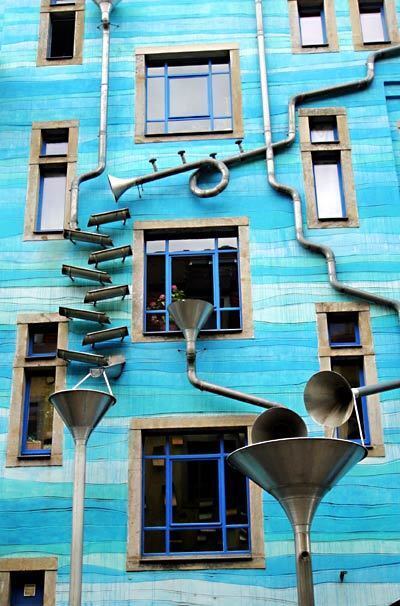 Photographer Ken Breuer of Encinitas said: "Our family was on the final leg of a European trip that concluded with four days in Dresden, Germany. Our 14-year-old daughter Natalie's friend Beryl had recently moved to Dresden with her family from the San Diego area, and we vowed to take Natalie for a visit. The two families had a final day of sightseeing June 13, which turned out to be a local holiday, so the shops in Kunsthofpassage -- an artists' village in the heart of new Dresden -- were closed. However, this colorful Kunsthofpassage building, with its imaginative drainage system, entertained us all."
(Ken Breuer)
"I saw this girl on her water buffalo. I stopped my motorbike and motioned with my camera that I wanted to take a picture of her. She agreed."
(Larry J. Pagac, Redondo Beach)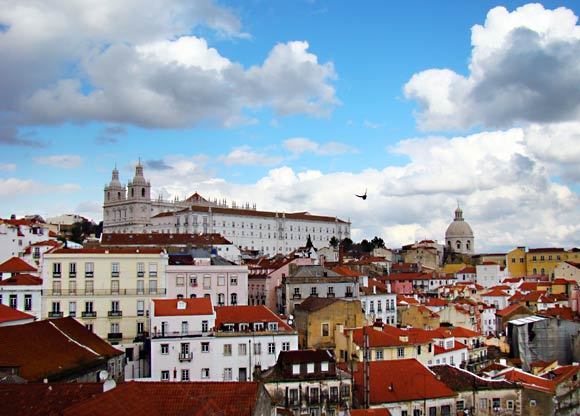 "My girlfriend [Mirjana] and I love to travel, and this year we decided to visit a place neither of us had ever visited. So we decided to spend 10 days in Portugal. Mirjana and I had just exited bus 28 and decided to walk around a bit and walk up to
St. George
's Castle. It was a cool day with lots of clouds, blue skies and nice winds. As we walked around near the water, we looked up and witnessed Alfama and the São Vicente de Fora Monastery and church. The view was just so beautiful and colorful, seeing all the homes, the rooftops and the streets, how they twisted around everywhere."
-- Filbert Arzola, West Covina
(Mirjana Pintar, West Covina)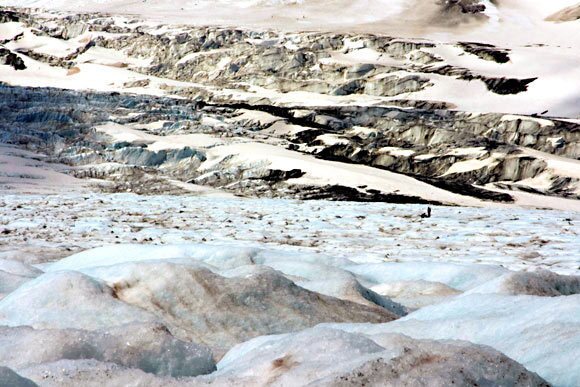 "The immensity of this field is seen in relationship to the human figure, yet the field is threatened and may disappear in 15 years. I love the starkness and contrast."
(Larry Gaines, Northridge)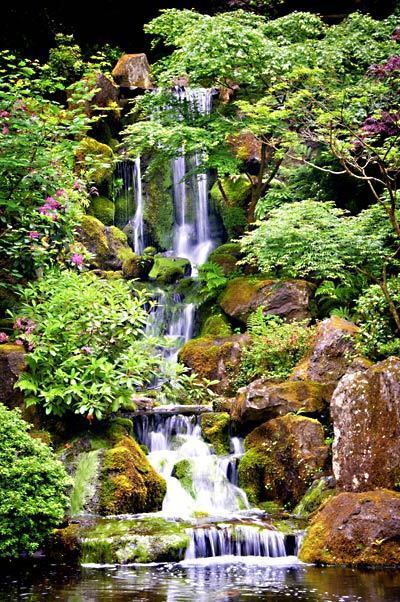 "My husband and I were in
Portland
, Ore., this past June visiting a friend and a family member. We visited many beautiful gardens, including the Japanese Garden. The waterfall looked so graceful cascading among the foliage and the rocks."
(Marianne P. Cohen, Huntington Beach)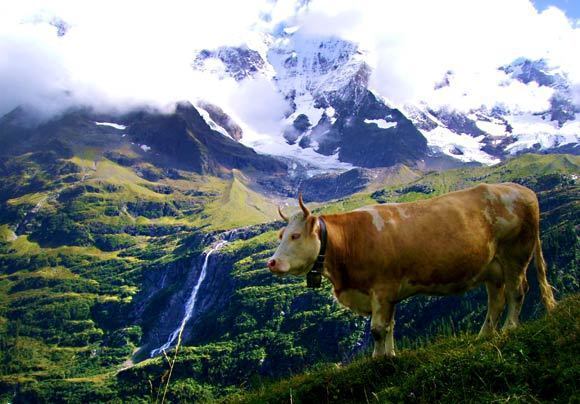 "I was constantly amazed by these cows in the Swiss Alps acting like mountain goats."
(David Grote, Manhattan Beach)
"This scene north of downtown Durango was taken a mere four days after the last blast of winter. The rainbow settled in right after a passing rainstorm."
(David Ohman)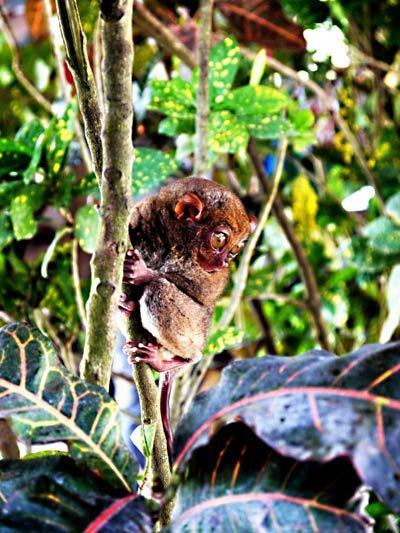 "I snapped this photo because it captures the fascinating physical aspect of the tarsier, mainly their large eyes and the bone structure of their extremities."
(Keith Kelley, Moorpark)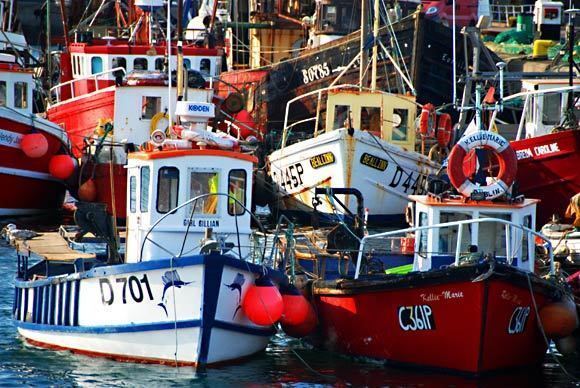 "These docked fishing boats look alive in the bright light of the setting sun."
(David Ross, Long Beach)
"This Maui trip was a family vacation with our daughter and son. We were up at 2:30 a.m. to get the best spot to view the magnificent sunrise at Haleakala Crater. My husband asked my daughter to snap this picture of him as he captured the sunrise within his hands."
-- Gregoria Amores, San Gabriel
(Joanna Amores, San Gabriel)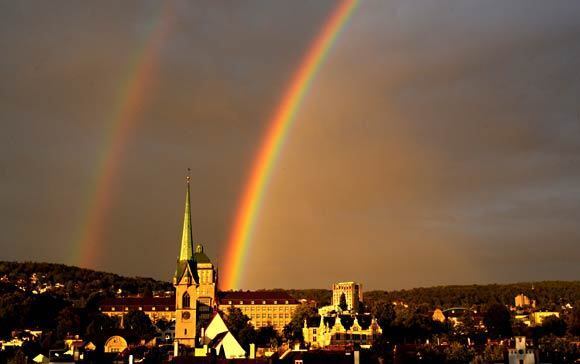 "On this evening, we had a short but hefty rain shower. I checked the western sky for the upcoming weather condition. Indeed, it looked good, with sun likely for the approaching sunset. I took a walk up to the Lindenhof, a quaint little square in central Zurich overlooking the Limmat River and featuring good views toward the east."
(Karl Gerber, Los Angeles and Zurich)
"This summer, our family spent five glorious days camping in [Jasper National Park in Alberta, Canada]. During one of our day trips... I noticed an
inukshuk
(a stone structure typically created for use as a landmark in the North American Arctic) standing alone in the distance. The iconic appearance of the structure against the glacial-blue background and rugged, rocky foreground was quite striking and made for a moment worth capturing. Our children, Sophie and Tessa, celebrated by creating
inukshuks
of their own."
(Ron Lyster, Kamloops, British Columbia, Canada)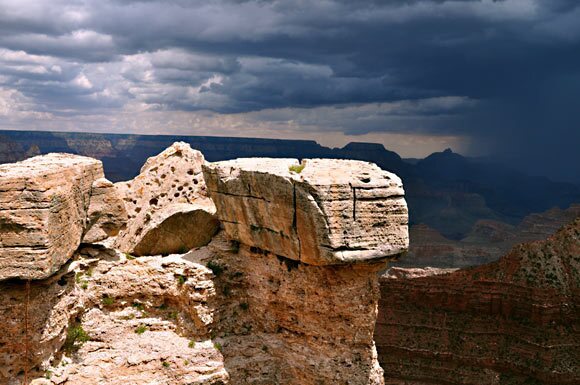 Photographer Jennifer Martin of Tustin said: "We took our children to the Grand Canyon for the first time -- they are 5 and 2½. There were amazing puffy, white clouds on our drive from Flagstaff to the Grand Canyon that morning, and we had an hour or so of sunshine at the rim before the summer storm approached through the canyon. We knew there was heavy rain, thunder and lightning headed toward us, but it was such a dramatic sight, I kept turning around to take photos as we headed for shelter in the gift shop."
(Jennifer Martin)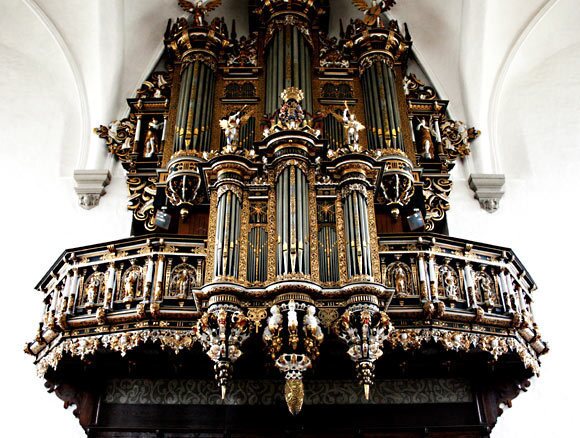 "I took this photo during a day trip to Kristianstad,
Sweden
, while studying abroad at Lund University in the south of Sweden for the summer."
(Katie Lee Pelon, Tujunga)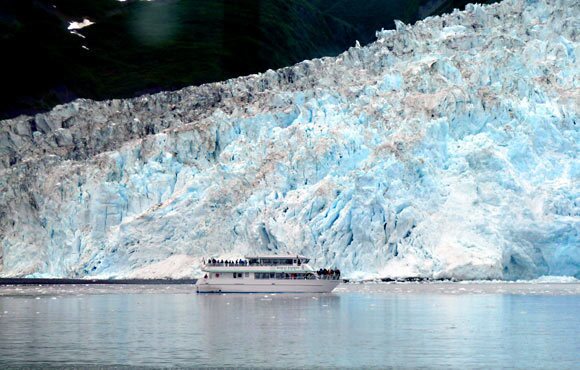 "I love the contrast of the sightseeing boat moving along the blue colored ice."
(Loni Young, Burbank)
"The Hilton Waikoloa, even with its great sculpture collection, is a rather over-the-top Disney-esque sort of place. However, the Buddha statue is set apart from the rest of the resort, up a small hilly pathway. It's windy and peaceful there, with an ocean view on almost three sides. I took many pictures of the statue, trying to capture the serenity one feels in that space."
(Marcia Luce, Los Angeles)
"My 10-year-old grandson Jeremiah took this photo when he came face to face with a peacock at the arboretum on his summer vacation."
-- Gary Estes, Canoga Park
(Jeremiah Hilaire, Gilbert, Ariz.)
"I like the balance of foreground with background and the early morning lighting. The grandness of the mountains and the lake, but also the little details from the colors of the rowboats at the dock to the white paint on the dock pylons. The more I look at the picture, the more I see."
(Larry Gaines, Northridge)