For movie fans and Vegas buffs, the most Instagrammable cinematic spots in Nevada's gambling capital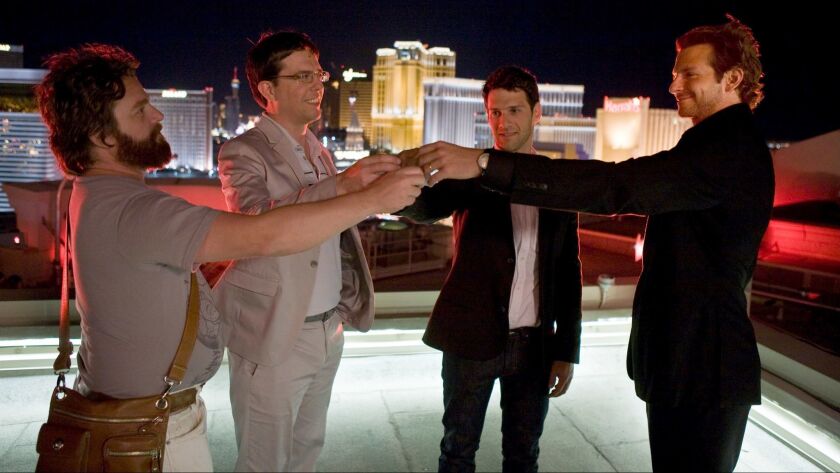 Las Vegas' popularity isn't limited just to its casinos and shows. It's always been a popular film location. Search for Las Vegas as a film location on IMDB (Internet Movie Database) and you'll find more than 900 titles, including "Casino" and "Leaving Las Vegas."
Nothing beats the real thing, but if you're otherwise preoccupied (baseball championships, work, children), sneak in a look at some of these Vegas films for a touch of the real thing.
Using the most complex of calculations —watching (and, in some cases, rewatching) and personal preference, here's my list of seven great Vegas flicks and location tips for your own #lasvegas Instagram moments.
'Bugsy'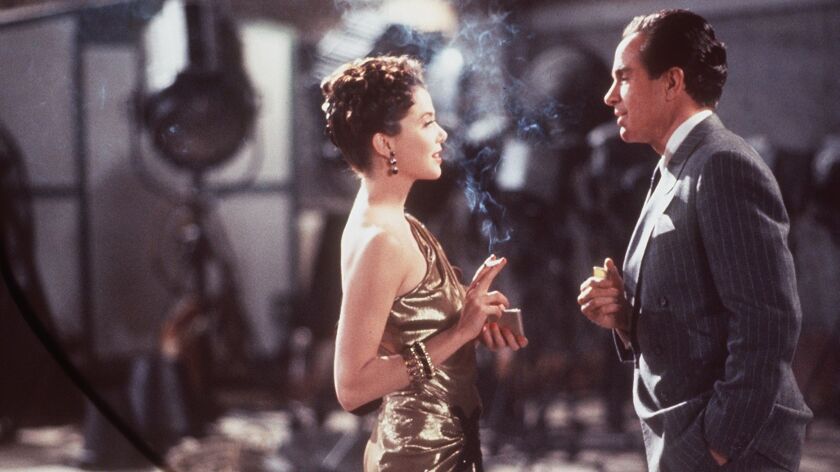 The 1991 film starring Warren Beatty makes Benjamin "Bugsy" Siegel almost likable, despite occasional violence and insanity.
Las Vegas would never have become a movie star without Bugsy's building the Flamingo Hotel and Casino, which, unlike Bugsy, survived. Siegel was shot to death in June 1947 in his Beverly Hills home, partly in retribution for cost overruns on the resort, which soared from $1.5 million to $6 million (an overrun of nearly $52 million in today's dollars).
On a lighter note, it's fun watching Bugsy court Virginia Hill (Annette Bening), knowing the chemistry is real. Beatty married Bening in 1992.
Where to Instagram: Of course the Flamingo, but you could post almost anywhere on the Vegas Strip and say, "If it weren't for Busy Siegel, I would be standing in the desert. He saw casinos when the rest of the mob saw only sand."
'Ocean's 11' (1960)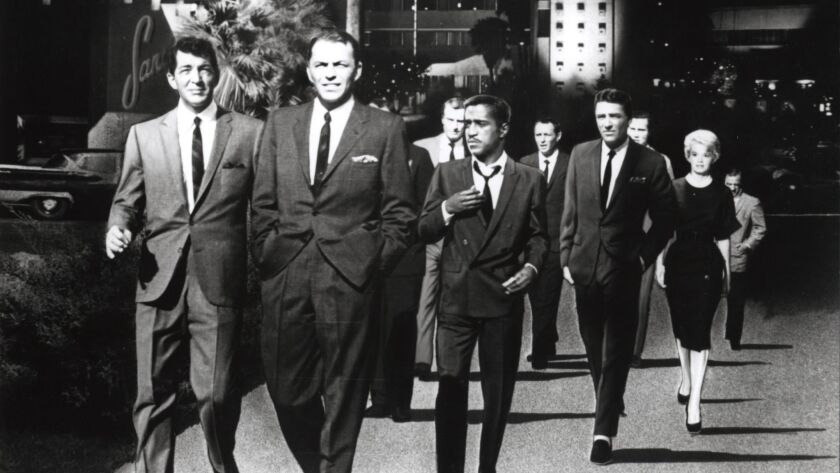 The original "Ocean's 11" (1960) is a heist caper movie starring Frank Sinatra and the Rat Pack (including Dean Martin, Sammy Davis Jr. and Peter Lawford). Danny Ocean (Sinatra) reunites his paratrooper buddies from World War II to rob five casinos in one night.
It's a time capsule glimpse of Las Vegas circa 1960 when the Sahara (now, the SLS), the Riviera (now the convention center), the Sands (today, the site of the Venetian), Desert Inn (now, the site of the Wynn) and the Flamingo were hot spots.
Where to Instagram: The Flamingo. Don't miss gambling at Bugsy's hotel, which has one of the Strip's best pools.
'Ocean's 11' (2001)
This "Ocean's 11" remake is a post-millennium heist film in which Danny Ocean (George Clooney) and Rusty Ryan (Brad Pitt) put together a con-artist gang to rob the MGM, Bellagio and Mirage, all three casinos owned by Terry Benedict (Andy Garcia).
Ocean is doing it for love, not money. He wants to win his ex-wife Tess (Julia Roberts) back from Benedict so he stages the robberies to prove that Benedict loves money more than he loves Tess. Ocean & Co. may be thieves, but they're much more fun than Benedict's rich jerk.
Where to Instagram: Bellagio. Enjoy the hotel and casino, which had a lot of screen time in "Ocean's 11." During filming the cast stayed in Bellagio's villas. Yes, the Bellagio has villas — two bedrooms, 6,500 square feet, with a butler, limo airport transfers and private registration for about $9,000 a night. You won't necessarily know which cast member slept in your villa unless you can find a chatty housekeeper or staff member who knows the history, so don't hold your breath. Discretion is prized — and priceless.
'Vegas Vacation'
In 1997's "Vegas Vacation," the fourth film in National Lampoon's series about the Griswold family, Clark (Chevy Chase) takes his family to Nevada to celebrate a bonus that he hopes to parlay into big dough. While Clark hides his losing streak from the family, his wife, Ellen (Beverly D'Angelo), is wooed by Wayne Newton (who is smitten with the starstruck housewife).
Audrey, the daughter (Marisol Nichols), hangs out with her stripper cousin, and Rusty, the son (Ethan Embry), wins big at craps and slots.
Although critics slammed the movie for its slapstick, that is its strength. Watching Clark almost fall off Hoover Dam and seeing Wayne Newton fawn over Ellen are ROFL scenes.
Where to Instagram: MGM Grand Las Vegas Grand Arena. Instead of Wayne Newton or a fight, you could catch Ozzy Osbourne or Andrea Bocelli.
'21'
The 2008 film "21" captures the excitement of winning and the danger of cheating casinos. MIT math professor Micky Rosa (Kevin Spacey) recruits his top math students for a card-counting team to win big at blackjack in Las Vegas.
Ben (Jim Sturgess) needs $300,000 to pay for Harvard Medical School, so he joins the team to earn tuition. After Ben gets swept up in the excitement of winning, everything falls apart. Even when he's acting like a jerk, you really have to root for him.
Where to Instagram: Bellagio's dancing fountains. They're arguably the best free show in Vegas and maybe its biggest movie star. You see the fountains in the background when Ben is on the run.
'The Hangover'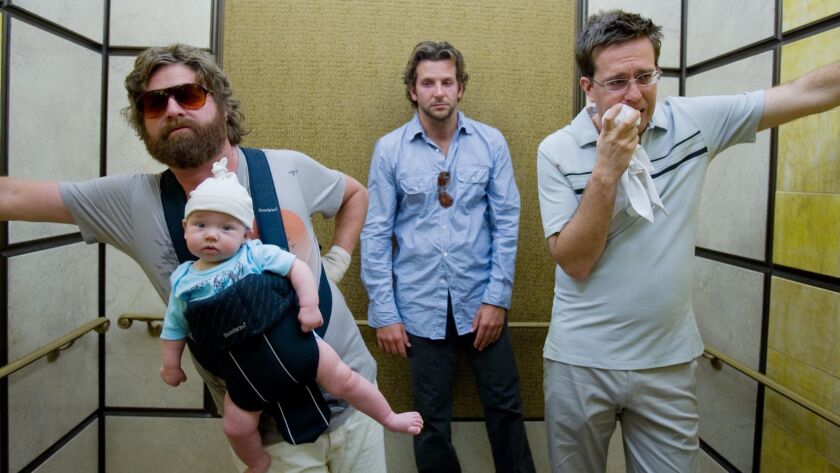 "The Hangover," the 2009 hit that grossed (emphasis on the gross part) $277 million domestically, revived the idea of going wild in Vegas. Two buddies (Bradley Cooper and Ed Helms) take their friend Doug (Justin Bartha) and his future brother-in-law (Zach Galifianakis) to Las Vegas for a bachelor party.
They get so wasted that they lose the groom on the first night. As they retrace their steps from the night before, a tiger, a chicken and Mike Tyson make cameo appearances, as does some unexpected dentistry (wincing here).
It spawned sequels but none as laugh-out-loud funny as this one.
Where to Instagram: Caesars Palace. Take a blackjack lesson, then try your luck. "Rain Man" also featured the Caesars casino, where Charlie (Tom Cruise) taught blackjack to his savant brother, Raymond (Dustin Hoffman). And the Chevron station in Jean, Nev., might be good just for grins.
'Last Vegas'
"Last Vegas," which came out in 2013, is another bachelor party set in Las Vegas, this one with slightly older partyers.
Three childhood friends (Robert De Niro, Morgan Freeman and Kevin Kline), now in their late 60s, reunite in Las Vegas to throw a bachelor party for Billy (Michael Douglas), the friend who has never married. Things get complicated when Billy meets a singer closer to his age and Paddy (De Niro) likes her too.
Watching these guys transform from old-before-their-time guys to cool dudes is unexpectedly refreshing.
Where to Instagram: Aria. Enjoy the lobby, the casino and the pool whether you're 21 or 71. But don't book a villa thinking De Niro slept there. The villa was built on a soundstage in Atlanta.
Also: Binion's. Try gambling at this downtown casino, where the minimum bids are lower than on the Strip; if you visit at night, be sure to catch the Fremont Street Experience.
---
Get inspired to get away.
Explore California, the West and beyond with the weekly Escapes newsletter.
You may occasionally receive promotional content from the Los Angeles Times.