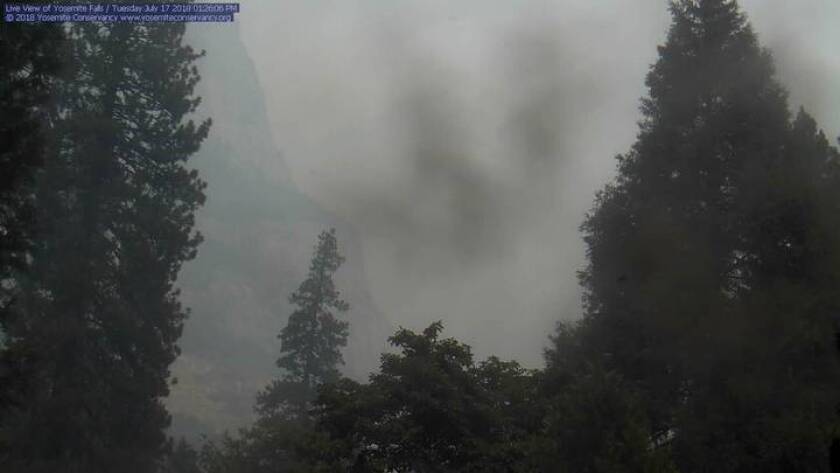 Summer is one of the most popular seasons at Yosemite National Park, but the nearby Ferguson fire is causing unhealthful air and leaving some of the park's most scenic spots shrouded by smoke.
As of Thursday morning, the fire had claimed more than 23,000 acres and was 7% contained, according to InciWeb. It also claimed the life of a firefighter since it began outside the park Friday. The fire is burning west of Yosemite near Jerseydale Campground in Mariposa, Yosemite Cedar Lodge and Indian Flat Campground, and the historic Savage Trading Post.
In Yosemite Valley, everything from hotels and campgrounds to hiking trails remains open to visitors who still want to go. Here are things you need to know that may affect your stay.
I wasn't clear when I originally posted this as wasn't expecting it to get so much attention. This *is* a photo of a 🔥cloud above #yosemite of the #FergusonFire was on a flight from LAS to SFO. The pilot said to look out the window for a rare smoke☁️ pictures don't do justice pic.twitter.com/pea1iqXPwo

— Ashley Watkins (@all4PR) July 17, 2018
Road closures
Highway 140, one of the roads that leads to the park's south entrance, is closed indefinitely from El Portal (outside the park) to 1.5 miles west of Midpines. Drivers should use Highway 120 or Highway 41 instead. Also, Glacier Point Road will close at 10 p.m. Thursday as part of fire operations, according to the park's website.
Air quality
Regional air quality agencies have issued air quality alerts for the foothills, mountains and the entire Central Valley. That means you shouldn't be doing any strenuous hiking while the fire is active and the alert is in effect.
Agencies say exposure to particle pollution can aggravate lung disease, cause asthma attacks and acute bronchitis, and increase the risk of respiratory infections. Info: National Weather Service Air Quality Alerts
Traffic
The southern and the eastern entrances typically have delays during summer months, especially in afternoons and on weekends. Yosemite's website says visitors may face delays of up to two to three hours to enter the park, which could be longer at times because of the fire. Check the park's Traffic page for updates.
Staying in the park
If you have reservations to stay at lodgings in Yosemite and want to cancel, you may forfeit your one-night room deposit if your reservation dates are less than a week out.
However, spokeswoman Lisa Cesaro said in an email: "If someone has concerns about air quality due to health reasons, we encourage them to contact our reservations office to discuss options." Info: Yosemite National Park Lodging, (888) 413-8869
Smoke from the #FergusonFire has been obscuring visibility in Yosemite Valley over the past couple of days. The smoke particles from the fire have created a soft, orange light that adds a strange and beautiful touch to familiar sights like Cook's Meadow and milkweed flowers. pic.twitter.com/ueOlpdbIot

— Yosemite National Park (@YosemiteNPS) July 19, 2018
Seeing the sights
All those great photos you were going to take? If views of Half Dome and other popular landmarks are important to you, know that visibility may be obscured by thick smoke until the fire is extinguished. Check out Yosemite's webcams at popular spots to get a preview of what you'll see. On Thursday morning, you couldn't see a view of Half Dome on its webcam.
---
UPDATES:
11 a.m. Friday. This article was updated with the size and percentage of containment of the fire.
---