Yunnan, China: Thousand Lion Mountain, cormorant fishing, more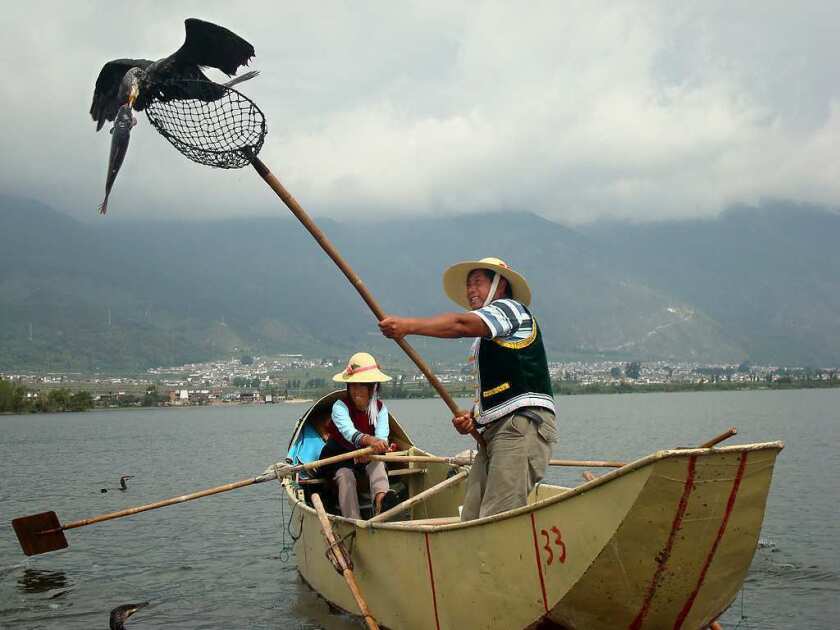 DALI, China — "I'm sorry," my travel agent's email said, "but Tibet is closed."
Closed? How could it just shut down? This wasn't Space Mountain we were talking about.
A quick Google search confirmed the news. In "celebration" of the anniversary of communist rule, all foreigners were barred from entering the Chinese-controlled region. And now I was in a bind. It was three weeks before my 17-day trip.
"Have you ever been to Yunnan?" travel agent Jane Lee asked.
Been to Yunnan? I'd never even heard of Yunnan.
Yunnan province, in southwest China, is thriving with Tibetans and 24 other distinct ethnic groups. Although it may not be the first choice for first-time visitors to China, Yunnan has plenty to see and do. Looking to escape the hordes of fanny packs at the Great Wall outside Beijing or the ancient terra-cotta warriors near Xian? Yunnan could be the respite.
Getting here is fairly easy, and you'll certainly get to catch up on plenty of in-flight movies. After nearly 21 hours of flying time from Los Angeles, with stops in Shanghai and Beijing, I eventually arrived in Kunming, the capital and largest city of Yunnan.
Here are three cultural experiences I enjoyed, worthwhile whether Tibet is open or not.
Thousand Lion Mountain
My stomach got a cramp just looking at the worn marble steps climbing the nearly 9,120-foot mountain that disappeared into a fluffy gray cloud.
"I've never made it to the top," said Pu Xiao Hong, my 34-year-old guide who has lived her entire life in the nearby town of Dali in western Yunnan. "The last time I was here, I came with a French couple who made it to that spot," she said, pointing to about the 20th step.
"Let's do this," I said, throwing two energy bars and a bottle of water in my backpack. I think I've been more prepared for a day trip to Malibu.
Thousand Lion Mountain, between Dali and Lijiang to the north, is a popular weekend spot for Chinese families from the surrounding areas. Depending on the trail, 800 to 1,000 stairs lead to the mountain peak past 2,500 stone-carved lions dating to the Song (906-1279) and Qing (1644-1911) dynasties.
Along the way, we huffed and puffed, saying nothing until we reached the first landing. "Lion carvings are an important tradition in China. The Chinese believe that lions are great protectors," she explained. "Today, you'll see them guarding holy sites and entrances to towns."
A pair of lions stood above us on a pedestal. "The one on the right is the male," she said. "It has a ball."
She pointed to the lion with its paw on top of an orb. "The ball symbolizes unity. The other statue has a lion cub underneath its paw, which is traditionally the female and represents thriving offspring."
We ascended the next set of stairs. "52 … 53 … 54...." Hong counted, gasping between each step.
"It's OK, I can make it the rest of the way," I said, partly as a kind gesture but mostly because I wasn't sure I could handle hearing stairs 55 through 1,000 called aloud.
Hong turned back and I continued. After three hours, the trail leveled off, and I followed it through a haze of herbal smoke to the Manxianlin monastery, a sacred spot for local Buddhists. A crowd of elderly men and women genuflected in my direction.
"Don't mind me. I'm just hiking through," I said, getting nothing but blank stares in return. I tried to act out hiking, although, guessing from their faces, I probably looked as though I were reenacting a scene from "Riverdance."
A young Chinese man, wearing a Members Only-style jacket, led me to a communal table where a group of frail women served me several vegetarian dishes. I awkwardly picked up a pair of chopsticks and ate a few bites.
"Thank you for your hospitality, but I should get going," I said, pointing at my watch and rubbing my stomach. I waved goodbye and headed for the trail.
After an hour, I reached a towering white brick pagoda at the peak. Below it stood the largest carving yet, a 60-foot-tall marble male lion. As I took in the incredible view of the valley below, I couldn't help but think that pantomiming this scene back at the monastery would take nothing less than a full-on Irish jig.
Cormorant fishing
After the strenuous hike, I was ready for some rest and relaxation. The next morning, Hong suggested a boat ride on Erhai Lake near Dali.
Within minutes, the calm water turned into a thrashing frenzy. Yang Yi Zhu, a local fisherman, slowly dipped a bamboo pole with a net into the water.
"It acts as a perch," Hong said, as the water bubbled below.
Suddenly, a bird that looked like a cross between a penguin and a duck emerged from the water carrying a wriggling fish in its beak. It flapped its wings, picking up speed to escape a dozen other birds that appeared ready for a tug of war. Yi Zhu lifted the net above his head like a proud master, displaying the fresh catch hanging from the bird.
Yi Zhu's family is just one of 12 in Yunnan that continues to use trained cormorants as their primary means of fishing. Most birds fetch several pounds of fish a day, and some can bring in more than 50 pounds on a good day.
The tradition is passed from generation to generation in this ethnic minority Bai community, but it is slowly dying. "It's difficult to compete with technology," Hong said. "Most fish are caught for their families in the nearby village. Whatever is left over, they sell."
As hatchlings, cormorants are trained to become comfortable with humans. They hunt as if in the wild with one exception — a thin band is tied around the birds' necks to prevent them from swallowing the larger fish. (Think Lap-Band for birds.)
Yi Zhu reached into a bucket and tossed several handfuls of tiny fish to the honking cormorants. He picked up one of the birds and placed it on my shoulder, just inches from my face.
"It likes you," said Hong, laughing as it flapped its wing against my ear to stay balanced. This certainly wasn't your typical day of fishing.
Say Cheese: A Land of Tibetan Yaks
The next day, Hong stayed in Dali while I continued north with my driver Jian Chuang, following the Tea and Horse Caravan Road. Although not as famous as China's Silk Road, the route once served as a vital trading circuit between China and neighboring India, Nepal and Tibet.
The paved two-lane road meandered past emerald rice paddies and fields of tea plants, eventually reaching the arid mountainous region near the Tibetan border.
"You've arrived in Shangri-La," Chuang said. He wasn't joking.
In 2002, the Chinese government officially renamed the sleepy county of Zhongdian as the fictional location of James Hilton's 1933 novel, "Lost Horizon," beating out several others hoping to cash in on the tourism boom.
Chuang drove me to the center of Old Town, passing youth hostels, yak meat stands and souvenir shops, all rebuilt to resemble traditional Tibetan structures. It began to rain as we approached an open public square with a 78-foot-tall golden prayer wheel spinning on a nearby hilltop.
I was determined to explore the town despite the nasty weather. I walked about 10 steps from the car before slipping and landing flat on my back on the cobblestone street.
"You should come back when it's dry," Chuang said. "Let's visit a Tibetan family outside of town. They don't have cobblestones there."
After a short ride, we stopped at a two-story wooden home with three flags on the roof.
"This is a very prominent family," Chuang explained. "One flag means they are Tibetan Buddhists, two means they are wealthy and three means that a monk is from this family."
An elderly woman emerged from the house and waved us over. Chuang explained that I'd like to look around. Without saying a word, she pulled us inside to a long wooden table.
Within minutes, her daughter brought out a feast of bread, homemade yak cheese and yak butter tea in soup-bowl-sized cups. I broke off a few pieces of cheese and took a long sip of the tea. It tasted like pure salt. She then dumped a spoonful of sugar on the cheese. This may be an acquired taste.
After a few more bites and pretending to drink the tea, I asked to take a tour of the home. The women took me into an elaborately painted prayer room with a framed photograph of the Dalai Lama.
I looked outside a nearby window at a field of colorful prayer flags flapping against the backdrop of the frozen Himalayan foothills.
Maybe I didn't need to visit Tibet after all.
---
Get inspired to get away.
Explore California, the West and beyond with the weekly Escapes newsletter.
You may occasionally receive promotional content from the Los Angeles Times.