Santa Barbara: An AKA Beverly Hills suite in an Airstream trailer? Yes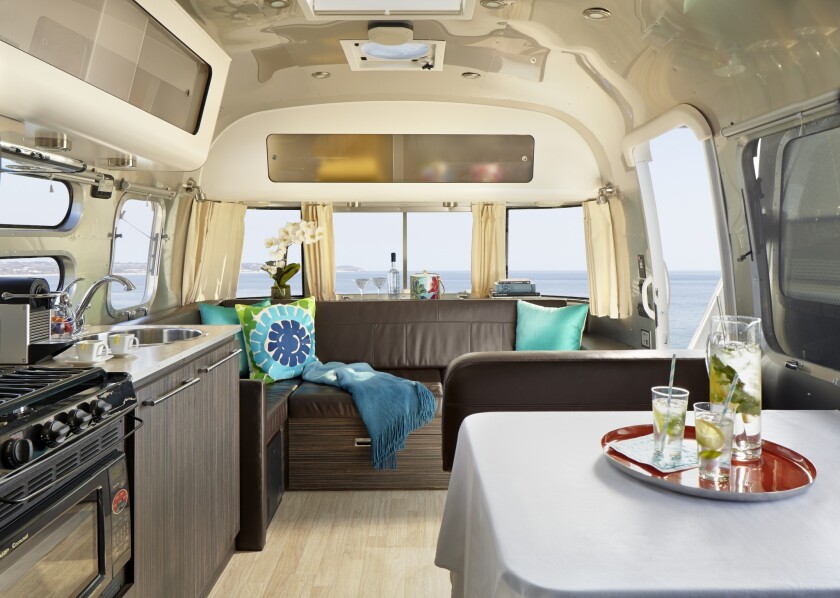 Daily Deal and Travel Blogger
Finally, someone has designed a luxury hotel suite with wheels. Long-stay AKA Beverly Hills hotel has created a suite inside an Airstream trailer with leather interiors, full kitchen and bathroom, a bed with comfy linens, and even its trademark Bulgari bath amenities.
Price-tag for a five-day trip to Santa Barbara: $6,000.
Starting May 1, AKA guests can reserve the modified Airstream 2 Go and drive up the coast to spend two nights at Sunstone Vineyards in the wine-growing Santa Ynez Valley and two nights at Ocean Mesa Campground north of Santa Barbara. You can add on spa treatments, hikes, stargazing, wine-tastings, whatever your outdoors fancy, in advance.
Added bonus: California designer Trina Turk has added some colorful accessories to the suite -- and to the road-trip package. Guests receive a one-on-one styling session at the namesake boutique in Los Angeles and a pack list that begins with "Anything in orange or bright coral."
You drive the Airstream from the wheel of a Yukon Denali SUV with a 28-foot trailer that sleeps six.
The offer is open to guests who stay at AKA Beverly Hills at 155 N. Crescent Drive (near Wilshire Boulevard). The hotel opened last year for guests who want to stay a month or longer, but recently changed its minimum stay to seven days. The weekly rate for one-bedroom suites -- which come with a full kitchen, dining area, washer and dryer, free Wi-Fi and bike rentals, and room service by Spago -- start at $435 a night.
Info: Contact the Mobile Suite Concierge at Mobilesuite@stayaka.com or call (424) 278.6013
(424) 278.6013.
Mary.Forgione@latimes.com
Follow us on Twitter @latimestravel, like us on Facebook @Los Angeles Times Travel.
Call
Send SMS
Add to Skype
You'll need Skype CreditFree via Skype
---
Get inspired to get away.
Explore California, the West and beyond with the weekly Escapes newsletter.
You may occasionally receive promotional content from the Los Angeles Times.