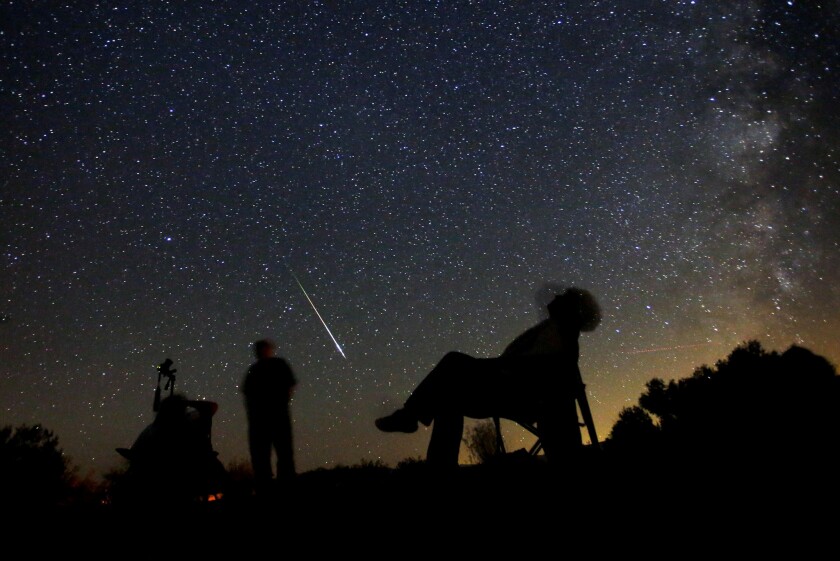 The Perseids are coming, the Perseids are coming! The fireballs and shooting stars known as the Perseid meteor showers that peak in mid-August may be the best ever this year. For one thing, there will be little or no moon to ruin the light show. For another, they're best seen in the Northern Hemisphere.
The Perseids arrive every year roughly from mid-July to late August when Earth passes through the path of a comet called Swift-Tuttle. It's the comet debris slamming into the atmosphere that provides the big light show.
Peak viewing times will be the super-early morning hours of Aug. 11, 12 and 13. The later (or earlier, depending on how you look at it) you stay up, the more shooting stars you'll see.
But if you think you're going to hunker down at your favorite L.A. roof-top bar, think again. Only around 10% of Americans are able to see the night sky in its natural state. That means Angelenos will miss out unless they go to the dark side.
Here are the best places-- some rough, some plush -- to enjoy the Perseids.
1. National parks and forests
Dark skies abound in Joshua Tree and Death Valley national parks near Southern California and on up to Yosemite and points north in the Sierra. The closest big parkland to Los Angeles is the 700,000-acre Angeles National Forest. Drive north on the Angeles Crest Highway (California 2) above La Canada Flintridge and you're pretty much there.
Pull off at a vista spot and look up -- for as long as you like. Bring layered clothes, binoculars, a comfortable lawn chair (from which to star gaze) and a blanket or two and enjoy the show. Those who want to stay overnight may camp out at spots like Buckhorn Campground, roughly 35 miles up the highway. It costs $12 a night, first come, first served.
2. Joshua Tree, Calif.
The Joshua Tree Astronomy Arts Theater in Joshua Tree is hosting a Perseid Meteor Shower Celebration 2015 at Joshua Tree Lake RV & Campground. For $5, you get to party from 8:30 p.m. to midnight -- and watch the light show with a musical accompaniment. Sign up at the event's Meetup site if you plan to go.
3. Borrego Springs, Calif.
La Casa del Zorro on the edge of Anza Borrego Desert State Park is a natural for darkness. It's also a lovely place to bed down without hitting the dirt. The resort will host a stargazing party starting at 9 p.m. Aug. 13 for free for those who want to watch the Perseids. The resort also has a stargazing room rate on selected dates that starts at $189 a night plus tax and $25 daily resort fee. The cost includes use of a telescope and entrance to the party.
Contact La Casa Del Zorro; (855) 402-2272
4. Lake Tahoe area
If you really want a luxury experience, join the Tahoe Star Tours party at the Ritz-Carlton, Lake Tahoe in Truckee, Calif. It includes star-gazing and seeing the Perseids along with a live chamber music ensemble, cheese and dessert stations, and wine and Champagne. Cost is $100 per person.
Tahoe Star Tours, by the way, offer star-gazing events Thursdays and Saturdays from 8:15 to 10:30 p.m. at Northstar California ski resort in Truckee, Calif.; Friday-night events take place at the Ritz-Carlton.
5. Great Basin National Park
This is the biggest, baddest night sky around. Great Basin National Park is miles from anywhere, on the eastern edge of Nevada, and it claims some of the best dark skies in the nation. If you're up for the 500-plus mile drive, you can party at the park's Dark Rangers program from 9 p.m. to midnight at the Lehman Caves Visitor Center.
Bring a blanket or sleeping bag and a chair to sit on while watching the night sky.
---