13 Images
Googie Architecture
The iconic Theme Building at LAX, which houses the Encounter Restaurant, is a popular example of the Space Age look of Googie architecture. The whimsical design style, popular in Southern California in the 1950s and named after an L.A. coffee shop, features bright colors, eye-catching signs and futuristic designs. Though many Googie buildings are gone, a few examples remain in Southern California.
(Genaro Molina / Los Angeles Times)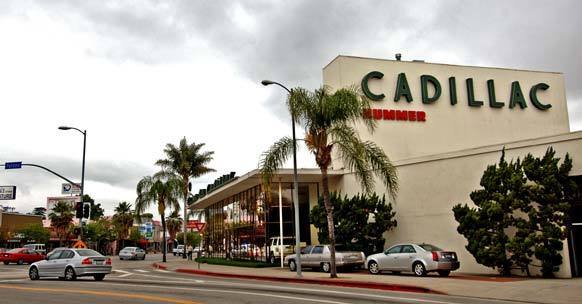 Casa de Cadillac on Ventura Boulevard in the San Fernando Valley is a classic example of Googie style. The auto dealership, with its large windows and sleek neon signage, was designed to attract the attention of passing motorists and entice them to come in and see the latest offerings from Detroit.
(Richard Derk / Los Angeles Times)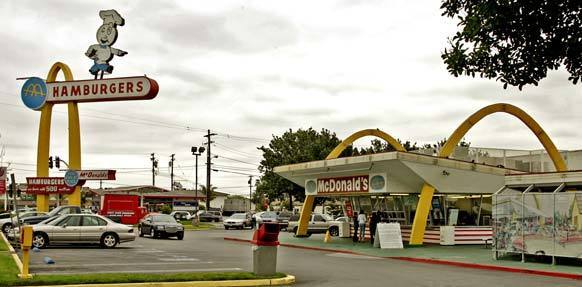 The sign outside the McDonald's restaurant on Lakewood Boulevard in Downey features, not Ronald, but Speedee the chef — the fast-food chain's original spokesman as a symbol of fast, efficient service. This restaurant, the oldest remaining McDonald's, was restored in 1996, but it continues to mix the old with the new. The employees dress in 1950s-style uniforms, the bright yellow golden arches are still prominent, and Speedee keeps watch over everything from his 60-foot-high perch.
(Irfan Khan / Los Angeles Times)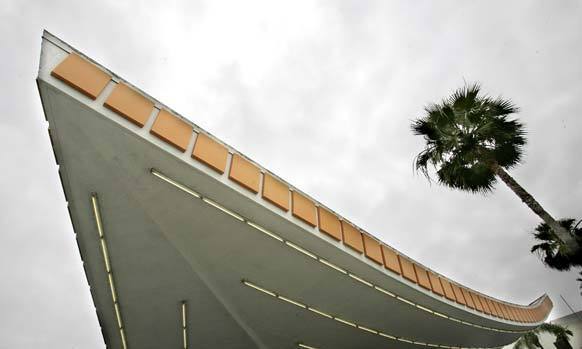 The prow of a ship? The wing of an airplane? How about the roof of a gas station. This curved, triangular structure was originally built to be part of LAX, but it now protects drivers filling their tanks at the Jack Colker Union 96 station on Crescent Drive in Beverly Hills.
(Carlos Chavez / Los Angeles Times)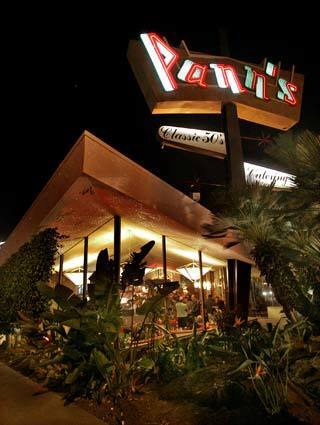 Pann's Restaurant & Coffee Shop, on La Tijera Boulevard in Los Angeles, celebrates its 50th anniversary this year. With its tilted roof, neon sign, large windows, plants and exposed stone walls inside and out, Pann's is a popular filming location, appearing in "Pulp Fiction," "XXX" and "Bewitched."
(Lawrence K. Ho / Los Angeles Times)
With its soaring steel beams and support wires, the Beach-Lin Car Wash on Beach Boulevard in Anaheim certainly has a Space Age vibe.
(Glenn Koenig / Los Angeles Times)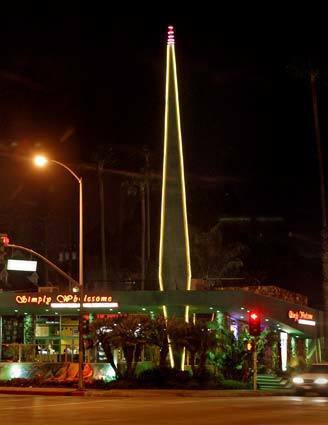 This neon needle sign marks the former location of the Wich Stand on Slauson Avenue in Los Angeles. The current occupants, Simply Wholesome, have replaced the menu offerings of malts and fries with health-conscious Caribbean treats and organic items. But they kept the sloped concrete roof, stone walls and large windows.
(Lawrence K. Ho / Los Angeles Times)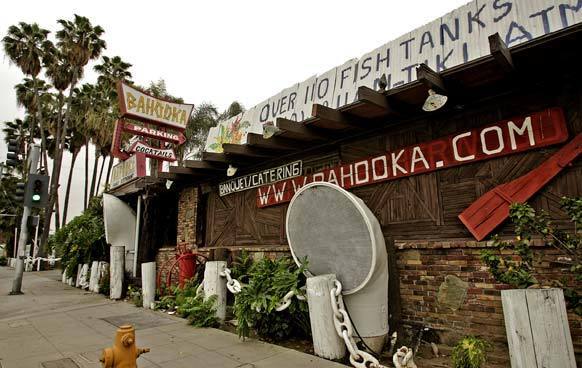 The tiki torches still burn brightly at the Bahooka restaurant on Rosemead Boulevard in Rosemead, which opened at the end of the Googie surge. The Polynesian-style design pays tribute to the soldiers returning from the Pacific theater. The island decor mostly popped up in the suburbs, where it was considered new and daring by residents.
(Irfan Khan / Los Angeles Times)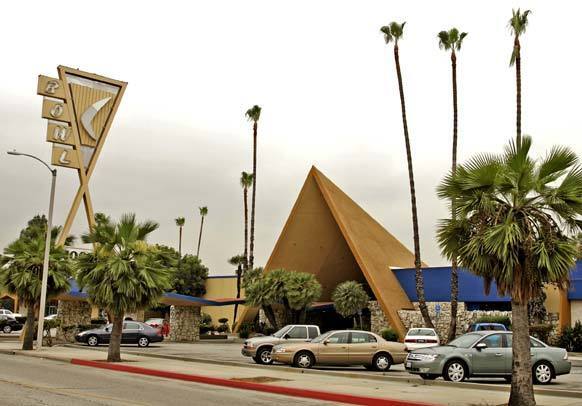 The design of the Brunswick Covina Bowl on San Bernardino Road in Covina was intended to transform the image of a bowling alley from the dark, smoky bastion of maleness into a cleaner, brighter, airy location that would attract women for daytime leagues and couples for date nights. The Brunswick Covina Bowl features a pyramid-shaped entry and Egyptian-styled details.
(Irfan Kahn / Los Angeles Times)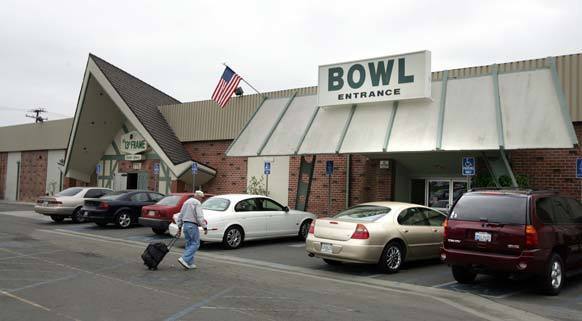 With its A-frame roof and neon starburst sign, the La Habra 300 Bowl on Whittier Boulevard in La Habra is another example of Googie style.
(Glenn Koenig / Los Angeles Times)
Norms restaurant on La Cienega in Los Angeles features many Googie design elements, including a jutting roof, bright neon sign, orange structural trusses and large windows.
(Carlos Chavez / Los Angeles Times)
The Bob's Big Boy restaurant on Riverside Drive in Burbank, built in 1949, features a Streamline Moderne design, highlighted by plenty of neon. The first Big Boy restaurant opened in Glendale in 1936, but this site is the oldest remaining restaurant in the chain.
(Carlos Chavez / Los Angeles Times)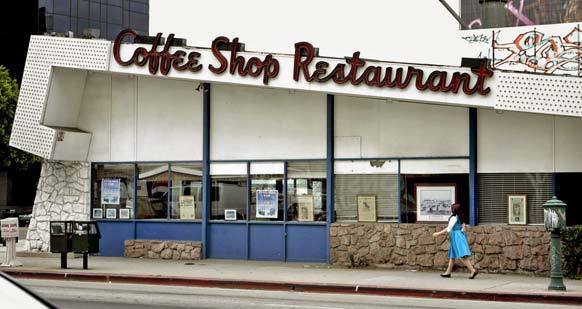 With its bright windows and inviting neon sign, Johnie's Coffee Shop on Wilshire Boulevard might seem like a great place to grab a quick lunch. But don't be fooled. Johnie's, which opened in 1955, stopped serving food in 2000 and is now used only as a filming location. Scenes from "The Big Lebowski" and "Reservoir Dogs" were shot there.
(Carlos Chavez / Los Angeles Times)