8 Images
Amsterdam for kids
Indisputable facts about Amsterdam include its manageable size, its mixture of history and art and lovely environment, its concentric circles of canals — and its residents' reliance on the bicycle. Legions bike to school or jobs (a report says that 40% of commuters cycle to work) or just to get around. That's fitting in a city that to some visitors seems like a small kingdom teeming with outdoor life, from cafes to markets to boats.
(Gail Fisher / LAT)
It helps to be a pigeon lover in the Dam, Amsterdam's main public square. The place has an ever-changing personality, from a book mart to a music festival site to the gathering place of backpackers and tourists. One of its attractions is the Royal Palace, which dates to the 17th century but is a youngster compared to the Dam. The square's name is associated with a dam on the Amstel River, a development that also gave the city its name.
(Gail Fisher / LAT)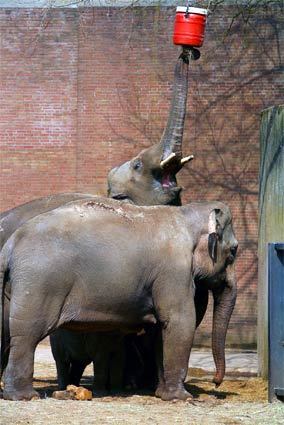 Elephants at Artis Zoo satisfy not only their hunger but also zoo visitors' appetite for entertainment. Founded in 1838, the zoo also features an aquarium that peers into the life of Amsterdam's canals. If zoos are favored haunts of the young, then Amsterdam is in general the sort of city a child might conjure in his or her dreams: the canals, the long canal boats, the overflowing window boxes, the tall houses shoulder to shoulder, the pretty bridges.
(Gail Fisher / LAT)
Historic albeit heartbreaking, the Anne Frank House, where a doomed young Jewish diarist hid from Nazi forces during World War II, attracts throngs of visitors. The house is now a museum where Anne Frank's diary is among the objects on display and the history of those who hid there, and of those who helped them, is told.
(Gail Fisher / LAT)
A youngster keeps his eye on the ball at TunFun, an indoor playground in a onetime traffic underpass in the center of Amsterdam. Sure, the town has a really big park and an appealing zoo. But TunFun has a children's disco, slides, trampolines, a soccer pitch and plenty more. Nuff said.
(Gail Fisher / LAT)
You can blow a bubble big enough to stand in at NEMO science center, which is the institution's point: It's about exploring science and technology in a playful way. NEMO calls itself the biggest science center in the Netherlands, and it is housed in a striking building, designed by the famed Renzo Piano, that resembles a large, green-hulled ship.
(Gail Fisher / LAT)
A child applauds the attractions at Artis Zoo, and she won't soon run out of fascinating sights. Artis features 700 species of animals and is a botanical garden as well as the site of a planetarium.
(Gail Fisher / LAT)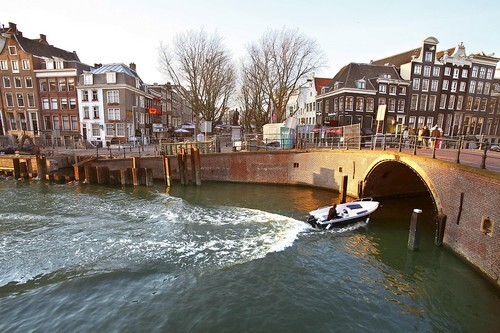 Its miles of canals may identify Amsterdam more than any other feature. The waterways offer a way to tour the city as well as to appreciate its architecture and bridges.
(Gail Fisher / LAT)