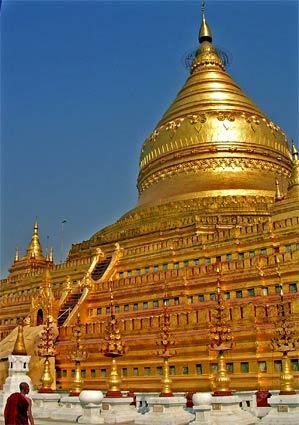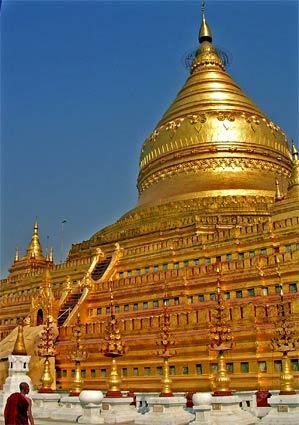 Bagan, Myanmar, is awash in temples and monuments, none more impressive than Shwezigon, a golden mountain of a Buddhist temple at the northern boundary of the old imperial capital. Its gold leaf covering is reapplied by hand in postage stamp-sized bits every four years. (Myanmar was formerly known as Burma.)
(Joe Robinson)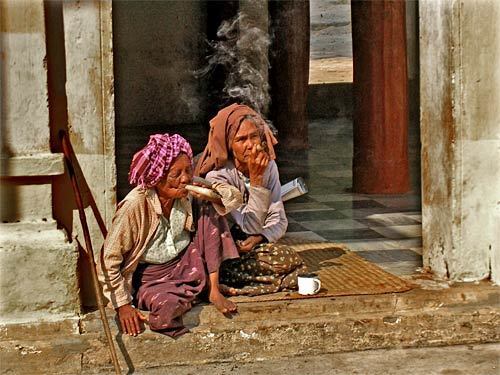 Bagan residents often take a rest during the brutal midday heat -- and there's always time for a smoke.
(Joe Robinson)
A 20-foot statue of the Buddha -- one of several -- towers under the soaring arches of Ananda Pahto, a whitewashed temple topped by an ornate, gilded steeple. Ananda was built in 1105 in the prime of temple construction, which exploded after most of modern-day Myanmar was united under King Anawrahta at Bagan.
(Joe Robinson)
Burmese children sport a protective and decorative coating of golden thanaka powder on their faces.
(Joe Robinson)
Spires dot Bagan's landscape, and more are going up all the time -- Myanmar's ruling military junta has thrown steeples onto topless monuments and rebuilt fallen structures. International archaeologists and art experts are horrified, but the target audience is the tourists who come in spite of a boycott intended to undermine the regime.
(Joe Robinson)