8 Images
La Costa Resort in Carlsbad
The elegant La Costa Resort & Spa in Carlsbad is the kind of place where you expect to be pampered. When it's good, it's very, very good ... and when it's not, you might think you deserve more for your $400-plus a night.
(Karen Tapia-Andersen / LAT)
The sunny plaza at La Costa. A $140-million expansion has added new restaurants, shops, what's said to be the area's largest ballroom, two kids' clubhouses, a 42-treatment room spa and a pool complex. There's lots to do, but little serenity — it's like a 400-acre village.
(Jay D. Jenks)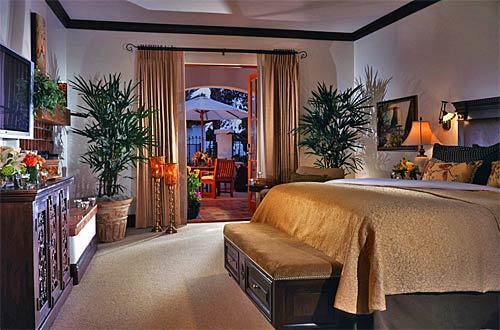 A bedroom in one of the new condo villas, which come complete with kitchens, private patios and access to the resort's amenities. Though privately owned, the condos are managed by the resort and can be rented out all but 120 days of the year.
(La Costa)
The lavishly appointed lobby, where your vacation begins.
(La Costa)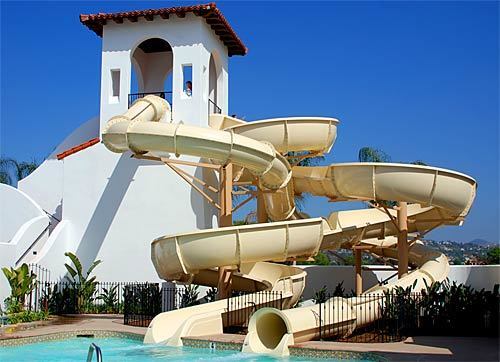 Splash Landing, the latest recreational addition, is a pool complex with waterslides, an artificial beach, water cannons and fountains.
(La Costa)
One of Splash Landing's three waterslides keeps this kid happy. He might also enjoy Kidtopia, the on-site "camp," and the children's menu with pepperoni pizza, Kobe burgers and vanilla milkshakes.
(La Costa)
A model home in La Costa Greens, a planned community perched above the golf course. Although the development is still under construction, some homes are already occupied.
(Karen Tapia-Andersen / LAT)
La Costa is also a country club, although the locals say the members aren't the stuffy type — just wealthy. With competition from the regulars, hotel guests need to take the initiative to get what they want from the resort's amenities. Once that's over, they can relax and enjoy the luxury all around.
(Karen Tapia-Andersen / LAT)