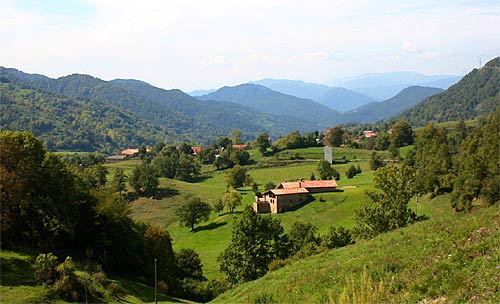 17 Images
Catalonia, Spain's mushroom festival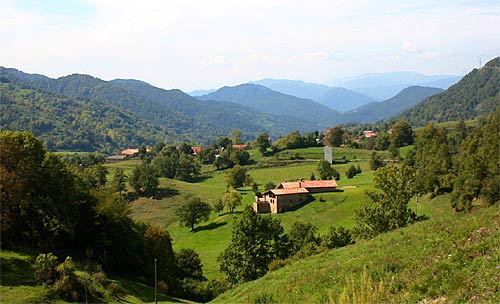 In the foothills of the Pyrenees in Spain's Catalonia region, the scenery is gorgeous and the climate's perfect for mushrooms. Come fall, the region goes wild for the edible fungus, celebrating twin rituals: mushroom picking and mushroom eating.
(Craig Ligibel)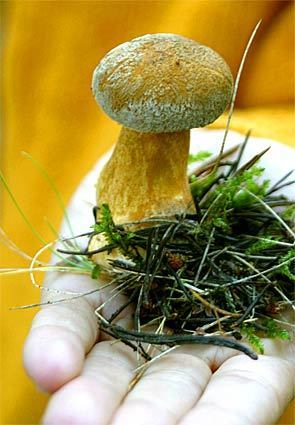 When mushroom hunting, be careful -- looks can be deceiving. Some varieties are poisonous, including this one from the family Boletus, whose look-alike cousin is quite tasty.
(Craig Ligibel)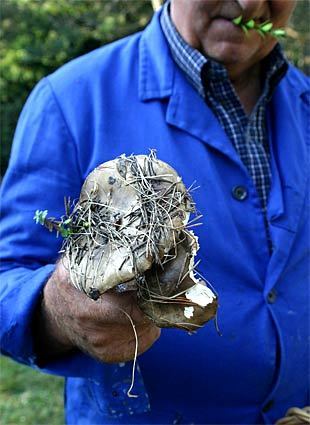 Longtime hunter Jaume Cepdevila shows off his catch of the day: a 1 1/2 -pound
llenega negra
, valued for its succulence. The hunt is a big part of the thrill: up and down trails, including the Path of the Good Men, part of a 120-mile trail carved out of the mountains eight centuries ago by the Cathars to escape persecution in southern France.
(Craig Ligibel)
Behold the
rovello
in all its glory. The silver-dollar-sized mushrooms are tender and sweet, according to one guide in Catalonia.
(Craig Ligibel)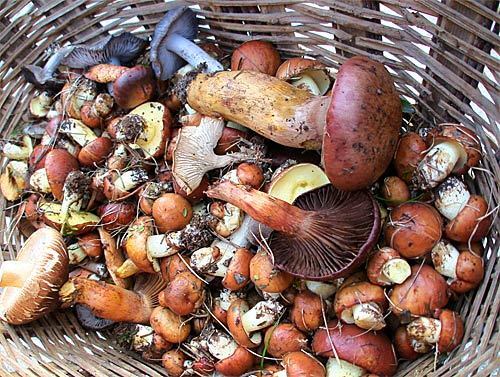 The fruits of a morning's labor: a basket full of mushrooms, including
pintells
and
fredolics
. There are said to be more than 5,000 types of mushrooms, although Catalan hunters limit themselves to about 30 varieties.
(Craig Ligibel)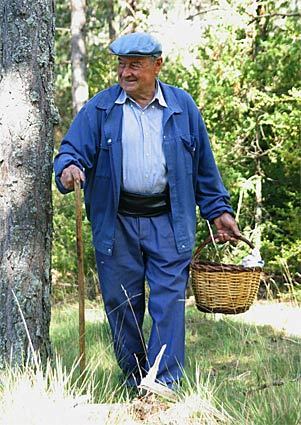 Stick and basket in hand, Joan Grifel Vinyas heads out for a day of hunting. The area around Berga, Spain, is a mushroom mother lode: thousands of square miles of mountain slopes with just the right climate for the fungus, all accessible by a network of hiking trails and dirt roads.
(Craig Ligibel)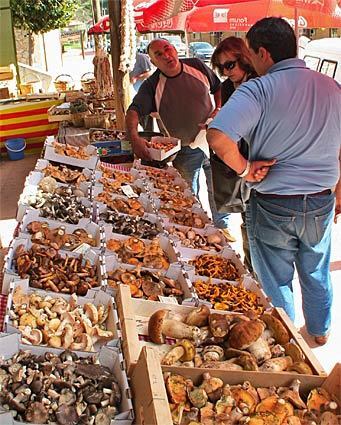 I'll take two boxes, please. A couple browse the selection at Berga's mushroom market, a place where pickers, sellers and buyers unite in a stream of commerce.
(Craig Ligibel)
At the market in Berga,
rovello
mushrooms are fresh from the field, just waiting to be snapped up.
(Craig Ligibel)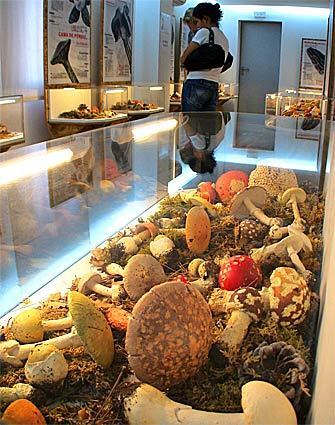 It's all things 'shroom at the Museu d'Art del Bolet (Museum of the Art of the Mushroom) in the village of Montmajor. There, under glass, are ceramic dioramas featuring a variety of mushrooms. Each mushroom has been faithfully reproduced by master ceramist Josefina Vilajosana, and each case carries a graphic showing which species are edible and which are toxic.
(Craig Ligibel)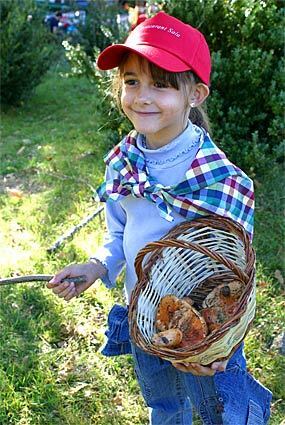 It's like an Easter egg hunt, only for mushrooms. A girl shows off her goodies at the Mushroom Festival near Berga. After the morning mushroom hunt, the young participants marched around the show ring as the townspeople pressed close for a look at the pickings.
(Craig Ligibel)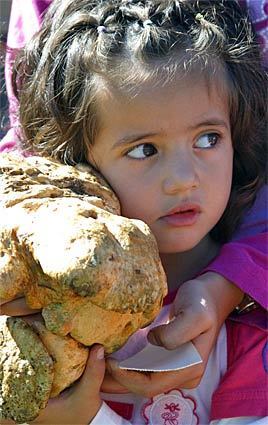 It's beauty and the beast as a girl displays a monster-sized
rovello.
Bragging rights? You bet -- the mushroom weighed in at 2 pounds.
(Craig Ligibel)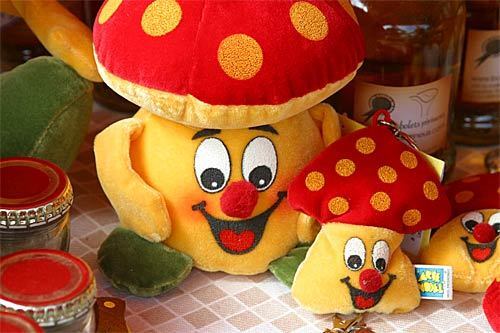 In Catalonia, kids get involved from an early age. Playful, stuffed versions of everybody's favorite fungus are for sale at Berga's mushroom market.
(Craig Ligibel)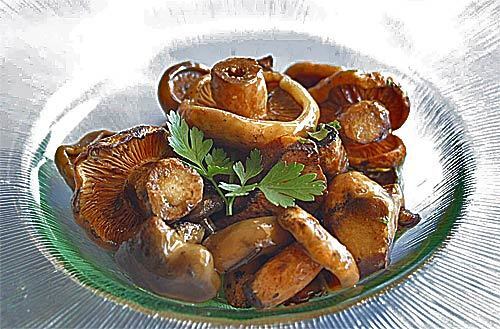 After a successful search for the incredible edibles, an appropriate way to celebrate is with a plate of wild mushrooms sauteed in olive oil with garlic and garnished with parsley.
(Craig Ligibel)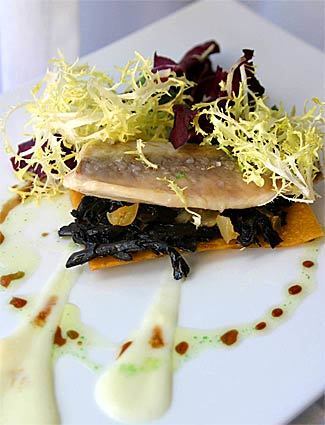 Trompete de la mort
mushrooms provide a delicate balance to an appetizer at Estany Clar. More than two dozen of the region's restaurants offer special mushroom tasting menus during the season.
(Craig Ligibel)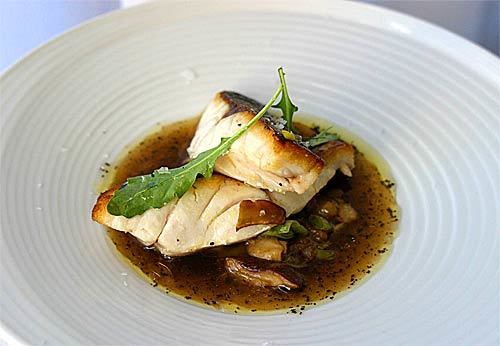 Rovellos
accent baked sea bass at La Cabana, a restaurant high above Berga. Coming for dinner? Catalans eat late; dinner generally begins between 9:30 and 10 p.m.
(Craig Ligibel)
Mushroom picking contest winner Soncel Molins struggles to carry his prize-winning basket to the judging stand. Molins' musroom harvest topped the scales at 123 pounds.
(Craig Ligibel)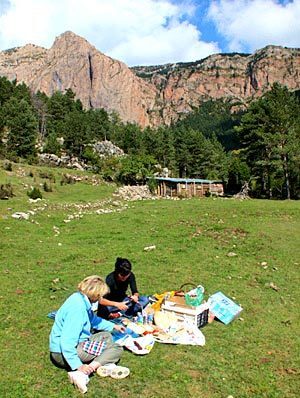 Hunters take a break from their mushroom quest with a traditional lunch of bread and tomato ("pa amb tomaquet") beside the Path of the Good Men.
(Craig Ligibel)