7 Images
Paris for the holidays
Paris
For some (read: young) Parisians, speeding downhill on luge tracks temporarily set up at the Hôtel de Ville -- the city hall -- is one of the pleasures of the holiday season. So is free ice skating near the same landmark building.
(Jacques Brinon / Associated Press)
Paris
A huge Christmas tree dominates a Les Galeries Lafayette area where perfumes are sold. The scene at the prominent department store calls attention to two facts: Paris at Christmas is bright, gorgeous and happy, and holiday shopping is an essential.
(Alastair Miller / Bloomberg News)
Paris
The Champs-Élysées blazes with holiday-season lights as well as with illumination from traffic, underscoring the city's holiday character as alive with light and festivity. It's a scene that may grow even more fetching when viewed from atop the Arc de Triomphe, left.
(Francois Durand / Getty Images)
Paris
Trees along the Champs-Élysées resemble sparkling bowls -- a fitting motif in the City of Light. Paris gets dark early in December, but its glimmer helps make the city as much fun at night as on a summer's day.
(Horacio Villalobos / EPA)
Paris
At the expansive square known as the Place de la Concorde, a landmark obelisk is backlighted by a giant Ferris wheel, quite a sight for a child's eyes.
(Christophe Ena / Associated Press)
Paris
Les Galeries Lafayette wears its holiday decorations in stirring fashion, but that's Paris for you -- with every building, every street decorated in its own architectural charm as year's end draws near.
(Francois Durand / Getty Images)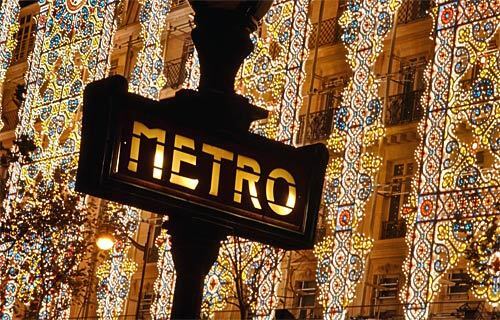 Paris
A sign proclaiming an entrance to the Métro subway system stands out against the glow of Les Galeries Lafayette. The Métro's has its fans, but at this time of year, walking Paris' streets can be a thrill.
(Bertrand Guay / AFP / Getty Images)