10 Images
Portland, Oregon
Finding an alternative to driving, commuters on bicycles pump toward downtown Portland, Ore., as a bus trundles alongside. In a town whose solar-powered parking meters bespeak a green mind-set, another incentive to ditch the car is a convenient streetcar line that links downtown and several inviting neighborhoods. Useful for residents and tourists alike, it the streetcar system costs a mere $1.70 to ride all day — or nothing if you stick to downtown's "fareless square" — and complements a regional commuter train called MAX.
(Dana E. Olsen / The Oregonian)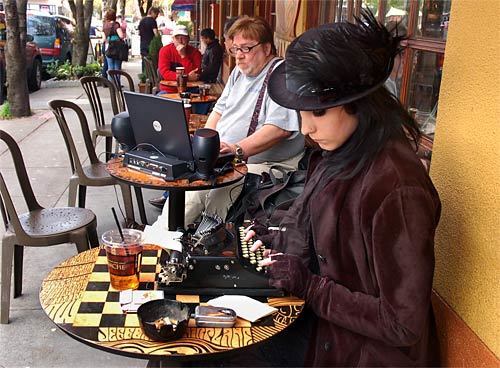 In an ever-so-modern city, Jessica Hulse, 23, sports an ever-so-vintage look, right down to the 1922 Remington portable typewriter at her fingertips. Hulse is sitting at a coffeehouse on 21st Avenue in Portland's Northwest area, whose history as a haven for eating and shopping goes back decades. The area is also at one end of the aforementioned streetcar line.
(Christopher Reynolds / LAT)
Never mind that Portland averages 37 inches of rain a year. On this day, sun bathes patrons at the Half and Half coffee shop on West Burnside Street, which streetcars cross during their jaunts between downtown and the Pearl District to the north.
(Michael Lloyd / The Oregonian)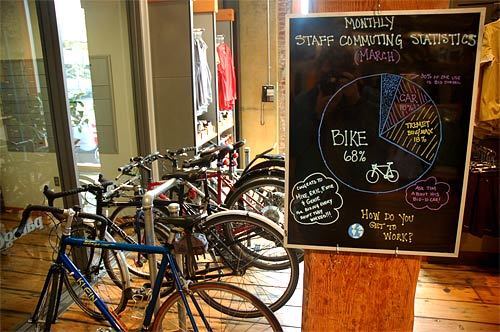 A blackboard at a Patagonia store in the Pearl District boasts that 68% of the staff's commuting trips in March were by bicycle and 22% by bus, train or carpool. The store is housed in the EcoTrust Building, an 1895 brick landmark that's been rehabbed since 1998 according to exacting green standards, from the garden on the roof to the weathered old floorboards.
(Christopher Reynolds / LAT)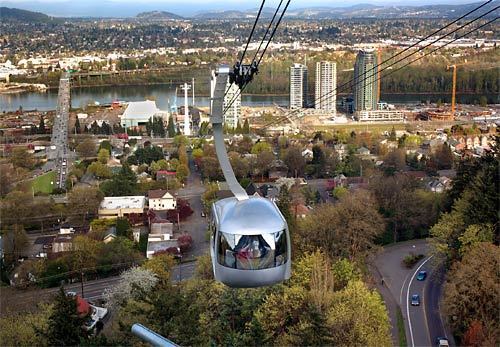 A new $57-million aerial tram carries riders to and from a hilltop at Oregon Health & Science University, affording them wraparound views of the Willamette River, downtown skyscrapers and, on clear days, the snowy tops of Mt. St. Helens and Mt. Hood. The tram ascends from the South Waterfront area, a formerly idle industrial zone that is Portland's next new neighborhood — and the streetcar line is scheduled to reach farther into it in July.
(Christopher Reynolds / LAT)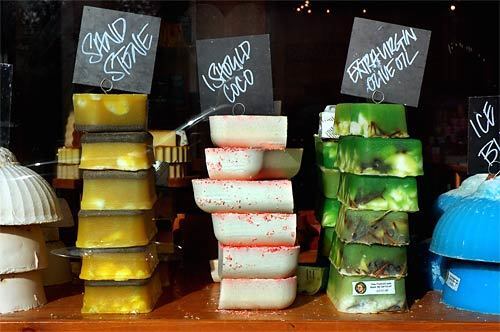 Fancy soaps are stacked at Lush, a store in the Northwest area's 23rd Avenue, nicknamed Trendy-Third. Upscale shops and restaurants have been multiplying in the area served by the streetcar line.
(Christopher Reynolds / LAT)
An old sign has a featured spot in the lobby of the downtown Ace Hotel, which has supplanted the old Clyde Hotel on Southwest Stark Street. Does the Ace aspire to make an impression? Well, Tthe headboards are made from recycled German military ponchos, and 14 rooms will soon be outfitted with working turntables and vintage vinyl.
(Christopher Reynolds / LAT)
The lush greenery of Washington Park's Japanese Garden draws visitors despite sprinkles. Portland's metropolitan area has 37,000 acres of parkland.
(Kraig Scattarella / The Oregonian)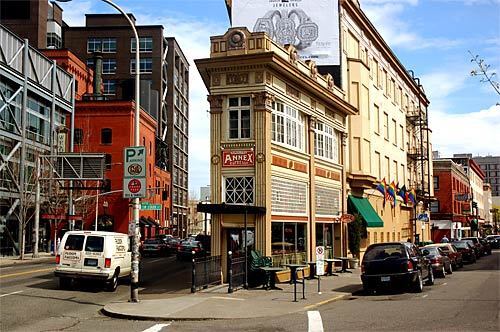 A sliver of a building squeezed between two streets is home to a coffeehouse downtown. More spacious attractions there include the Portland Art Museum, which expanded in 2005, taking over the former Masonic Temple next door and refitting it to house modern and contemporary art; and Portland Center Stage, which took over the 1891 Portland Armory Building and reopened last fall with a new performance space inside.
(Christopher Reynolds / LAT)
A cloud seems to provide a halo for Mt. Hood at sunrise. The 11,239-foot peak is about 50 miles east of Portland.
(Kraig Scattarella / The Oregonian)