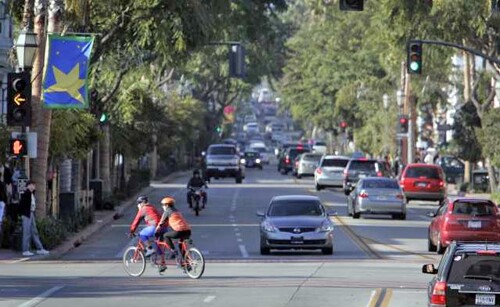 12 Images
Santa Barbara, CA attractions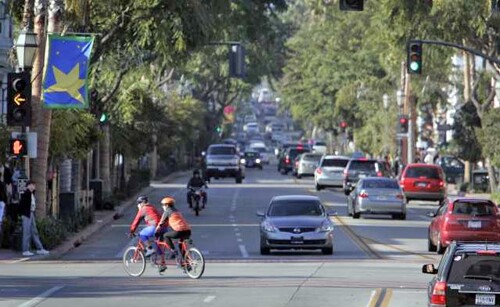 \WHEEL FUN RENTALS
101 State St. and two other locations in Santa Barbara; (805) 966-2282,
www.wheelfunrentalssb.com
This is a great way to see the beachfront or tour State Street, left. Rentals include bikes, mopeds and motor scooters as well as pedal-powered surreys that seat 11. Try the three-wheeled Scoot Coupe for a teeth-rattling ride down State Street ($49 an hour) or the scooter ($50 for two hours) for the ultimate coastal experience. (Note: You need a motorcycle license to rent one.)
(Stephen Osman / Los Angeles Times)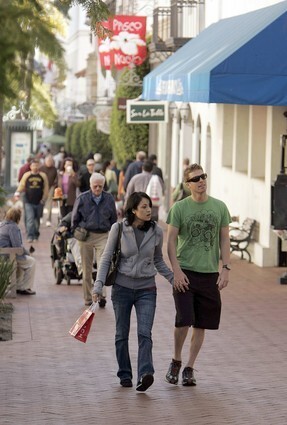 Shops and restaurants line State Street, the main artery through Santa Barbara that ends at Stearns Wharf.
(Stephen Osman / Los Angeles Times)
SANTA BARBARA HARBOR
Harbor Way at Cabrillo Boulevard
At the center of it all is the harbor, the heart of maritime Santa Barbara, complete with marina, walkable breakwater, the Santa Barbara Maritime Museum (113 Harbor Way, [805] 962-8404, www.sbmm.org) and myriad restaurants, including the Breakwater, Brophy Brothers and Chuck's Waterfront Grill. To get out on the water, you can rent a sailboat or take lessons (Santa Barbara Sailing Center, 133 Harbor Way, [800] 350-9090,
www.sbsail.com
), try a kayak (Paddle Sports, 117B Harbor Way, [805] 899-4925,
www.kayaksb.com
), or relax on a dinner cruise (Condor Cruises, 301 W. Cabrillo Blvd., [805] 882-0088,
www.condorcruis-es.com
).
(Stephen Osman /Los Angeles Times)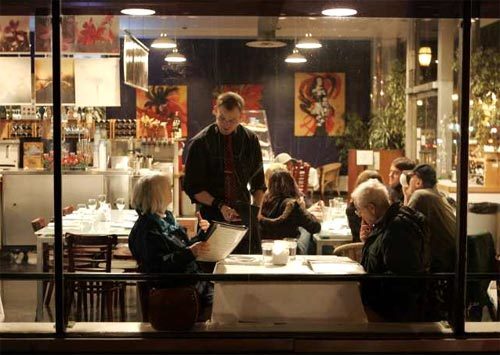 PIERRE LAFOND BISTRO
516 State St.; (805) 962-1455,
www.pierrelafond.com
This is an elegant spot linked to the nearby Lafond Winery and run by chef Joshua Keating. The glass-topped tables, open kitchen and soft-hued paintings make it a good place to linger and sip. Breakfast starts with organic coffee served in ceramic troughs and a variety of choices: chilaquiles ($7.50), smoked salmon platter ($12) and pancakes ($4.50 to $7.75). Later in the day, try the mojito steak panini, a tender, tangy bit of tri-tip. Dinner entrees are $14.95 to $20.95. Sandwiches, panini and pizza are $6.95 to $13.95.
(Stephen Osman /Los Angeles Times)
VISIT A FARMERS MARKET
Tuesdays through Sundays, rain or shine, you can find a farmers market with fresh produce and handmade souvenirs within a 10-mile radius of downtown Santa Barbara. The most well-attended farmers market is held Saturday mornings at the corner of Santa Barbara and Cota streets. If you can find them, we recommend buying a sack of locally grown "Pink Lady" apples. They are tart and sweet. For schedules and locations, go to
www.sbfarmersmarket.org
or call the Santa Barbara Certified Farmers Market Assn. at (805) 962-5354.
(Stephen Osman / Los Angeles Times)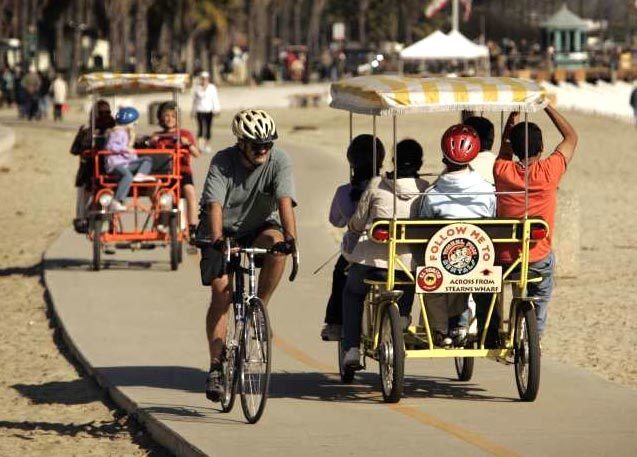 A paved, 3-mile bike path runs from Shoreline Park to Andree Clark Bird Refuge along Santa Barbara's coast, running past several restaurants and shops along Cabrillo Boulevard. The path is relatively flat, good for family bike riding.
(Stephen Osman, Los Angeles Times)
CHASE PALM PARK
236 E. Cabrillo Blvd.; (805) 897-1982.
When you tire of the beach and Stearns Wharf, this is a little 10-acre gem with a skate park, a restored swath of Laguna Creek and a wonderful playground with Southwest-style adobes and beached whales (of the concrete variety) to climb. The park is open from sunrise to 10 p.m.; the skate park from 8 a.m. to half an hour before sunset. But the real draw: a 1916 merry-go-round with exquisite horses and sleighs for $2 a ride, left.
(Stephen Osman / Los Angeles Times)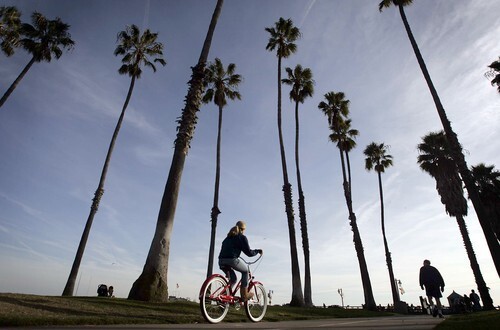 Palm trees line the bike path along the beach in Santa Barbara.
(Stephen Osman / Los Angeles Times)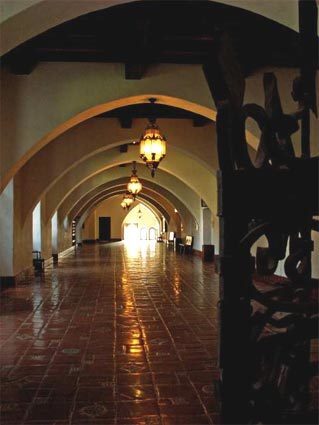 COUNTY COURTHOUSE
1100 Anacapa St.; (805) 962-6464
Talk about photo ops. From the clock tower, you get a great sense of the lay of the city, the red roofs and green hillsides. The lush courtyard, a favorite for school tours, was the site of 16 weddings last Valentine's Day. But most breathtaking of all is the Mural Room.
(Chris Erskine/Los Angeles Times)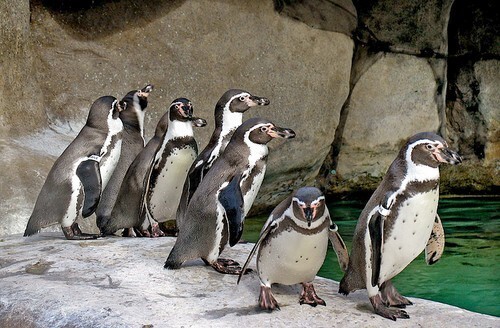 SANTA BARBARA ZOO
500 Niños Drive; (805) 962-5339,
www.santabarbarazoo.org
This is a small and beautifully landscaped zoological park with feeding times for giraffes, lorikeets and Humboldt penguins, left. An adult ticket costs $10.
(Susan Spano / Los Angeles Times)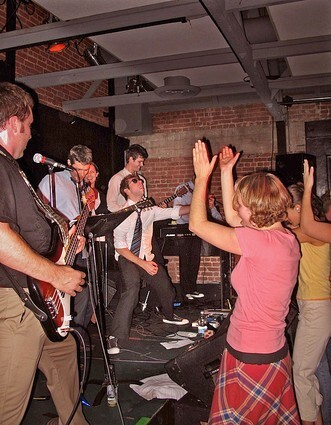 SOHO RESTAURANT & MUSIC CLUB
1221 State St.; (805) 962-7776,
www.sohosb.com
Two cavernous rooms with high ceilings, exposed rafters and brick-and-wood walls host a high-energy, mixed crowd served by friendly bartenders. The cover charge varies, as does the music, which includes folk, reggae, rock, jazz and more.
(Jane Engle/Los Angeles Times)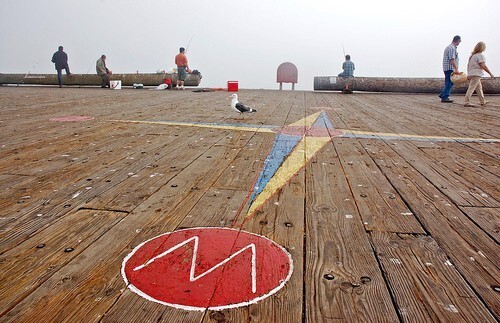 PIER FISHING, STEARNS WHARF
Stearns Wharf at Cabrillo Boulevard;
www.stearnswharf.org
This 2,000-foot wharf, once partly owned by actor James Cagney, offers seafood houses, a museum, a pirate cruise and even a palm reader. The best bargain of all might be at Mike's Bait & Tackle, where you can rent a rod and reel for $5 an hour. What distinguishes this pier from many others in Southern California is the open design of the fishing deck. No rails. Tip: Families with young kids should try the fishing area near the Ty Warner Sea Center, where standard guard rails are in place.
(Chris Reynolds / Los Angeles Times)