Tahoe fire jumps line
Firefighters put out hot spots in South Lake Tahoe Wednesday afternoon. California officials estimated the fire had caused $150 million in damage and forced 2,000 people from their homes.
(Wally Skalij / LAT)
Signs such as this one are beginning to appear around the Lake Tahoe area.
(Mark Boster / LAT)
Jody Marvel, a firefighter brought in from Reno to help control the Angora fire, mops up some hotspots at a house that burned on Lake Tahoe Boulevard.
(Mark Boster / LAT)
South Lake Tahoe Fire Department Division Chief Russ Dow, left, helps friend Kathy Lilygren sift through the ashes of her house.
(Brian Vander Brug / LAT)
Residents run for safety as the Angora fire approaches homes in South Lake Tahoe Tuesday afternoon.
(Wally Skalij / LAT)
Lidia Zuniga, left, runs with her posessions as she evacuates her South Lake Tahoe home Tuesday afternoon. The Angora fire jumped a perimeter, forcing a new round of evacuations, officials said.
(Wally Skalij / LAT)
Jean and Jim Collins and their dog Lexi were among a group of evacuees who were allowed back home.
(Mark Boster / LAT)
Law enforcement officials and firefighters gather along Route 89 to plan evacuations as the Angora fire threatens South Lake Tahoe homes Tuesday afternoon.
(Wally Skalij / LAT)
A firefighter takes a break after working to control the fire near homes next to South Lake Tahoe High School Tuesday afternoon.
(Robert Durell / LAT)
Longtime Tahoe resident Sue Abrams shouts during a town hall meeting Monday night, where residents decried delays in clearing trees and brush.
(Mark Boster / LAT)
Jimi Lasquete, executive chef for a South Lake Tahoe restaurant, uses a bucket to wet down the roof of his business after the Angora fire flared up Tuesday afternoon.
(Brian Vander Brug / LAT)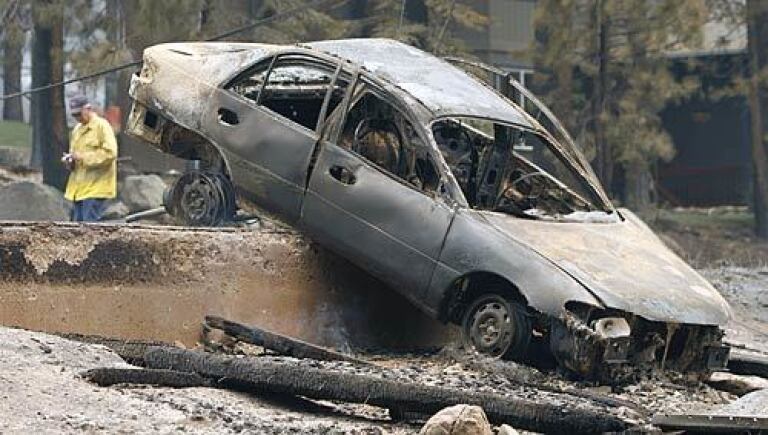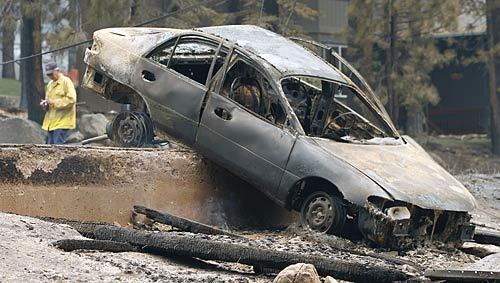 A burned car is another victim of the Angora fire. The blaze was about 40% contained by 6.pm. Monday.
(Wally Skalij / LAT)
Firefighters work to save homes in the area of Meyers, near South Lake Tahoe Sunday afternoon.
(Cathleen Allison / Nevada Appeal)
Times Staff Writers
SOUTH LAKE TAHOE, Calif. —
After a day when firefighters seemed to be making steady progress, the Angora fire this afternoon jumped a northern perimeter, forcing a new round of evacuations, officials said.
The breach just south of Highway 89 took place about 3 p.m., according to Sgt. Don Atkinson of the El Dorado County Sheriff's Department. Between 300 and 400 homes were threatened.
Protecting the northern fire line and residences in the heavily populated area had been a major priority for firefighters as they used helicopter drops and other techniques to fight the blaze, Atkinson said.
"It looks like the wind maybe picked up and the fire changed direction," Atkinson said. "It's pretty heavily populated, it's pretty condensed, there's several hundred homes right there.... Everybody's going emergency speed to get there and get out."
Atkinson said the fire's moving north could threaten 800 to 900 additional homes near where highways 50 and 89 split -- near the downtown area and the South Tahoe High School.
The latest news was a blow to those fighting the blaze, which began Sunday afternoon. Officials estimate the fire is about 40% contained; it was expected to be fully controlled by Sunday.
The cost of fighting the fire is expected to be about $30 million, not counting personal property losses, which include 275 homes and structures. No injuries have been reported.
Weather remains a key concern for firefighters. Officials forecast that the winds would pick up speed Wednesday and that humidity would drop, conditions that usually hinder firefighting.
Incident commander Rich Hawkins of the U.S. Forest Service said it was critical to stop the fire today before the weather worsened.
"One small hot spot and the fire could escape," he said before news of the jumped fire line was reported.
Hawkins said he hoped the fire could be contained in a couple of days but that he didn't want to be overconfident.
Hawkins said firefighters made great progress Monday night and early today because most of the fires that had burned near the town had been extinguished.
"That part of the fire closest to the community is burned out and contained," he said.
Once mop-up of that area is completed, he said, the 40% containment figure would probably be raised.
As of today's morning briefing, the Angora fire had burned 2,730 acres south of Lake Tahoe and west of Fallen Leaf Lake. It had destroyed about 200 residences and 75 outbuildings, Capt. Chuck Dixon of the Kern County Fire Department said.
About 145 fire engines, 54 crews and 11 helicopters are being used to fight the fire, Sgt. Atkinson said.
Some of the 1,000 people forced to flee began returning today. Mandatory evacuations are still in effect for the Tahoe Paradise, Fallen Leaf Campground, Tahoe Mountain and Upper Angora areas. Gardner Mountain was on standby.
The cause of the blaze remained under investigation, but officials believe it was connected to human activity.
eric.bailey@latimes.com
lee.romney@latimes.com
tami.abdollah@latimes.com
Times staff writers Steve Chawkins, Tim Reiterman, Joel Rubin, Stuart Silverstein and Francisco Vara-Orta contributed to this report.
---
Get inspired to get away.
Explore California, the West and beyond with the weekly Escapes newsletter.
You may occasionally receive promotional content from the Los Angeles Times.