10 Images
$99 Las Vegas Bus Tour
It was a jaw-dropping bargain - Vegas, Laughlin, the Grand Canyon and more for $99. Was it too good to be true? The sightseeing adventure began in Los Angeles' Chinatown, where many of the people on the three-day tour boarded Big Yellow, a.k.a. Bus No. 18. Most of the travelers on the tour were Asian, but there were also a few Europeans, Aussies and a handful of visitors from the eastern United States.
(Anne Cusack / LAT)
London Bridge is falling down. Well, not anymore. Now, the graceful 176-year-old span, transplanted to the Arizona desert, is a photo-op for tourists stopping off in Lake Havasu City. Big Yellow shimmied its way to the stop after stopping to shop in Barstow, Calif. Tour-goers found the bridge a big underwhelming, writes Times staffer Rosemary McClure.
(Anne Cusack / LAT)
The sign says it all: Welcome to Laughlin, Nev. The Colorado River city is a small-scale Vegas with less glitter and some lower prices.
(Anne Cusack / LAT)
Tour guide Chris Quach, left, hands out room assignments at the Colorado Belle hotel in Laughlin. The rooms are reserved months in advance, under other names. Times writer McClure became Tammy Chan for the night.
(Anne Cusack / LAT)
The Colorado Belle is "docked" along the river in Laughlin. The hotel's rooms were clean, comfortable and adequately furnished. No fancy extras but quite acceptable - especially for the price, McClure says.
(Anne Cusack / LAT)
Once Big Yellow wobbled its way to the Grand Canyon, visitors paused at the South Rim for a panoramic view - and a few photographs - from Yavapai Observation Point.
(Anne Cusack / LAT)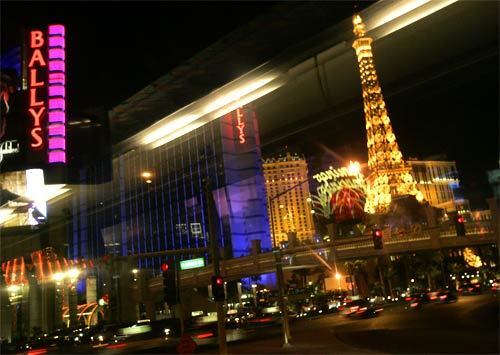 Bright lights, desert city. It's Vegas, baby. For a few dollars more, participants could embark on a nighttime tour of Sin City. Who could resist?
(Anne Cusack / LAT)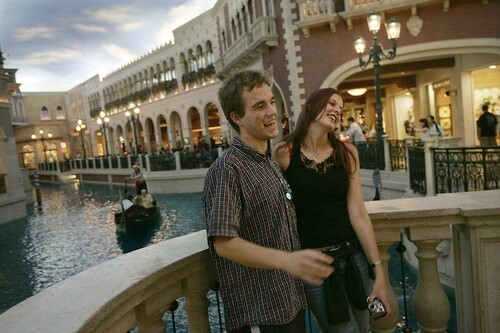 Is it Venice or Vegas? Patrick Pape and Kathrin Schneider, German au pairs working in the United States, enjoy the desert evening - and the whirlwind tour.
(Anne Cusack / LAT)
Get a load of the one-armed bandits, just waiting to be played. Part of the nighttime tour included a stop at the Rio Hotel & Casino for the free Masquerade Show in the Sky.
(Anne Cusack / LAT)
The whirlwind tour is a bit too much for 4-year-old Lena and her dad, Hop Nyuyen, from Riverside, who grab some shut-eye on the bus. Despite Big Yellow's shaky ride, most of the tour-goers said they were satisfied with the trip, says The Times' McClure. And would she do it again? You bet.
(Anne Cusack / LAT)