7 Images
Venice, Louisiana
Louisiana 1
Morning mist envelops the restored big house at Woodland Plantation near West Pointe a la Hache, La. The home, which sits on the west bank of the Mississippi, is now a bed-and-breakfast that serves anglers returning to the mouth of the Mississippi to get in some sports fishing. The house may look familiar — a black-and-white drawing of it is featured on the labels of bottles of Southern Comfort.
(Mark Boster / LAT)
Louisiana 2
Lights are ablaze and the fish tales are flowing at the bar in Spirits Hall, a former Catholic church that's been transformed into a restaurant at Woodland Plantation. According to the owner, the site once had been the location of several brick slave quarters, destroyed in a previous storm.
(Mark Boster / LAT)
Louisiana 3
After a day of fishing or sightseeing, the Grand Salon beckons on the first floor of Woodland. The home is a wonderful blend of Southern Gothic and Greek Revival, with worn wood floors, antique furniture, vintage glass chandeliers and a wide, sweeping veranda facing the Mississippi.
(Mark Boster / LAT)
Louisiana 4
Young Saydee carries a flag from Riverside Restaurant, which is owned by her grandfather. It's one of two eateries that has reopened in tiny Venice, La., since Hurricane Katrina ravaged the area nearly two years ago.
(Mark Boster / LAT)
Louisiana 5
In Venice, La., where only two restaurants have reopened, necessity is the mother of invention. The parking lot of Cypress Cove Lodge serves as an impromptu kitchen for a crew of oil cleanup workers. Oar in hand to use for stirring, one worker keeps watch on a massive pot of crawfish, potatoes and corn.
(Mark Boster / LAT)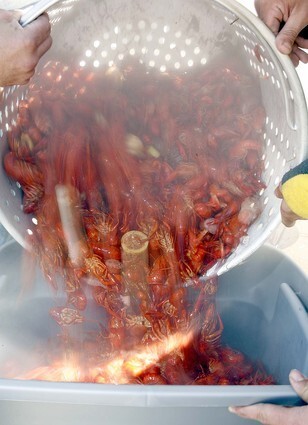 Louisiana 6
Get ready to dig in: A big pot of freshly boiled seafood and vegetables is dumped into a bin for serving at the Cypress Cove Lodge, a hotel about a mile from the Venice Marina in southern Louisiana.
(Mark Boster / LAT)
Louisiana 7
Foster Creppel mans the bar of Spirits Hall on the grounds of Woodland Plantation, near West Pointe a la Hache, La. Creppel and his parents bought the property 10 years ago in an auction and transformed it into a lovely bed-and-breakfast, says recent visitor and Times staff writer Hugo Martín
(Mark Boster / LAT)