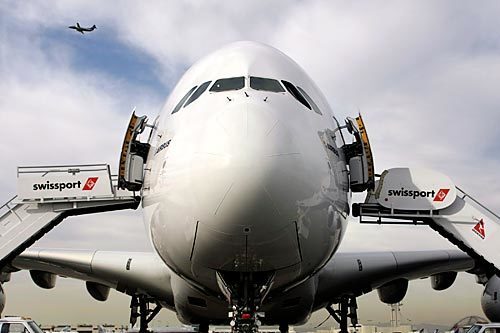 8 Images
Travel moments in 2007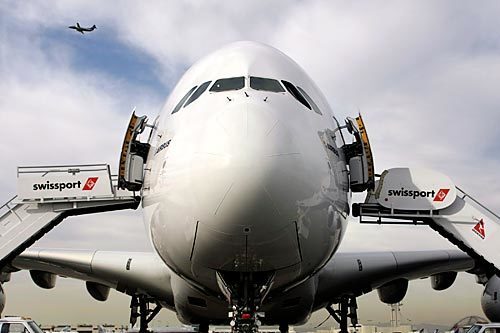 Qantas Airways
Staircases roll up to the Airbus A380, the world's largest passenger aircraft. The A380 is eight stories tall, has a 261-foot wingspan and can carry 555 passengers.
(Myung J. Chun / Los Angeles Times)
VIPs, members of the media and the Hualapai tribe take a preview walk on the Skywalk, billed as the first-ever cantilever-shaped glass walkway extending 70 feet from the western Grand Canyon's rim.
(David McNew / Getty Images)
Cunard, designer of luxury ocean liners, launched the 90,000-ton Queen Victoria on Dec. 10, the second largest ship in its fleet.
(Cunard Line)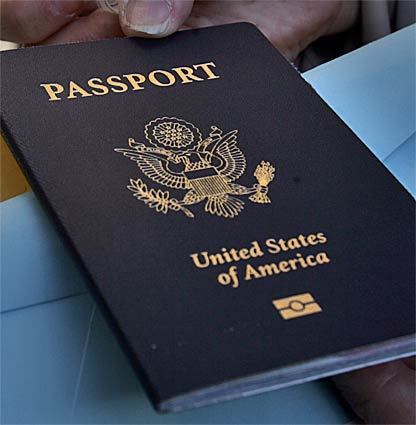 A new law that went into effect January 2007 requiring U.S. citizens flying to Canada, Mexico, Bermuda and the Caribbean to carry a passport caused a massive backlog in unprocessed passport applications. Travelers had to wait as long as 10 to 12 weeks, twice the usual wait, to receive their passports.
(Spencer Weiner / Los Angeles Times)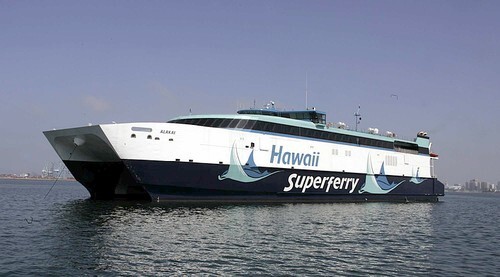 The Hawaii Superferry, called Alakai, is an $85-million vessel with cruising speeds at 35-knots and an advanced stabilization system. At 349 feet, it's more than twice as long as the Catalina Jet, the biggest catamaran in the Catalina Express fleet, which ferries tourists from Southern California to Santa Catalina Island. The ferry has been embroiled in controversy since its launch.
(Annie Wells / LAT)
Caught off-guard by an East Coast ice storm Feb. 14, JetBlue canceled more than 1,000 flights. JetBlue's Chief Executive David Neeleman vowed to make improvements after the episode.
(Al Seib / Los Angeles Times)
The Liberian-flagged cruise ship is seen sinking after it hit an object in Antarctic waters, some 880 kilometers southeast of Ushuaia. All 154 passengers aboard the ship were safely evacuated.
(AP)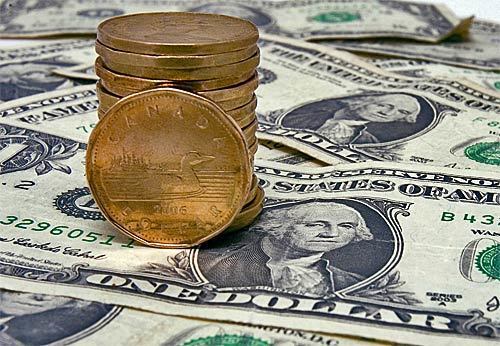 In 2007, the U.S. dollar suffered against the rising strength of currencies such as the British pound, the euro and the Canadian dollar. During points in the year, the dollar was worth nearly half a pound and 2/3 of a euro.
(Ryan Remiorz, Associated Press)