52 Images
Your Scene in Travel: Our favorite reader photo submissions of 2008
Dec. 28
John and Jody Dreyer of Pasadena drove the coast from Los Angeles to Bandon, Ore., for Thanksgiving. The Tuesday before the big feast, they pulled onto a turnout just south of Big Sur to watch the sunset. "In and of itself, the glorious scene was something to be thankful for," John says. He used a Canon G9.
(John Dreyer)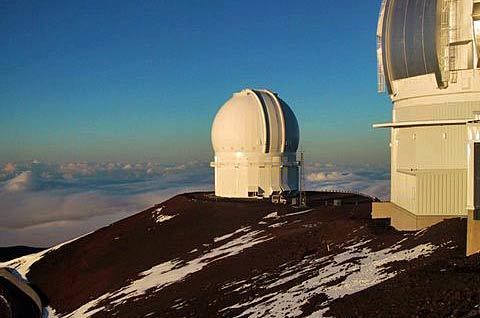 Dec. 21
Barb and Rich Pederson of Los Alamitos have been to the Big Island many times. On a December 2006 visit, they took a trip to the top of Mauna Kea. It was a nine-hour tour in an eight-passenger van, up the Saddle Road. They reached the summit near sunset and were able to walk around outside the observatories. There was snow on the ground and the temperature was 24 degrees. Rich took this picture with their Canon S-100 digital camera. "It was a long trip but definitely worth it," Barb says.
(Barb Pederson)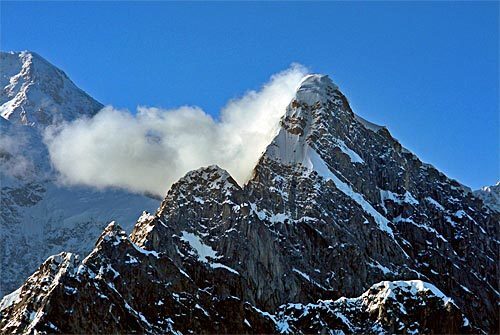 Jan. 6
Ron Drake of
Santa Barbara
and several family members were gifted with clear weather on their last day of an otherwise rainy
Alaska
trip. As they enjoyed a plane trip to a glacier near Mt. McKinley, Drake zoomed in and snapped a photo of the burst of clouds coming off McKinley caused by high winds. He used a
Nikon
Coolpix S10.
(Ron Drake)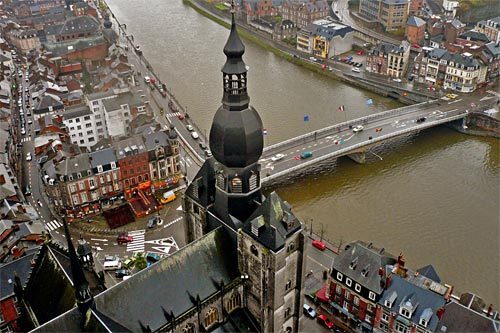 Jan. 13
George Drury Smith's view as he looked across the city of Dinant, Belgium, from the tower of its 11th century citadel was so captivating that he snapped his shutter, despite the gloom. The spire of the Collegiate Church of Notre-Dame glistened darkly. He used a Panasonic Lumix DMCFX07 with a Leica lens.
(George Drury Smith)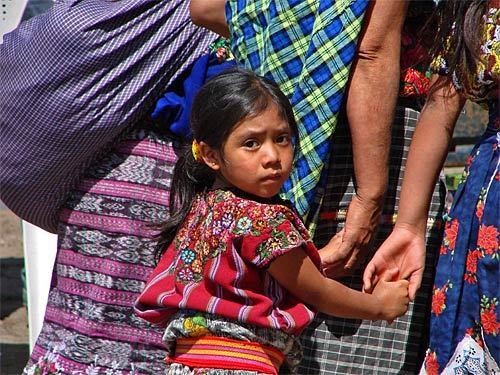 Jan. 20
Irvine resident Bart Tucker spent one Sunday exploring a Guatemalan village when he noticed a girl and her family dressed in colorful garments walking by. As the girl looked back toward a nearby church, he was drawn to her wistful expression and captured the moment. "I came away from this little outskirt village in awe," Tucker said. He used a
Sony
H5.
(Bart Tucker)
Jan. 27
Beto De Luna of Glendale was sitting at a restaurant in Phnom Penh, Cambodia, one morning in September when he "saw this monk walk up, and [two people] started praying to him. To me, it was a National Geographic moment" that captured the culture of the Southeast Asian nation. The two-week vacation was his first trip to Asia. "It was pretty amazing; it might as well be Mars," he said. He used a Canon A560.
(Beto De Luna)
Feb. 3
Qi Ding of
Los Angeles
grew up in mainland China but had never been to Taiwan. She went to the island in November and came across these young women picking tea leaves. "I didn't know how beautiful it was -- otherwise, I would have stayed longer," she said. She used a Canon PowerShot SD800.
(Qi Ding)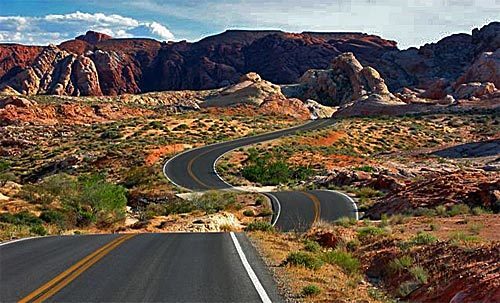 Feb. 10
It was spring '05, and Michael Sean Ryan, a transportation coordinator from Upland, was working on a movie. On a break, he decided on an easy ride through the Valley of Fire State Park in
Nevada
on his BMW R1150R. "I love the great motorcycle roads with great twists and turns, and little traffic," Ryan said. He captured this one with a Canon PowerShot A710.
(Michael Sean Ryan)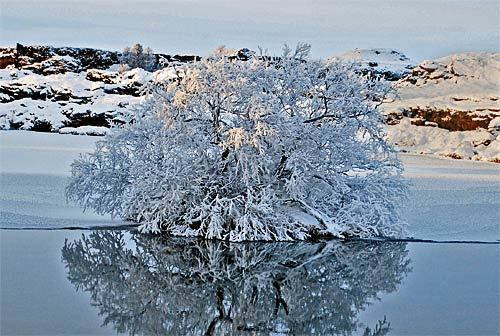 Feb. 17
Iceland is not a place you would think of visiting in the dead of winter, but that's exactly what Stephen Krupnick of
Laguna Beach
did in January. He happened upon this frozen scene near Lake Myvatn in the northeastern part of the island. The landscape was encased in ice and snow, but the geothermally heated lake was not. He used a
Nikon
D40X with a zoom.
(Stephen Krupnick)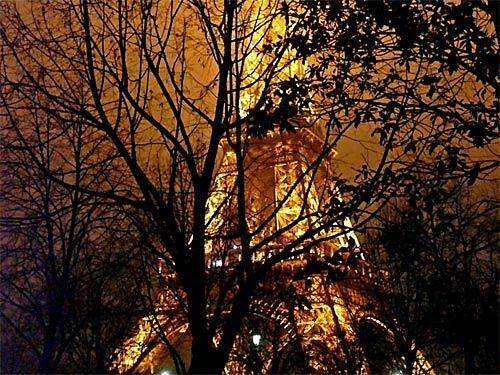 Feb. 23
David Gilbert and his wife, Stephanie, of Huntington Beach passed through Paris on their way to the Loire Valley of France to celebrate New Year's Eve. But they were there long enough to uncover this unusual angle on the Eiffel Tower. "We were walking through the trees, and everything was brightly lit," Gilbert said. He used a Panasonic Lumix to get this shot.
(David Gilbert)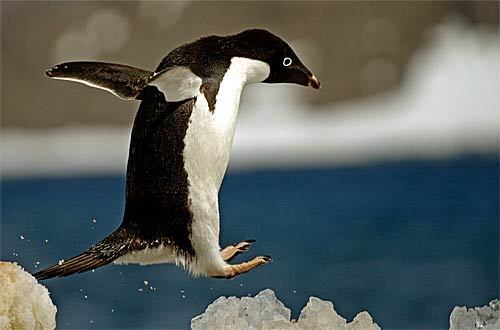 Mar. 2
In deep Antarctica in January, Cliff Getz, 83, of
Laguna Beach
got the picture of his life -- this "silly, little, gorgeous" penguin, as he calls it. He tells the story: "I saw that he was considering jumping, and the crowd behind me, as well as myself, were yelling, 'Jump, jump, jump,' and when he finally jumped, I caught this great picture." He used a
Nikon
D2X.
(Cliff Getz)
Mar. 9
Frank Rudiger of Simi Valley was headed to Costa Rica in 2004 but first detoured to Guatemala and visited the old colonial city of Antigua. "On most days . . . the square is just filled with these vendors mostly selling woven materials," Frank said, and one was trying to get his wife's attention. That's when he snapped the vendor's portrait with his
Nikon
D100.
(Frank Rudiger)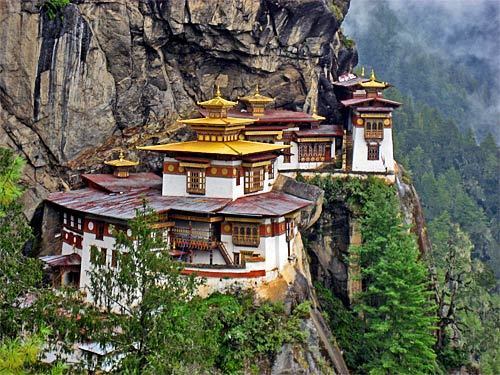 Mar. 16
Scott Bonhard of Laguna Niguel had to make an uphill climb for this photo of the 17th century Tiger's Nest monastery perched precariously on cliffs in western Bhutan. First, he had to hike to 14,000 feet, then he suffered through altitude sickness. Afterward "we climbed 1,000 vertical feet on stairs," he said. "We all wondered how they built the monastery." The trek was part of a group tour he took with 19 people in October. He used a Canon PowerShot SD600.
(Scott Bonhard)
Mar. 23
A swimmer with a smile
Veteran diver Steve Chaput of Claremont had a close encounter with one of the largest creatures of the deep -- this whale shark -- on an October 2006 dive off Darwin Island in the Galapagos Islands of Ecuador. "They are docile creatures and amazing to see," he said. Chaput used a Canon PowerShot S-70 in a waterproof case.
(Steve Chaput)
Mar. 30
You don't have to be in an exotic locale to get an interesting shot. Trevor Harris of Shadow Hills and his wife, Linda, were flying back from
Fort Lauderdale
, Fla., a few weeks ago. Somewhere over
Texas
, Trevor looked out the window of the plane. "I saw the clouds and said, 'Gosh, I've got to get a picture of this.' " He used a Canon PowerShot SD 750.
(Trevor Harris)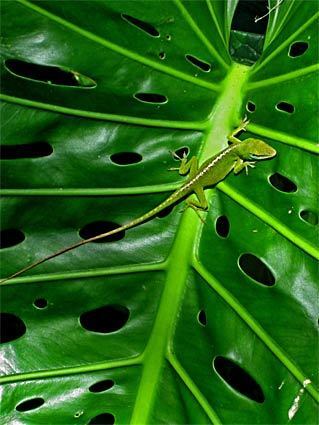 Apr. 6
An active schedule paid off for Jennifer Allen of
Whittier
and her husband, Hugh, who went to Oahu in February. They did the usual island activities -- time on a beach and swimming and snorkeling with the fish (including sharks). On an easy hike through Waimea Falls Park, Jennifer took a liking to the area's flora, "so I took a picture of the split leaves, and there happened to be a lizard" ready for its close-up. She used a Kodak EasyShare DX7590.
(Jennifer Allen)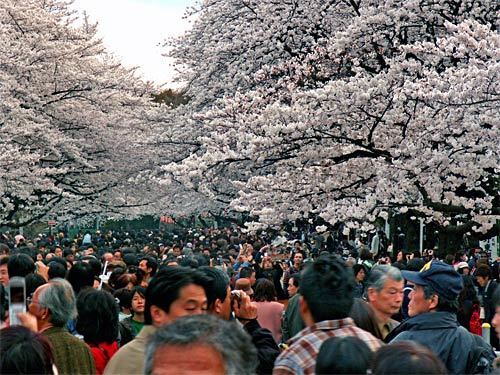 Apr. 13
Cherry trees had exploded with blossoms in Tokyo's Ueno Park, and so had the crowds celebrating this marker of spring, as Joseph Schwartz and his wife, Nancy, of San Luis Obispo, found out on a trip this month to visit their son, an English teacher. "It's a very different kind of crowd," Joseph said. "There was a serenity. . . . They go to walk among the trees. People were sitting underneath them." He used a Konica Minolta DiMAGE Z5.
(Joseph A. Schwartz)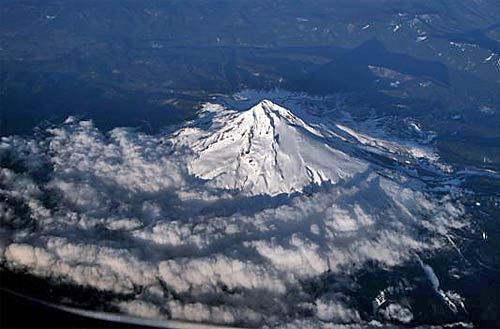 Apr. 20
Judi Carroll of
Hermosa Beach
frequently makes the L.A.-to-Seattle run because her son attends the University of Washington. Usually Mt. Hood is obscured by clouds or the plane is too far away or she's not in the right seat. But on a flight from Vancouver, "it was just one of those perfect days, and I had a perfect seat," she said. She used a Canon Rebel.
(Judi Carroll)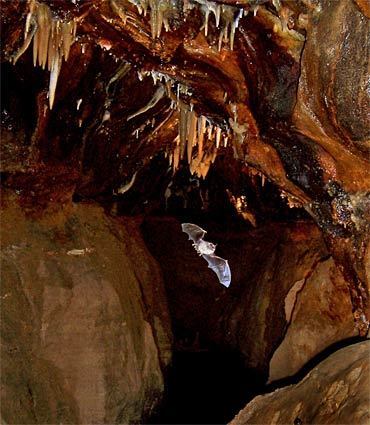 Apr. 27
Apparently, it's Halloween all year around at the
Ohio
Caverns in West Liberty, as Monique Hoffmayer, of
Oak Park
, found on a weekend visit in August. "There was a bat that would occasionally buzz us," Hoffmayer said. "I flipped the camera up and snapped. We weren't scared. They were just checking us out." She used a Kodak EasyShare V530.
(Monique Hoffmayer)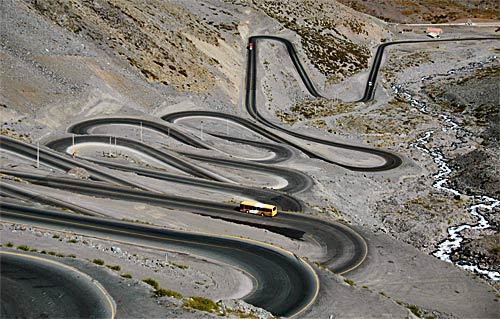 May 4
Ralph Velasco of Newport Beach returned last month from an 11-day trip through South America that took in a lot of territory: Uruguay, Argentina and Chile. One of the highlights of the drive from Chile to Argentina was this slithering crossing of the Andes on Ruta 60. "There are 28 curves on this road," Velasco said in an e-mail, "and it's amazing to see 18-wheelers try to pass each other going up the hill." His camera? A
Nikon
D70.
(Ralph Velasco)
May 11
This little guy, caught mid-chomp by Richard T. Watkins of Claremont, has it all over the
Geico
gecko for cuteness. Catkins spotted the critter "just outside the gallery doorway enjoying a snack," with about 11 companions on a banana tree in front of the Ipu Hale Gallery in Holualoa on the Big Island of
Hawaii
, he said. Catkins and wife Lynn Sarf were there for a weeklong trip in November. He used a
Nikon
Coolpix S7c, with a zoom.
(Richard T. Watkins)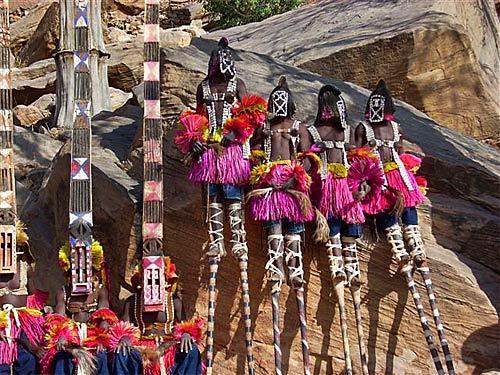 May 18
Jackie Bell of
Anaheim
likes to travel off the beaten path, so she went far afield, to Burkina Faso and Timbuktu, Mali, for her 70th birthday. On a side trip to Mali's Dogon country, she was treated to a dance by villagers. "The masks are incredible," she said. "They were brilliantly colored." Dancers "came streaming out of the mountains. That's why I am a travel junkie; you see some things that just transport you." Her camera is a
Nikon
Coolpix L11.
(Jackie Bell)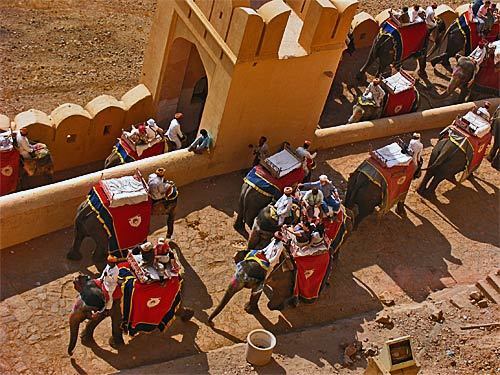 May 25
Mary Lang of
Culver City
teaches ancient civilizations to sixth-graders, so it was fitting that she spent spring break exploring the centuries-old forts of India's Golden Triangle with her husband, Joseph Hernandez. To get this bird's-eye view of elephants on parade at Amber Fort near Jaipur, she had to ride one to the top. "They're sweet, like puppy dogs," she said. India "was just the most incredible trip." Her camera: a Canon PowerShot Pro 1.
(Mary Lang)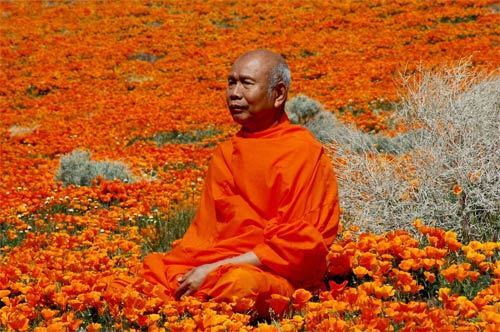 Jun. 1
At the peak of bloom season, Sam Chien of Tustin decided he'd better get up to
Lancaster
to see the poppies. So he and a friend, Tom Wang, drove north. "That day was wonderful," Chien says. While there, they happened upon six monks, also absorbing the riot of blooms. One "started to meditate, and I thought it was a lovely subject." Chien used a
Nikon
D70S.
(Sam Chien)
Jun. 8
Look closely, and you'll see the profile of a standing bear in this photo of an Arizona slot canyon taken by Judy L. Melton of Burbank. "If you focus just on the bright outline, you will see the silhouette of a bear," she said in a letter. She was on a Navajo-guided tour near Page, Ariz., in May 2003. To see the bear, "the sun passing overhead has to be at a perfect time," Melton said. Her camera was a Canon Sure Shot Z115, and she covered the flash with duct tape.
(Judy Melton)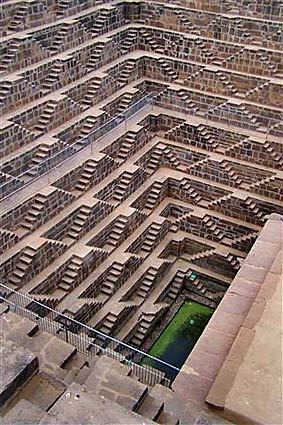 Jun. 15
In March, Marshall Pura of
Los Feliz
stopped in the village of Abhaneri, India, and came across this little-known wonder from the ancient world -- a well from the 8th century. "The step well was nearly 10 stories deep, and I pictured the women carrying those large jugs down and up those 110 steps more than 1,200 years ago," he said in an e-mail. "It was completely unexpected, all these arrangements of steps going every which way." He used a Kodak Z740 to plumb the depths.
(Marshall Pura)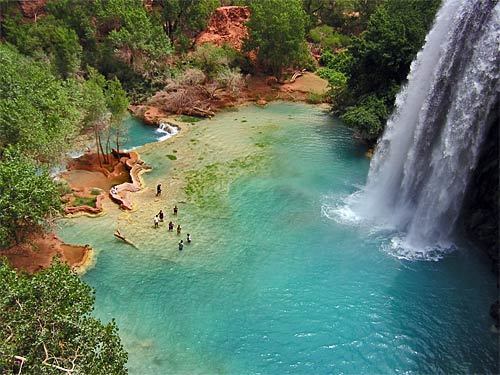 Jun. 22
Tim Guiteras, a 9-year-old who lives in Westchester, shows his photography talent with this angel's-eye view of the waterfall and pools at the Havasupai Indian Reservation in Arizona. He spent four days there with his family and friends, trekking 11 miles down and up the canyon. "I liked the waterfall," Tim said, "because I could go behind and play. . . . We jumped off rocks into the water too." He started taking photos last year after a photography class at Yosemite and used a Canon PowerShot A550 to get this stunner.
(Tim Guiteras)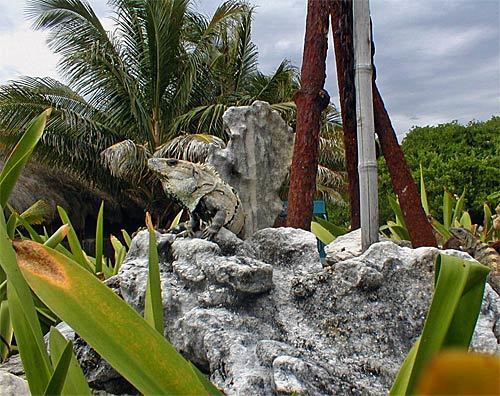 Jun. 29
Bob Ginn of
Arcadia
has had a couple of driving adventures in Mexico with his friend Leo Rodriquez. On a 2004 trip on the Yucatán Peninsula, where some of Rodriquez's relatives live, Ginn spotted these well-camouflaged iguanas basking on a fountain in the seaside village of Mahahual. They were right in the village, "not 25 yards from a mall," Ginn said. "We had a great time" on this trip, he said. "We fished at night, in the dark." There's more than one fierce-looking reptile in this bestiary. "Can you spot him?" asks Ginn. (Hint: Look in the lower right corner.)
(Bob Ginn)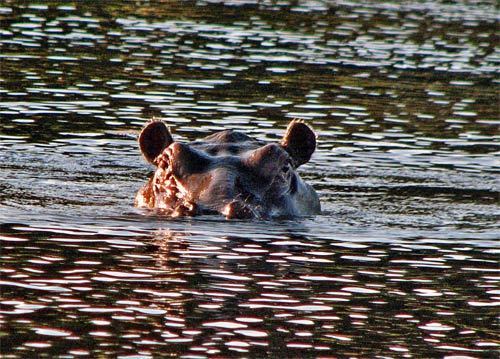 Jul. 6
Hippos are among the meanest creatures of the African savanna, and Jeff Elder of Orange remembers vividly his brush last year with this one on a boat excursion in Botswana's Okavango Delta. "We got a little close" to a pod of hippos, Elder said, "and we saw a trail of bubbles under the water. He brought his head out of the water, snorted and opened his mouth and bellowed. He was letting us know we got too close to the herd." Elder and his family traveled throughout southern Africa on their two-week journey. "You couldn't take a bad shot. . . . It was amazing," he said. He used a Canon PowerShot S315.
(Jeff Elder)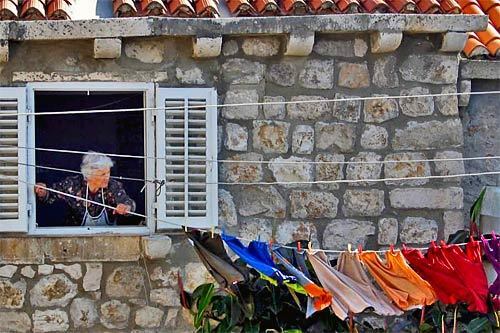 Jul. 13
The small chores that make up the fabric of life in other countries enrich a traveler's experience, as Doug Allen of
Rancho Palos Verdes
found out on his May trip to Dubrovnik, Croatia. In town because of a cruise, the 77-year-old and his wife, Gail, were walking along the ancient wall of the city when they came across this scene of a woman hanging her laundry. What attracted him to the shot? "The color of the laundry and the woman and the process of hanging clothes," he said. "My wife liked seeing those clothes hanging on the clothesline." His camera? A Canon PowerShot A80.
(Doug Allen)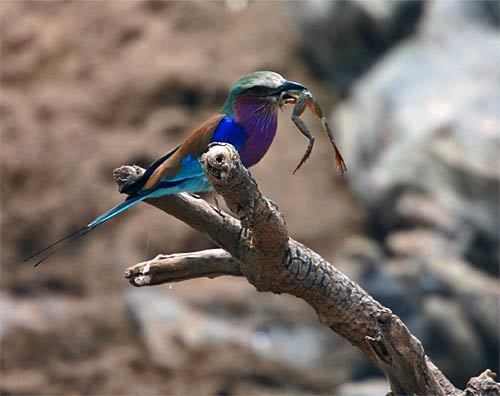 Jul. 20
Kevan and Norma Newton of
Los Angeles
hoped they wouldn't see a kill during their honeymoon safari last July in Kenya and Tanzania. They didn't realize they had until Kevan took a closer look at this colorful bird he photographed during a stop to view a leopard in Tanzania's Tarangire National Park. He used a 300-mm lens on his Canon Digital Rebel to capture the surprising scene.
(Kevan Newton)
Jul. 27
Barbara Smith of
San Diego
took this shot from the passenger seat of a rental car crossing the Nagtahan Bridge in the outskirts of Manila during a two-week tour of the Philippines in January. As the driver slowed the car, the children scrambled up the bridge and within seconds spontaneously struck this enchanting pose. Below is the Pasig River. The buildings in the distance are some of the high-rises of Manila. Smith's camera: a Fuji Finepix S7000.
(Barbara Smith)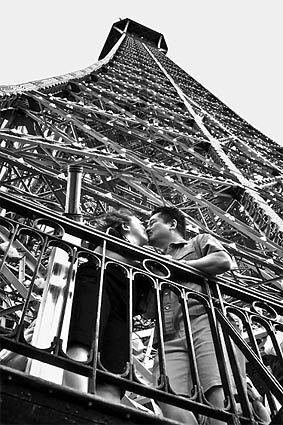 Aug. 3
Gene Domingo, of
Diamond Bar
, spotted this couple two levels above him on the Eiffel Tower on an overcast morning. "They were gazing down on the view below and then they looked at each other and there was a gleam in their eyes," Domingo recalls. "I knew they were going to kiss, so I waited for the moment . . . ready to shoot." Mission accomplished. He used a Canon EOS 40D 28-135mm with a polarizer.
(Gene Domingo)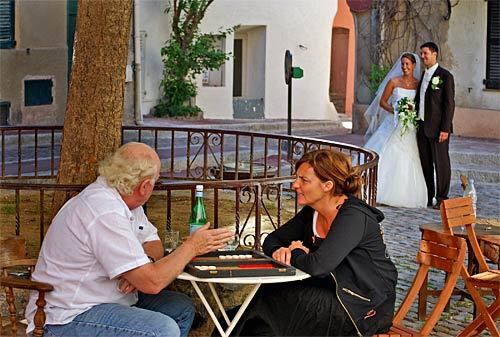 Aug. 10
Mark Winogrond and his wife were exploring a hilly neighborhood of St-Tropez, France, this summer when they stumbled onto a wedding. Winogrond followed the couple and their photographer to an isolated square where a grandfather and granddaughter were playing backgammon. "Their amazement at the interruption, the classical Provençal colors and the universal joy of the couple made this a special moment," the
Venice
resident says. He used a 50-200mm Nikkor telephoto lens on a
Nikon
D40X.
(Mark Winogrond)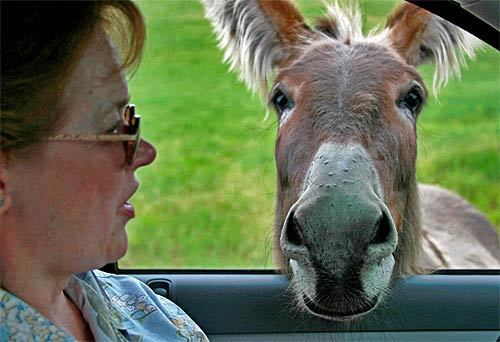 Aug. 17
Tedd Wenrick of
Santa Monica
took this unexpected close-up in early July while driving through Custer State Park in the
Black Hills
of
South Dakota
. His friend, Jeanne Shoemaker, was driving when the donkey walked right up to the car and stuck its head in. Though known for having one of the largest buffalo herds in the U.S., the park is also home to a variety of other wildlife, especially wild donkeys. Wenrick used a Canon EOS 30D.
(Tedd Wenrick)
Aug. 24
On a July trip to Cancún, Mexico, the Peterson family of Stevenson Ranch took a day trip to Isla Mujeres, swam with dolphins and petted bull sharks. At a local zoo called Crococun, the three boys, Noah, Nick and Ben, held snakes, lizards and this young crocodile. That's Mom, Annette, holding her breath in the background. John Peterson captured the moment with a Canon PowerShot A710 IS.
(John Peterson)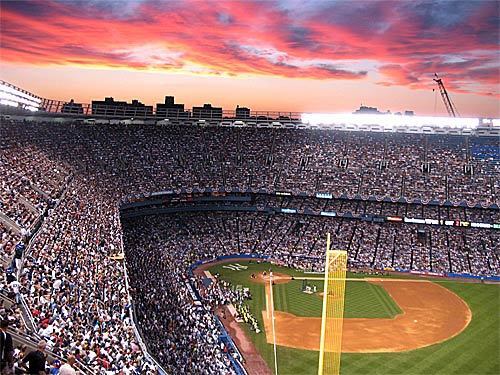 Aug. 31
For 25 years, Bob Padgett and a group of friends have traveled to Major League Baseball's annual All-Star Game. This year, the Manhattan Beach resident snapped this shot at the game in Yankee Stadium, which will be demolished at season's end. Padgett, a Los Angeles native, first went to Yankee Stadium in 1981, when the Dodgers beat the Yankees in the World Series. For this shot, he used a Canon 630.
(Bob Padgett)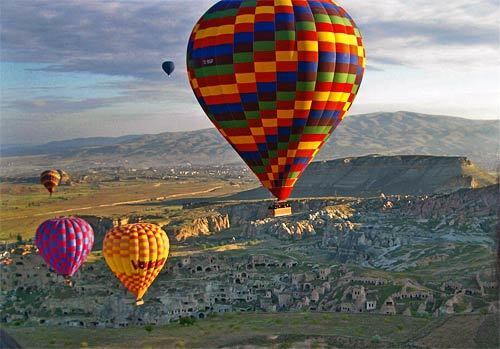 Sep. 7
During a trip to Cappadocia, Turkey, Gerry De Young of
Lakewood
took her first balloon ride, "an awesome experience." She used her pocket-size
Sony
Cyber-shot 5.0 to snap some of the 16 balloons that were flying that May morning. "We even 'kissed' the large balloon at one time," said De Young, who was on the trip with her husband, Alvin. "For everyone traveling to that area of Turkey, this is a must excursion."
(Gerry DeYoung)
Sep. 13
Michele and John Aerts of Yorba Linda traveled to Bora-Bora with friends in August. Michele took this shot of her husband at the InterContinental Bora-Bora Le Moana Resort, at the southern tip of the main island. "The most incredible thing about Bora-Bora is, by far, the water," Michele Aerts recalls. "Every shade of blue, green, teal, aqua and turquoise in Mother Nature's spectrum." To capture the poolside shot, she used a
Sony
Cyber-shot 7.2.
()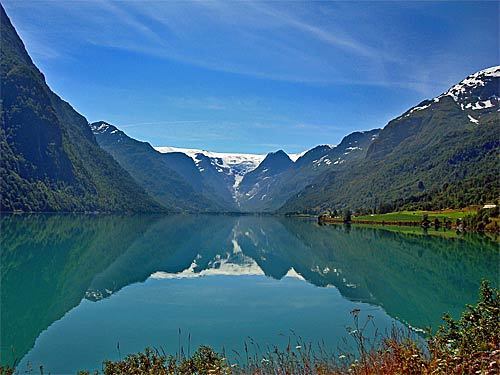 Sep. 21
On a July trip to Norway, Robert Abelson and his wife, Rosalie, took a tour to see the Briksdal Glacier near the western coast and stopped for this view of a glacial lake. The weather is hard to predict in Norway, even in summer. But the
Torrance
couple enjoyed a beautiful day, warm by Norway standards (mid-60s). Perfect. Robert used a
Sony
DSC-W90 to preserve the moment.
(Robert I. Abelson)
Sep. 28
Amy and David Loe of Los Alamitos joined a big family trip to Italy in June to celebrate the 50th wedding anniversary of David's parents. They stayed in the small town of Magliano Sabina, about 30 miles north of Rome. David shot this photo of their twin boys, Denzill and Dylan, who were playing while Amy was shopping. Though their jump looks daring, it is more an optical illusion -- there are stairs just below them. The town of Magliano Sabina was full of narrow alleys and walkways like this. David used a
Nikon
Coolpix for the shot.
(David Loe)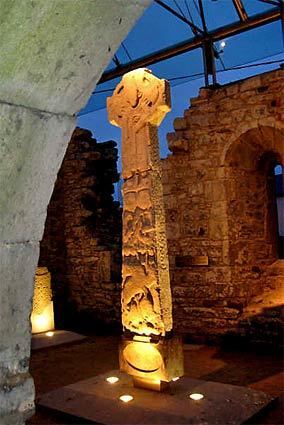 Oct. 5
For a year before her family's ancestral pilgrimage to Ireland, Liz McGlinchey King of
Culver City
studied the country's history. Long before she and about 20 relatives from four generations left the U.S., the ancient high crosses captivated her. So standing before the real thing proved breathtaking. The evening before the family's departure from County Clare, she sneaked away to take this night shot of the Doorty Cross at Kilfenora Cathedral. She used a Canon PowerShot A570.
(Liz McGlinchey King)
Oct. 12
Arthur Hoyle and his wife, Mimi, were on a camping safari in Botswana when they stopped to enjoy this sight. The
Pacific Palisades
couple loved their first trip to Africa, though the camping safari was arduous -- up every morning at 5:45, on the trail before sunrise, back to camp at sunset for drinks, dinner and early to bed. For this shot, Arthur used a Mamiya/Sekor 1000DTL SLR camera loaded with Fujichrome 200 slide film. He shot through an 85-205 Vivitar telezoom lens set at 180mm, f3.5, 1/60th.
(Arthur Hoyle)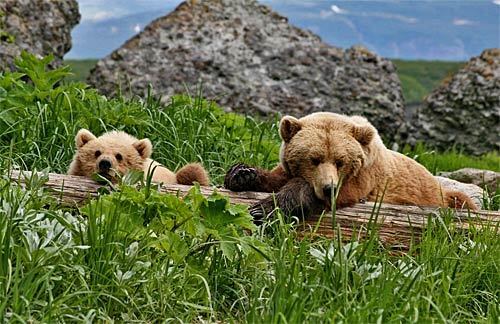 Oct. 19
Karen Caraballo caught this shot of a mother grizzly and her cub in
Alaska
's McNeil River Sanctuary in July. On her last day, Caraballo found the bear and her offspring grazing on grass. After eating, they found the log and took a nap. "This was a trip of a lifetime," Caraballo says. "An amazing experience to travel to no-man's land and sneak a peek into an unchanged past." She used a Canon EOS Digital Rebel with a 300 mm lens.
(Karen Caraballo)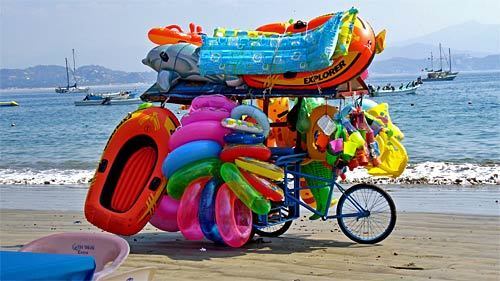 Oct. 26
David Gilbert snapped this shot of a vendor near a small lagoon in Manzanillo, Mexico, during a February 2007 trip with his wife, Stephanie. During the getaway, in celebration of their 25th anniversary, the
Huntington
Beach couple took a panga from the Wyndham Grand Bay to Tenacatita and did the jungle river cruise. "It was fantastic," David says. He took the colorful shot on the beach afterward, with a Panasonic Lumix.
(David Gilbert)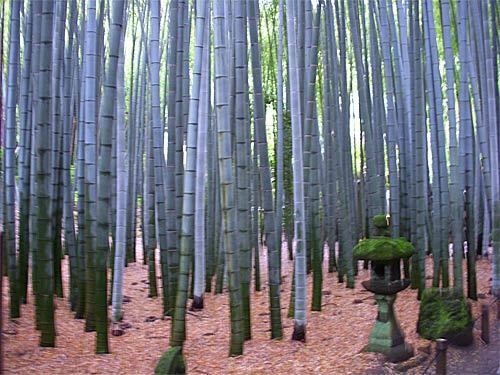 Nov. 2
Tyler Fukunaga, 13, took his first trip to Japan in June, when he and his family visited Tokyo, Kamakura, Kyoto and Nara. The Buddhist and Shinto shrines amazed him, he says, "each so different and beautiful." The Rancho Palos Verdes resident and student at Ridgecrest Intermediate School captured this shot of a bamboo forest in Kamakura. "In the heat of the summer, we found a cool haven," he says. Tyler used a Nikon Coolpix S51c.
(Tyler Fukunaga)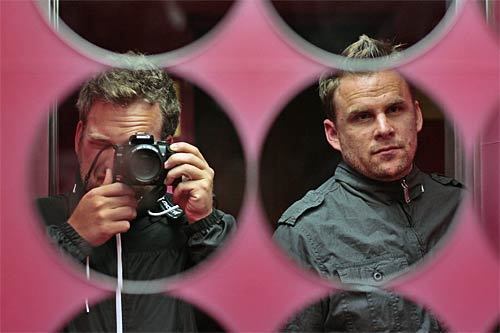 Nov. 9
Patrick Norton, a San Diego musician and video producer, takes a photo inside an elevator at Oops!, a Paris hostel. Beside him is Stephen Silke, a master's student in creative writing at USC.
(Patrick Norton)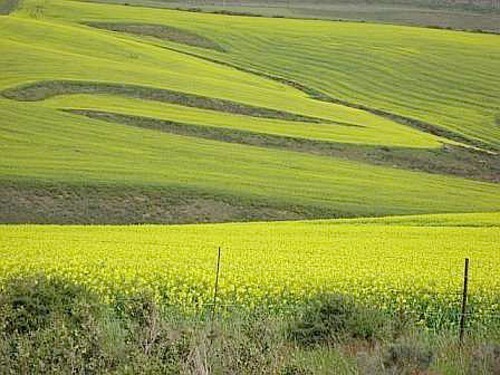 Nov. 16
On Gail Stonehouse's first trip to South Africa, she snapped this picture during a traffic jam on the Garden Route from Plettenberg Bay to Cape Town. "It was the most beautiful scenery and this picture captured the essence of spring," the Calabasas resident recalls. "This was our best trip ever." She used a Canon PowerShot SD700 IS.
(Gail Stonehouse)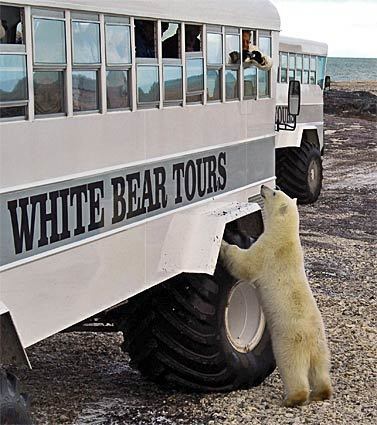 Nov. 23
Most of the year, polar bears are solitary animals out on the ice pack. But in mid-October, they begin gathering in Churchill, Canada, where they wait for the ice to freeze on Hudson Bay -- their winter hunting grounds. Martin Voet of Mission Viejo took this shot from one of the bear-proof buses in Churchill. He used a
Nikon
D-100 digital with a 200-500-millimeter zoom.
(Martin Voet)
Nov. 30
"My wife, GG, was so engaged in photographing the Native American outdoor display just behind the Visitor Center at Yosemite National Park that she had no clue she was being closely observed by a 10-point buck," says Max McDonald of Northridge. They were visiting the display early on an overcast morning in late September. There were only two other visitors, so the lone buck was casually foraging for food throughout the display. Max used a
Nikon
N6006 film camera fitted with a Quantaray 70-300 mm telephoto lens and ASA 400 Fujicolor film.
(Max McDonald)
Dec. 7
Sarabeth Rothfeld of
Woodland Hills
had just arrived in Sirince, Turkey, in August. "As is my custom, I always take pictures of the room before we unpack, as well as views from all the windows," Rothfeld says. While getting a photo of her room at the Nisanyan Hotel, she heard voices from below. When she looked out the window, she spotted a woman separating red peppers from their branches. "I thought it was such a wonderful scene and snapped it." Rothfeld used a Canon G9.
(Sara Beth)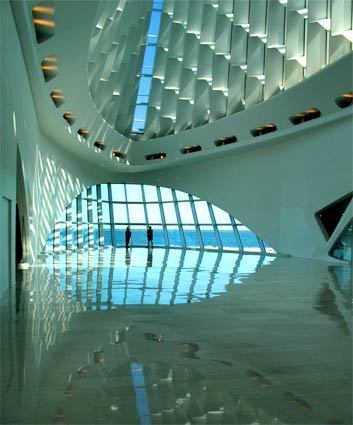 Dec. 14
Teri L. Rodriguez of
Los Angeles
took this shot in the new entrance/ lobby to the Milwaukee Art Museum's Quadracci Pavilion. It was designed by Santiago Calatrava and looks out to Lake Michigan. "We wanted to see how he would filter out natural light to enhance the viewing experience of Lake Michigan," Rodriguez says. "We were not disappointed." She and her husband visit their grandsons in Madison, Wis., twice a year and then explore nearby cities. Rodriguez used a Canon PowerShot G7 to capture this scene.
(Teri Rodriquez)