Customers are happier with airline experiences, study shows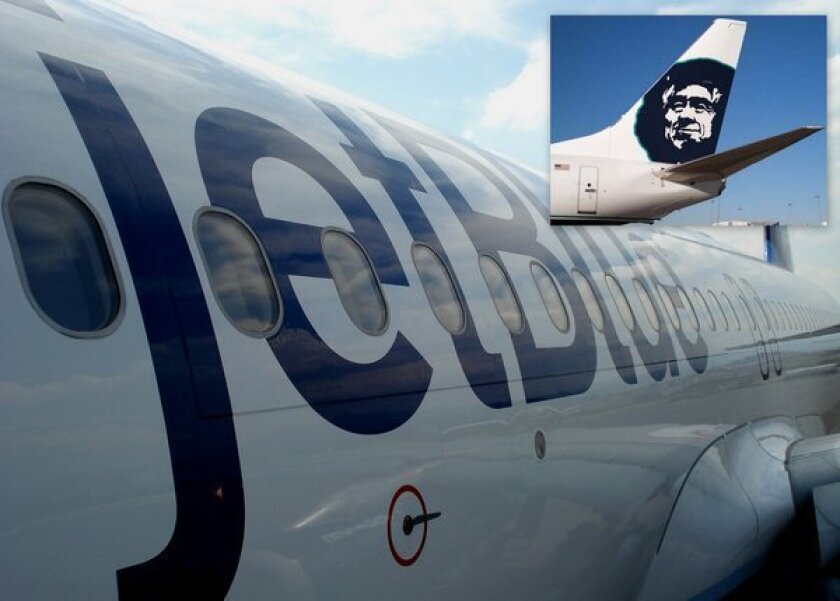 Fliers are vastly more satisfied with their airline experience, and Alaska and JetBlue are tops at making customers happy, a new study released on Wednesday (today) shows.
The results are the best for the airlines since 2006, according to the 2013 North America Airline Satisfaction Study by Westlake Village-based J.D. Power & Associates. The study measures seven categories, including cost and fees; aircraft; and check-in.
Overall scores increased 14 points from last year's study, reaching 695 on a satisfaction scale of 1,000 points.
Alaska, classified as a traditional carrier, scored 717 on this year's scale. JetBlue, in the low-cost category, hit 787.
The ranking of the rest of the traditional carriers and their scores:
2: Delta, 682
3: Air Canada, 671
4: American, 660
5: United, 641
6: US Airways, 630
The rankings of the low-cost carriers and their scores:
2: Southwest, 770
3: WestJet, 714
4: Frontier, 708
5: AirTran, 705
Positive scores are still dragged down by customers' annoyance by baggage fees, said Jessica McGregor, senior manager of the global travel and hospitality practice at J.D. Power.
"They are a point of contention," she said, and they "negatively impact satisfaction." The scores on the survey bear this out: Those who didn't pay baggage fees were 63 points happier than those who did. That's better — "there's a bit more acceptance of baggage fees," McGregor said — than last year when the chasm was 85 points and the year before when it was 100.
I asked McGregor if our happiness with carriers is like those baggage fees: We have to accept them and move on. She doesn't think so, noting that there are "double-digit improvements" in several areas.
One area she credits: technology. It's made the check-in process faster; people like having Wi-Fi on the plane; and they're delighted with seatback entertainment (as well as improved comfort, including legroom, although that is sometimes fee-related).
In the future, that seatback technology may incorporate our own devices, she said, and may be personalized to show where, for example, you must go for a connecting flight or where you can pick up your baggage.
The study, which was administered between May 2012 and March of this year, sampled 11,800 passengers who flew between April 2012 and March of this year.
Follow us on Twitter @latimestravel and like us on Facebook
---
Get inspired to get away.
Explore California, the West and beyond with the weekly Escapes newsletter.
You may occasionally receive promotional content from the Los Angeles Times.