12 ways to celebrate the holidays in Las Vegas, where a hotel's cool pool becomes an ice-skating rink
As the holiday season approaches, only in Las Vegas would a tony hotel swimming pool become an ice-skating rink, and a $25 piece of coal from the Titanic become the perfect naughty-not-nice gift.
It's a time when some of the city's more than 42 million annual visitors can discover the desert city's seasonal side. Nighttime lows in the mid-30s give Vegas the feel of a real winter destination too.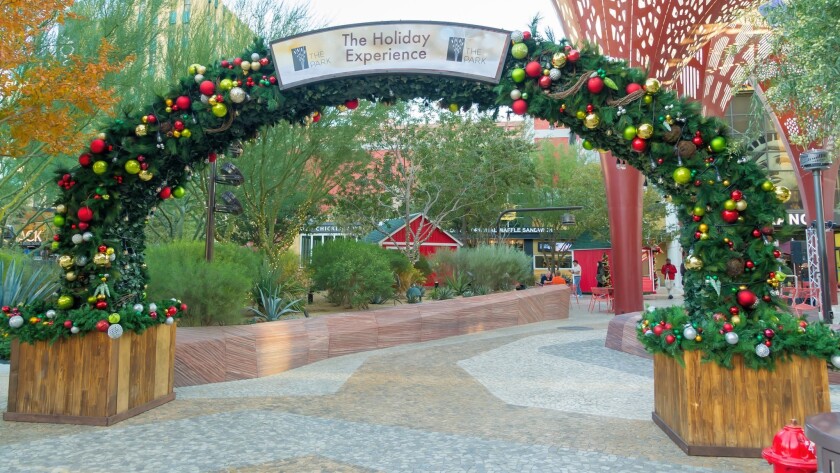 First stop, The Park pedestrian mall, which has been transformed by festive cottages along the corridor of shops and restaurants that stretch from the Strip westward to T-Mobile Arena.
From 4 p.m. to 8 p.m. each Friday, Saturday and Sunday through Dec. 29, the Holiday Experience at the Park will offer live entertainment, such as R&B music from 4Front and doo-wop versions of holiday classics from the Beverly Belles. Treats such as candy apples and s'mores will be for sale, and "St. Nick" will appear too.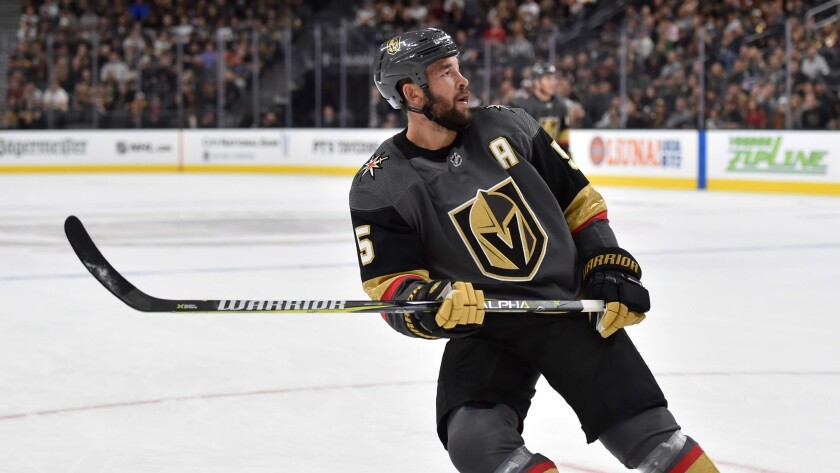 Then catch Golden Knights defenseman Deryk Engelland, who will be at a skating rink instead of a hockey rink to host the tree-lighting ceremony at the Cosmopolitan of Las Vegas from 6 p.m. to 8 p.m. Dec. 5.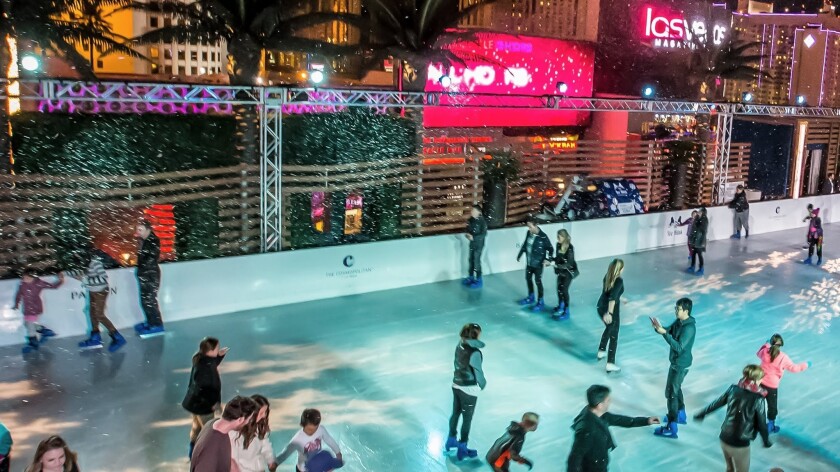 Take a twirl on the ice-skating rink on the hotel's pool deck overlooking the Strip. Skating is open daily and continues through Jan. 6.
You can reserve a spot on the ice and at a fire pit (instead of a cabana) for 2 1/2 hours ($100).
About three miles up Las Vegas Boulevard, Wynn Las Vegas welcomes visitors with a holiday village inspired by "Gulliver's Travels" in the main atrium.
The hotel also is hosting a family-friendly "treat-trimming" class at 2 p.m. Dec. 15. Participants learn how to make edible ornaments under the instruction of pastry chef Patrice Caillot. Admission is $125 per person; register by calling (702) 770-7070.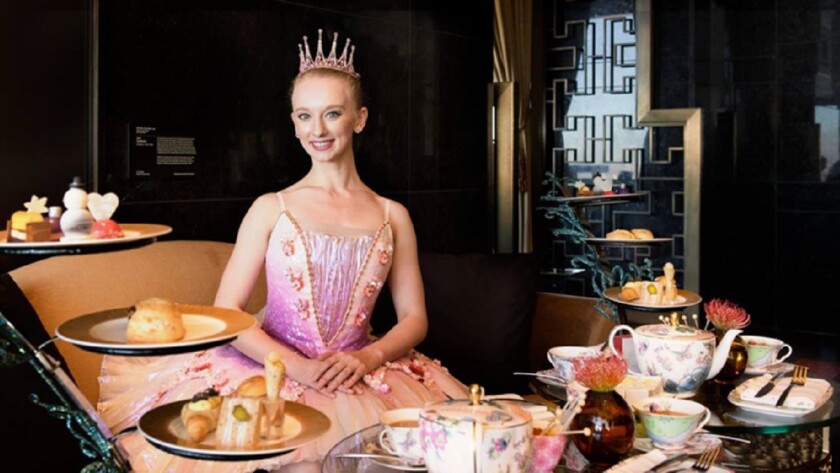 When it's time to unwind and warm up, head to the Tea Lounge at the Waldorf Astoria Las Vegas for a Nutcracker Tea. Through Jan. 1, the retreat on the hotel's 23rd floor will serve a proper English afternoon tea complete with pastries, scones and sandwiches. One of the several tea offerings is Sugar Plum Fairy, which has hints of vanilla, strawberry and plum.
The tea is offered throughout the afternoon, and costs $56 for adults and $26 for children. Make reservations here.
On Dec. 4 and 17, guests will be greeted by a ballerina from the Nevada Ballet Theatre. The ballet company will perform "The Nutcracker" on select dates Dec. 8 through 24 at the Smith Center. Tickets cost $29 to $179.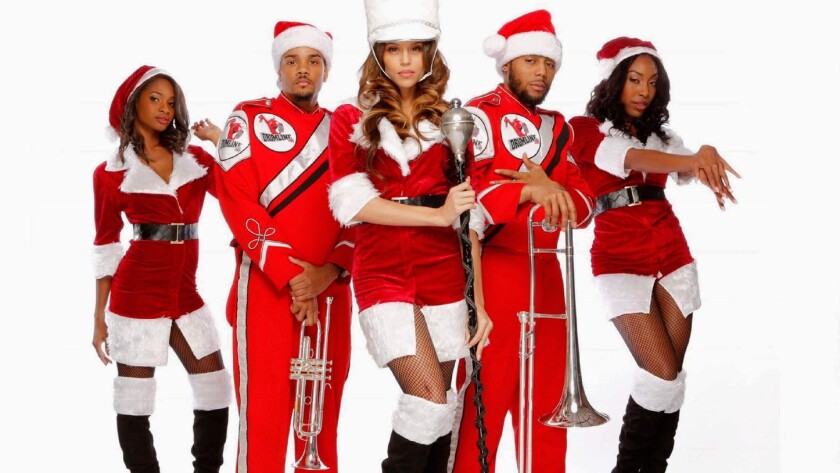 The Smith Center also will host the "Drumline Live Holiday Spectacular" at 2 p.m. and 7 p.m. on Dec. 29. Tickets cost $29 to $69.
The sights and sounds of the holidays, complete with marching band, will take the stage with a festive blend of gospel, jazz, Motown, soul and even the "Nutcracker Suite."
Tickets cost $29 to $69.
At the Fashion Show Mall, a free show called "Believe in the Magic" has Santa at its center. It's on Fridays through Sundays until Dec. 23. Holiday traditions merge with modern technology during the performances at noon, 2 p.m., 4 p.m. and 6 p.m. It also will show at 4 p.m. on Christmas Eve.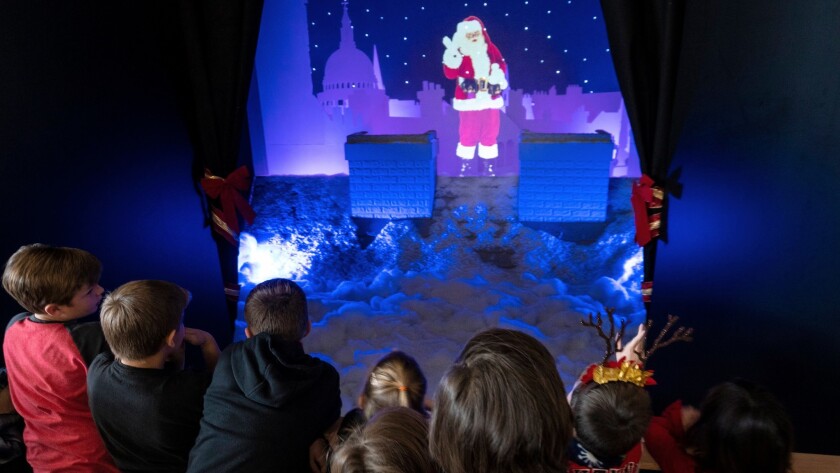 Kids can also enjoy the mall's new show called "'Twas the Light Before Christmas," a Kris Kringle-themed holographic experience. Through a magical window, shoppers watch Santa deliver his presents. The hologram creation comes from London's Cinimod Studio, a well-known theatrical design company. It continues through Jan. 10.
On the city's foodie side, an award-winning Hong Kong restaurant will make its U.S. debut in Las Vegas on Dec. 24.
Mott 32 will become the newest dining experience at the Palazzo. The restaurant's three existing locations in Hong Kong, Bangkok and Vancouver, Canada, feature contemporary interpretations of traditional Chinese recipes.
The restaurants' signature dish — applewood-smoked Peking duck — will be on the Vegas menu, priced at $118. The crispy chicken dish is served with freshly steamed pancakes; a blend of crunchy cucumber, scallions and raw cane sugar; and fresh garlic and hoisin sauces. Because the dish takes 48 hours to prepare, visitors must order in advance.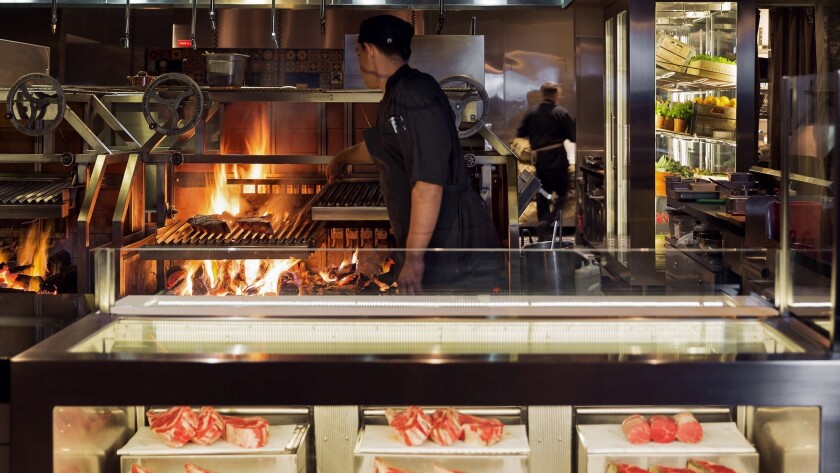 Also on Christmas Eve and just a few blocks away, chef José Andrés will be offering a traditional La Noche Buena menu at his Bazaar Meat restaurant at SLS. It features holiday dishes from the chef's native Spain, including creamy chicken croquettes and a stew of lobster, monkfish and potatoes.
Make reservations for the $95 special dinner online.
And what about that lump of coal? Actually, it's just a smidgen.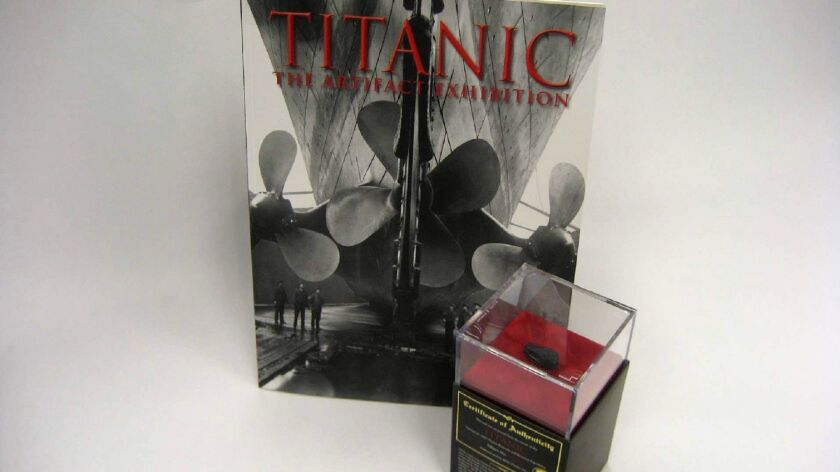 The coal is from the 6,000 tons of coal aboard the ill-fated Titanic, which struck an iceberg and sank in 1912. One-quarter-inch pieces of that coal, retrieved from the ocean floor, are being sold for $25 in the gift shop at "Titanic: The Artifact Exhibition" at the Luxor. The chip comes in a display box with a certificate of authenticity.
Twitter: @latimestravel
---
Get inspired to get away.
Explore California, the West and beyond with the weekly Escapes newsletter.
You may occasionally receive promotional content from the Los Angeles Times.