7 SoCal experiences that get your kids up close and personal with extraordinary animals
When I was 12, I visited the Smithsonian National Museum of Natural History in Washington, D.C., with my family. Inside the insect zoo, a naturalist pulled a massive brown bug out of a tank and held it in front of the curious but wary group.
"What is it?" a girl asked.
"A hissing cockroach from Madagascar," the naturalist replied. He then turned to me and asked, "Do you want to hold it?"
"Sure," I said with a voice that was surprisingly calm. And before I could consider changing my mind, the cockroach was sitting on my arm, just above my elbow. "Hold still," I was instructed. I did. My father snapped a photo.
For weeks, I carried that photo around with me to show people a snapshot of my travel adventures — and my bravery. I began to learn that when children meet animals up close and understand how to care for them safely, what they come away with is self-confidence, empathy and respect for the natural world around them (and maybe even a cool photograph that makes people cringe).
Now, as a parent myself, I've visited many animal habitats with my daughters over the years. We've tiptoed through tide pools and watched birds in Griffith Park. We've kayaked in Marina del Rey, looking for sea lions among the boat docks in the harbor. We've visited natural history museums to see butterflies and aquariums to watch the sea otters swim and play.
There are a multitude of experiences in Southern California you can embark on to get your kids up close and personal with animals. Here are seven great ones.
Let butterflies land on your shoulders at Natural History Museum in Los Angeles 
The Butterfly Pavilion at the
Natural History Museum
in Los Angeles is a yearly celebration of the fluttering winged creatures that make us point and smile. There are currently 15 species flying around the light-filled enclosure, just outside the museum. One to look out for: the tropical Blue Morpho, which looks like it is lighted from within. If you book your tickets for 9:30 a.m. or 2 p.m., you'll see the day's new butterfly releases. For better chances of a butterfly landing on you, wear colorful clothing, suggests Leslie Gordon, senior manager of Living Collections at the museum.
The butterflies will be on view until early September. After that, the space transforms into the Spider Pavilion. Inside the museum,
Bugtopia
and the ongoing Nature Lab offer live animal demonstrations.
Tickets to the Butterfly Pavillion are $8, in addition to museum admission. Members are free.
More Info
Watch a hawk fly though the air and land on your arm with Hawk on Hand
Montecito Heights
Experience
After Adam Baz worked for years as a bird biologist and urban conservationist, his journey turned toward falconry. Now, with his company
Hawk on Hand
, he trains his birds for multiple roles: They protect properties from pest birds using sustainable techniques, make appearances in films and TV shows and bring delight and awe at private, family-friendly falconry experiences.
"The first time a hawk lands on your glove, adults turn into kids and kids into adults," Baz says in Debs Park in L.A., where his falconry experiences take place.
He begins this session by sharing a short history of how falconry was developed as a method for hunting. He then brings out his meticulously cared-for birds, beginning with Archie, an adorable barn owl. Next comes Jasper, a Harris's hawk, which appears and sits on a small stand on the picnic table. Baz adds a bit of food to a lowered glove, sends Jasper to fly off to a tree. He then raises his arm and Jasper flies back, landing on the glove and gobbling up his tasty treat.
"The birds think I am a walking refrigerator," Baz says with a big smile. During the rest of the session, participants take turns putting on the glove and watching Jasper fly and land. It's a thrilling experience — and makes for some incredible photos.
Hawk experiences start at $350 per group of up to four people.
More Info
Search for fluffy-tailed friends at the Bunny Museum in Altadena
The Bunny Museum
in Altadena is a — how can we put this? — whole other animal. As the origin story goes, Candace Frazee and Steve Lubanski's romance began with a single bunny gift, which became an extensive collection, which turned into a full-fledged rabbit-themed museum. Throughout the space are displays of everything from collectible bunny figurines and bunny art to Bugs Bunny paraphernalia and movie posters featuring bunnies.
As you peruse the collections, your brain will be filled with all sorts of facts about the fluffy-tailed animals: Did you know that bunnies are a symbol of fertility? Or that a dance originated at San Francisco's Fairmont Hotel in 1911 called the Bunny Hug? There are bunny greeting cards, displays of bunny watches and so many plush bunnies. In the holiday room, you'll find Rose Parade float bunnies, a Chamber of Hop Horrors and White House Easter eggs. Frazee and Lubanski often have live bunnies hopping around the museum — currently, you can meet Nicky, a black-and-white rabbit that was recently rescued.
More Info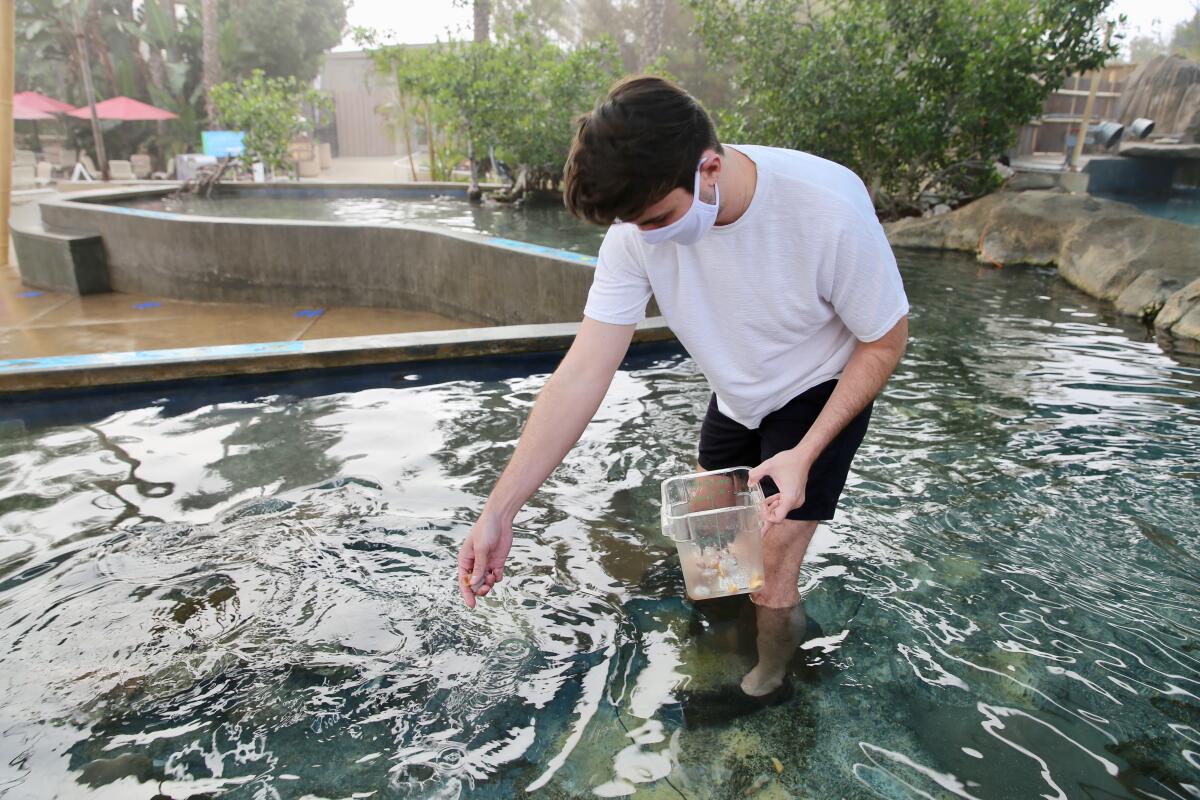 Meet penguins, sea lions and sharks (oh my!) at Aquarium of the Pacific
In the early mornings, before the Aquarium of the Pacific opens to the public, the staff sets up Animal Encounters, behind-the-scenes private experiences that get visitors up close with the site's most popular animals. For $150 (or $135 for aquarium members), you can let exotic birds land on your arm, hang out with the sea lions, sit next to a penguin or even feed the sharks and walk among the rays in the touch pools of Shark Lagoon. The aquarium's educators know exactly how to keep the animals and humans safe, and they'll guide you through the experience. Groups are limited to a maximum of four participants, who must be from the same household.

Tip: If you choose the penguin adventure, you may meet Wally, one of the aquarium's most popular and friendly penguins. Just try to focus on what the educator is sharing about daily life in the penguin colony — even as you're squealing with delight inside.
More Info
Feed the world's largest birds at Ostrichland USA in Solvang
If you're looking to encounter birds taller than most people, head to Solvang to visit
OstrichLand USA
, a farm with more than 80 ostriches. These flightless marvels are the fastest land birds, with an ability to run more than 40 miles per hour. You can observe them up close at the visitor deck, where they are happy to eat out of the bowls of food you are instructed to hold onto tightly with both hands.
OstrichLand also features 60 emus, the second-largest land bird species, known for having two sets of eyelids — one for blinking and one for preventing sand and dust from getting in. In the summer, there also may be opportunities to see some adorable new baby chicks. "Taking care of the birds is our No. 1 priority, " says OstrichLand USA's owner, Blake Fowler. Admission is $7. Kids 12 and under are $3.
Tip: After helping feed the flock, head into Solvang to Olsen's Danish Village Bakery for some butter cookies to top off your adventure.
More Info
Learn about the rescue and rehabilitation of the exotic wildlife at Star Eco Station in Culver City
If walking through
Star Eco Station
in Culver City makes you feel like you're in a movie, it's because Hollywood set designers helped create the wildlife rescue and science museum. The animals are the stars — there's a fox, a bobcat, a hedgehog, a sugar glider and a room full of birds. Snakes may be slithering around, sleeping or lounging in their water tub. You might meet a curly haired tarantula named Harry Potter.
Many of the animals — illegal or abandoned at-risk exotic wildlife — found their way to the rescue center after being confiscated by employees of the U.S. Fish and Wildlife Service. Here, the animals are cared for, rehabilitated and released when possible or relocated to another safe location when necessary.
Star Eco Station's motto is "Conservation Through education," which comes to life through its school programs at LAUSD campuses and on-site camps. Before you visit, glance at the station's animal supply
wish list
and see if you have any items to donate (paper towels, eco-friendly cleaners and toys for parrots, among other things).
Admission is $12 for adults, $10 for kids. Infants 2 and under are free.
More Info
Ride horses in one of Southern California's most stunning settings
There are plenty of places to ride horses in Southern California, but
Los Angeles Horseback Riding
takes you along the ridge of the Santa Monica Mountains Backbone Trail in Topanga Canyon, about 2,000 feet above sea level. The setting is simply majestic. For kids, who must be 10 to ride, the experience can be an opportunity to learn about the ancient roots of Malibu and Topanga, which were sacred grounds of the native Chumash and Tongva peoples.
When you get to the property, you'll have an introduction to horseback riding and meet your professional trail guide and horse. The horses, which include a few Tennessee Walkers, are gentle and well-trained. Out on the trail, you'll have mountain and ocean views on clear days. You may see hawks, deer, coyotes or even rare Mexican Xoloitzcuintli, a breed of hairless dog.
Make sure to wear long pants and sturdy closed-toed shoes, ideally boots. Rides begin at $100 per person.
More Info
Get our L.A. Goes Out newsletter, with the week's best events, to help you explore and experience our city.
You may occasionally receive promotional content from the Los Angeles Times.