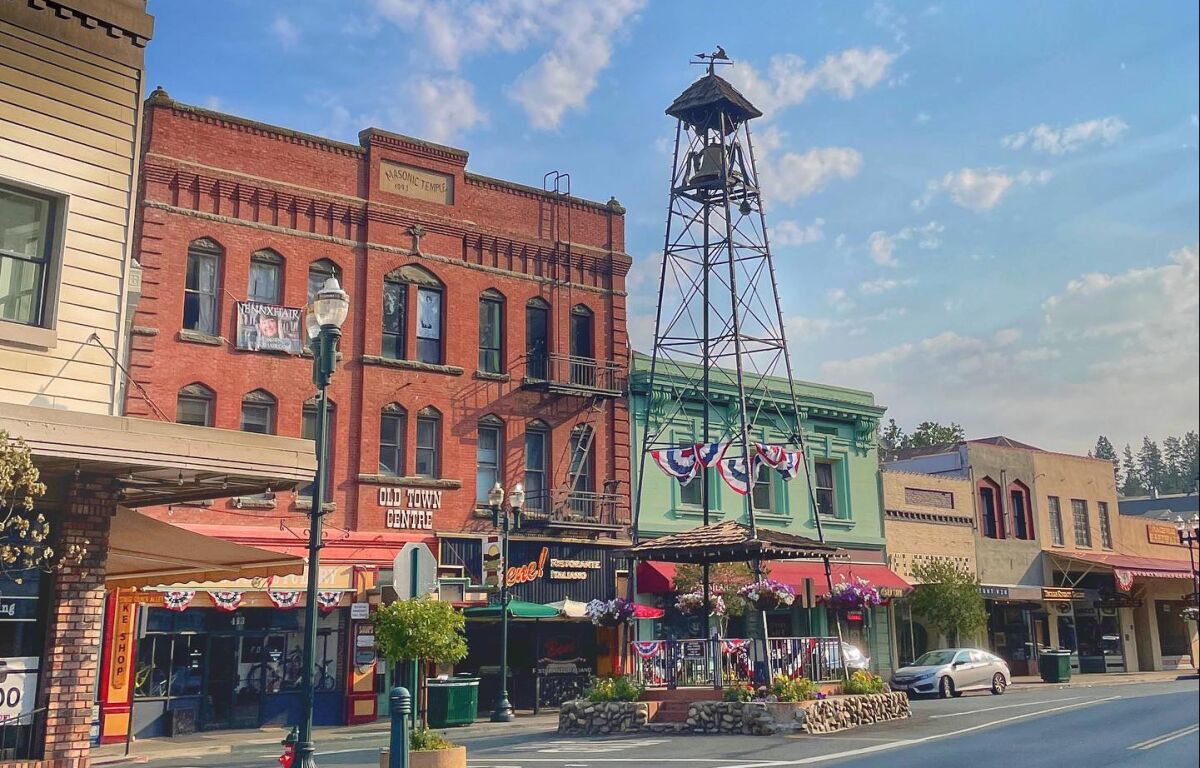 11 magical California gold rush towns you should absolutely visit
Living in a state known for sprawling cities and crowded freeways, we forget California was a frontier backwater until Jan. 24, 1848. That was the day James Marshall, who was building a sawmill for John Sutter on the South Fork American River, noticed flakes of something sparkling in the sand. It was Marshall's "Eureka" moment — and California's. The discovery of gold in "them thar' hills" brought more than 300,000 people to the region over the next decade. Some of the "forty-niners" got rich — from gold, but more so from providing food, supplies and services to the prospectors in the hundreds of mining camps and towns that sprang up.
Today, you can explore California Gold Country by meandering along State Highway 49, which runs north-south about an hour east of Sacramento, and points nearby. You'll discover parks, hotels, saloons, restaurants, antique shops and more with an Old West ambiance. It's a road trip — and a step back in time.
(The map addresses are of the city halls or towns' Main Streets, unless otherwise noted.)
Auburn
Driving northeast from Sacramento on Highway 80, you'll know you're in Gold Country when you spot the 45-ton clay statue of a miner panning for gold. The sculptor was local dentist Kenneth Fox. His subject was Claude Chana, a French miner en route to Sutter's Mill in 1848 who got lucky here. Auburn's tiny Old Town boasts a wedding-cake Queen Anne-style firehouse and a
museum
in the stately 1890s Placer County Courthouse.
A good reason to stop in Auburn is
Pour Choice
, a hip coffee bar and tap room in the town's former hundred-year-old drug store. The 28 taps pour indie beers, wines and sodas. The blow-your-mind food includes a salad of local tomatoes, basil, peaches and burrata; mile-high grilled-cheese sandwiches; and the homage-to-Elvis "Loaded Banana Bread" — peanut butter and bananas between two slices of banana bread.
More Info
Grass Valley
The annual
Cornish Christmas
celebration is a big deal in Grass Valley, a town built by the hundreds of miners who migrated here from Cornwall, England, during the Gold Rush. At
Grass Valley Pasty
, (pronounced
past-y
, not
paste-y
), sample a hearty Cornish meat pie like those they ate for lunch when they worked deep down in the
Empire Mine
. One of Gold Country's oldest and richest mines — more than 165 tons of gold were extracted before it closed in 1956 — today the Empire is a
California State Historic Park
on 856 wooded acres. Docents offer tours of the impressive brick-and-stone mansion of the mine's wealthy owner, William Bourne Jr., and a dizzying virtual descent into the mine shaft.
Grass Valley's
Holbrooke Hotel
started as an add-on to the 1852 Golden Gate Saloon and became a hangout for notorious outlaw Black Bart, exotic dancer Lola Montez and author Mark Twain. The hotel was renovated during the pandemic, its 28 spacious, high-ceilinged rooms outfitted with antiques and bathrooms that feature the original (but updated) bear-claw tubs. Today, with its lively bar and restaurant, the Holbrooke is Grass Valley's social center.
More Info
Nevada City
While Grass Valley was a town built by miners, Nevada City, four miles northeast, was a town built by mine
owners
. Stately Victorian homes and commercial buildings line streets shaded by evergreen trees. Like Grass Valley's Holbrooke Hotel, Nevada City's
National Exchange Hotel
, built in 1856, recently underwent a top-to-bottom renovation that added modern amenities while preserving its historic charm. Request a "Haunted by History" candlelight hotel tour led by general manager Anthony Jones.
Together, Grass Valley and Nevada City have been designated as a
California Cultural District
and offer year-round arts programming. Main Street's
Nevada Theatre
, California's oldest existing theater building, where Twain once told tales, recently was beautified with enchanting murals by local artist Sarah Coleman. Nevada City goes all out for its community celebrations, from the August
Nevada City Film Festival
to the holiday season
Victorian Christmas
.
More Info
Coloma
You won't find a town at Coloma — the population in 2020 was 390 — but follow the yellow school buses to
Marshall Gold Discovery State Historic Park
. The 576-acre, grassy area encompasses the riverbank spot where James W. Marshall discovered gold at the Sutter's Fort sawmill. (The sawmill itself is a replica; the original sawmill was washed away years ago.) The park's Gold Discovery Museum features colorful exhibits that tell the story of Marshall's "Eureka!" moment, as well as that of the indigenous people who lost their land as a result. Visitors can pay $10 for a
gold-panning
lesson and a turn at the panning trough. You get to take home what you discover in the sand, including specks of garnet, fool's gold and — if you're really,
really
lucky — real gold.
More Info
Placerville
The story goes that this Gold Country town lacked a police force in 1849, so when three men robbed a gambler — or maybe they were caught cattle rustling — they were hanged by a mob. The town was named "Placerville" a few years later, but the nickname "Hangtown" stuck. The historic structures include a Masonic Temple, a bell tower, and a hardware store that claims to be the oldest west of the Mississippi.
The fun part — especially for families — is visiting
Gold Bug Park and Mine
, which dates back to 1888. Visitors can don hard hats and take self-guided audio tours (adults $12; seniors and military $10; youths 6-17 $6). Guided group tours are available by appointment. Other attractions include the mine's stamp mill, where gold was extracted from ore, a blacksmith shop and a museum with kid-friendly, hands-on exhibits.
More Info
Sutter Creek
Not to be confused with Sutter's Mill, where gold was first discovered in California, the town of Sutter Creek was once a hub for forty-niners trying their luck in the surrounding hills. Today those hills are home to boutique wineries, several of which have stylish tasting rooms on Main Street. Sites to see include the white-brick Sutter Creek Grammar School, built in 1871; the Monteverde General Store, which opened in 1896 and today is a museum; and
Knight Foundry
, the last water-powered foundry and machine shop in the U.S.
Shoppers will enjoy browsing in Sutter Creek's antique shops and boutiques. Four of the town's old Victorian houses are now bed-and-breakfasts. The historic
Hotel Sutter
features a charming restaurant and bar. Locals hang out at
Cavana's Pub & Grub
, which advertises itself as "Sutter Creek's Place to Pig Out!"
More Info
Murphys
Talk about luck of the Irish! In 1849, Irish immigrant brothers John and Daniel Murphy reportedly mined enough gold here to make them millionaires before the age of 25. Today, tree-lined suburban neighborhoods flank their namesake town's Main Street, where the community and visitors celebrate the region's Gold Country heritage and sample wines from Calaveras County vineyards in more than a dozen tasting rooms.
The
Murphys Historic Hotel
, set in a building that dates back to 1856, has rooms both historic (furnished with antiques) and modern (with private bathrooms.) The hotel's saloon is a lively spot for people watching.
Ironstone Vineyards
has a tasting room and restaurant, plus an exhibit of Gold Rush artifacts, including a 44-pound gold leaf specimen, the largest ever found in California.
More Info
Jackson
Wander through Jackson's Pioneer Cemetery and you'll discover how far the first settlers traveled in search of fortune here — including Sweden, Switzerland, Spain and Serbia. Many worked in the
Kennedy Mine
, one of the deepest in Gold Country. Check the website for tour information, but even if there are none on the day you come, drive down a dirt road for a close-up look at the mine's head frame that towers over the entrance to the mine shaft — it's one of the tallest in the world. Jackson's 165-year-old
National Hotel
was recently remodeled. Check out the atmospheric lobby with its copper-tile ceiling, Victorian antiques and massive rock fireplace.
More Info
Angels Camp
"The Celebrated Jumping Frog of Calaveras County," the short story that made Mark Twain famous, was set here. Twain supposedly based it on a tale he overheard in the town saloon when he visited in 1864. Since 1928, Angels Camp has celebrated Twain with an annual bullfrog-jumping contest at the Calaveras County Fair. Brass plaques pay homage to the amphibian winners on Main Street's sidewalk, like the brass stars honoring celebrities along Los Angeles' Hollywood Boulevard. (Angel Campers call it a "Hop of Fame" instead of a "Walk of Fame.") A must-see is the
Angels Camp Museum
, home to the country's largest collection of horse-drawn wagons, stagecoaches and carriages, along with exhibits devoted to Gold Rush history — and Mark Twain ($15 for adults; $10 for children ages 6-17).
More Info
Jamestown
You may recognize the picturesque Main Street from old TV series including "Petticoat Junction," "Green Acres" and "Gunsmoke," which were filmed here. Scenes that required a train were likely filmed at nearby Railtown 1897 State Historic Park, a 26-acre collection of steam locomotives and one of the last remaining working railroad roundhouses. The park offers self-guided and guided tours year round. On weekends during the holiday season, families hop on the magical
Polar Express train ride
to the North Pole. (Reservations required: $60 per person; kids under 2 are free.)
The town's two historic hotels, built in the 1850s, stand side by side: the
National Hotel
and the
Jamestown Hotel
. The Jamestown was recently remodeled and has quite a history: In the 1930s the hotel became the Motherlode Hospital, with a morgue in the basement. Some believe the ghost of a deceased patient still haunts the place.
More Info
Columbia
Thanks to the vast amount of gold discovered here, in 1852 Columbia was one of the largest cities in California, with three churches, four banks, and more than 40 saloons. Today, the historic town center is a
California State Historic Park,
with locals costumed in Old West attire, stagecoach rides, a working blacksmith shop, and boutiques, restaurants, and two hotels set in rustic old buildings. A big plus: Motor vehicles are not allowed on the streets, so as you walk along, you won't have an SUV spoiling your forty-niner fantasy.
Be sure to visit
Columbia Mercantile 1855
. Proprietress Teresa Torbett moved back to her childhood home here after raising her kids in the Bay Area. She turned the abandoned general store into what she calls a "Trader Joe's/Whole Foods/World Market Meets Little House on the Prairie."
Nelson's Columbia Candy Kitchen
has been making fudge, honeycomb, almond bark, and other sweets here since 1926. Owner Janice Nelson invites customers to make candy canes with her during the holiday season. Prized spots in the kitchen are chosen by a postcard
lottery.
More Info
Get our L.A. Goes Out newsletter, with the week's best events, to help you explore and experience our city.
You may occasionally receive promotional content from the Los Angeles Times.