11 California hikes to see spectacular fall foliage — before it disappears
Let me start with some expectation setting. There are many trails in L.A. that can give you small bursts of autumn color, for instance, in the Santa Monica and San Gabriel mountains. But if you're looking for some epic, sweeping vistas filled with brilliant foliage that screams "fall," you're going to have to hop in the car for a drive.
Believe me: It will be worthwhile. Those who decide to take a road trip to cooler climates will be rewarded with our state's unique autumnal delights. Although we don't have the idyllic colonial villages of New England, we do have the stunning backdrops of mountain ranges and alpine lakes. And while we have fewer species of trees that change color, we have a much wider range of elevations. This means that some types of trees can provide their own rainbows and that our fall color season lasts a lot longer than many popular leaf-peeping spots on the East Coast. You can keep track of current conditions throughout the state on the stalwart site California Fall Color, which is now run by its new editor Lara Kaylor.
Due to last winter's exceptional precipitation and the more recent remnants of Tropical Storm Hilary, expect some road conditions to be a bit rougher than usual. Most major roads are passable, but Inyo and Mono County officials have noted that road shoulders may be eroded or damaged, which may limit parking.
As we enter another wet season, be sure to check road conditions along with foliage reports. Inyo County and Mono County provide updates on their websites, and the Caltrans QuickMap has information on road conditions state-wide.
With that, pack your car, put something pumpkin-spiced in your insulated travel mug, and enjoy these California foliage destinations. And if you prefer to stay around town, I've included some solid local strolls.
Parker Lake
Even without fall foliage, the just-under four mile out-and-back to Parker Lake is a stunner. From a high desert sagebrush plain overlooking distant Mono Lake, you dip into mountain mahogany, red fir, Jeffrey pine, and an aspen forest that hugs an idyllic creek. Meander through the blazing yellow and orange leaves until you hit the lakeshore, which dramatically reflects Parker Peak and Mount Wood.
More Info
McGee Creek
Pull off the 395 en route to Mammoth Springs and climb on McGee Creek Road to a fall color wonderland. The McGee Creek Trail doesn't make you wait for the good stuff — a dense grove of aspen clings to the creekside while the unusually colored Mts. Aggie and Baldwin provide a unique Sierra view. Farther up the trail, the aspens rise along the mountain slopes, meaning there's a good variety of color over a longer period of time. A meadow with beaver ponds is a nice turnaround, or you can make this an epic multiday backpacking trip. Wilderness permit required.
More Info
North Lake Road
From Bishop, Highway 168 takes you up into the Sierra Nevada and through the aptly named village of Aspendell. The region is usually one the earliest to show fall color, and visitors who brave the steep dirt road and park at North Lake can take an easy stroll through a dense forest and pretend they're in some quaint corner of Vermont without much effort.
More Info
Big Pine Lakes
You want lakes? We've got your lakes right here! The Big Pine Lakes area has seven (named First Lake, Second Lake and so on) in addition to three other named lakes and a number of smaller unnamed lakes. There are also waterfalls and an old cabin that actor Lon Chaney built as a getaway from Hollywood life. This popular and epic backpacking destination can be socked in with mosquitos during the summer, but by fall the cooler temperatures should scatter the bloodsuckers. Permit required for backpackers.
More Info
Aspen Grove Trail
For many years, the Aspen Grove Trail in what is now the Sand to Snow National Monument was a beacon for leaf-peepers all over Southern California. The trail brought hikers to a remnant grove of quaking aspen — the only such grove found outside the Sierra Nevada. The 2015 Lake Fire did a significant amount of damage to this region, but the trail is open and the aspen grove continues to re-grow nicely. Permit required. The dirt road to the trailhead can be rough and is not recommended for lower autos. Crews have restored some of the trail but portions may still be overgrown or difficult to find.
More Info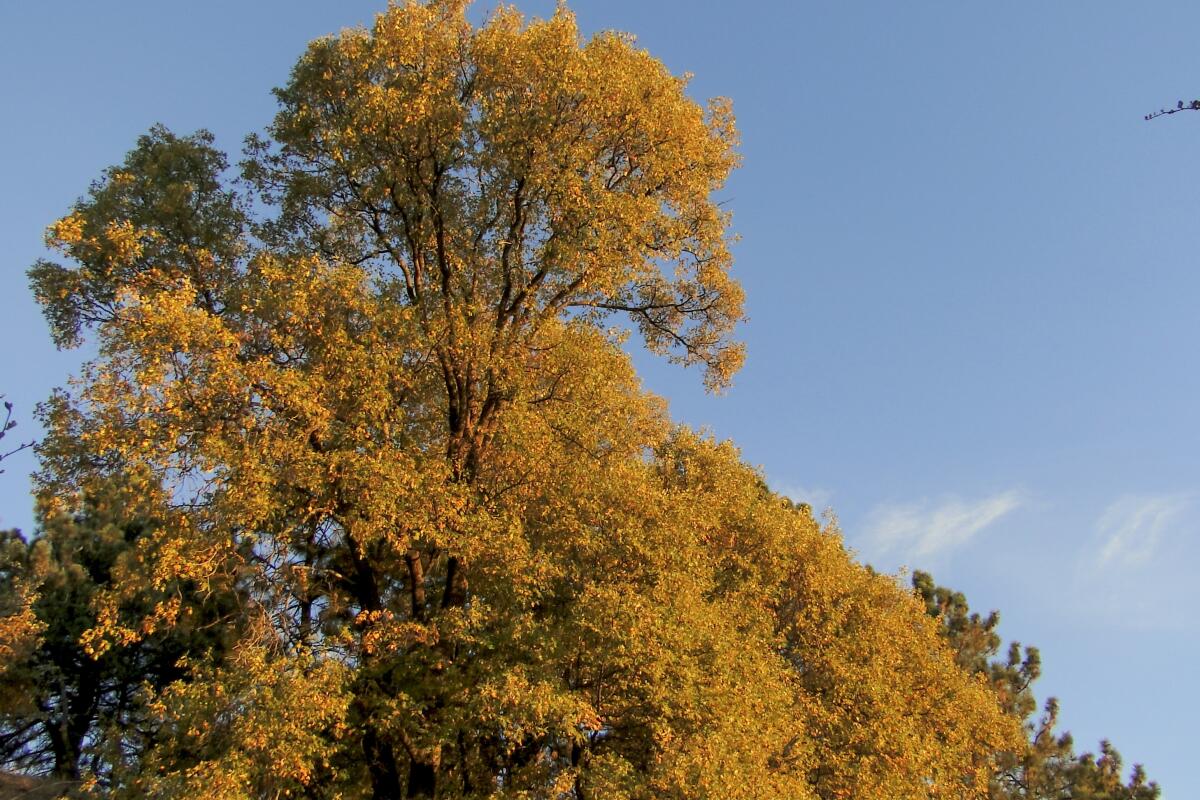 Palomar Mountain
San Diego County's Palomar Mountain has a lot to offer visitors, but foliage fiends are going to focus on its dense forests of California black oaks. On the Observatory Trail, chaparral and pine mingle with breaks that allow glimpses of nearby Mendenhal Valley for pastoral bliss, but it's the golden leaves of the turning black oaks that are the showstoppers this season. They're especially nice around the Observatory Campground, which also offers a place to spend the night if you're so inclined.
More Info
Los Angeles County Arboretum and Botanic Garden
Sierra Madre
Botanic Garden
If you want to see changing leaves without escaping town, you're in luck. Frank McDonough, botanical information consultant at the Los Angeles County Arboretum and Botanic Garden thinks the arboretum has the best fall color display in SoCal. The secret? Their collection is from all over the world, so there are always plants showing off their vibrant autumn hues — sometimes well past January. McDonough's off-the-beaten-path favorite is the fire-truck-red display of the Chinese lacquer tree.
More Info
Descanso Gardens
La Cañada Flintridge
Botanic Garden
La Cañada Flintridge's beloved botanic garden is a lush pocket of green space in the north end of the San Rafael Hills. Hikers can enjoy lovely views of the San Gabriel Mountains from the Descanso Motorway dirt road that snakes above the garden, but foliage lovers will enjoy strolling the many winding paths below. The garden's ginko, sycamores and crape myrtles usually peak in late November and early December. Stay after sundown in October for the annual
Carved
celebration, featuring hundreds of jack-o-lanterns, a hay maze, black light experiences and more fall goodness.
More Info
Rock Creek Lake
With a few campgrounds as well as neighboring lodges and mountain resorts, the Rock Creek Lake and nearby Little Lakes Valley area make a great basecamp for a multi-day exploration of the region. But you can also just take an easy, leisurely stroll around Rock Creek Lake itself. You'll hop across babbling creeks, enjoy the mirror-calm water of the lake reflecting the nearby peaks and walk through a few stretches of trail that will feel like a full-on tunnel of blazing foliage. This is a high-elevation area, so expect the leaves to turn here on the earlier side.
More Info
Lundy Canyon
What's the one thing that can beat deep Sierra valleys lined with dense aspen groves blazing from orange to gold, long alpine lakes and tranquil beaver dams? Waterfalls. You'll see some in the mix on the moderate hike into Lundy Canyon, just past the also-photogenic Lundy Lake. Pass old cabin ruins on a gradual incline and you'll hit a series of three distinct waterfalls with short user trails to good viewpoints. The trail continues to Lake Helen, but that adds a hefty incline. If you decide to turn around after the waterfalls at around the 2-mile mark, you'll still leave satisfied.
More Info
Convict Lake
Just before the entrance to the
Convict Lake Resort
, pull into a separate lot for hikers and make the short walk down to the shores of Convict Lake. Cottonwoods join the aspens in the fall color show here, especially on the sections of trail that meander across boardwalks. With a gentle grade and wide width, this trail is also considered one of the few wheelchair accessible routes in the Sierra Nevada, although all-terrain tires may be needed.
More Info
Subscriber Exclusive Alert
If you're an L.A. Times subscriber, you can sign up to get alerts about early or entirely exclusive content.
You may occasionally receive promotional content from the Los Angeles Times.