Work, but make it summer: 8 L.A. co-working spots with lush outdoor seating
It's that time of year again: peak summer in Los Angeles. As more companies adopt either a hybrid office/work-from-home model or embrace the fully remote life, spotted in the wild are Angelenos ditching their home offices and flocking to the city's slew of gorgeous but — let's face it — predictable co-working spaces. (We're looking at you, Ace Hotel.)
While taking Zoom calls from a rooftop pool is undoubtedly on brand, I've been on the lookout for working areas that are less on the nose. I'm sharing unique spots — a mix of proper co-working spaces with outdoor seating, cafes with secret back patios, and restaurants and bars with community gardens — all boasting a commodity arguably more elusive to SoCal during drought season: lush greenery.
Why? There's something invigorating about tackling your to-dos among walls of ferns or billowing bougainvilleas. Research suggests that being in contact with nature boosts your mental well-being and restores your attention (if you want a case study of one, I spent a week working in these spaces and barely scrolled through social media).
Ready to ditch your desk? Here are my eight favorite places in L.A. to work alfresco.
Second Home
From an aerial view, Second Home in East Hollywood looks like a glorious science experiment with its bright yellow, futuristic studio pods and dense, sprouting "plant-itechiture." And in many ways it is. As soon as you walk in, you realize why the amenity-packed, 2-acre urban forest promises to be L.A.'s healthiest workspace, due in large part to the 6,500 native trees and biodiverse plants that live there. Its inventive outdoor workspaces, which include a garden, rooftop terrace and central courtyard, were designed using biophilic principles — the concept that nature has tremendous effects on our well-being and enhances our focus and creativity. The ultra-lush landscaping also attracts hummingbirds, butterflies, squirrels and, rumor has it, a family of possums. A day pass is $35.

Lush factor: 🌿🌿🌿🌿🌿

More Info
Jackson Market & Deli
As a Los Angeles native, born in Culver City, I was shocked to only recently discover Jackson Market & Deli, established in 1925. But this charming neighborhood eatery tucked in the middle of a quiet residential street in downtown Culver City is easy to miss. Look out for the storefront patio seating and artful mural among the surrounding palm trees.

Once you step inside, you'll be met with an impressive little deli where you can order breakfast classics or custom sandwiches and peruse a mini market filled with imported wines and specialty cheeses. The real party is in the back, though. Through an unassuming outdoor corridor lined with potted plants and flower bouquets for sale is a secret oasis turned digital nomadland, complete with a gorgeous gazebo, billowing bougainvilleas and active koi pond.

Lush factor: 🌿🌿🌿

More Info
Cafe on 27
Ever dream of working in a treehouse? Topanga Canyon's Cafe on 27 may be your chance. Except this "treehouse" serves up matcha lattes, tuna melts and dependable Wi-Fi.

Tucked away in the Santa Monica Mountains, the outdoor breakfast-lunch nook feels as though it's perched on a branch. Patrons with laptops can enjoy panoramic views of California oak woodlands and chaparral-covered ridgetops via an array of "seating experiences." Pro tip: Pick the "Canyon Overlook With Barstools" option — and if you're wondering, it's exactly what it sounds like.

Lush factor: 🌿🌿🌿

More Info
Yuko Kitchen Miracle Mile
Even when you've entered the location into your GPS, Yuko Kitchen's Mid-Wilshire location has a delightful way of making you feel like you stumbled upon it yourself. There, by the UPS Store at the corner of Wilshire and South Dunsmuir, is a tiny green oasis with two outdoor patios (one of them comfortably located on the sidewalk), serving udon noodles, boba and free Wi-Fi. Much like its
sister location in downtown Los Angeles
, it boasts colorful hand-painted murals, fern-filled chandeliers and succulents, but this spot exudes more of a laidback, locals-only vibe. No major deadlines on the horizon? Bask in fermenting flora, follow-up emails and friendly conversations with passersby.
P.S. Don't sleep on the wonton nachos.
Lush factor: 🌿🌿
More Info
The courtyard at Coffee Connection
Exuding the warmth and old-world charm of a coffeehouse from Y2K, Coffee Connection is a quaint nonprofit cafe with brick archways, stained glass windows and bulb lights strung across a plant-friendly courtyard. On one side, there's a nature wall draped with ferns, moss and a cascading waterfall; on the other is a gorgeous tree with a high spreading crown and deciduous branches that make for maximum summertime shade and the occasional leaf flurry.

As a place to work, Coffee Connection is a great find — not only because of its idyllic courtyard or reasonably priced espresso but because there is a real sense of hygge (the Danish term for simple pleasures and cozy contentment). Within minutes of sitting down, I witnessed a real-life meet-cute and later overheard neighbors recognize they were sitting a few tables from each other. Also, did I mention there is free parking (in the two lots across the street)? Add me to the roster of regulars, folks. I think I'm in love.

Lush factor: 🌿🌿

More Info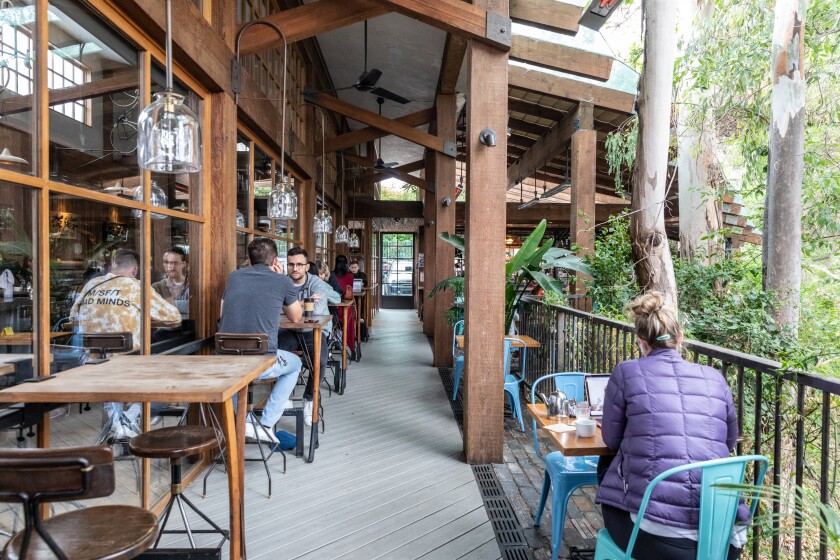 Pedalers Fork
In the heart of Old Town Calabasas, Pedalers Fork is a scratch kitchen and boutique bicycle shop providing locals an airy but private oasis. There are high, vaulted ceilings and an outdoor wooden deck adorned with rustic fixtures and a hodgepodge of wild, dense shrubs and thick plant life. (Fun foliage fact: The team made a conscious effort to preserve the natural creek that runs alongside of it when Pedalers Fork opened in 2013, and as a result, all the surrounding trees are native to the area.)

After talking to some regulars, I learned the spot is considered to be a hidden haven of sorts; it's less frequented and more laidback than neighbors Sagebrush Cantina and the Six Chow House (currently closed), making it ideal for co-working, especially on weekdays. So make yourself comfortable, grab a cold brew at 10-Speed Coffee Shop and lean into Calabasas' best-kept secret.

Need a break from work? There's a yoga studio upstairs that offers sound baths, breathwork classes and meditation.

Lush factor: 🌿🌿🌿

More Info
The Stonehaus
Westlake Village
Restaurant
Is your feed inundated with photos of friends living their best life in Europe while you're stuck in front of a computer screen? Not to worry. The Stonehaus will transport you to Tuscany without having to request PTO. Located adjacent to the Westlake Village Inn, the enoteca (which serves roasted coffee, fresh juice and baked pastries in the morning) is reminiscent of a picturesque Mediterranean garden. The courtyard — surrounded by radiant green hedges, soon-to-be harvested grapevines and lush canopies — is an unconventional yet energizing place to work and ease into the weekend, as evidenced by the number of laptops and wine flights spotted on a Friday afternoon. On a hot summer's day, the patio's misters and waterfall add a nice touch, as does the lingering fragrance of the property's 20-plus fruit-bearing Manzanilla olive trees. Remember, Syrah > Slack.

Lush factor: 🌿🌿

More Info
The Line Hotel lobby
This isn't technically outdoors, but the patio entrance and lobby of the Line Hotel in Koreatown is primo co-working real estate. Not only are there a plethora of gorgeously potted plants (and chairs with jungle-print upholstery to match) but there's also an Alfred's Coffee greeting you as soon as you walk in. Plan a visit Wednesday through Friday and catch lunch while you're there. The hotel's terrace restaurant
Openaire
is a real-life greenhouse and plant lover's paradise.
Lobby lush factor: 🌿
Openaire lush factor: 🌿🌿🌿🌿
More Info
Subscriber Exclusive Alert
If you're an L.A. Times subscriber, you can sign up to get alerts about early or entirely exclusive content.
You may occasionally receive promotional content from the Los Angeles Times.