5 dance workout classes for when you want to sweat it out to Beyoncé with zero judgment
"Let's go, girls!"
Instructor Joe Davis lip-synched the opening line to Shania Twain's "Man! I Feel Like a Woman!" in the middle of Dance Church, a morning gathering that feels more like a party than a fitness class. The sweaty mob inside the studio at Stomping Ground L.A. went wild, moving their bodies and letting it all hang out, just as Shania would.
According to the workout-booking platform ClassPass, dance fitness broke into the top 10 most popular fitness classes for the first time last year. If you haven't yet experienced the stress-busting joy of dancing in sync to a perfectly curated playlist with a room full of strangers, here is your chance.
These five classes in L.A. require no prior dance experience — you simply follow the moves of the teacher (or try out some of your own) and lose yourself in the music. There's no attitude, no shame, no "right" way to look. You're free to dance like no one is watching because really, no one is.
Dance Church
Part workout, part exploration of movement, part feel-good dance party, Dance Church was
created by professional dancer Kate Wallich
to be an inclusive space for all sizes, experience levels and identities.
At a Saturday morning class at Stomping Ground L.A. in Alhambra, dancer Joe Davis took a spot in the center of the room and led the group of barefoot (or sock-clad) attendees, encouraging us to follow his movements but also riff off one another and find our own style. He transitioned from booty pops to step-touches to hip sways with feeling and flair.
Lit like a nightclub, the space boomed with a playlist that ranged from Major Lazer to Doja Cat to Lady Gaga.
When we weren't grooving in place, we dance-jogged in a circle around the studio or moved en masse to the corners, jumping up and down and waving our hands in the air like we
just don't care
. After a sweat-soaked hour of dance, we took it down to the floor for some ab and arm exercises and stretching before lying in savasana with our eyes shut. As we basked in the post-workout afterglow, a cool blast of aromatherapy wafted over us. I'm not sure if it came from a diffuser, a spray bottle or Davis waving around an aromatherapy-oil-soaked cotton ball. I was just too relaxed.
In-person classes are $20 ($10 with Dance Church Go membership) and held at 10 a.m. on Saturdays at Stomping Ground L.A. (shown on this map), 10 a.m. Sundays at L.A. Dance Project and 7:30 p.m. Tuesdays at MiModa Dance Studio.
Preregistration
and proof of vaccination are required.
More Info
Wil to Dance at L.A. DanceFit
If you're craving a little old-school R&B and hip-hop but aren't yet ready to brave a fast-moving class, this is the one for you. Master instructor Wil-son Williams, co-owner of L.A. DanceFit in West L.A., has built up a huge following thanks to his fun, beginner-friendly teaching style that encourages everyone to feel like the dancer they are.
Williams created a follow-along class with simple choreography that repeats itself so that any dancer, whether 18 or 80-plus, can stay engaged and develop a style. On the Thursday morning that I attended a class, it felt like a dance party with a playlist that included hits by '90s favorites Mariah Carey, Crystal Waters and Michael Jackson, along with newer tracks from J. Balvin, Daddy Yankee and Drake. Williams broke down the moves several times, sharing little tricks to help us get the hang of them (like focusing on a specific foot). There was no attitude, no pressure, and no shame in taking the entire hour to fully learn the steps.
L.A. DanceFit offers other beginner-friendly classes, including Williams' Latin Cardio Pop and Vixen workouts. The first class is free. Register at
L.A. Dancefit
. It's $25 for a single drop-in class, $99 for a monthly unlimited pass and $330 for a 15-class pass.
More Info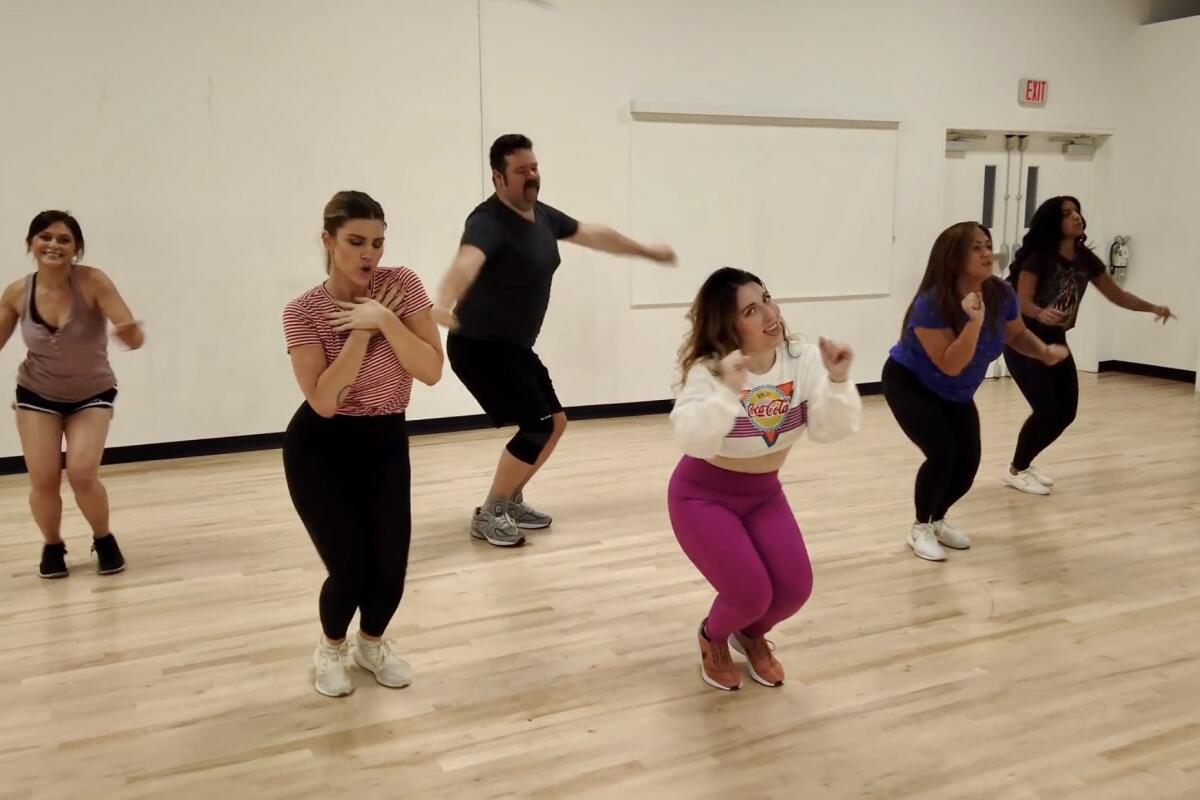 Mia Moves Me
Former Zumba instructor and TikTok comedian Mia Buck (@Miamovesme) honed her dance moves as a kid watching drunk teenagers on MTV's "Spring Break" and "The Grind." Today, she says her dance secret is "90% commitment and 10% talent."
While taking her signature Mia Moves Me class at Basement of NoHo (a dance studio just below Amp Studios), you can't help but channel your inner bedroom-dancing teen while still getting a challenging cardio workout. Buck calls it dance therapy: "We will clear your mind and free your bod!" her website states. The pop moves, from struts and hip circles to twerks, snakes and hops, are nonstop. All the while, the pink and blue flashing lights make you feel like you're dancing in a club.
The Los Angeles class is on a break for September but will be back for pop-up classes in October. For updates, follow Mia Moves Me on
Instagram
or email
miamovesme@gmail.com
.
More Info
Pony Sweat
Imagine an '80s dance aerobics class with a great playlist — think Judas Priest's "Turbo Lover" or Le Tigre's "Eau d'Bedroom Dancing" — all designed to help you let go of any idea of perfection and simply move your body in a way that feels good. That's Pony Sweat, a "fiercely noncompetitive" dance company created by Emilia Richeson-Valiente. Her "Mixtape" classes repeat the same songs and steps throughout the month so that participants (a.k.a. ponies) eventually get lost in the music. A class philosophy: Take the movements you like and leave what you don't.
There's no way you could feel awkward in this supportive environment, with dancers loosely following Richeson-Valiente's grapevines, fist pumps, pivots and hip shakes. Check out my
story on Pony Sweat here
.
Classes are held at 10 a.m. every Wednesday and at 12:15 p.m. Saturdays at Live Arts Los Angeles in Glassell Park. Register on the
Pony Sweat website
.
More Info
Old School Skinny
Taught by dancing couple Aerick and J'Nelle Luckie,
Old School Skinny
is a 60-minute cardio dance class set to '90s throwback jams and some newer hip-hop and R&B.
Aerick was an instructor years ago on Oxygen's "Dance Your A— Off," a "Biggest Loser"-style weight-loss reality show, so he's used to working with dancers of all abilities. The Luckies originally created the workout class for J'Nelle's mom, who needed to lose weight in preparation for her knee surgery.
Though the Old School Skinny class is an intense cardio workout, it feels more like a backyard boogie with songs from TLC, Stevie Wonder and Nicki Minaj. You somehow forget how hard you're working. The couple's enthusiasm is infectious, and the steps are easy enough to keep most people grooving nonstop.
Classes are held at 10 a.m. Mondays at the C Spot in West Adams (shown on this map) and 10:30 a.m. Saturdays at Crenshaw Yoga and Dance. The first two classes are free when you register
online
. After that, seven- and 10- class packs are available for $126 and $240, respectively.
More Info
Subscriber Exclusive Alert
If you're an L.A. Times subscriber, you can sign up to get alerts about early or entirely exclusive content.
You may occasionally receive promotional content from the Los Angeles Times.