These enchanting L.A. hikes take you above the 'June gloom' fog
June gloom — also known as May gray, no-sky July and Fogust, depending on the month you're in — describes the reliable occurrence of thick, low, marine-layer stratus clouds that hover over coastal Southern California in the late spring and early summer. The phenomenon sometimes gets groans from Angelenos who weren't planning to pack a sweater in their beach bag, but it plays an important environmental role. Without it, temperatures might soar dangerously high (and that may be happening already).
For hikers, June gloom offers an added bonus: With the right combination of timing, landscape and luck, that featureless layer of gray can provide some of the most dramatic scenery L.A.'s trails have to offer. The secret is to get above it. Here are six trails that help you do just that.
Tip: Keep a close eye on local forecasts and be sure to start your hike early — most of the time, the cloud layer burns off before the afternoon.
Sandstone Peak, Santa Monica Mountains
The elevation of the marine-layer clouds can vary but they rarely float above 3,000 feet. That means that, in ideal situations, a hike to the tallest peak in the Santa Monica Mountains gives you the best of two worlds. First, you'll have the cloud cover while you trek through some of the most picturesque coastal sage scrub in the region. And when you scramble up to the 3,114-foot-tall summit of Sandstone Peak, you've got a decent chance at literally hiking through clouds before poking your head above them.

From here, you may see the clouds forming airborne rivers as they snake through the winding canyons of the Santa Monicas. Although you can make a beeline from the trailhead to the summit, I recommend taking the longer 6.1-mile loop counterclockwise on the Mishe Mokwa Trail — it's one of my favorites.
More Info
Rocky Peak, Santa Susana Mountains
The San Fernando Valley is hemmed in on the north by the Santa Susana Mountains, a region known more for its gas leaks than its quiet, uncrowded trail network. Prominent Rocky Peak lies just north of the Santa Susana Pass between Chatsworth and Corriganville. The region's unique rock formations are reminiscent of those in Joshua Tree National Park, and hikers gazing to the south may get to see the marine layer dissolving over the distant Santa Monica Mountains or funneling through the pass from Simi Valley. It's about five miles mostly on wide fire roads to Rocky Peak and back. Limited parking. Avoid this shadeless trail on hot days.
More Info
Smith Mountain, San Gabriel Canyon
Angeles Crest
Mountain Trail
Much of San Gabriel Canyon has reopened after the Bobcat fire, and those looking for a challenging hike (and who aren't afraid to literally get their hands dirty) should head to Smith Mountain. This prominent peak stands tall within view of California 39 and right on the edge of the San Gabriel Wilderness boundary. On gloomy days, you might be able to get a bird's-eye view of the marine layer as it settles into San Gabriel Canyon and slowly dissolves. It's a tough 6.8-mile out-and-back, with the final 0.4 mile being a rough-and-tumble scramble up a firebreak to Smith's summit. Take your time and watch your balance. Adventure Pass required.
More Info
Vetter Mountain, San Gabriel Mountains
Angeles Crest
Mountain Trail
Outdoor writers often describe the marine layer as a "phantom sea," and there's no better vantage point for understanding that description than the historic fire lookout on Vetter Mountain. From here, you can gaze at clouds that seem to crash in slow waves against Mt. Wilson, San Gabriel Peak and other mountains. The fire lookout was built in 1937 but burned down in the 2009 Station fire. A reconstructed lookout opened in April 2020 and is staffed by volunteers from the Angeles National Forest Fire Lookout Assn. (Ask them to show you how to use an Osborne Fire Finder, and they'll do so gladly. It's a uniquely analog tool in today's digital world.)
This is an easy three-ish-mile hike on a paved road from the Charlton Flat day use site's locked gate, or a shorter trek on trail from deeper inside the picnic area near the Silver Moccasin Trail. An Adventure Pass is required for both. Head to
anffla.org
for more info on the fire lookouts and to learn how to become a volunteer yourself.
More Info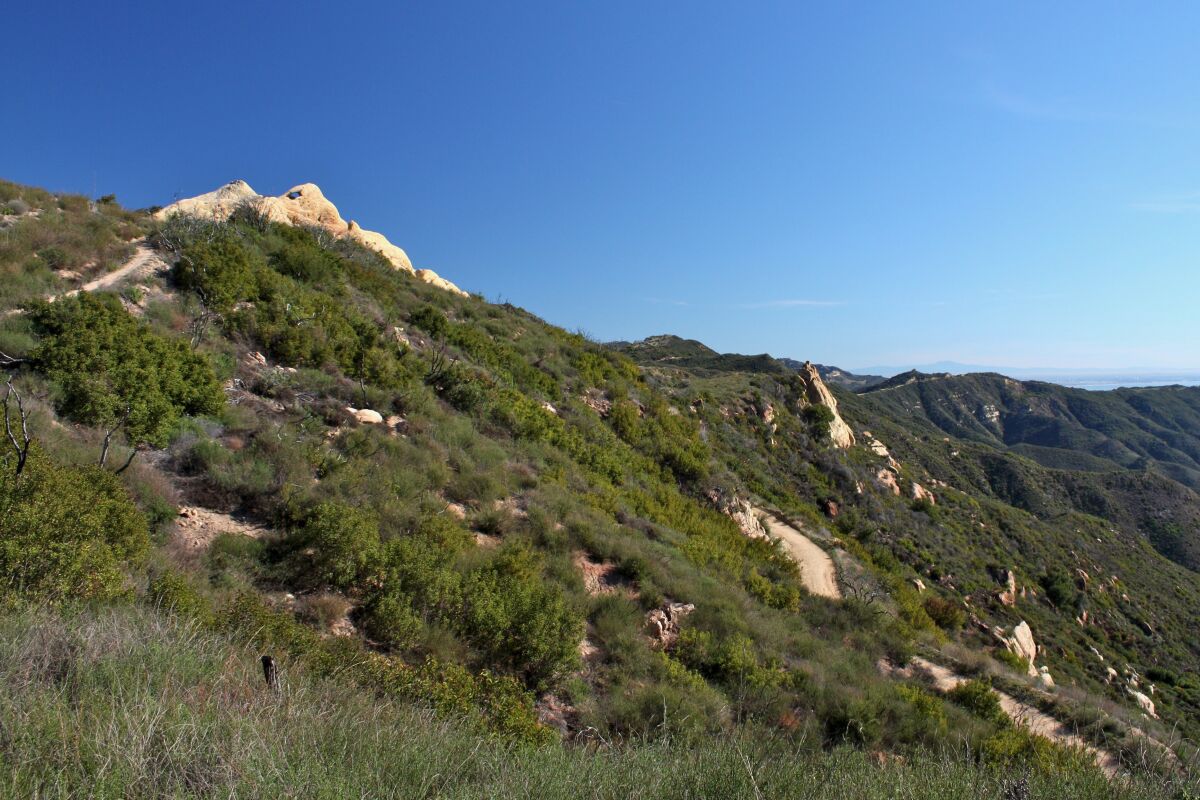 Castro Crest, Santa Monica Mountains
Unincorporated Santa Monica Mountains
Mountain Trail
Castro Crest is a long east-west ridge in the Santa Monica Mountains on the southwestern corner of Malibu Creek State Park. It is lower in elevation than Sandstone Peak, but when the marine layer is below 2,000 feet, a trek on this section of the Backbone Trail provides a beautiful contrast in clouds. To your south, the cool, wet air of the Pacific blankets Santa Monica Bay. To your north, the clouds dissipate and unveil the stunning geography of the Goat Buttes, the higher-elevation formations that Malibu Creek curves around.

This hike can be an easy stroll along the mostly level Backbone and Mesa Peak trails or you can head down into the lower elevations in the state park via the Castro and Bulldog motorways. No dogs allowed.
More Info
Mt. Williamson, San Gabriel Mountains
Angeles Crest
Mountain Trail
Sometimes, waking up to day after day of relentless gray can take its toll on you. If you want reliable blue skies — with views of the June gloom clouds in the far distance — head into the high San Gabriels.

Most sites past Red Box on the Angeles Crest Highway should be clear, but since you already drove that far, why not trek out to Islip Saddle to put your boots on the Pacific Crest Trail to Mt. Williamson? This 8,214-foot-tall peak has a commanding view of the Antelope Valley to the north and arguably the best view of San Gabriel Canyon to the south — and it tends to avoid the crowds of nearby peaks like Baden-Powell and Waterman. It's a tough but quick five-mile out-and-back to the top of Williamson. Be sure to cut yourself some slack due to the high elevation. Adventure Pass required.
More Info
Get our L.A. Goes Out newsletter, with the week's best events, to help you explore and experience our city.
You may occasionally receive promotional content from the Los Angeles Times.