7 chill places in L.A. to play a pickup game of chess
Trash talking, glasses clinking, beer sloshing, cars blaring and game pieces sliding. These are the sounds of Los Angeles' spectacular chess scene.
With games being played everywhere from a basement beneath the sticky floors of a neighborhood bar to an open sidewalk alongside a bustling downtown intersection, chess is one of the best ways to meet the city. There's a scene for every type of player, whether you're looking for a frenetic round of speed chess à la Beth and Benny in "The Queen's Gambit" or a mellow conversation over rooks and bishops.
Here are seven laid-back spots for playing a pickup game, from Culver City to South L.A. If you've never nudged a pawn before, don't sweat it — chess people are some of most welcoming folks you'll ever meet. As long as you bring good-natured sportsmanship, there is always someone willing to show you the ropes.
DTLA Chess at IlCaffé
While sitting at a table on the corner of 9th Street and Broadway, sipping a chilled glass of wine with the majestic Eastern Columbia Building towering over you like a turquoise iceberg, you may think you stumbled onto chess heaven.
Every Sunday at noon, DTLA Chess congregates in the front patio of IlCaffè, a place where you can feel the proverbial heartbeat of downtown. Cars hum as men in fedoras and women with Chihuahuas stroll by. Rallies pass through on Broadway, temporarily filling the air with a surge of urgency. And there's the occasional celebrity spotting, too. "I've seen Lionel Richie pull up on the other side of the street because he was shooting 'American Idol' at the Orpheum Theatre," says Aaron Nastaskin, one of the group's organizers.
The conversation here is exceptional, and no one is in a hurry, except for the folks grumbling in traffic around us. For those new to the game, Damen Fletcher, a chess coach and founder of the chess education website
Train of Thought
, can usually be found roaming the tables to help out. "The focus is not on the competition," Fletcher says. "There's a friendly camaraderie that exists here."
"Through chess, we're sitting at the same table together and you're conversing and you're chatting and you're learning about what's going on in people's lives," Nastakin adds. "It's beautiful." For a place with prime real estate downtown, it most definitely is.
When to play:
Sundays, noon to 5 p.m.
More Info
Make a Move LA
While a few others on this list are kid-friendly, Make a Move LA events are ideal for families looking to spend a great Saturday afternoon together. Jerimiah Payne launched the nonprofit organization to foster community engagement through chess, and monthly tournaments are held at different locations around Los Angeles.
At each event, there is a halftime show after two rounds. Past tournaments have showcased singers, comedians, spoken word artists and dancers. The last tournament, which was held at Project 43 near Hyde Park, featured a popcorn machine, free backpacks filled with school supplies, a DJ and a local dance crew, Boom Squad, performing at halftime. The all-age tournament entry fee is $15 and goes toward prizes for the "Champion of Champion" final, held after every 20 tournaments, with a grand prize of $1,000. Only playoff winners can enter the final — "Your trophy is your ticket," says Payne — but everyone can watch the games and enjoy the gathering that mobilizes businesses, artists and musicians from the community.
Payne, who sports a referee's shirt at each tournament, likens the roaming nonprofit to one of his favorite TV shows. "It's as if the most electrifying chess tournament and Guy Fieri's 'Diners, Drive-Ins and Dives' had a baby," he says.
The next
Make a Move LA
event
will be held Sept. 17 at Sip & Sonder in Inglewood. Find out about their latest events on their
Instagram page
.
More Info
Tanner's Coffee
Whether you're behind the board or a spectator, the chess scene at Tanner's Coffee is sheer entertainment. Historic games have been played right outside the cafe (as evidenced by sightings on the voluble YouTube channel
Coffee Chess
), and over the years, the spot has gained a reputation for good-natured psychological warfare over cappuccinos and captures.
If you're lucky, you'll get to see
Boston Mike
— one of those characters everyone seems to know — in action. Or maybe you'll run into Duckworth and the Great Carlini (just look for their signature floppy fishing caps). Legends including grandmaster Hikaru Nakamura and Twitch-famous Andrea Botez have also played here.
The zig-zagging adrenaline rush of speed chess is the speciality at Tanner's and a crowd gathering outside means there's a good game in progress.
It's common to hear banter like "Just what the doctor ordered!" and "Danger zone!" shouted from across the table and breaths drawn as queens and bishops close in.
"I only have time for speed chess," says Drew the Devastator, a regular who stops by on breaks from his job on the transportation team at Cedars-Sinai Hospital.
But if you're in the mood for something more casual, there are a couple boards inside the cafe you can borrow, sans ticking timer.
When to play:
Sundays, noon to 6 p.m.
More Info
Los Feliz Chess Club
With pints of beer readily available from Verdugo Bar, the Los Feliz Chess Club is the perfect setting for anyone looking for a laidback pickup game of chess. At 2 p.m. on Sundays, a few wooden picnic tables are set aside for chess, and players can enjoy the serene mood of the hillside neighborhood. The outdoor patio is dog-friendly, too, so it's the perfect spot to walk your Toto, grab a brew and ease into the week with a game. "This has been the most friendly, welcoming, accepting club," says Celia Hollander, one of the organizers of the club.

Adds Sam Fishman, a fellow organizer: "We prioritize friendliness and community. We just want people to feel comfortable and enjoy themselves. A lot of people are worried that they're not good enough to come. I can't tell you enough that isn't true."

When to play: Sundays, 2 to 5 p.m.

More Info
Odyssey Games Pasadena
Flanked by a wall of Warhammer sets lined with detailed figurines and a large replica of a medieval castle, the entrance of Odyssey Games Pasadena hints at what's ahead. Take a few steps up to the mezzanine and you'll find yourself in a cozy arena of sorts with Magic the Gathering, 40k and Flesh and Blood card games happening simultaneously. But chess fans should turn left — there in the corner, you'll find long tables occupied by players of all ages.
While the skill level of players at Odyssey Games is on the higher end (Jim DiPisa, who helped start the Meetup group, says the typical rating is 1000), everyone is encouraged to come by. For $3, you can take part in a small tournament and even score an informal lesson. DiPisa believes that having a place to gather is less about the competition and more about the game itself. "Every country on the planet, people play chess," DiPisa says. "You can go to the top of Tibet and probably play chess with somebody." (It turns out
that's true
.)
When to play:
First Saturday of every month, 5 to 10 p.m.
More Info
Los Angeles Chess Social
Los Angeles Chess Social wants to make speakeasy chess the city's next big thing — or maybe just second to brunch.
With its venue changing from month to month, this underground chess club has held meetings everywhere from the neon basement of a bar to a bright and airy cafe filled with potted monstera and lanky palms. The doors open at 8 p.m. and things get feverish around 10, when the evening's rock band ramps up the volume and players start pouring in.
Karl Grant, the man behind the club, wanted to create a space that challenged the outdated idea that chess is a stiff, quiet-as-a-mouse game. "I was trying to create something that was the opposite of that," Grant says. "Like what I would do with my friends: We would just sit down and have conversations, and just casually hang out and interact while playing games."
Custom designed by Andrei Rachko, each blue-checkered board comes emblazoned with the Los Angeles Chess Social logo, featuring a knight, guitar, saxophone and glass of wine. They're made of silicone, so any pinot noir spills wipe right off.
Whether it's because of the drinks or the friendly competition, these nights can last until 2 o'clock in the morning. If you're new to the game and need a few rounds to warm up, Grant jokes: "You can always blame your mistakes on the beer."
The most recent Los Angeles Chess Social event took place at Griffins Of Kinsale. Follow the club's
Instagram
or
website
to find out the location of the next event.
More Info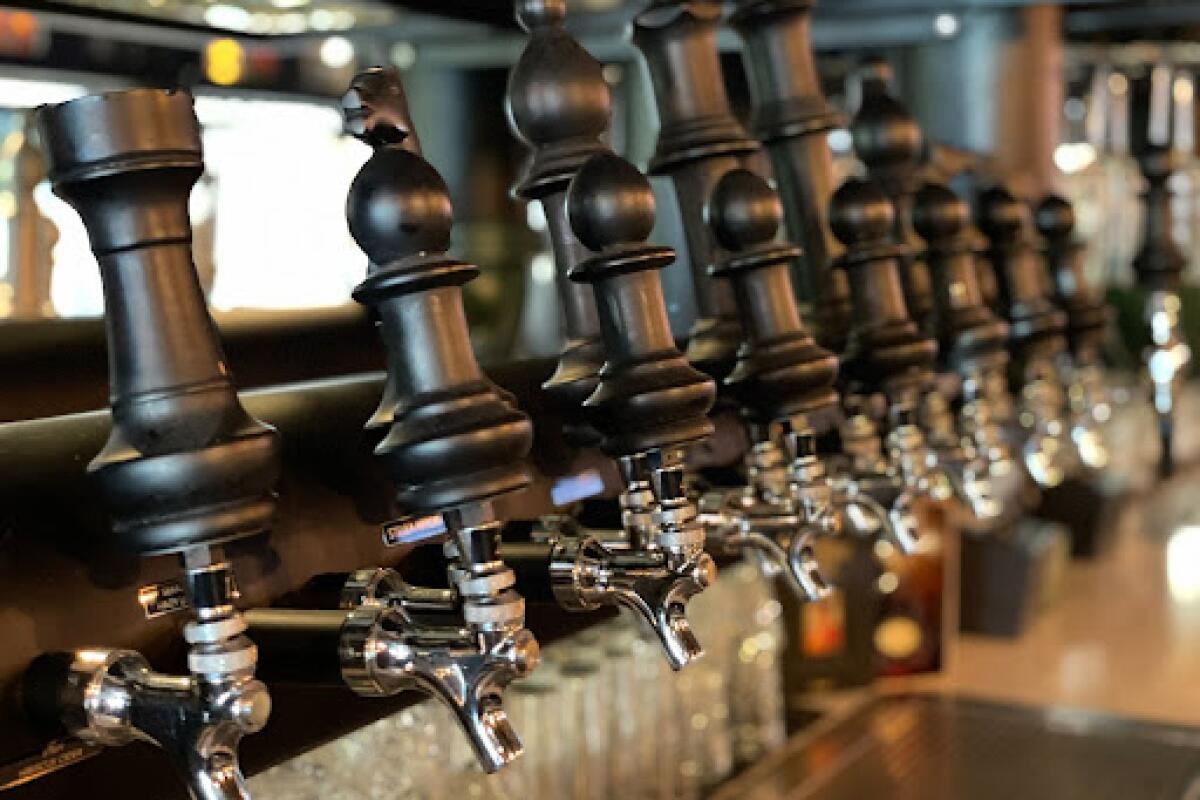 Chess Park Lounge
Chess Park Lounge sits on top of what used to be Glendale's Chess Park. But while the park was a barren alleyway with concrete chess tables, the lounge welcomes visitors with cushioned seats, polished wooden chess boards and a menu of food and drinks to keep you around.

While this may not be the best place for a pickup game — you'll need to check in with the host and grab a seat — Chess Park earns a place on the list thanks to its sheer dedication to all things chess. From the wall of fame of 50 grandmasters to the glassy chandelier dripping chess pieces to the chess beer taps, every inch of this space builds off the spirit of the former alleyway. "They honor what used to be here — down to the knobs from where we pour our drafts," says Angelica Brenes, one of the managers.

Owner Aro Agakhanyan tells me that at first, the city of Glendale refused to let him name the lounge after the failed city park. But eventually, officials came around after seeing his blueprints. "I want to bring the chess culture back," Agakhanyan says. "It has a lot of wisdom."

On a typical afternoon, jazz music filters from the large outdoor patio to the moody horseshoe bar. Upon checking in, you can ask the host for a wooden chess board and play a game over a cocktail (all from-scratch juices and syrups) and a bite. There's even a nod to Deep Blue, the first computer to win a match against a world chess champion — just peek at the seafood section.

Word has it that grandmaster Maurice Ashley recently dined there too. Celebrity spotters, take note.

More Info
Get our L.A. Goes Out newsletter, with the week's best events, to help you explore and experience our city.
You may occasionally receive promotional content from the Los Angeles Times.