Thinking about the galaxy? These L.A. space places will spark even more wonder
If the latest eye-popping views from NASA's Webb Telescope have you thinking about space, here's good news. The Los Angeles area is home to several spots devoted to seeing the stars and better understanding them.
Here's a list to get you started — including a bonus location (with vintage Apollo hardware) from San Diego.
If you'd rather be alone with the firmament — just you, the stars and your naked eye — seek out a relatively dark stargazing spot like one of these. And if you prefer your stars more down to earth, well, there's always the Hollywood Walk of Fame.

Griffith Observatory
Los Angeles County
Experience
Griffith Observatory
, the slope-clinging architectural star of Griffith Park, is open Thursdays through Sundays with a variety of exhibits and programs, some free, some not. (To enter, visitors age 12 and over must show proof of COVID vaccination, and masks are required inside.)
Free public telescopes are available on the roof and lawn, usually beginning about 7 p.m., on nights when the observatory is open and skies are clear.
The facility's 290-seat Samuel Oschin Planetarium Theater offers shows ($10 per adult) every 60 to 90 minutes. The most frequently presented show is "
Signs of Life
," which examines prospects of life elsewhere.
More Info
Mt. Wilson Observatory
Mt. Wilson Observatory
, open daily, looks down upon Pasadena (and up at the universe) from 5,715 feet above sea level in the San Gabriel Mountains. It features a free traveling exhibit from NASA — exploring the accomplishments of the Hubble Space Telescope — through Sept. 4, open 10 a.m.-5 p.m. daily in the observatory museum.
Visitors can see the observatory's Hooker 100-inch telescope from the Visitors' Gallery inside the dome. If you buy tickets for a weekend guided tour (11:30 a.m. and 1 p.m. Saturday and Sunday; $15 per adult), you will be admitted to the telescope floor beneath the 100-inch telescope. In most cases, you will be able to see the facility's 60-inch telescope dome and 150-foot Solar Tower Telescope. There's also a Cosmic Cafe (mostly sandwiches), open Saturday and Sunday, 10 a.m. - 5 p.m. through September.
More Info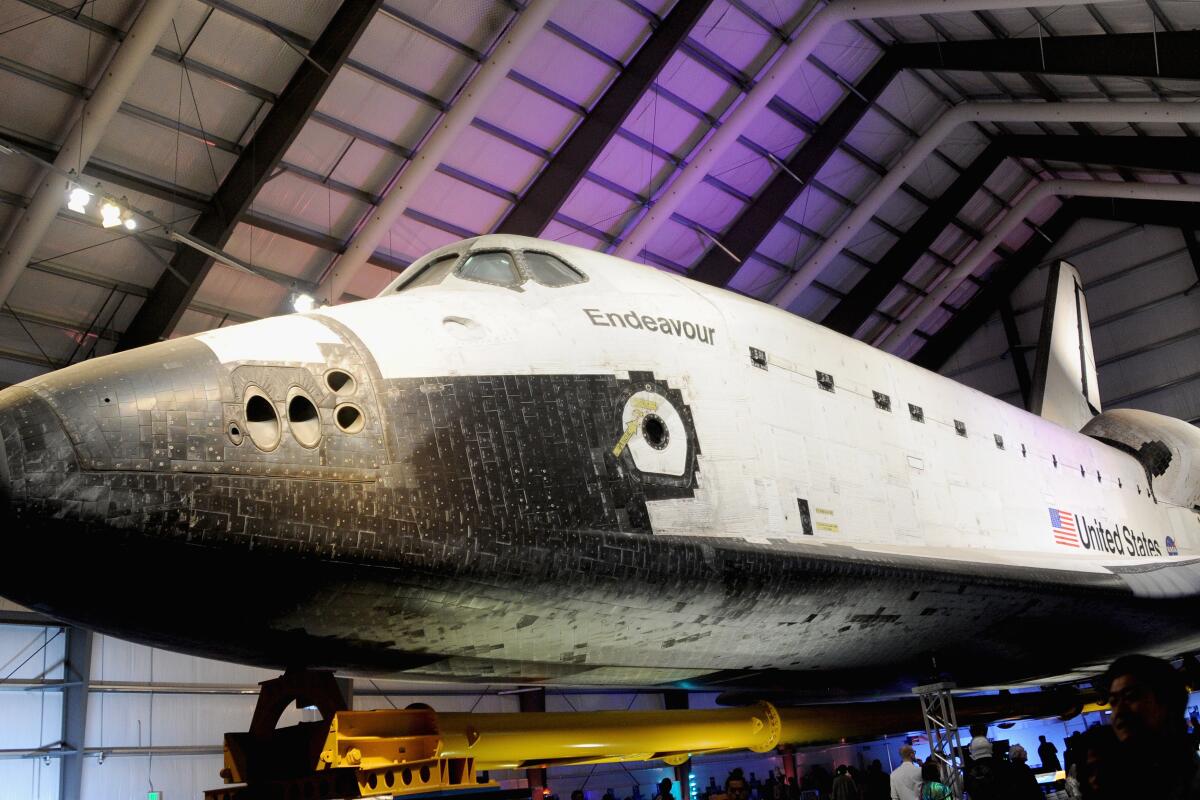 Space Shuttle Endeavour, California Science Center
Exposition Park
Experience
The Space Shuttle Endeavour, a star attraction at the
California Science Center
in Exposition Park, is viewable daily, 10 a.m.-5 p.m. It's free to see, as are displays in the science center's other permanent galleries.
But Endeavour will be moving eventually — not into space, but into a new permanent display area, the
Samuel Oschin Air and Space Center
, an expansion project for which the center is making plans and raising money.
You will need to pay to see presentations in the center's IMAX theater (such as
"Asteroid Hunters 3D"
at $9.79 per adult) or the center's current special exhibition,
Angkor: The Lost Empire of Cambodia
.
More Info
UCLA Meteorite Gallery
UCLA's meteorite collection, which may be the largest on the West Coast, has been curated into a
Meteorite Gallery
that's open to the public and free — but only on weekdays, 9 a.m.-4 p.m.
The gallery includes about 100 iron meteorites of the roughly 1,500 that UCLA has acquired. The centerpiece: the dramatically shaped Clark Iron, 357 pounds. There are five meteorites that visitors are permitted to touch. You'll find the gallery in Room 3697 of the university's Geology Building. (And there are parking hints on the website.)
More Info
San Diego Air & Space Museum
The
San Diego Air & Space Museum
, in Balboa Park, might be a bit of a drive for you — it's 120 miles south of L.A. City Hall. But it's still about 238,800 miles closer than the moon, and it has a lot.
The collection includes the original
Apollo 9 command module
(launched in 1969); a spacesuit from Apollo 8 astronaut William A. Anders (launched in 1968) and a
Boeing GPS satellite
. The museum ($13 per adult) is open daily 10 a.m.-4:30 p.m.
More Info
Get our L.A. Goes Out newsletter, with the week's best events, to help you explore and experience our city.
You may occasionally receive promotional content from the Los Angeles Times.