8 L.A. spots that make you feel like you're in a different decade
The pandemic, recession, war, political corruption and rent that's too damn high. Who could blame you for throwing up your hands, declaring "To hell with 2022" and searching for another space, another time.
How about another decade?

For the record:
6:21 p.m. Nov. 10, 2022An earlier version of this story had Arlington Heights rather than Angelino Heights in the item's headline.
Lucky for us, there are plenty of places in Los Angeles where you can go to slip into another era for a moment, a meal or a few hours of meandering. From Victorian streets to a Sinatra-sanctioned eatery, our city is filled with treasures that can satisfy your desire for nostalgia and escape.
While we shouldn't romanticize the past — at one time, that cool, old-school bar wouldn't have let half the people in this city sit on one of its stools, and let's not forget there was that other pandemic in 1918 — a look back can sometimes help us move forward. I think we can all raise a vintage glass to that. Here are eight spots in L.A. that take you back in time.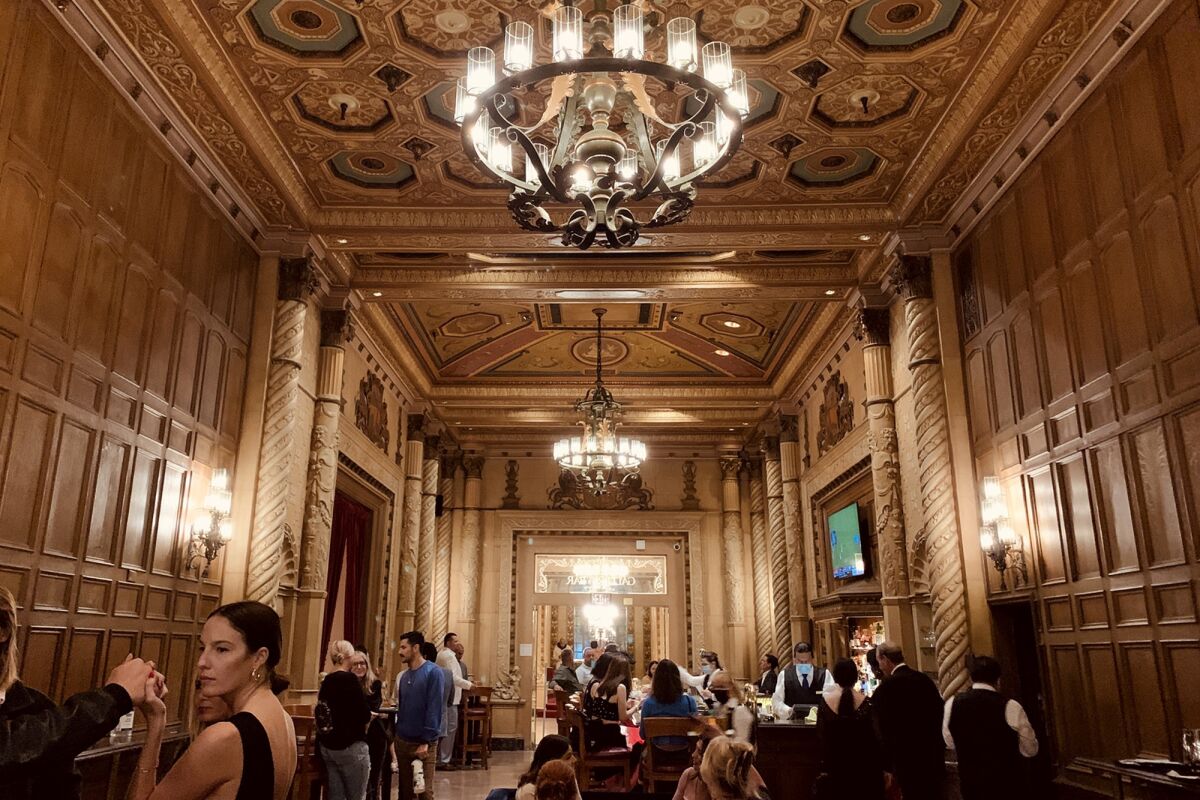 1800s: Millennium Biltmore
Downtown L.A.
Historic hotel
If you're wanting to escape
way
back in time, say to the Regency era, the historic Millennium Biltmore (formerly known as the Biltmore Hotel) might be your cup of English afternoon tea. Although the structure was built in 1923, the architects wanted to pay homage to the grand palaces of Europe, which flourished during the 1800s. They apparently succeeded — earlier this year, the hotel hosted
Queen's Ball
, Netflix's pop-up experience inspired by the wildly popular series "Bridgerton," set in 1813.
For a truly regal experience, stop in at the Gallery Bar and Cognac Room where, if in another lifetime you were worthy of hobnobbing with royalty, you'd certainly be meeting The Duke for a bourbon. According to the hotel's website, the bar is a reproduction of the royal hall where Columbus' discovery of America was first announced to Queen Isabella.
End your evening of excess by admiring the Biltmore's beautiful murals and magnificent chandeliers. You might even hear Lady Whistledown's voiceover in your head, pointing out your night's many faux pas as you stroll through the grand hallways.
More Info
Early 1900s to 1920s: Victorian homes in Angelino Heights
Echo Park
Historical landmark
Is a whiff of Victorian society what you crave? This neighborhood featuring beautifully restored Victorian homes can take you there — as long as you can tune out the distant hum of the 101 just a few blocks away. Angelino Heights, one of the first residential neighborhoods in Los Angeles, also boasts properties in the Craftsman, Brownstone and Moderne styles, but it's most known for the Victorian homes lining the 1300 block of Carroll Avenue, which is listed in the National Register of Historic Places.

The area has a storied Hollywood history: according to the Echo Park Historical Society, some of the Keystone Kops' chase scenes were filmed on the hills of Angelino Heights. Other homes have also shining moments on screen — you can spot them in Michael Jackson's "Thriller" video, the WB series "Charmed" and in "Mad Men" (as Don Draper's childhood home).

A note: People do live in these homes, so use your best and most proper Victorian manners when descending on their properties with those futuristic contraptions called "phone cameras."
More Info
1930s to 1940s: Union Station
Downtown L.A.
Train station
Maybe you're in the mood for something dark and mysterious. Grab your tattered briefcase, don your fedora and head to Union Station to travel back to the film noir period of the '40s.

Not only serving as L.A.'s main transportation hub, the railway station's dusky walnut interior, intricate inlaid tile floors and art deco chandeliers have made it the perfect backdrop for film noir gems such as Burt Lancaster's "Criss Cross" and William Holden's "Union Station." Wander the main terminal, lit by massive 30-foot windows, back to the west end passageway to find a historic replica of an early 20th-century shoe shine stand. After you've grabbed a newspaper and tucked it unironically under your arm, relax on one of the original wooden benches that line the impressive main hall. Finally, proceed to the recently-reopened Traxx restaurant and enjoy a dirty martini, while you wait to meet up with the femme fatale who's about to hire you to murder her husband.


More Info
1950s: Gardena Bowl
No need to put on two-toned rental shoes to experience '50s bowling nostalgia: this timeless, alley-adjacent coffee shop will transport you there. Slip into one of the vintage vinyl swivel seats at the counter, order a strong cup of coffee and regale your dining companions with that perfect game you bowled back when Eisenhower was president.

While you listen to the soothing boom of pins scattering just outside the door, peruse Gardena Bowl's Asian-inspired menu that includes everything from chicken katsu to kimchi fried rice, along with classic diner food like patty melts and stacks of pancakes.

Owner Frank Nakano knows how important it is to maintain the old-school feel of his coffee shop, which has been around since the '50s. "Through the years, we've added a few dishes, but the look, feel, and core menu have all remained intact," he said. "Since the beginning, we've always aimed to maintain the quality and aesthetic that generations of our patrons know and love."


More Info
1960s: Dear John's
What could be more old-school-'60s-cool than sipping a martini in a room that Frank Sinatra and the Rat Pack was known to frequent? The famed Culver City eatery has gone through a few changes since actor Johnny Harlowe first opened it in 1963. But in 2019, restaurant vets Patti and Hans Röckenwagner took over the spot and restored it to its former glory.

Patti, who handpicked all of the elegant artwork that graces the walls, tells me that maintaining the original vibe of the eatery was paramount. "Dear John's is in a time zone of its own," she said. "From the second you walk in and your eyes adjust to the dark candle-lit room, you're immediately transported. Everything from the vintage '50s and '60s art, to the jazz, swing and big-band playlist, to the greatest hits of continental steakhouse menus and all the classic cocktails of the time period, were designed to capture the spirit of the place Harlowe opened and Sinatra bankrolled in 1962."

One visit to Dear John's, and you'll see what she means. After you enter through the velvet-curtained entryway, order the "Frank's Spaghetti and Clams" and start in on your first cocktail, it's easy to imagine the two actor pals sharing a meal in this very spot — and then moving to the piano to sing a boozy rendition of "My Way."


More Info
1970s: Inglewood Civic Center
The '70s may have been the era of disco, but it also sprouted some of the most iconic architecture you'll find around town. A prime example is the Inglewood Civic Center, featuring buildings designed in the Brutalist style of architecture that favors concrete and steel structures and graphic lines.

Conceived and built by famed architect Charles Luckman, the sprawling complex includes city hall, the Inglewood Public Library, a fire station, a police facility and a public health center. In the stylish glass and concrete library, check out a copy of "Jonathan Livingston Seagull" and keep an eye out for the hieroglyphics-etched wall carvings by artist Tom Van Sant that face the entrance and are also displayed on an exterior stairwell column.

End your visit to the civic center in the courtyard of city Hall, where you can gaze upon the sensuous "Incomplete Conch Shell," a piece by famed California sculptor Jack Zaja.

More Info
1980s: Moonlight Rollerway
Glendale
Roller Skating Rink
In the '80s, roller rinks took over where disco clubs left off. Teens would spend their days obsessing over that epic skating sequence from "Xanadu," making lists of songs to request at the DJ booth and scouring the mall for the perfect pair of satin skating shorts. Or was that just me?

If you want to recapture that decade on wheels, the perfect place to do it is at the Moonlight Rollerway. Knowing that the key to a successful skating experience is the music, the Glendale rink hosts themed nights featuring tunes mostly from the '70s, '80s and '90s. (There was an '80s Olivia Newton John tribute skate back in August — magic.) Wednesday night is Rainbow Skate, a weekly LGBTQ roller skating event.

All the interior details — the candy-colored lights, the geometric-print rug and the mirrored ball hovering over the rink — will take you back to that totally rad era. After a good skate, make a trip to the snack bar and order up a corn dog and some nachos. Just try not to get any of the cheese on those new satin shorts of yours.


More Info
1990s: XLanes Arcade
Sometimes 1990 doesn't seem so far back — until you realize that it was 32 years ago. If this thought has you feeling ancient and in need of some mindless escapism, take a trip to the arcade, a symbol of '90s youthful freedom.

Located in downtown Los Angeles, XLanes is part arcade, part bowling alley, and all neon and flash. While games from your youth are all there (see if you can beat your old high score at PacMan, Pump It Up and Street Fighter), there are some modern upgrades: an LED bowling alley and three karaoke rooms where you can belt out your favorite Backstreet Boys tunes.

But the place to recapture your '90s glory days is The Bar, a vision of color-changing lights and gold railings, with a drink menu that features some standbys: a Lemon Drop martini, a mint cooler, and even a cocktail named The Dude, inspired by the iconic character from the era's hit movie "The Big Lebowski."


More Info
Get our L.A. Goes Out newsletter, with the week's best events, to help you explore and experience our city.
You may occasionally receive promotional content from the Los Angeles Times.