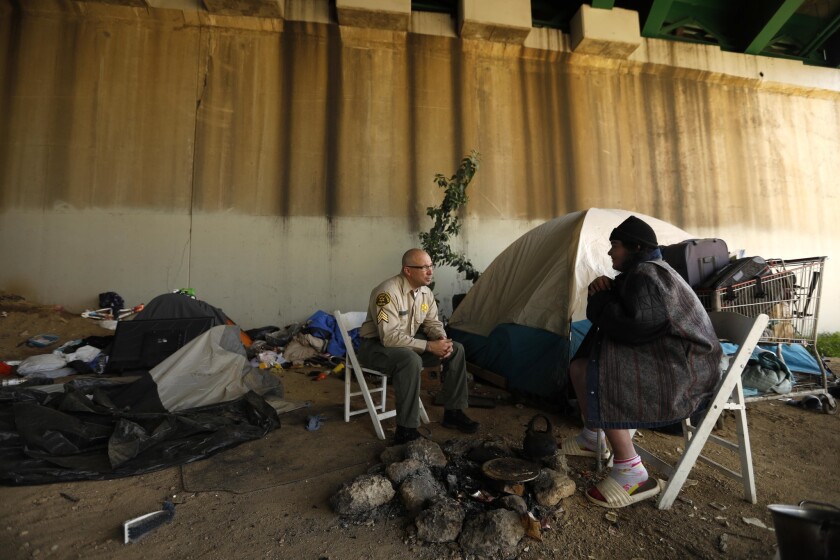 Thousands of volunteers will fan out across the city and county of Los Angeles over the next three days for a count of the homeless that will serve as a barometer of how well government efforts to curb the population are working.
The annual Los Angeles homeless count has come to be defined by legions of volunteers who hit the pavement to help quantify this crisis.
Along the Rio Honda River
Left, Sheriff Deputy Sgt. William Kitchin, with the Homeless Outreach Services Team, looks for homeless during the 2019 Greater Los Angeles Homeless Count in South Gate. Right, Members of the Los Angeles Homeless Services Authority, teamed up to count the homeless from South Gate to the Whittier Narrows along the Rio Hondo River. (Genaro Molina / Los Angeles Times)
"We just didn't want anyone dying in the riverbed."

Sgt. William Kitchen, sheriff's homeless outreach services
Clockwise from top left; Monique Argott, 36, sits inside her tent in the City of Commerce; Sheriff Deputy Sgt. William Kitchin looks at a ladder that leads to a homeless camp under a railroad trestle; Manuel Pajar, 40 sits near his camp under an overpass while being counted in the City of Commerce; and Jesus Gutierrez, with his dog, Mars, was counted along the Rio Hondo River. (Genaro Molina / Los Angeles Times)
---
Roughly 8,000 volunteers countywide participated in the count, which began Tuesday evening and ended Thursday, inspecting the region's 2,160 census tracts. This team focused on riverbeds and places such as gated alleyways where volunteers might be at risk.
Last year's count found 52,765 homeless people in Los Angeles County. The numbers help determine how money is disbursed throughout the region, including $350 million in sales tax revenue generated annually from the Measure H homelessness tax, which was passed in 2017.
Downtown Los Angeles
"The count provides us with a profile of the state of homelessness," Tom Waldman, a spokesman for the homeless authority, said "There are parts of the homeless population that are stable in the sense that they stay in a particular place, but this count helps us see shifts."
Clockwise from top left; Volunteer Ampaipan Tanwongprasert, right, speaks with two people counted in downtown Los Angeles; Volunteer Barbara Petersmeyer, center, and Jerry Couch, right, a supervisor for Los Angeles Homeless Services Authority, count homeless in the Skid Row area of Los Angeles; Tents on Skid Row were counted during a three-day 2019 Greater Los Angeles Homeless Count. (Dania Maxwell / Los Angeles Times)
---
The volunteers will begin inspecting 2,160 census tracts Tuesday evening starting in the San Fernando, Santa Clarita and San Gabriel valleys. Glendale, Long Beach and Pasadena conduct separate counts.
Home­less­ness de­clined 3% in the county and 5% in the city of Los Angeles in 2018. Still, the number of tents, vehicles and makeshift shelters increased. The homeless authority was created in the 1990s to oversee programs for the city and county relating to homelessness.
Boyle Heights
Gilbert Jimenez, right, and Louis Mendoza, members of LAHSA's Homeless Engagement Team, participate in the Greater Los Angeles County Homeless Count in a alley just off Altlantic Boulevard in Boyle Heights. (Luis Sinco / Los Angeles Times)
---
On a night when temperatures dipped into the 40s in Los Angeles, Mayor Eric Garcetti joined thousands of volunteers documenting the area's homeless population.
"It's time for the federal government to step up too," he said, noting that there are more homeless people per capita in the nation's capital than in Los Angeles.
They're "right next to the White House, right next to city hall," Garcetti said. "This is something where every government leader needs to put down partisanship and produce results."
North Hollywood
Clockwise from top left; Los Angeles Mayor Eric Garcetti walks along Webb Avenue to help tally the city's homeless population during the first day of the 2019 Greater Los Angeles Homeless Count in North Hollywood; Eric Montoya, outreach supervisor for LA Family Housing, left, and Los Angeles Mayor Eric Garcetti talk with Manny Munoz and Ricardo Seleuco as they met during the homeless count; Mayor Eric Garcetti tallies homeless people during the homeless count; a homeless encampment along Webb Avenue in North Hollywood during the first day of the 2019 Greater Los Angeles Homeless Count. (Nick Agro / For The Times)
---