Images from Hurricane Florence as it batters the Carolinas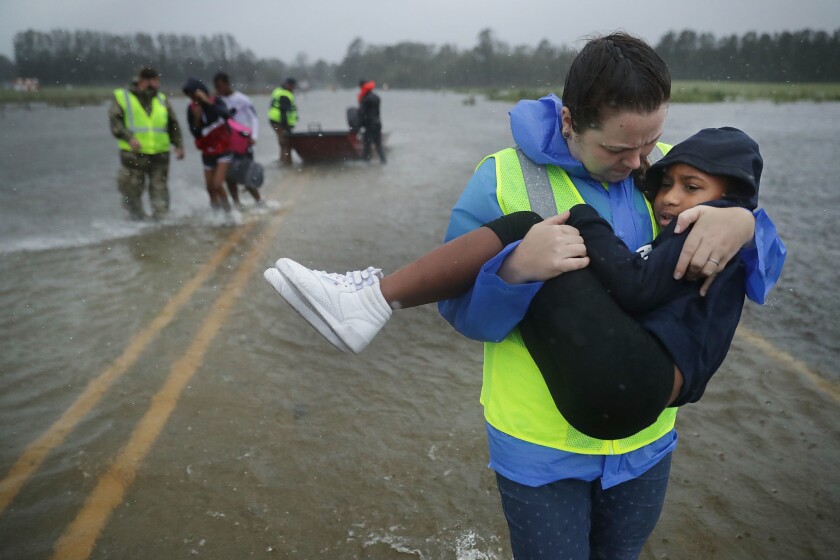 North Carolina began suffering the brunt of Hurricane Florence's destructive power Friday morning as the storm made landfall along the coastline, sending ocean water surging over streets and into homes.
Rising waters have already tormented the town of New Bern, located where the Neuse River comes in from the Pamlico Sound about halfway down the coast. About 150 people were waiting to be rescued Friday morning, according to the city.
From above
Satellite image taken on September 14, 2018, shows Hurricane Florence making landfall on the east coast.
Taking shelter
Mitchell Floor, left, holds a flashlight as Comfort Suites general manager Beth Bratz, center, and employee Dee Branch go to make coffee as Hurricane Florence rages in Wilmington, N.C.
A child sits on a mattress at a Hurricane Florence evacuation shelter at Conway High School in Conway, S.C.
Storm surge
Waves slam the Oceana Pier & Pier House Restaurant in Atlantic Beach, N.C., Thursday, Sept. 13, 2018 as Hurricane Florence approaches the area.
The Trent River (background) overflows its banks and floods a neighborhood during Hurricane Florence in River Bend, N.C.
Portions of a boat dock and boardwalk are destroyed by powerful wind and waves as Hurricane Florence arrives in Atlantic Beach. Coastal cities in North Carolina, South Carolina and Virginia are under evacuation orders.
Michael Nelson floats in a boat made from a metal tub and fishing floats after the Neuse River went over its banks and flooded his street during Hurricane Florence in New Bern, N.C.
The elements
Kite Boarder Dimitri Maramenides heads out next to Jennette's Pier in Nags Head, N.C., as Hurricane Florence makes landfall further south on Friday, Sept, 14, 2018. (L. Todd Spencer/The Virginian-Pilot via AP)
Members of the FEMA Urban Search and Rescue Task Force 4 from Oakland, Calif., search a flooded neighborhood for evacuees during Hurricane Florence in Fairfield Harbour, N.C.
Russ Lewis covers his eyes from a gust of wind and a blast of sand as Hurricane Florence approaches Myrtle Beach, S.C.
Barry Shape attempts to clear debris from a storm drain as Hurricane Florence comes ashore in Wilmington, N.C.
People survey the damage caused by Hurricane Florence on Front Street in downtown New Bern, N.C., on Friday, Sept. 14, 2018. (AP Photo/Chris Seward)
---