Dodgers punch their ticket to World Series with 5-1 win over the Brewers in Game 7 of the NLCS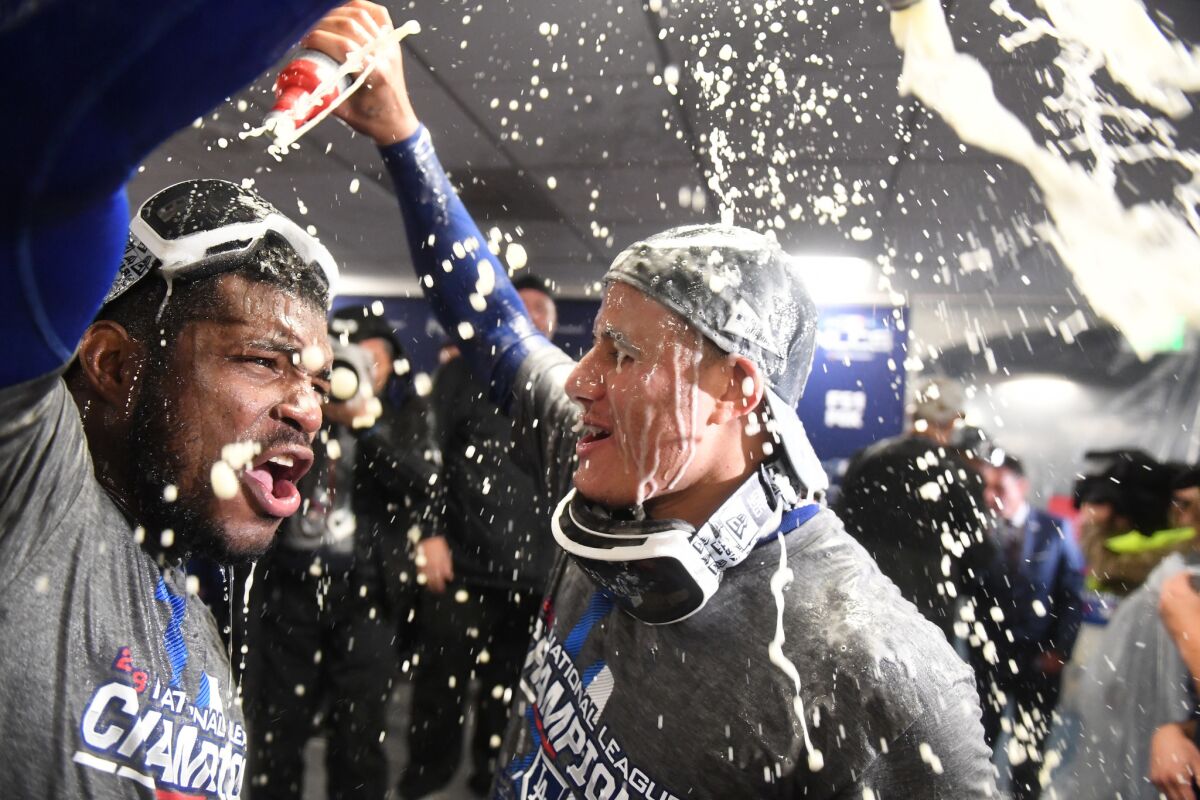 The Dodgers are champions of the National League, downing the Milwaukee Brewers with a 5-1 victory in Game 7 at Miller Park on Saturday night. The Dodgers handled this series as they did the season: They played themselves into a corner, and then muscled their way out.
The closer
They won with a stunning, lunging, over-the-shoulder catch by Taylor in deep left field to keep the tying run from scoring in in the fifth inning.
"It was a big moment, I'm just glad I made the play."

— Dodger outfielder Chris Taylor
They won with rookie starter Walker Buehler rising up to equal the biggest moment of his young career with one allowed run in 42/3 innings, and kid Julio Urias coming out of nowhere to record the biggest out of his career.
And, of course, this emotionally swinging team couldn't have done it without Yasiel Puig putting on a nutty show with a game-clinching three-run homer in the sixth inning featuring an accompanying trot filled with a veritable Swiss Army knife of gestures.
Power game
---
NLCS Game 6 | Brewers 7, Dodgers 2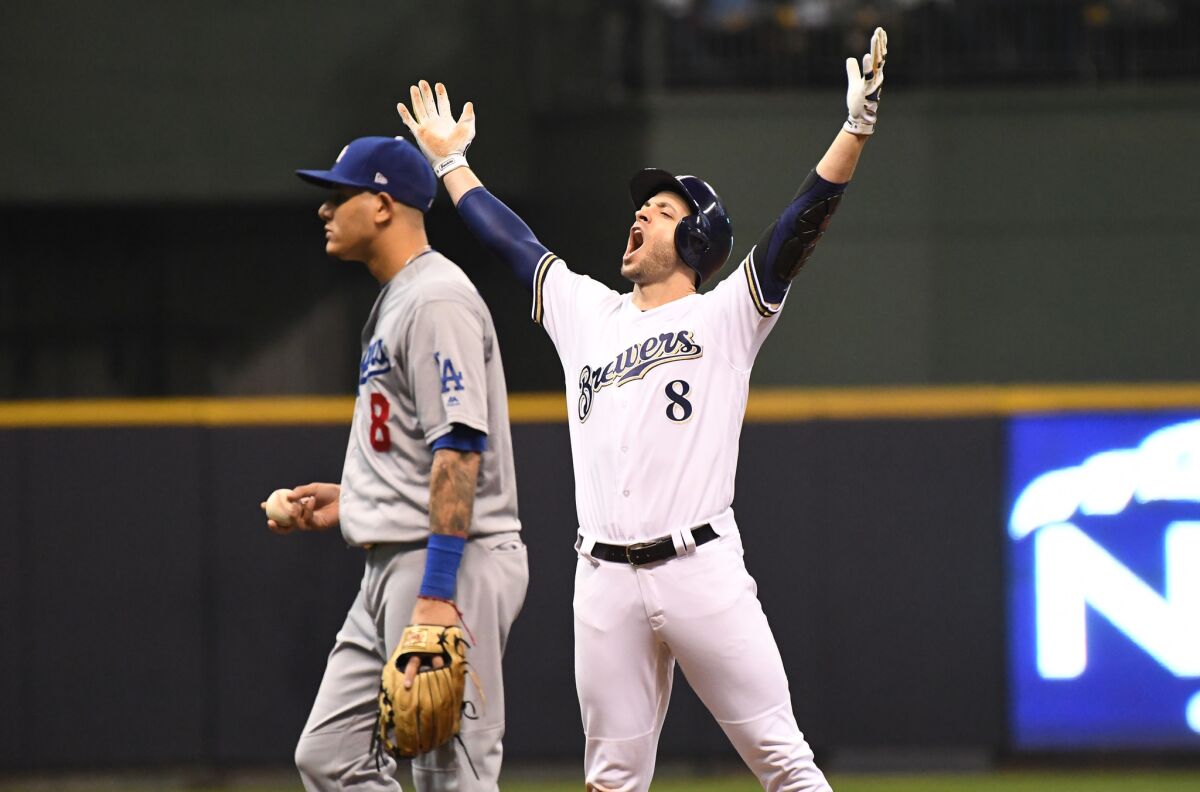 The big play
Moments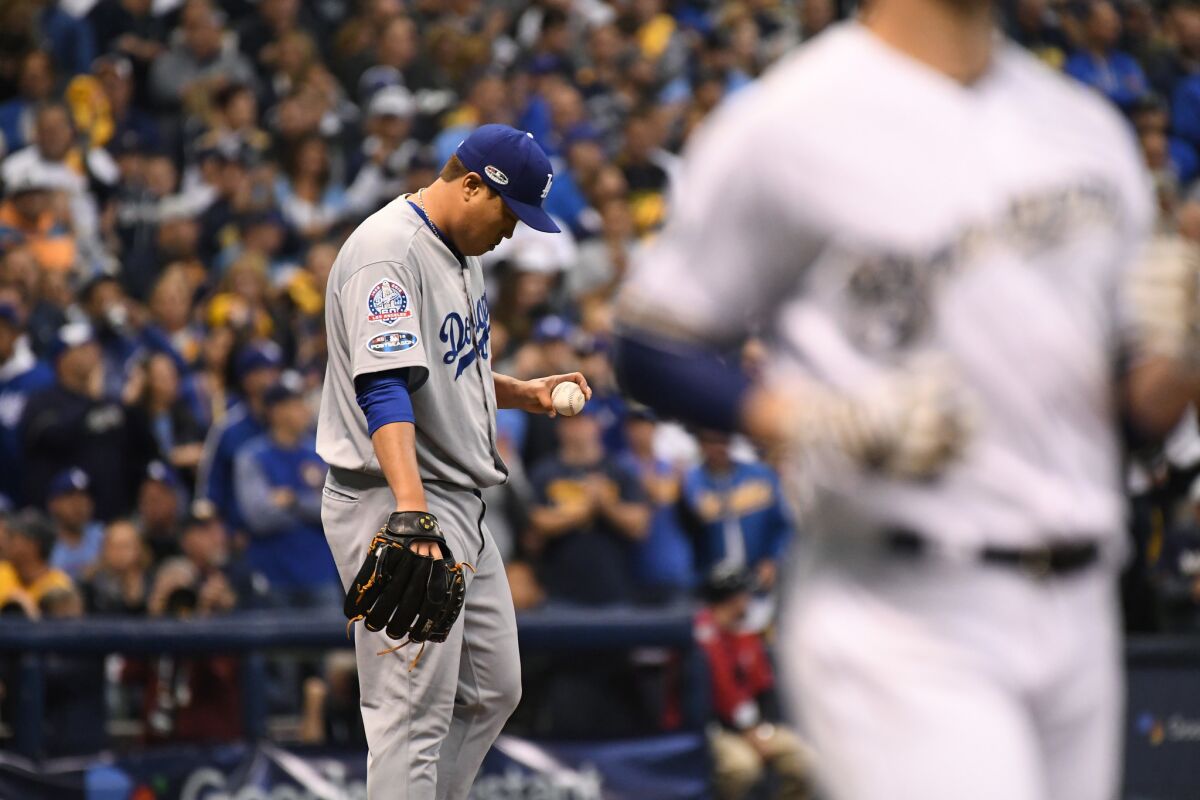 Taunting
Hit batter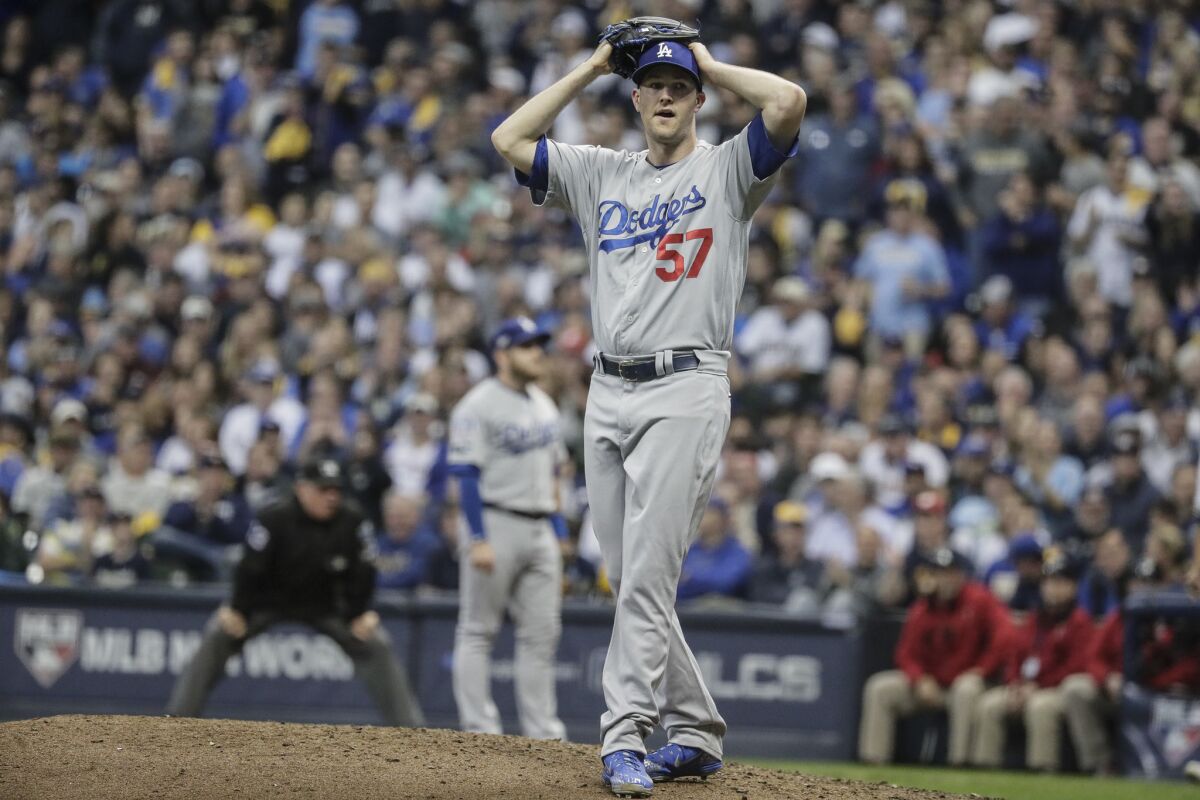 Flying out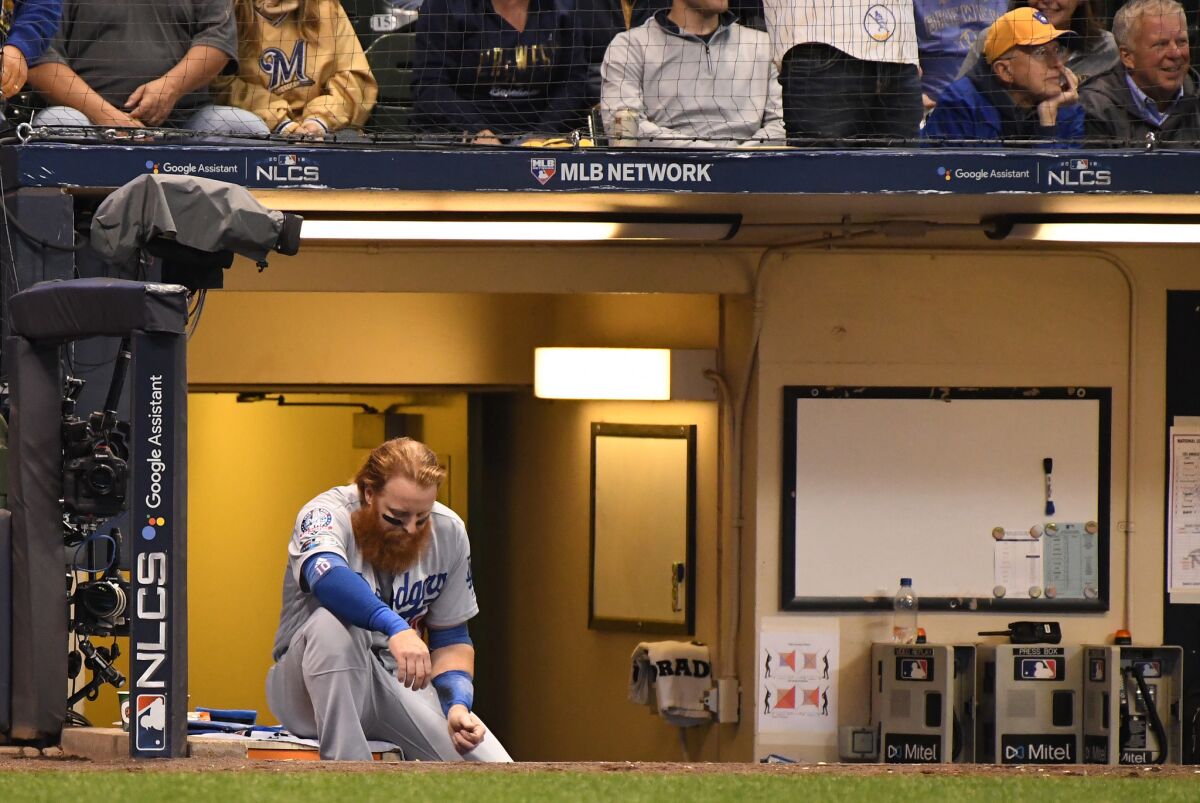 Clayton Kershaw's Game 5 effort in the NLCS puts Dodgers on the verge of second straight World Series
The 2018 season has not been easy on Kershaw. He hurt his shoulder. He hurt his back. Some days hurt his pride. Few games looked worse than the opening night of this series, when the Brewers disposed of him in three-plus innings. Undaunted by the worries about his pitch mix and his psyche, he roared back Wednesday, carving up Milwaukee's lineup with nine strikeouts to give the Dodgers a 3-2 series lead and deposit the team on the doorstep of another World Series.
The ace
Kershaw permitted one run and three hits. He retired the last 13 batters he faced. In the days between his outings, he sharpened his slider and unearthed his curveball. The two pitches complemented each other while protecting his fastball.
Moments
Hyun-Jin Ryu will start Game 6 on Friday at Miller Park, with Walker Buehler holstered for Game 7.
The Dodgers still require five victories to secure the trophy that this city and this franchise have craved since 1988. After a season of discontent, they are on the verge of securing back-to-back pennants for the first time since 1977-1978.
Snap
Finding form
In the days between his outings, Kershaw sharpened his slider and unearthed his curveball. The two pitches complemented each other while protecting his fastball. The Brewers looked flummoxed as Kershaw trusted the curve early in the count, then defensive as he ended at-bats with sliders. To support him, the Dodgers' offense deviated from their usual strategy of slugging and slumping by making productive outs, slapping singles and running with abandon.
Early exit
---
NLCS Game 5 | Dodgers 5, Brewers 2
The final sequence made the ballpark shake.
Cody Bellinger stroked a two-out single into right field. Manny Machado hustled to score from second base. The ballpark shook as the Dodgers walked off with a 2-1 victory in 13 innings over the Brewers to even the series at two games apiece.
The hit
A few Dodgers sprinted to the plate to greet Machado. The majority tracked Bellinger into left field, where he was back-peddling and giddy, cherishing the first walkoff of his career.
"It's probably a feeling you won't forget, seeing your guys chase after you," Bellinger said. "Honestly, I was surprised that they were throwing to me."
Energized
Dodgers pitcher Rich Hill allowed one run in five innings, departing with six strikeouts and 71 pitches.
The Dodgers used nine pitchers. The Brewers needed seven. The Dodgers struck out 17 times. The Brewers whiffed 15 times. Both teams ran out of position players. Manager Dave Roberts told Game 6 starter Hyun-Jin Ryu to prepare to enter the game if it continued much longer.
Moments
The Dodegrs will play Game 5 Wednesday afternoon at Dodger Stadium with Clayton Kershaw on the mound.
Splash
---
NLCS Game 3 | Brewers 4, Dodgers 0
The Milwaukee Brewers collected a 4-0 victory in Game 3 of the National League Championship Series on Monday to secure a two-games-to-one advantage.
The game featured a sampling of this summer's Dodgers lowlights. Yasmani Grandal failed to smother a wild pitch that let in a run, then heard chants for backup Austin Barnes after committing a passed ball. Walker Buehler lasted until the seventh inning, in which he gave up a two-run home run to slap-hitting shortstop Orlando Arcia. The offense struck out 14 times and was hitless in 10 at-bats with runners in scoring position, including a stomach-turning ninth inning.
Souvenir
The Dodgers demonstrated enough power to outlast Colorado for a sixth consecutive division title. Their brawn overwhelmed Atlanta in a division series. Yet, they find themselves two defeats away from the offseason, tilting at the windmills built by the crafty starters and smoke-throwing relievers of Milwaukee.
Regrouping
On Monday, the hitters pawed at Milwaukee starter Jhoulys Chacin, unable to time his slider across 5 1/3 innings. The Brewers bullpen mowed down the Dodgers until the ninth inning, when combustible closer Jeremy Jeffress gave up a leadoff single to Justin Turner and a double to Manny Machado. From there, the Dodgers tripped over their feet.
As the ballpark stirred, the players stumbled. Cody Bellinger hit a first-pitch popup to Arcia and bounced his bat hard enough for it to land near the mound. After Yasiel Puig walked, Grandal flailed at an 0-and-2 curveball. Brian Dozier ended
Runners stranded
---
NLCS Game 2 | Dodgers 4, Brewers 3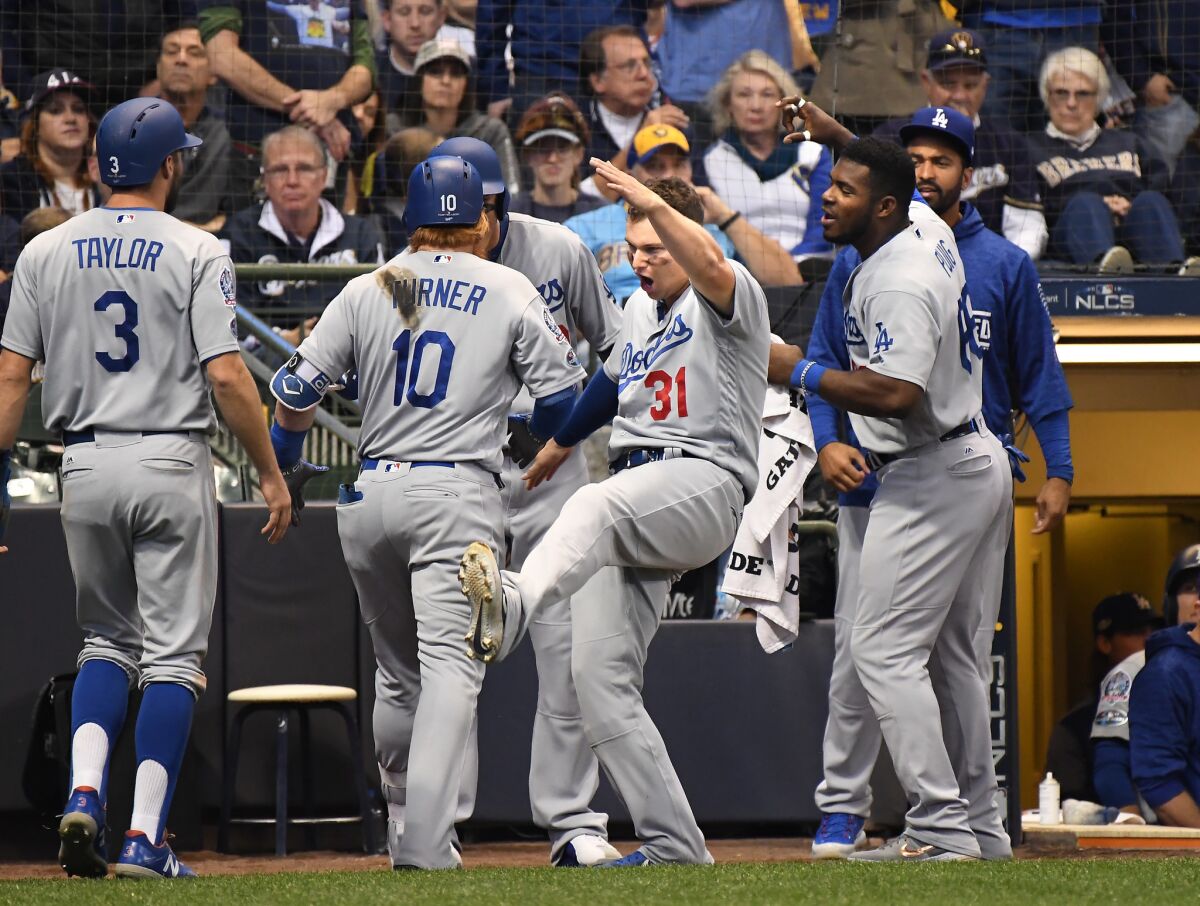 The Los Angeles Dodgers earned a 4-3 comeback victory against the Milwaukee Brewers on Saturday and headed back to L.A. with the National League Championship Series tied at one game apiece. Game 3 is Monday.
Big Turneround
---