These 27 heart-wrenching photos tell the story of Syria's civil war
Syrian government forces conduct a final sweep to take the last rebel holdouts in eastern Aleppo.
The Syrian military said it had gained control of 99% of the former opposition enclave in eastern Aleppo, signaling an impending end to the rebels' four-year hold over parts of the city as the final hours of battle played out. As Syrian forces poised for the final sweep to take the last rebel holdouts in eastern Aleppo, world leaders and aid agencies issued dramatic appeals that the lives of thousands of civilians who have "nowhere safe to run" be spared and that government troops fighting to capture what's left of the rebel enclave refrain from atrocities.

Syrian military forces and rebels resume fighting in Aleppo after cease-fire deal
The loss of Aleppo would mark the greatest defeat for the rebels since the conflict began in 2011. The insurgents still control northwestern Idlib province as well as scattered patches of territory elsewhere in Syria.


Dec. 15: A convoy of ambulances and buses left rebel territory in Aleppo in the first evacuations under a deal for opposition fighters to leave the city after years of fighting.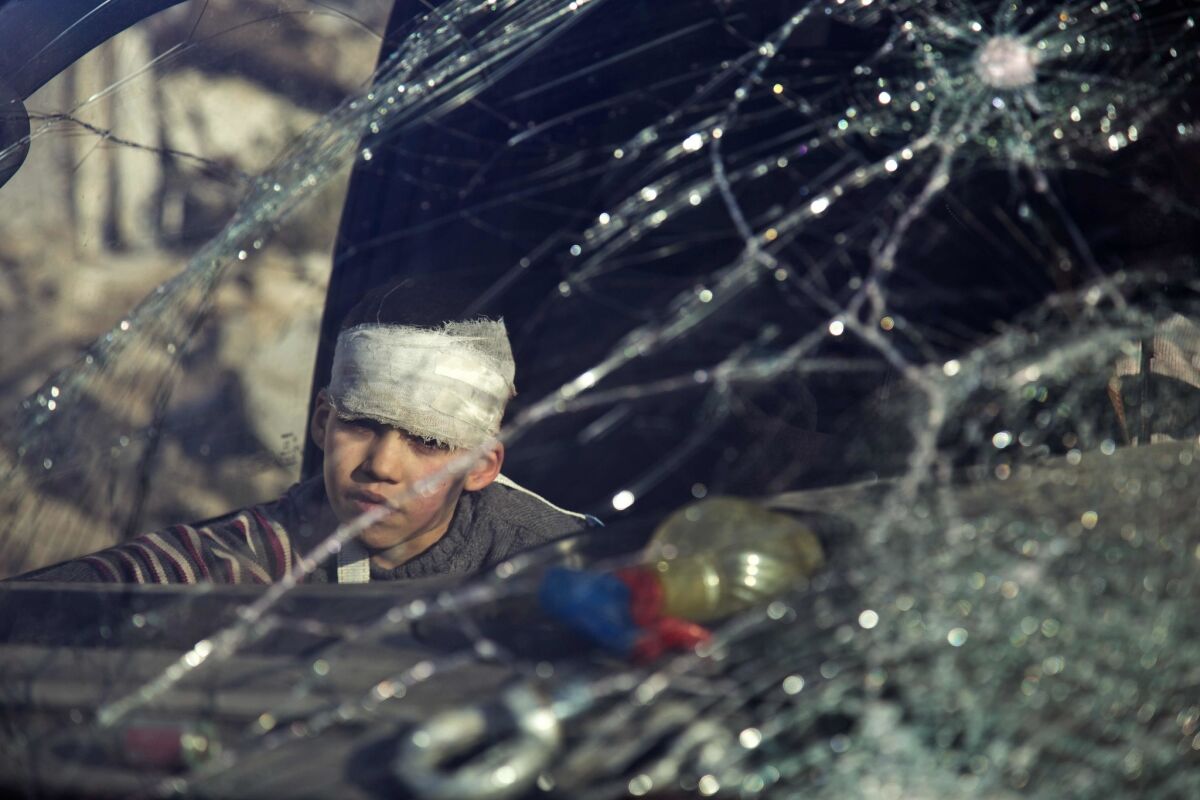 Dec. 15: A wounded boy sits inside an ambulance as Syrian rebels and their families gather at the rebel-held al-Amiriyah neighborhood in Aleppo as they wait to be evacuated.
Dec. 8: Residents fleeing the violence gather at a checkpoint operated by pro-government forces in the Maysaloun neighborhood of the embattled Syrian city of Aleppo.
Dec. 7: Syrian residents fleeing the violence in eastern Aleppo areas seized by government forces flee through the Bab al Hadid district.
Dec. 5: The Al Shaar neighborhood lies in ruins as Syrian pro-government troops advance through the Karm al Jabal district during their offensive to retake Aleppo.
Nov. 25: A pro-government fighter looks out from a damaged house in the recently recaptured village of Joubah.
Nov. 24: Syrian civil defense volunteers, known as the White Helmets, rescue a boy from the rubble following a reported barrel bomb attack on the Bab al Nairab neighborhood.
Nov. 20: A Syrian rescuer carries a woman who was pulled from rubble after airstrikes on Aleppo's rebel-held district of Al Hamra.
Oct. 10: Free Syrian Army fighters battle Islamic State jihadists in the village of Yahmoul, north of Aleppo.
Oct. 4: A White Helmets volunteer holds the body of a child pulled from rubble after the government bombed the rebel-held neighborhood of Karm Homad.
April 28: People walk among destroyed buildings after an airstrike on the rebel-held neighborhood of Al Kalasa.
March 11: Rescue workers and residents try to pull a man from under the rubble of a building after an airstrike on the Salhin neighborhood.
Feb. 4, 2015: A rebel fighter holds a position in Mayasat, a rebel-controlled area near the industrial zone of the northern Syrian city.
Sept. 3, 2014: A man collects vegetables from a patch residents grew at the site where a barrel bomb hit a sewage pipe in the Baedeen neighborhood. (
Aug. 30, 2014: Syrians mourn following a government forces drop barrel bombs on the Hamra district.
Feb. 24, 2014: A fruit vendor waits for customers in the Shaar neighborhood.
Feb. 19, 2013: Residents inspect the destruction from a surface-to-surface missile strike in Aleppo that killed at least 19 people, including at least six children.
Feb. 14, 2013: Syrian rebels fire a mortar towards regime forces stationed at Kuweires military airport in Al Bab, outside Aleppo.
Oct. 13, 2012: A flashlight illuminates the body of a man killed by Syrian army shelling at a graveyard in Aleppo.
Dec. 16, 2012: The body of a Syrian army soldier lies on the ground after clashes at a military academy.
Dec. 7, 2012: A rebel fighter carries his son after Friday prayers in the Al Fardos neighborhood.
Nov. 6, 2012: A rebel fighter throws a grenade towards Syrian government forces positioned in an alley in Aleppo.
Oct. 10, 2012: A woman walks past a body in front of Dar al Shifa Hospital.
Oct. 3, 2012: A man holds the body of his son, killed by the Syrian army, near Dar el Shifa Hospital.
Oct. 3, 2012: A Free Syrian Army soldier throws a petrol bomb against Syrian army positions in Aleppo's Saif al Dawle district.
Sept. 10, 2012: A Free Syrian Army soldier walks through the Amariya district.
Sept. 10, 2012: Free Syrian Army fighters run after attacking a Syrian army tank during fighting in the Izaa neighborhood.
---