From the Archives: Construction of the 73-story Library Tower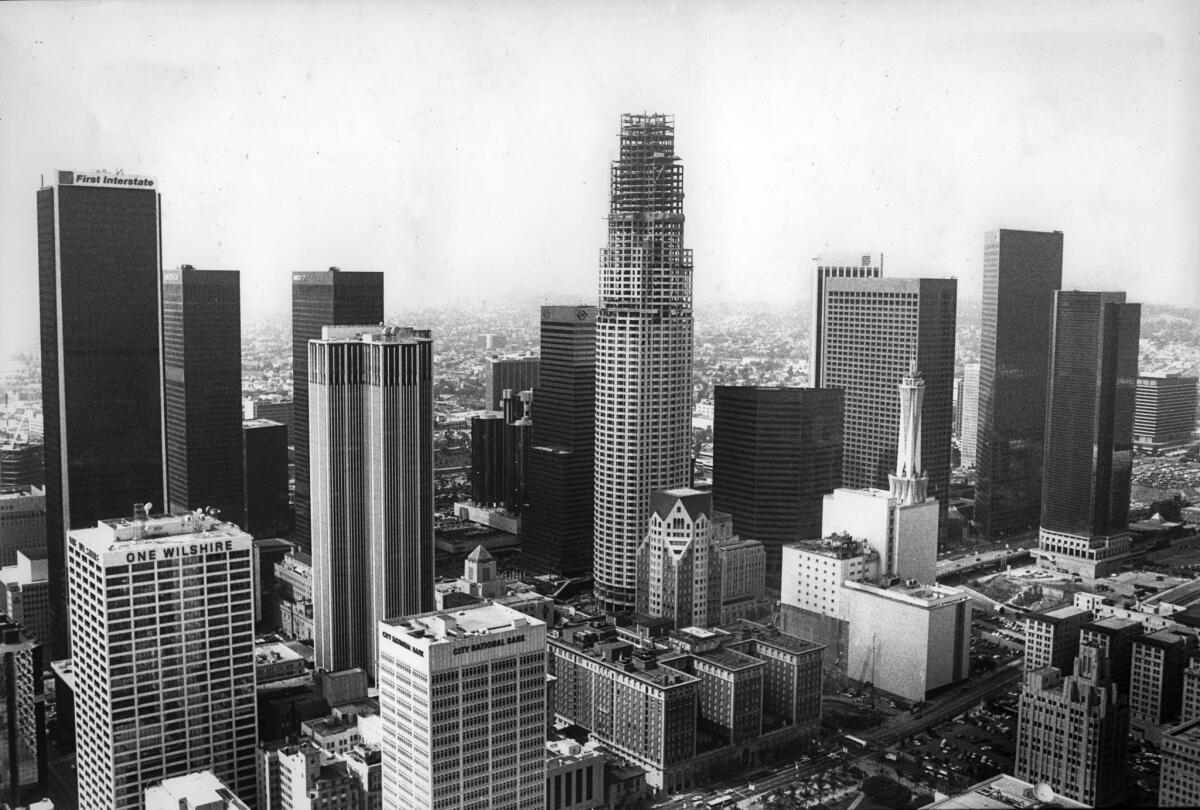 On April 18, 1989, the last girder was placed atop the 73-story First Interstate World Center, a.k.a. Library Tower. A topping-off ceremony followed.
A Times urban affairs writer reported the next morning:
As a crowd of steelworkers, engineers, architects, developers and politicians watched the ceremonial raising of the last girder to the top of the city's tallest building, the 73-story First Interstate World Center tower on 5th Street downtown, City Councilman Gilbert Lindsay said he wanted more.
"I thought I told them to build a 100-story building. What happened?" Lindsay, one of the shorter people present, asked jocularly. Lindsay has represented downtown Los Angeles for 26 years.
The new tower seemed tall enough Tuesday morning. For a while, the top was shrouded in fog, reminding some of the laborers present of the eerie mornings they had spent working high enough to be in the clouds, helping guide 22-ton horizontal beams into place.
"It is certainly the tallest building ever built by committee," remarked one onlooker, referring to the eight years of bureaucratic backing and filling that preceded construction. After the tower was approved, it took about two years to build the frame. The $350-million building should be ready for occupancy before the end of the year.
About 200 people gathered to watch the last girder go up. Many of them signed the beam. Some were moved to write more than their names. "Hail Library Tower. Stand tall and forever," said one. Another wrote, "We love LA. But we hate this building." …
Known as the Library Tower, the First Interstate World Center was built near the Central Library. During negotiations to build, the developer Maguire Thomas Partners guaranteed $110 million to help renovate and expand the Central Library.
In 2003, the tower was leased by U.S. Bancorp and renamed U.S. Bank Tower.
The First Interstate Building mentioned in the above caption is now the Aon Center.
In 2017, the Wilshire Grand Center replaced the U.S. Bank Tower as the tallest building in Los Angeles.