From the Archives: Hollywood American Legion building is dedicated
Following World War I, returning veterans from the movie industry formed Hollywood Post 43 of the American Legion.
In 1929, the Hollywood Post 43 dedicated its new building. A July 5, 1929, Los Angeles Times article reported:
Under the legend "In Peace as in War We Serve" emblazoned high on its tower, the new $270,000 home of the Hollywood American Legion yesterday was dedicated in the words of its Commander, John D. Home, "to serve the public fearlessly and well, to the common service of our country and to the memory of our departed comrades."
More than 1,000 persons attended the dedication ceremony with Mayor [John] Porter as the principal speaker and with such honorary guests as District Commander Charles Wright and State Adjutant James Fiske. Their purpose was one with the statement of purpose of the post graven about the portals of the home reading, "For God and Country We Associate Ourselves Together to Uphold the Constitution of the United States."…
Past Commander C.L. Kincaid said the post was perhaps the first in the country to have its own home. It began in an old church building on El Centro Street near Hollywood Boulevard and grew to the largest in the State, having 1,285 registered members. It was organized in 1920. The new building is at 2035 Highland Avenue.
The first three images in this post were scanned from 4-by-5-inch glass plates. The photographer is unknown.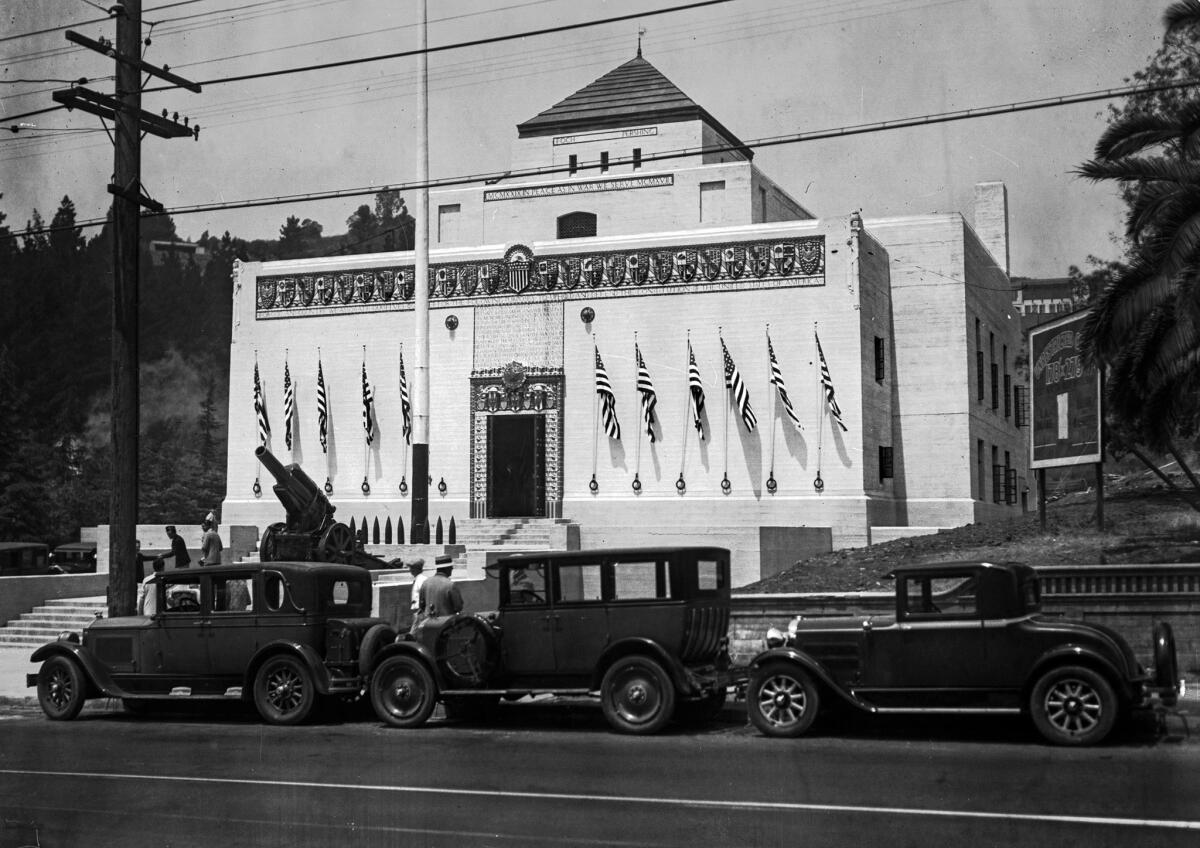 KNOW YOUR CITY, NO. 21 — Ha! Maybe this one will stop you. But look sharp and if you've been around, you'll get it. What the camera has picked up is seen — but perhaps ignored — by thousands every day. On a busy street. Answer on Pg. 12, Pt. 2.
ANSWER — This was a little tricky, but you should have recognized the ornate entrance to the elaborate headquarters on N. Highland Ave., Hollywood of American Legion Post 43. There were lots of clues — shields of infantry divisions and even a portion of the Legion's official seal down there at the bottom. Oh well, some people just won't be observant. …
Earlier versions of this post were originally published on May 7, 2013, and April 14, 2016.
Get our L.A. Goes Out newsletter, with the week's best events, to help you explore and experience our city.
You may occasionally receive promotional content from the Los Angeles Times.