From the Archives: L.A. Times staff covering the 1992 riots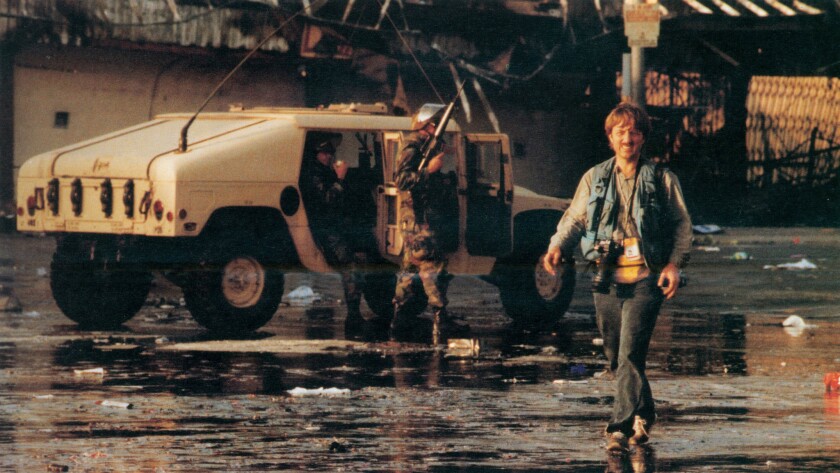 Following the 1992 Los Angeles Riots, the Times-Mirror Company employee publication Among Ourselves published a special edition on the Times coverage. One story reported on the threats directed at Los Angeles Times photographers and reporters:
Times reporters and photographers faced danger throughout the riots and were themselves the targets of violence.
Photographer Kirk McKoy was taking pictures of a looted liquor store when a man with a half-empty whiskey bottle in his hand ordered him to stop taking pictures. The man then fired off half a dozen gunshots at McKoy, who ran down the street dodging and weaving.
An hour later, McKoy and photographer Mike Meadows were stopped at a South Central intersection when a man pulled a pearl-handled revolver on them. They both ducked under the dashboard and Meadows hit the accelerator with his hand, speeding through the intersection.
Staff writer Tina Griego and two female companions pulled into a Compton mini-mall when a man walked toward them, lifted his T-shirt and pulled a gun. Griego put the car in reverse, peeled out, then heard a crash. She thought the guy shot at the car, but he had hurled a shopping cart at the passenger side of the car.
Photographer Al Seib and writer Ashley Dunn were threatened at Western Avenue and Adams Boulevard by a man wielding a full bottle of whiskey. Earlier the pair had been warned, "You better get out of here; they're going to kill you."
Reporter Greg Braxton was driving west on Venice Boulevard when a young man stepped into the street with a rifle raised. Braxton made a quick U-turn and swerved the car. He heard four shots.
George Ramos was outside The Times taking notes during the riot when a youth pointed a .22-caliber pistol at him. Ramos, who was wounded in Vietnam, held up his bright press credentials and said, "I'm a reporter, I'm taking notes, I'm doing my job." The man froze, then turned around and ran down Spring Street, picking up hunks of concrete and hurling them at Times windows.
In the San Fernando Valley, Times reporter Jim Herron Zamora was covering the looting of a delicatessen in Panorama City when he was accosted by an angry man Zamora figured was on crack. The man tried to take his notebook away and, as Zamora resisted, others in the mob joined in. Zamora was punched and hit in the jaw with what Zamora believes was a brick. Next, a youth fired at him. Zamora ran, zigzagging through the crowd and down three blocks of Parthenia Street to safety.
He had put up a fight. When he looked down at his pen, it was covered with blood. It wasn't his.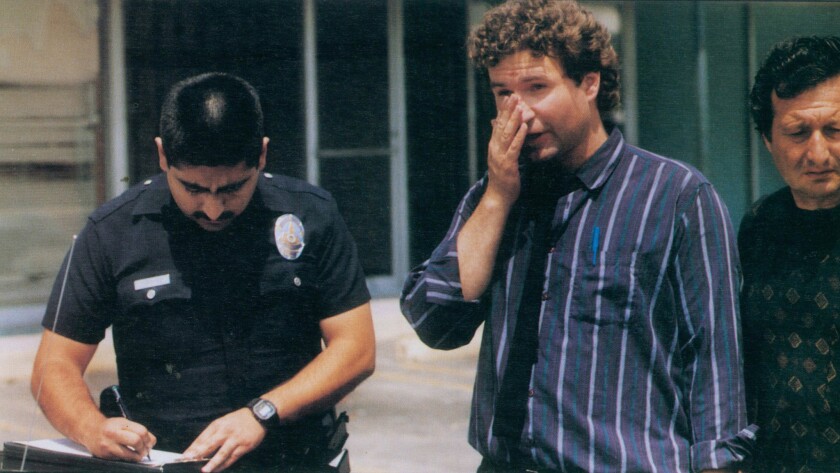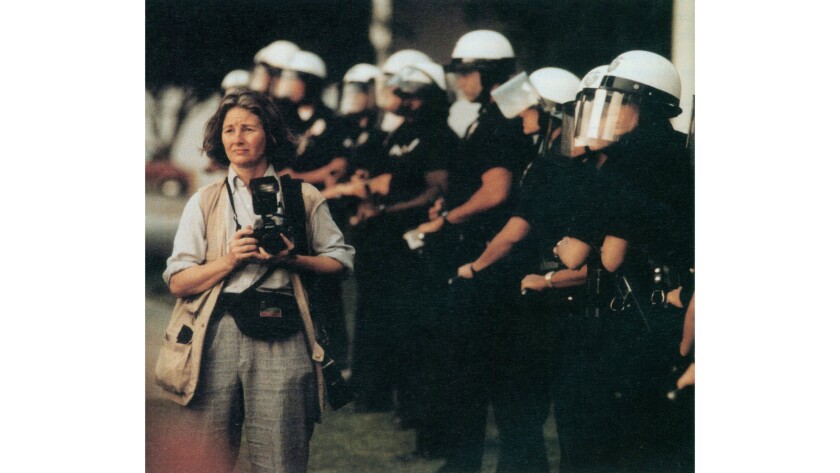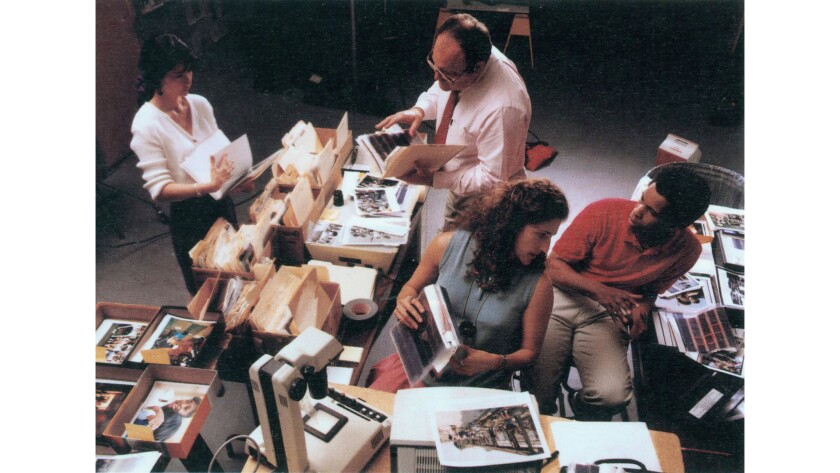 Another story from the 1992 Among Ourselves special edition reported on damage at Times-Mirror Square.
Times Mirror Square was hit hard April 29 when a crowd of 200 split off from a protest in the Rodney G. King beating case and moved from Parker Center to Spring Street and Broadway about 9 p.m. Damage to Times property was later estimated at $500,000.
No Times employees were seriously injured in the Times Mirror Square rioting. Dozens of employees were prevented from leaving the building for several hours Wednesday night because of safety concerns.
Within two hours, more than 125 windows and doors in Times Mirror Square and surrounding buildings used by The Times had been smashed. Burning wads of newsprint were thrown through the windows, setting off small fires. Gunshots were fired into first-floor areas of the Square, one through the 145 S. Spring St. lobby and another through the 2nd Street guard station. ….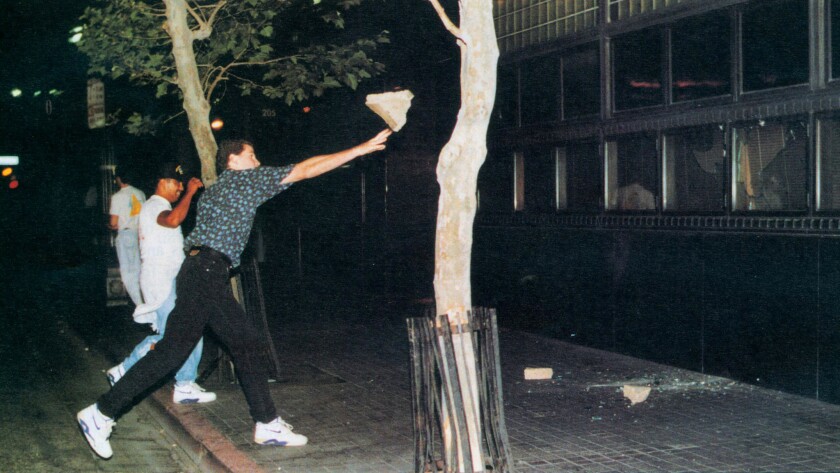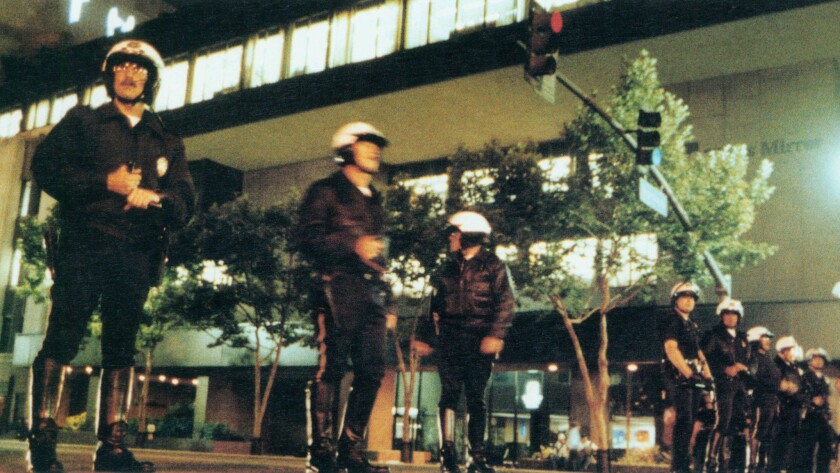 ---