From the Archives: Beloved school mascot was a cat named 'Room 8'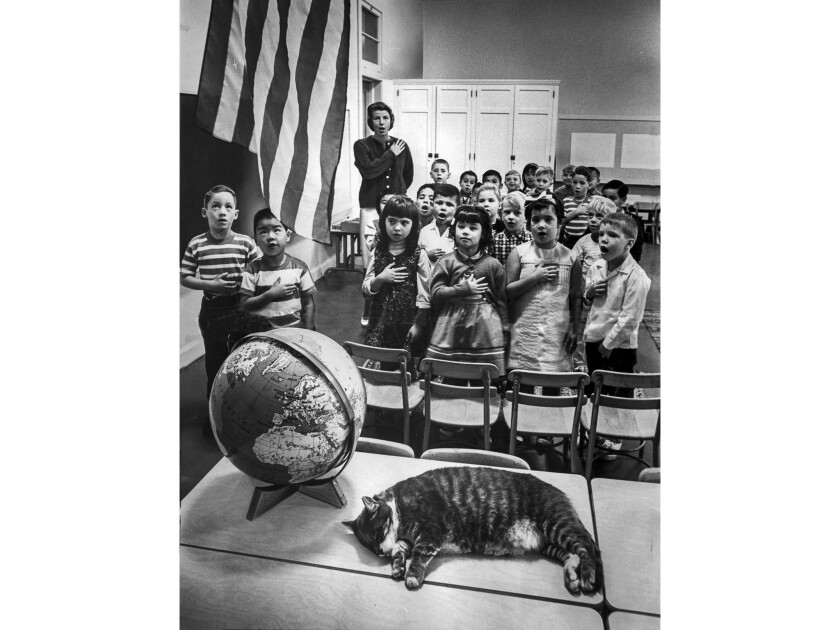 In 1952, a white-and-gray feline wandered into Elysian Heights Elementary. The students named him "Room 8" after the classroom he showed a preference for.
The cat disappeared during vacations and summers – only to reappear each fall on the first day of school.
When Room 8 passed away in 1968, he was buried at the Los Angeles Pet Memorial Park in Calabasas.
In an April 20, 2003, article on the pet cemetery, Cecilia Rasmussen wrote about the cat named Room 8:
In 1968, in a teary farewell, students at Elysian Heights Elementary School bade goodbye to their beloved furry feline friend -- named Room 8, for the room he entered by an open window in 1952. A fixture at the school for 16 years, the celebrity gray-and-white alley cat had posed for countless pictures, including one that was emblazoned on school T-shirts.
Room 8, the unofficial school mascot, became the subject of a school mural; a sculpture and several poems etched into the sidewalk in front of the school; a TV documentary called "Big Cats, Little Cats"; and a 1966 illustrated children's book called "Room 8," written by the school principal, Beverly Mason, and teacher Virginia Finley. Royalties from book and T-shirt sales went to the library fund, and a trust fund was set up in Room 8's name at the Los Angeles Orthopaedic Hospital.
Students who once decorated his newly dug grave with handpicked flowers have returned to the pet cemetery over the years to say their "hellos."
But it was a story in My Weekly Reader that brought Room 8 10,000 fan letters from the nation's children.
"He was like the swallows of Capistrano," said Mason in a 1968 newspaper story. "He disappeared all summer, but the minute school started, the day the first bell rang, down the street he'd come. On the first day of school, every newspaper and television station in town showed up at the crack of dawn to watch this cat appear from out of the hills." ...
---