From the Archives: The 1976 Chowchilla bus kidnapping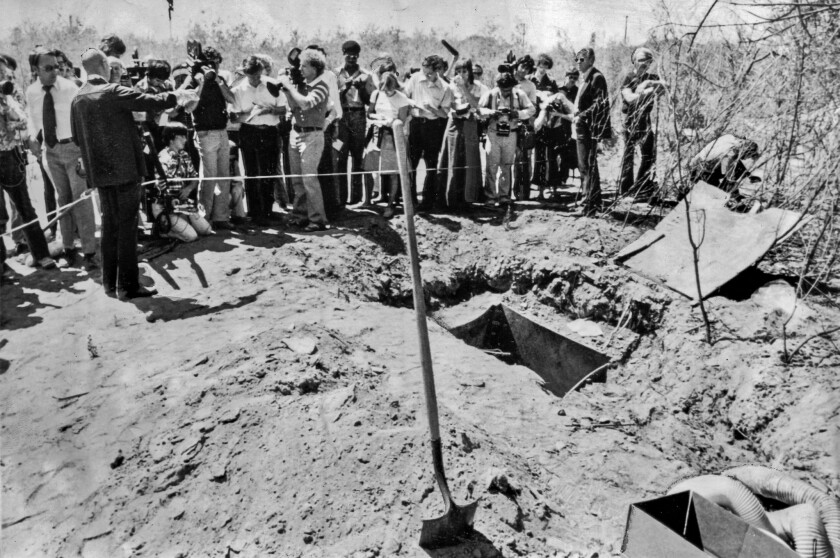 On July 15, 1976, three gunmen kidnapped 26 children and their driver off a Chowchilla, Calif., school bus. The kidnappers buried the victims inside a truck trailer at a Livermore, Calif., quarry.
Then ransom was demanded.
In an April 3, 2011, Los Angeles Times article, Diana Marcum reported:
Reporting from Chowchilla, Calif. — Most people can tell you exactly where they were when the bus and all those children disappeared. In the way of small towns, the connections to that dark moment are personal.
Lois Rambo, who runs the lunch counter at Pioneer Market Cafe in Chowchilla, says her daughter would have been on that bus if she hadn't stayed home sick from school that day. Jodi Heffington Medrano, who owns a salon on the square, was one of the children who disappeared.
Even those who weren't born yet can't remember a time when they didn't know the story of the Chowchilla kidnappings.
Thirty-five years ago, three young men from wealthy families kidnapped a bus full of 26 schoolchildren and their driver in this San Joaquin Valley community and entombed them in a rock quarry. It's the largest kidnapping for ransom in U.S. history and one of California's strangest crimes — a legacy seldom forgotten by outsiders who still connect the name "Chowchilla" to it….
The year was 1976. It was July, hot, the next-to-last day of summer school. The big yellow school bus from Dairyland Unified was lumbering down country roads lined with fruit trees, same as they are today.
The bus driver, farmer Ed Ray, was born in Chowchilla. He knew all the kids. Some were the grandchildren of his own classmates. They ranged in age from 5 to 14. The youngest, Monica Ardery, would ask the gunman with the pantyhose over his face, legs hanging alongside his head like ears, if he was the Easter Bunny. The oldest, Mike Marshall, was the son of a rodeo cowboy.
Ray saw a white van stopped in the road. He slowed down to see if it was someone with engine trouble. Three gunmen jumped out, commandeered the bus and drove it into a dry canal bottom, where another van waited.
The children and Ray were herded into the back of the two vans. With no water and no bathroom breaks, they were driven for 11 hours, the smaller kids throwing up from motion sickness, the older kids singing songs to cheer them up: "Boogie Nights," "Love Will Keep Us Together" and "If You're Happy and You Know it Clap Your Hands." They changed the words to "If you're sad and you know it ..."
At 3:30 a.m., they arrived at a Livermore quarry 100 miles from Chowchilla. The kidnappers made each of them give their name and a piece of clothing, then climb down a ladder into a buried moving van. Along one wall were dirty mattresses and containers of water. It was stuffy, with only two air tubes. Above them, the men started throwing dirt over the roof. Children screamed. One fainted. Ray tried to soothe them, but he was crying. He was sure the roof was going to cave in.
Marshall announced that he wasn't going to die without trying to get out. Ray, Marshall and the older boys stacked the mattresses, climbed on top and used wooden slats to dislodge a steel plate on the roof of the van that was covering the hole through which they had entered. Two tractor batteries were holding down the plate.
They poured water over their heads to fight heat exhaustion and kept pushing until they moved the plate.
The children of Chowchilla climbed out — 16 hours after they'd been buried.
One of the kidnappers was Fred Woods, son of Frederick Woods III, who owned the quarry as well as a 100-acre Portola Valley estate. The others were Richard and James Schoenfeld, sons of a wealthy Menlo Park podiatrist. All three were captured within weeks, convicted of kidnapping with bodily harm and sentenced to life without parole…
Richard Schoenfeld was paroled in 2012. James Schoenfeld was paroled in 2015. Frederick Woods is still incarcerated.
This post was originally published on July 14, 2014.
---