From the Archives: The 1955-56 Know Your City photography series
The "Know Your City" photography series daily asked readers to identify the Los Angeles locations.
A story in the Nov. 18, 1955, Los Angeles Times announced the new series:
How well do you know your city?
Beginning today, The Times will run a series of photographs of familiar buildings, parks, statues, bridges and other objects.
As you might have guessed, the series will be titled "Know Your City."
This is not a contest. There are no prizes.
It is just for fun. There will be no tricks, no retouching of the photographs. The pictures will simply all be made from unusual angles.
It is hoped that the series will not be too easy. However, there will be no attempt to make identification of the photographed objects outlandishly difficult.
Captions beneath the photos will provide clues, and an "Answer" will be provided each day — on a different page.
That's all there is to it.
This caption accompanied the first photo:
KNOW YOUR CITY, NO. 1 — This is easy. Great ones have passed here. So have a lot of briefcases. And resolutions. To and fro people go and seldom see what camera does. No contest, no prizes. Just fun, what is it? Answer, page 30 part II.
Sure, it's the Spring Street entrance to City Hall, the picture being taken from north to south to show the row of pillars from a seldom-seen angle. And how many of the thousands of people who pass here daily have bothered to notice the fancy, colorful tile work over this pillared portal?
The series ended with its 250th photo in the July 25, 1956, Los Angeles Times — with another image of Los Angeles City Hall.
I will be posting additional images from the "Know Your City" series. Below is the third entry in the Know Your City series. I haven't located the print or negative for entry number two.
This post originally was published on July 15, 2015.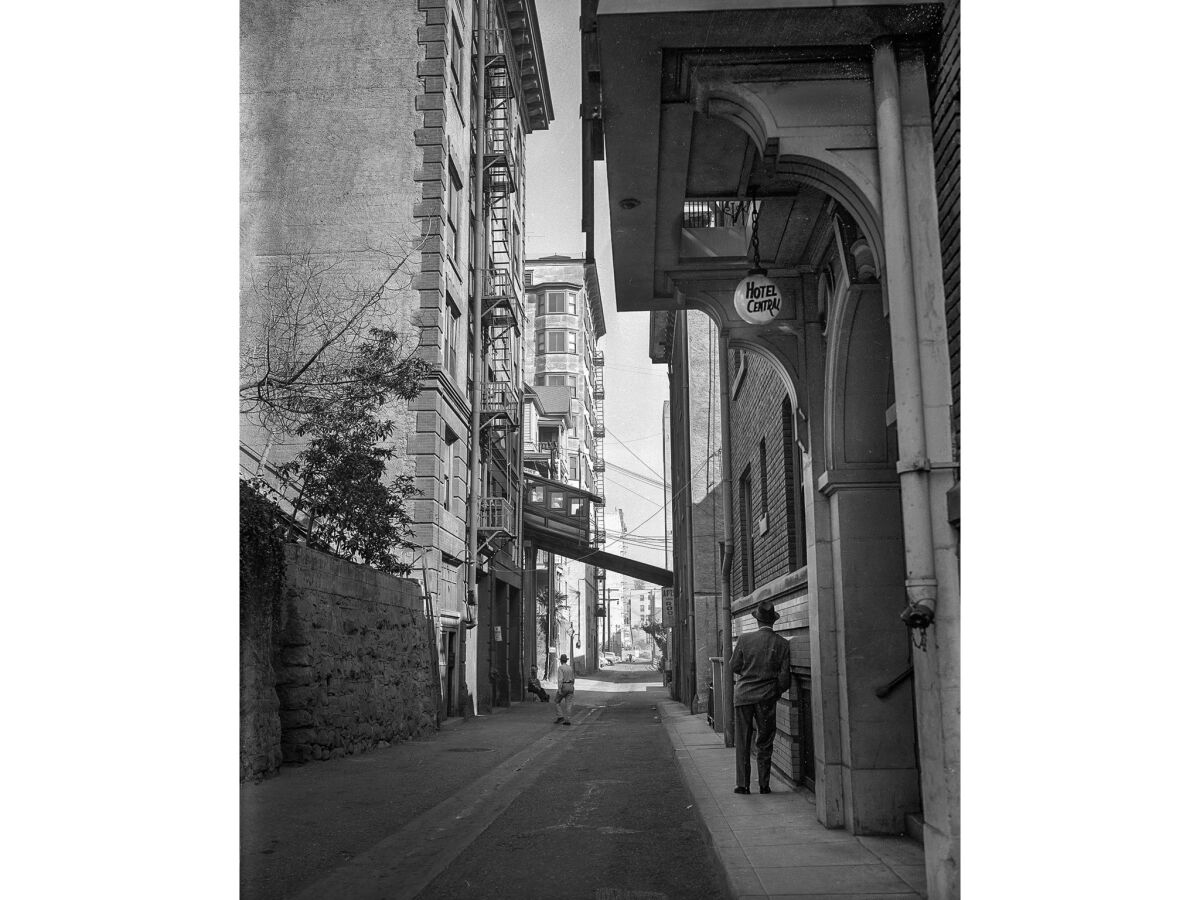 Know Your City No. 3 — Angel's Flight
The third image in the Know Your City photography series is of Angels Flight. It appeared in the Nov. 20, 1955, Los Angeles Times. The accompanying caption reported:
KNOW YOUR CITY, NO. 3-- It is here that Angels do not have feet of clay. They ride. It's a neighborhood of ups and downs. And a nickel gets you a lot of pull. This is an unusual angle of-- can you guess, just for fun? The answer on Page 2, Part 2.
ANSWER: The photo shows Angels Flight as it crosses over Clay St. ("It is here angels do not have feet of clay"-- wow!) And a nickel does give you a lot of pull here because the cost of a round-trip ticket on this, the city's smallest franchised railroad, is-- 5 cents. But you probably guessed it. That angular car was a dead giveaway. …
Currently the Angel's Flight round trip ticket is $2.00.
---