Death toll rises to 20 in the Bahamas as Hurricane Dorian regains strength and threatens the Carolinas
People search for salvageable items at Marsh Harbour on Great Abaco Island, Bahamas on Thursday.
(Al Diaz / Miami Herald)
Rescue workers recover the body of a victim in Marsh Harbour on Great Abaco Island.
(Brendan Smialowski / Getty Images)
An aerial view of the damage in Freeport, Grand Bahama.
(Adam DelGiudice / AFP/Getty Images)
A man inspects a boat that washed ashore in Marsh Harbour.
(Brendan Smialowski / Getty Images)
Boats washed ashore when the hurricane hit Great Abaco Island, Bahamas.
(Jose Jimenez / Getty Images)
U.S. Coast Guard Petty Officer 2
nd
Class Jethro Hauser, facing camera, accompanies a hurricane survivor after she was rescued in Treasure Cay, Bahamas.
(Seaman Erik Villa Rodriguez / U.S. Coast Guard)
Catherine Russel is greeted by loved ones in Nassau, capital of the Bahamas, after arriving with other survivors from the Abaco Islands.
(Brendan Smialowski / Getty Images)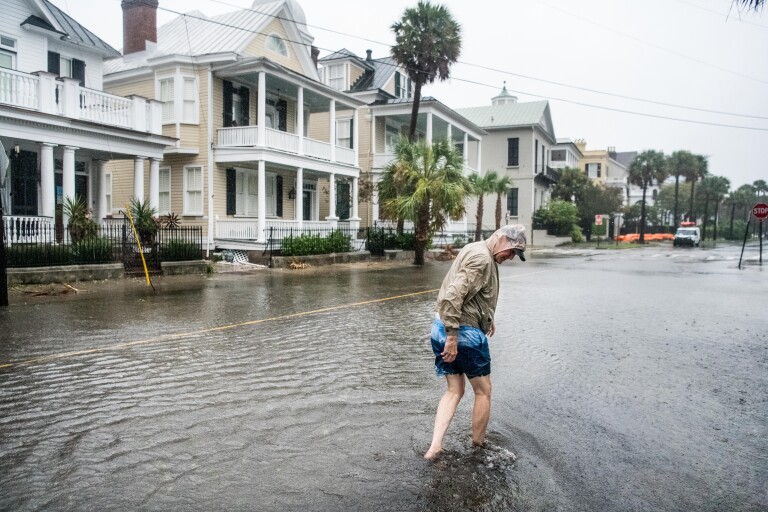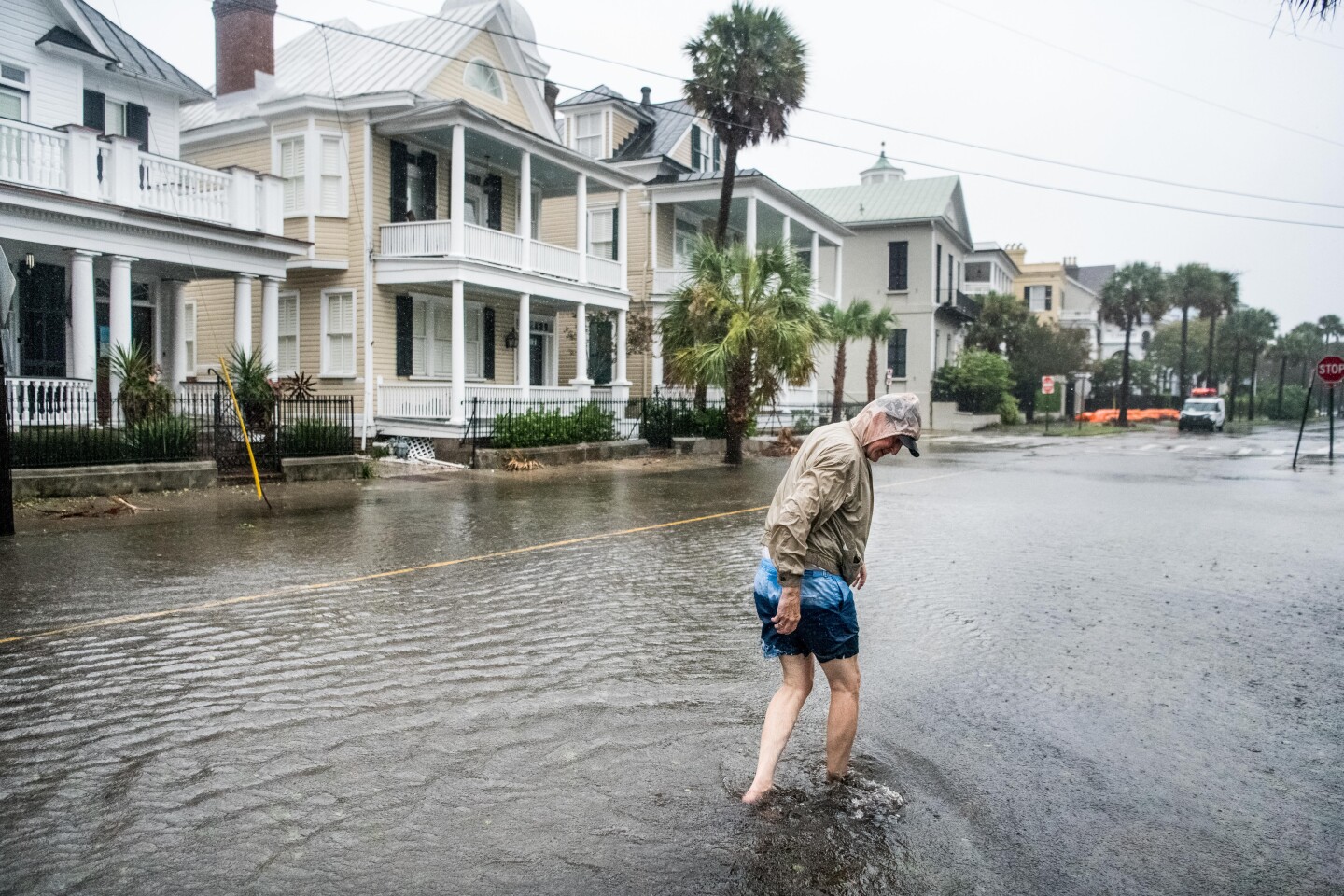 Bill Olesner walks along South Battery Street in Charleston, S.C., where he was cleaning debris from storm drains.
(Sean Rayford / Getty Images)
Horry County Fire Rescue workers check a neighborhood in Little River, S.C., near North Myrtle Beach.
(Ken Ruinard / Independent-Mail)
Dominion Energy workers stage their trucks at the Hampton Coliseum parking lot in preparation for Hurricane Dorian in Hampton, Va.
(Jonathon Gruenke / Associated Press)
Damaged homes and piers in the Bahamas.
(Adam Stanton / U.S. Coast Guard)
A man talks on his mobile phone next to a catamaran that was thrown onshore by Hurricane Dorian near a highway close to Freeport, Grand Bahama.
(Ramon Espinosa / Associated Press)
Structures are damaged near the Marsh Harbour Clinic, top right, after the passage of Hurricane Dorian.
(U.S. Coast Guard)
An aerial photo provided by Medical Corps shows the destruction at Man-o-War Cay, Bahamas.
(Medical Corps)
A devastated marina in the Bahamas.
(U.S. Coast Guard)
A family is escorted to a safe zone after they were rescued in Freeport, Bahamas.
(Ramon Espinosa / Associated Press)
Julia Aylen carries her dog through floodwater in Freeport, Bahamas.
(Tim Aylen / Associated Press)
An image of Hurricane Dorian's eye taken by NASA astronaut Nick Hague aboard the International Space Station.
(Nick Hague / NASA)
Rising waters cover cars on a road in Freeport in the Grand Bahamas as Hurricane Dorian passes.
(Kimberly Mullings / AFP/Getty Images)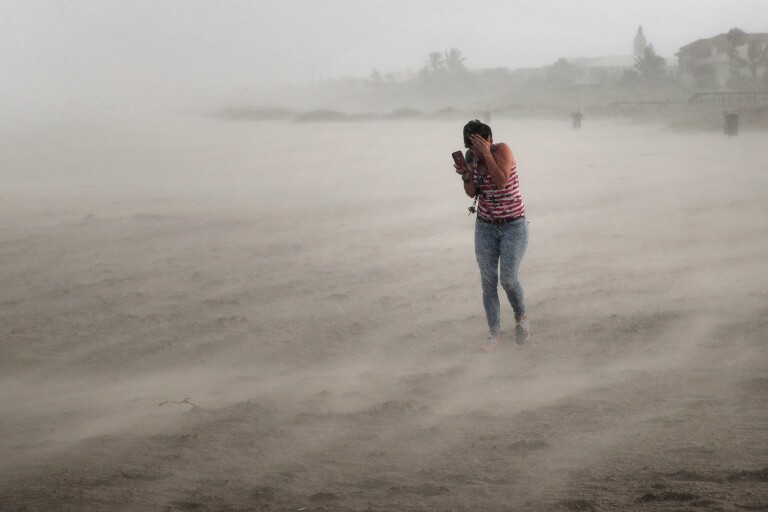 The beach during the storm in Cocoa Beach, Fla.
(Scott Olson / Getty Images)
Hurricane wind blasts trees Sept. 2 and whisks up water from the surface of a canal in Freeport on the island of Grand Bahama.
(Tim Aylen / Associated Press)
Police Officers Chayse Hatfield, left, and James Doty talk to residents Jim and Michelle McGowan on Sept. 2 as they notify them of a mandatory evacuation at a trailer park community in Vero Beach, Fla.
(Gerald Herbert / Associated Press)
Amalie Hennech, at left with daughter Alexis Garlini, writes directions to her home after trying unsuccessfully to evacuate her friend Jack, right, who has medical issues, from the Fairlane Harbor Homes, a trailer park community in Vero Beach, Fla.
(Gerald Herbert / Associated Press)
In Stuart, Fla., residents with special needs are evacuated on Sept. 1 in preparation for Hurricane Dorian.
(Gerald Herbert / Associated Press)
People in Freeport, Bahamas, shop for supplies Aug. 30 before the arrival of Hurricane Dorian.
(Tim Aylen / Associated Press)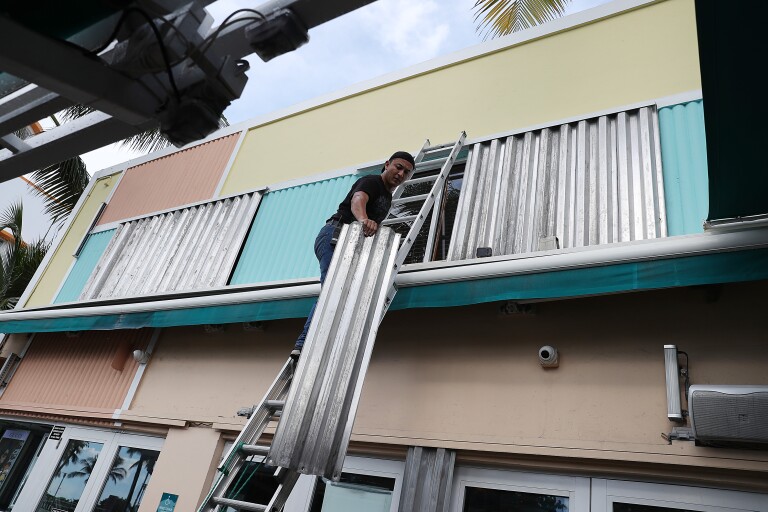 A man places a hurricane shutter over a window on Aug. 30 as he helps prepare a Florida business before the hurricane.
(Joe Raedle / Getty Images)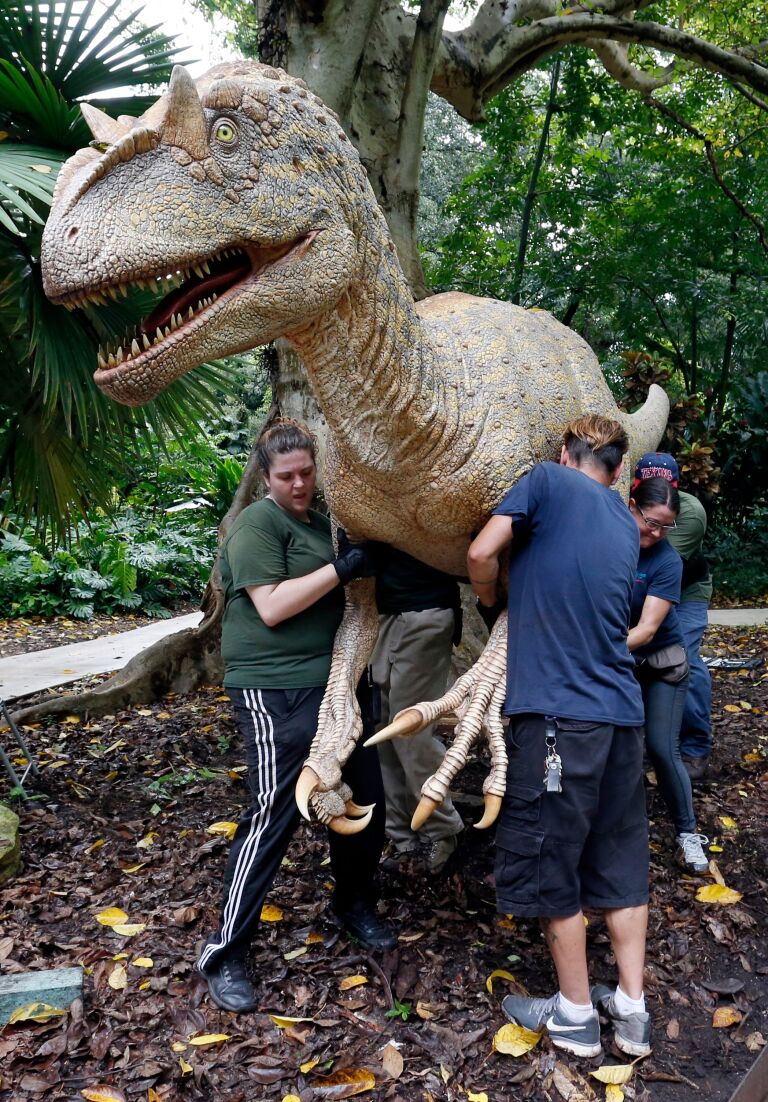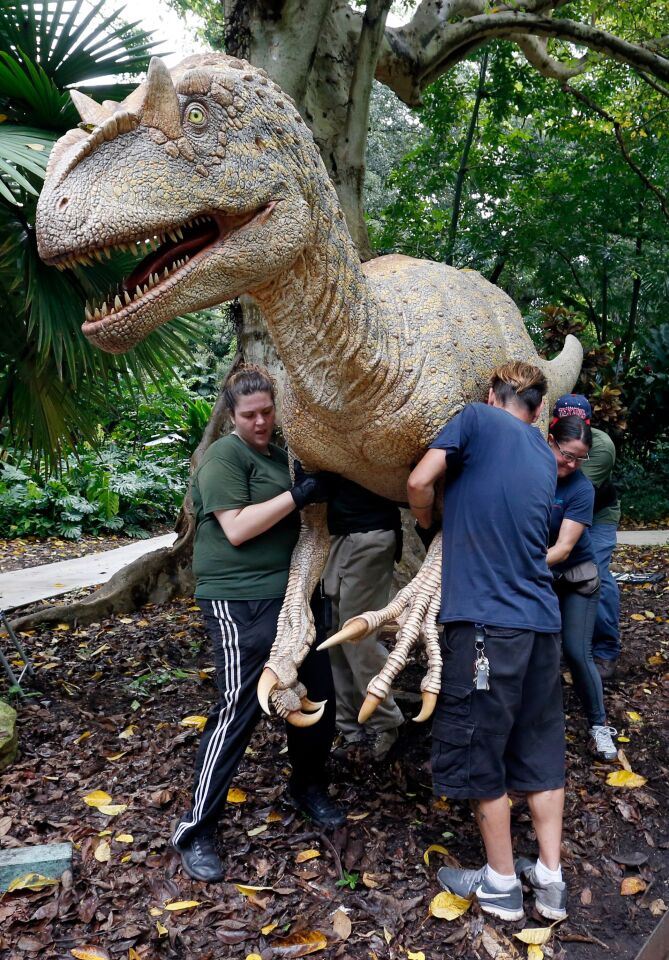 Workers at Flamingo Gardens in Davie, Fla., move an Allosaurus statue in the hope of keeping it out of harm's way.
(Rhona Wise / Getty Images)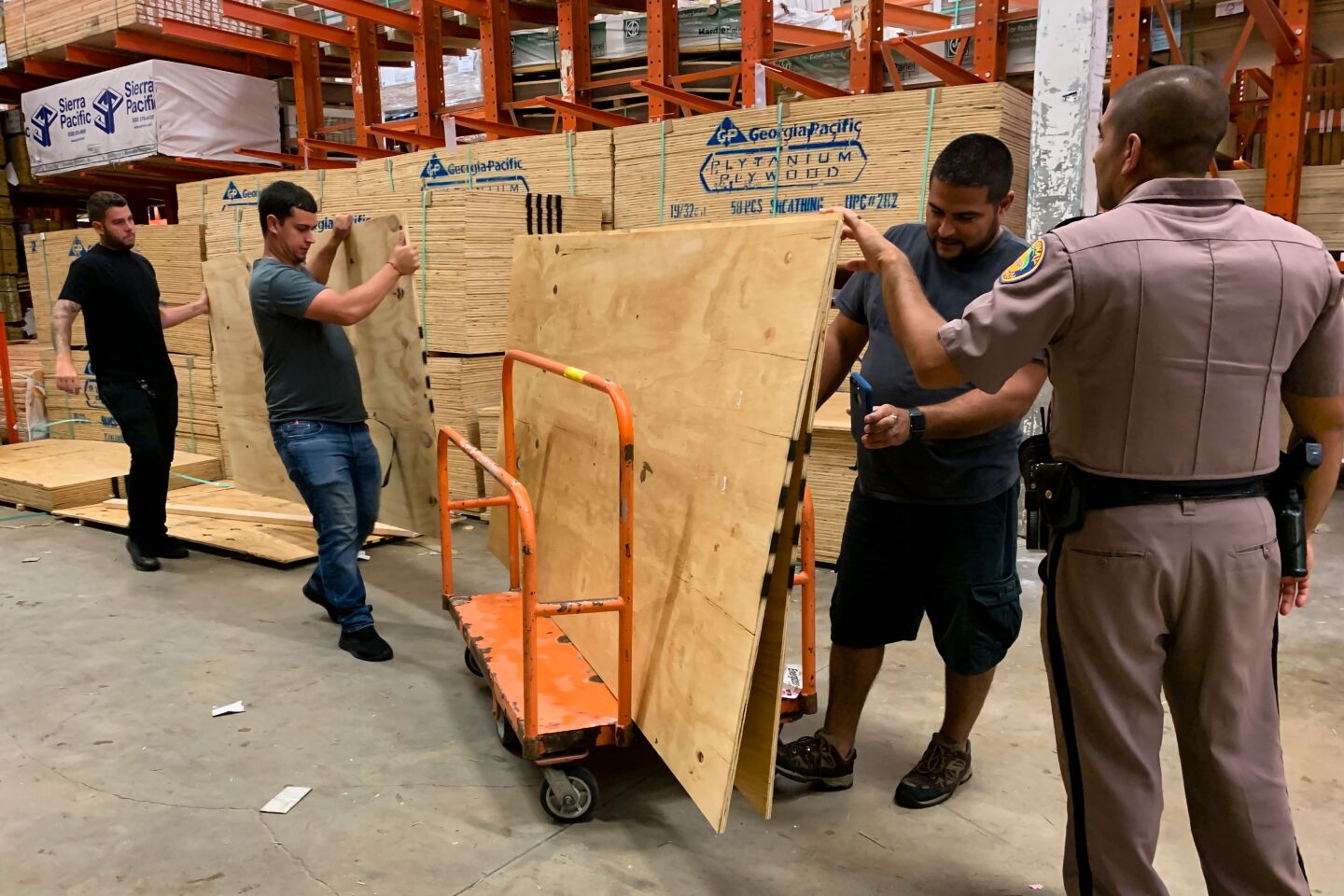 Residents buy plywood in West Miami.
(Eva Marie Uzcategui / AFP/Getty Images)
Workers board up a shop window front in Freeport, Bahamas.
(Ramon Espinosa / Associated Press)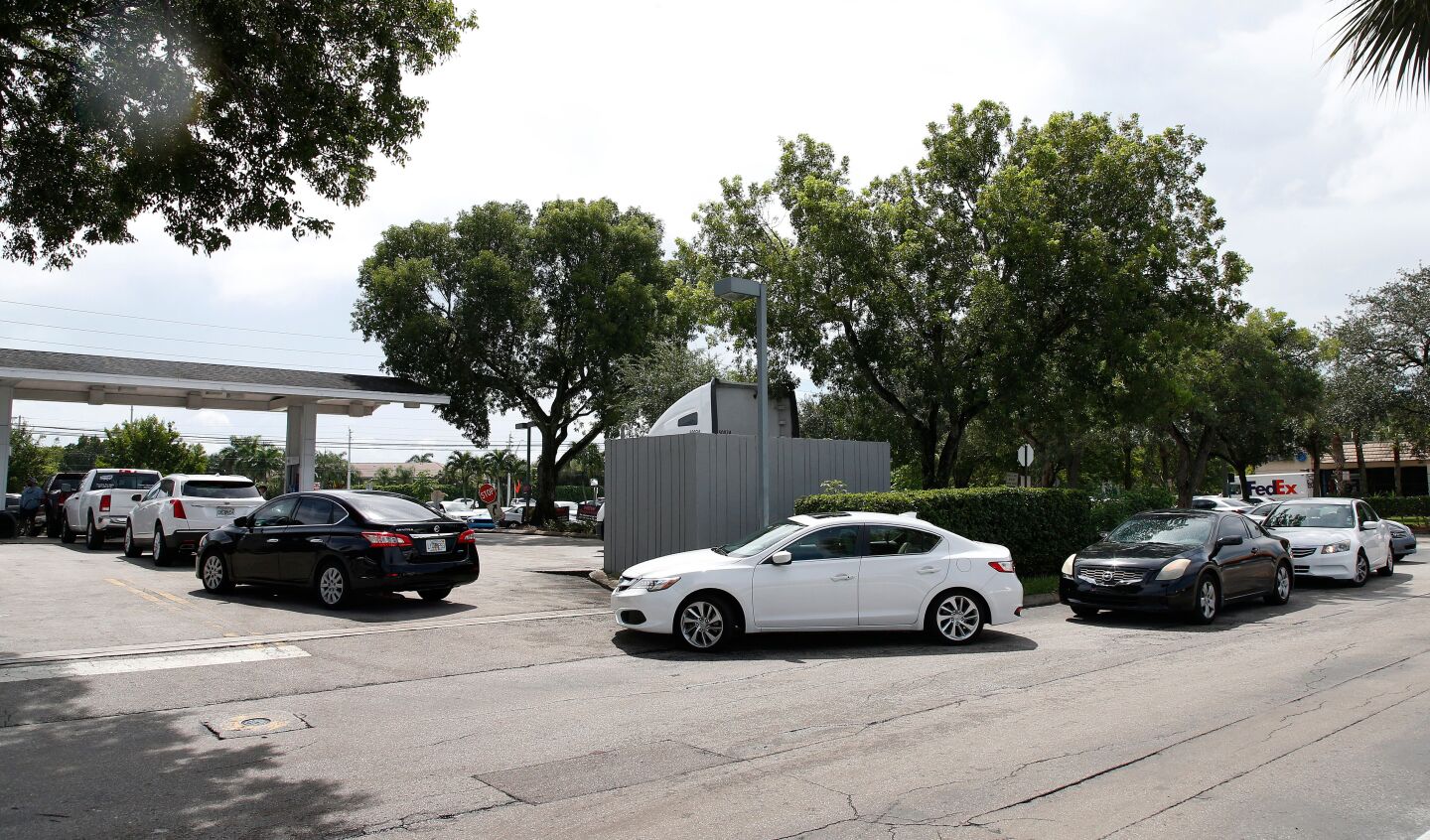 Residents line up for gas in Pembroke Pines, Fla.
(Rhona Wise / AFP/Getty Images)
Miami residents stock up on supplies.
(Cristobal Herrera / EPA/Shutterstock)
CHARLESTON, S.C. —
After killing at least 20 people and unleashing catastrophic destruction on the Bahamas this week, Hurricane Dorian crawled up the southeastern coastline of the United States on Wednesday, threatening hundreds of thousands of residents across low-lying South and North Carolina with severe flooding.
What had been a Category 5 hurricane weakened Monday and Tuesday, but regained strength and reached a Category 3 by late Wednesday night. The storm carried maximum sustained winds of 115 mph and was forecast to veer close to the Carolinas, possibly making landfall and causing havoc.
Florida, which had appeared to be in serious danger based on forecasts, emerged largely unscathed as the eye of the storm churned 105 miles south of Charleston. The closest Dorian's eye got to the Florida coast was 90 miles from Cape Canaveral, and hurricane-force winds never made landfall. The National Hurricane Center said it was still "extremely dangerous."
Although Dorian is not as powerful as it was when it made landfall in the Bahamas, it has grown in size, with hurricane-force winds stretching as far as 60 miles from its center and tropical-storm-force winds reaching as far as 195 miles.
Though Dorian could maintain a Category 3 intensity for about 12 hours or so, increasing vertical wind shear was likely to result in gradual weakening, according to Lixion Avila, a forecaster for the National Hurricane Center.
Across the South Carolina coast, more than 800,000 people were under mandatory evacuation orders. Many residents in flood-prone areas were urged to secure their property and relocate to a safer area, though some did not leave.
Forecasters and emergency officials urged residents of South and North Carolina not to be complacent, as the storm's eye was forecast to get within 30 miles of Charleston, S.C., on Thursday and touch the Outer Banks of North Carolina on Friday.
As Dorian pulled away from the Bahamas, rescue crews Wednesday found apocalyptic wreckage: entire neighborhoods destroyed, with flattened homes, battered palm trees and downed power lines, streets strewn with rubble and damaged SUVs and sedans.
Late Wednesday, Bahamian Prime Minister Hubert Minnis said the storm-related death toll of 20 was expected to rise.
Dorian made landfall Sunday as the most ferocious hurricane on record in the Bahamas, with wind gusts at times reaching 220 mph.
Organizations from across the globe — including the U.S. Coast Guard and Britain's Royal Navy — have descended on the Bahamas to airlift endangered residents to safety and offer food and medicine. The Coast Guard has conducted more than 60 rescues across the Bahamas, but many residents remain unaccounted for.
After touring Grand Bahama on Wednesday on an initial assessment flight on a U.S. Coast Guard helicopter, Minnis said Dorian had left "generational devastation."
"I ask you to pray for the families and loved ones of the deceased," he said.
Dorian is the latest of several hurricanes to threaten the Carolina coast in recent years.
Last year, Hurricane Florence dropped more than 30 inches of rain on parts of the Carolinas and killed more than 50 people. In 2017, Hurricane Irma stirred up a massive 10-foot tidal surge that submerged large swaths of South Carolina's Lowcountry. In 2016, Hurricane Matthew made landfall as a Category 1 hurricane near McClellanville, S.C., and lingered in North Carolina, inundating rivers with heavy rain that caused devastating flooding.
In the low-lying city of Charleston, Mayor John Tecklenburg held a news conference Wednesday to urge residents to prepare for dangerous storm surge flooding.
He noted the suffering in the Bahamas. Pulling out a gold-leaf Bible from beneath his yellow notepad, Tecklenburg read from Psalm 46:
"God is our refuge and our strength, always ready to help us in times of trouble," he said. "And therefore, we will not fear though the waters of the sea may roar and foam."
After urging everyone to "share each other's troubles and burdens here in Charleston and the Lowcountry and in the Bahamas as well," the mayor read the latest updates from the National Weather Service, stressing that the city faced the triple threat of heavy rains, high tides and storm surge.
Just a week ago, Tecklenburg noted, streets flooded after an 8 ½-foot tide.
"For 36 hours, I want Charleston to be a ghost town," he said. "I want everybody out of sight — if they're not out of town, inside, hunkered down and safe."
As a misty drizzle fell on Charleston on Wednesday afternoon, the doors and windows of historic residences and buildings across the city, including City Hall, were boarded up with plywood and blocked with sandbags.
Its main thoroughfares, usually bustling with tourists making their way from historic sights to boutiques, were empty but for a few dog walkers, joggers and TV news crews.
As the rain pelted the historic neighborhood of East Charleston on Wednesday afternoon, a woman carrying groceries trudged past a huddle of men slouching in metal chairs under an awning of a brick apartment complex. Around the corner, a man pedaled his bike in shorts and a raincoat.
Forecasters expect Dorian's core to approach South Carolina on Wednesday night and then move near or over coastal South Carolina and North Carolina from Thursday through Friday morning.
A hurricane warning is in effect for north of the Savannah River to North Carolina and Virginia, as well as Pamlico and Albemarle sounds. A hurricane watch is also in place from Ponte Vedra Beach, Fla., to the Savannah River.
According to the National Weather Service, high tides were expected to approach 10½ feet early Thursday morning along Charleston Harbor. City streets usually flood when tides reach 7 feet.
In North Carolina, where Dorian is expected to pummel the port city of Wilmington as well as the 200-mile string of barrier islands on the Outer Banks, Gov. Roy Cooper announced the state's first reported storm-related fatality. An 85-year-old man died Wednesday after falling off a ladder while he was preparing his home for the storm.
With storm surge and inland flooding fast approaching, Cooper urged residents to evacuate.
"We know all too well that floodwater can be deadly," he said, noting the Carolinas' recent history of flooding.
"Please don't let familiarity get in the way of good judgment."
In Florida, there was no report of significant damage along the Space Coast of Cape Canaveral, Cocoa Beach and Melbourne or farther north into the tourist stops of New Smyrna Beach and Daytona Beach.
There was non-life-threatening tidal flooding in downtown St. Augustine, Fla., but evacuation and curfew orders were lifted in almost every county in the affected areas. By midday, restaurants and businesses along the Space Coast were removing plywood from doors and windows and reopening for business.
On Wednesday afternoon, President Trump summoned reporters to the Oval Office and put the Federal Emergency Management Agency's acting administrator, Peter Gaynor, on speakerphone for a briefing on Dorian's status.
"It took a right turn," Trump said. "Hopefully we are going to be lucky."
He held up a map showing the storm's projected path.
"It looks like Florida is going to be in fantastic shape in comparison to what we thought," Trump said.
Trump's comments in the Oval Office were quickly overshadowed by his decision to show a map of Dorian's original projected path.
The map, which was created by the National Oceanic and Atmospheric Administration, showed the storm making a direct hit on Florida.
But someone, using what appeared to be a black marker, drew an extension to show Dorian continuing on to Alabama. It was the latest episode in a days-long saga that started when Trump mistakenly listed Alabama as one of the states that could be hit by the storm.
He was quickly corrected by the National Weather Service, but Trump has refused to admit he was wrong.
"I know Alabama was in the original forecast," Trump said later Wednesday when questioned about the map, insisting that he didn't know about any modifications to it.
Times staff writer Chris Megerian in Washington and special correspondent John Cherwa in Orlando, Fla., contributed to this report.
---
Must-read stories from the L.A. Times
Get the day's top news with our Today's Headlines newsletter, sent every weekday morning.
You may occasionally receive promotional content from the Los Angeles Times.