Dorian strikes Canada after leaving at least 43 dead in Bahamas and wreaking havoc in North Carolina
TORONTO —
Dorian arrived on Canada's Atlantic coast Saturday with heavy rain and powerful winds, toppling a construction crane in Halifax and knocking out power for more than 300,000 people after leaving 43 dead in the Bahamas and wreaking havoc on North Carolina's Outer Banks.
Residents of Nova Scotia braced for heavy rainfall and potential flooding along the coast, as officials in Halifax urged people to secure heavy objects that might become projectiles. Businesses were encouraged to close early.
"We do not want the citizens of Halifax roaming downtown as the water is coming in," said Erica Fleck, assistant chief of community risk reduction in Halifax, the provincial capital and home to 400,000 people.
A crane toppled and crashed into the side of a downtown apartment building under construction. In the city's south end, a roof was ripped off an apartment complex, and firefighter Jeff Paris said several apartment buildings were being evacuated. With the collapsed crane and all the downed trees and power lines, it's fortunate there are no significant injuries or deaths, he said.
As the hurricane death toll continued to rise in the Bahamas, which was racked by sustained 185-mph winds a week ago, its leader called the devastation, "this hour of darkness."
Of the 43 fatalities accounted for, 35 were on the Abaco Islands and eight on Grand Bahama, according to Prime Minister Hubert Minnis.
"We acknowledge that there are many missing and that the number of deaths is expected to significantly increase," he said.
Search-and-rescue teams were still trying Saturday to reach some Bahamian communities isolated by floodwaters and debris. Several hundred people, many of them Haitian immigrants, waited at Great Abaco's Marsh Harbour in hopes of leaving the disaster zone on vessels arriving with aid. Bahamian security forces were organizing evacuations on a landing craft. Other boats, including yachts and other private craft, were also helping to evacuate people.
Avery Parotti, a 19-year-old bartender, and her partner, Stephen Chidles, a 26-year-old gas station attendant, had been waiting at the port since 1 a.m. During the hurricane, waves lifted a yacht that smashed against a cement wall, which in turn collapsed on their home and destroyed it.
"There's nothing left here. There are no jobs," said Parotti, who hopes to start a new life in the United States, where she has relatives.
At least four deaths in the Southeastern U.S. have been blamed on Dorian. All were men in Florida or North Carolina who died in falls or by electrocution while trimming trees, putting up storm shutters or otherwise getting ready for the hurricane.
On Saturday, floodwaters receded from North Carolina's Outer Banks, leaving behind a muddy trail of destruction. The storm's worst damage in the U.S. appeared to be on Ocracoke Island, N.C., which even in good weather is accessible only by boat or air and is popular with tourists for its undeveloped beaches. Longtime residents who waited out the storm described strong but manageable winds followed by a wall of water that flooded the first floors of many homes and forced some to await rescue from their attics.
"We're used to cleaning up dead limbs and trash that's floating around," said Ocracoke resident and business owner Philip Howard. "But now it's everything: picnic tables, doors, lumber that's been floating around."
Howard said by phone Saturday that flooding at his properties on the North Carolina island is 13 inches higher than the levels wrought by a storm in 1944, which he said had long been considered the worst. He raised his home higher than the 1944 flood level and still got water inside.
"It's overwhelming," said Howard, who owns the Village Craftsmen, a store that sells handcrafted pottery, glass and kitchen items. He said much of the merchandise on the lower shelves is ruined. Pieces of pottery were floating around inside.
Inside his house, the floorboards were buckling and curling up after being warped by the water, he said.
Gov. Roy Cooper said about 800 people had remained on the island to wait out Dorian. The storm made landfall Friday morning over the Outer Banks as a far weaker storm than the monster that devastated the Bahamas. Yet despite having been downgraded to a Category 1 storm, it still sent seawater surging into homes on Ocracoke, many for the first time in memory.
More than 1,100 Bahamians arrived in Palm Beach, Fla., after being evacuated by cruise ship from their hurricane-battered islands.
The Grand Celebration cruise ship returned to its home port after setting sail Thursday for Freeport, Grand Bahama, to deliver more than 112 tons of supplies and ferry dozens of health workers and emergency crews.
In Canada, the storm made landfall Saturday evening near Sambro Creek, about 15 miles south of Halifax with maximum sustained winds of 100 mph.
Forecasters said the center of Dorian was expected to move across Nova Scotia, pass near or over Prince Edward Island, and then move to Newfoundland and Labrador on Sunday.
Novia Scotia Power Inc. reported more than 300,000 customers were in the dark by 7 p.m., with power out in parts of Halifax, Prince Edward Island and New Brunswick. Karen Hutt, the utility's chief executive, said Dorian is the largest weather event the company had ever responded to, and 1,000 workers were ready to restore power once it's safe.
Hurricanes in Canada are somewhat rare in part because once the storms reach colder Canadian waters, they lose their main source of energy. Canadian Hurricane Center meteorologist Ian Hubbard said the last hurricanes to make landfall in Canada were Igor and Earl in September 2010.
The National Hurricane Center in Miami said Dorian was officially a post-tropical cyclone, not a hurricane, though it still packed hurricane-force winds.
Dorian lashed the eastern tip of Maine with heavy rain, strong winds and high surf as the storm passed offshore. Several hundred homes and businesses lost power.
Beaufort Police Officer Curtis Resor, left, and Sgt. Micheal Stepehens check a sailboat for occupants in Beaufort, N.C. after Hurricane Dorian passed the North Carolina coast.
(ASSOCIATED PRESS)
Bill Bailey, assistant chief of the Emerald Isle Police Department, walks past a damaged trailer in the Holiday Trav-l Park in Emerald Isle, N.C., that was hit by a tornado generated by Hurricane Dorian.
(Julia Wall / [Raleigh, N.C.] News & Observer)
Waves pound the Bogue Inlet Fishing Pier in Emerald Isle, N.C., as Hurricane Dorian moves north off the coast.
(Julia Wall / [Raleigh, N.C.] News & Observer)
Mobile homes are upended and debris is strewn about at the Holiday Trav-l Park in Emerald Isle, N.C, after a tornado generated by Hurricane Dorian struck the area.
(Julia Wall / [Raleigh, N.C.] News & Observer)
A city crew works to clear the road blocked by a demolished mobile home after a tornado hit Emerald Isle N.C., as Hurricane Dorian moved up the East Coast.
(Tom Copeland / Associated Press)
A sailboat that came loose from its moorings wound up next to a bridge as Hurricane Dorian passed Isle of Palms, S.C.
(Mic Smith / Associated Press)
A gas station shows wind damage near Pawley's Island, S.C.
(Sean Rayford / Getty Images)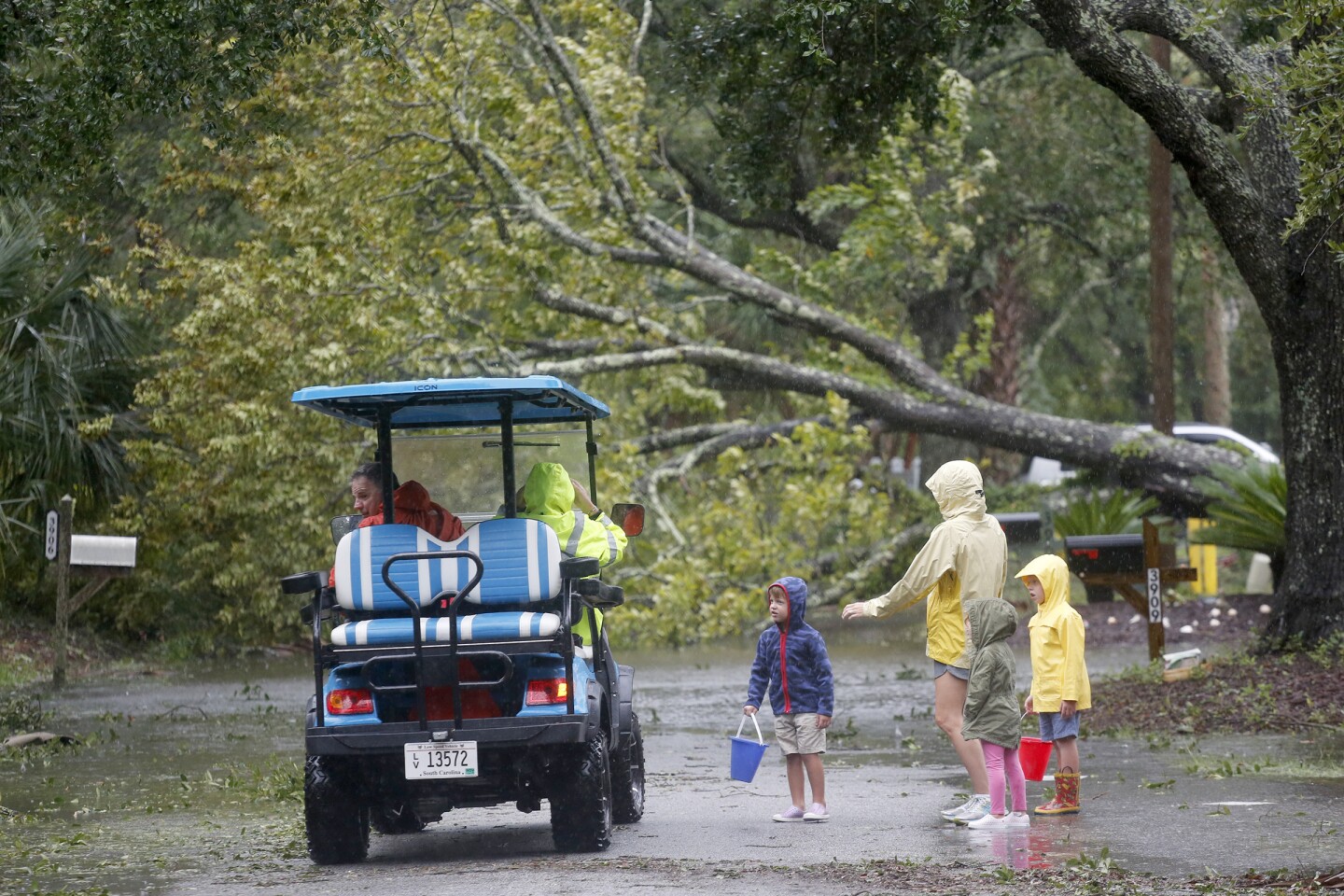 Residents find a neighborhood road blocked by a downed tree during Hurricane Dorian at the Isle of Palms, S.C.
(Mic Smith / Associated Press)
Johnny Crawford navigates his kayak down a flooded street in Charleston, S.C.
(Meg Kinnard / Associated Press)
Bill Chambers looks at the damage to the Summerville High School football stadium's goalpost and signage after Hurricane Dorian passed in Summerville, S.C.
(Mic Smith / Associated Press)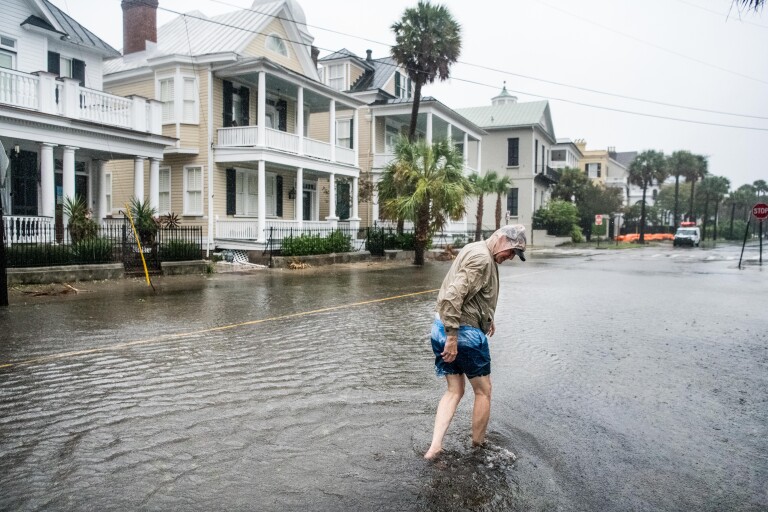 Bill Olesner walks down South Battery Street while cleaning debris from storm drains in Charleston, S.C.
(Sean Rayford / Getty Images)
---
Must-read stories from the L.A. Times
Get the day's top news with our Today's Headlines newsletter, sent every weekday morning.
You may occasionally receive promotional content from the Los Angeles Times.