Justice Department files lawsuits over immigration 'sanctuary' policies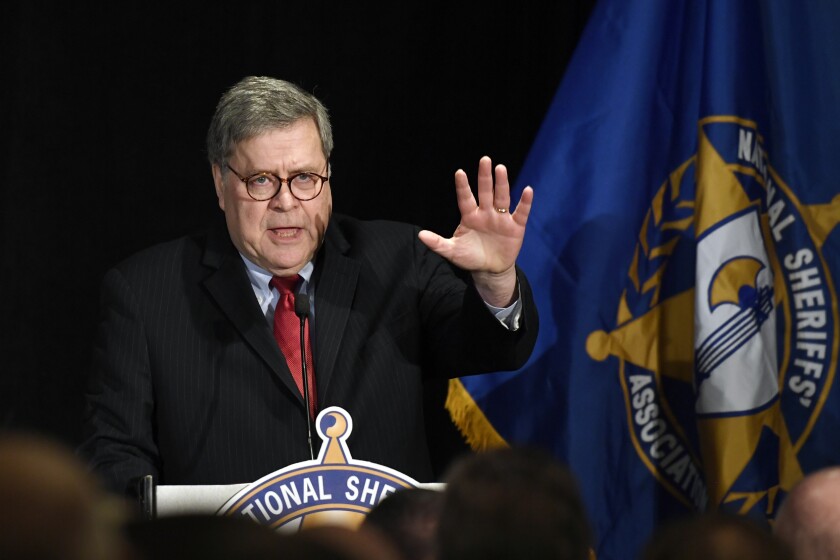 WASHINGTON —
The Justice Department ratcheted up legal pressure Monday on local governments over "sanctuary" policies that hinder federal immigration officers, bringing two new lawsuits and launching a coordinated messaging campaign to highlight an election-year priority of President Trump.
Declaring that law enforcement officers are being "put in harm's way by these ideologically driven policies," Atty. Gen. William Barr said the Trump administration is suing the state of New Jersey and the county that is home to Seattle over immigration policies that offer protections to immigrants in the U.S. illegally.
The Justice Department said New Jersey is violating federal law by prohibiting state and local law enforcement from sharing information about inmates in the U.S. illegally. Washington state's King County was hit with a lawsuit over a policy that prohibits the Department of Homeland Security from using the King County International Airport-Boeing Field for deportation flights.
"Today is a significant escalation in the federal government's effort to confront the resistance of sanctuary cities," Barr told an audience of officers at the National Sheriffs' Assn. to roaring applause.
Some cities, like New York, have put laws in place that prohibit the sharing of information with immigration officials. Immigration officials have sent subpoenas to Denver and New York City over requests for information on immigrants about to be released from jail. In New York, Homeland Security suspended "trusted traveler" programs that speed their re-entry into the U.S. over a law that prohibits state officials from sharing motor vehicle data with immigration officers.
The attorney general said the Justice Department would be "robustly supporting" Homeland Security to use "all lawful means," including federal subpoenas, to obtain information about suspects they are seeking to deport.
"These policies are textbook examples of misguided ideology triumphing over common-sense law enforcement, and it is the public and the police who pay the price," Barr said.
The administration also sued the state of California to block a law that took effect Jan. 1 to ban new contracts with for-profit prison companies, including thousands of immigration detention beds that the federal government pays for in the state.
Trump has been trying since he took office to punish sanctuary cities. In 2017, Jeff Sessions, then attorney general, said such cities would not receive grant money unless they gave federal immigration authorities access to jails and provide advance notice when someone in the country illegally is about to be released from prison. A federal judge blocked the punishment from being enforced, and the cities got the money.
Federal authorities have tried lawsuits before, suing the state of California over its sanctuary law in 2018. A federal appeals court rejected the bulk of the administration's lawsuit, though Barr said Monday he was hopeful the government would win before the Supreme Court.
---
Must-read stories from the L.A. Times
Get the day's top news with our Today's Headlines newsletter, sent every weekday morning.
You may occasionally receive promotional content from the Los Angeles Times.